Walk in the footsteps of Leif Eriksson on an unforgettable trip from Gros Morne National Park to the tip of the Great Northern Peninsula
Looking for adventure? Want to explore a less-traveled road? Love combining unique and beautiful landscapes with authentic local cultures?
How about Newfoundland? This rocky squiggle off Canada's eastern coast has it all — natural beauty, unique culture, fish, caribou, moose (lots of moose!), icebergs in the spring and whales in the summer. Who could ask for more?
Newfoundland is so remote that it even has its own time zone: Newfoundland Time is an hour and a half ahead of Eastern Time. And while it has good roads, developed campgrounds and delicious local cuisine, it lacks the overcrowded frenzy of maritime destinations like Nova Scotia and Prince Edward Island.
Newfoundland may not have the soaring mountain vistas of Alaska or the sugar-sand beaches of the Caribbean, but its landscapes are unique and utterly pristine. The villages strung along its coasts are sometimes hardscrabble and were often established hundreds of years ago by the ancestors of people living there now. There's no window-dressing for the tourists; this is the real McCoy. It's hard work to survive in a tough land.
One unforgettable way to experience Newfoundland is to travel the Viking Trail. This is a 240-mile (400 kilometer) route that begins in Gros Morne National Park on the western coast of the island and ends at the tip of its Great Northern Peninsula. Not only does the Viking Trail treat you to some seriously lovely scenery as it meanders along the coast, with the sea on one side and the Long Range Mountains on the other, but it's bookended by two UNESCO World Heritage Sites: Gros Morne National Park on the southern end and L'Anse aux Meadows — where the Vikings landed 1,000 years ago — in the far north of the peninsula.
Ready to go? Great! But first you have to get there.
By Ferry and Beyond
The fact that Newfoundland is an island 100 miles off the mainland keeps the place quieter than its maritime neighbors, but it also means that you and your rig will have to take a boat to get there.
Marine Atlantic is the ferry service that crosses from North Sydney, Nova Scotia, to Channel-Port aux Basques, Newfoundland, several times daily in summer. These ferries are huge 10-story behemoths that carry all the vehicular traffic to the island. They're efficient, modern and comfortable with helpful, friendly staff.
From the ferry landing, Gros Morne National Park is an easy and scenic 180-mile drive. On the way, you'll begin to catch the flavor of Newfoundland — soft humps of mist-covered mountains, stretches of flat, treeless marsh, glimpses of glittering sea. That is, if it's not raining or foggy or so windy that the infamous Wreckhouse section of the highway is closed. But you're going to Newfoundland for the adventure, right?
Strange Beauty and Lively Villages
Gros Morne is the second-largest Canadian National Park and a UNESCO World Heritage Site because of its "exceptional natural beauty" and because it has some of the oldest exposed rock in the world. You won't necessarily find gems but you will find ancient stone formed in the depths of the earth and heaved to its surface eons ago.
To begin our tour of the park, my daughter, Julia, and I camped at several of the smaller campgrounds in Lomond, Trout River, Green Point and Cow Head. They are wooded, often with scenic views as well as handy access to trails and the lively communities nearby. While the campgrounds have hot showers, dump stations, and even Wi-Fi at some locations, they don't have hookups. Also, some of them (notably Trout River) may be difficult for large rigs to get into. Private campgrounds with more amenities also operate in the park. Your best bets might be the KOA or the Good Sam Park near the visitor center.
Don't miss the short guided hike into the Tablelands, a barren mountainous area that contrasts starkly with the forested hills all around. This is the raised floor of an ancient seabed that was pinched between tectonic plates some 500 million years ago.
Hiking opportunities in the park range from a pleasant stroll along the seashore to the iconic and strenuous Gros Morne Mountain Trail. Visit the Discovery Center near Woody Point and the visitor center in the middle of the park for great interpretive information about what you're looking at.
A spectacular experience is the boat tour through Western Brook Pond. The pond is really a deep freshwater fjord that fills a glacier-carved valley. The views are spectacular — steep walls of forested rock rise from deep blue water, punctuated at times with crystal waterfalls (Pissing Mare Falls being the most colorfully named). I elbowed my way to the bow of the crowded boat and stood slack-jawed as we entered the mouth of the pond and slowly motored to its end, only grudgingly giving up my place to Julia so she could take photographs.
In addition to its natural wonders, Newfoundland has a rich cultural heritage. The fishing villages that are scattered along the coast are lively, historic and fun to explore. Good no-frills restaurants feature fresh local cuisine, such as lobster, cod, haddock and moose. You might catch a band performing local Newfie tunes or see a theatrical performance at the summer-long Gros Morne Theater Festival in Cow Head, Norris Point or Rocky Harbour.
North on the Viking Trail
North of Gros Morne, the Viking Trail continues to the northern tip of the peninsula. It's a pleasant one-day excursion, even for a wimpy driver like me. You'll wind along the coast between the Long Range Mountains to the east and fishing villages tucked away in coves. You'll see lobster traps piled along the highway and fishing shanties by the water's edge. Stacks of firewood collected the previous winter on rough wooden sleighs are stacked and ready for cold weather. "Ditch gardens" — lovingly fenced and tended plots beside the road — are mostly planted in potatoes and hardy root vegetables.
We reached Pistolet Bay Provincial Park, another lovely campground without hookups, at the end of a relaxing and delightful travel day. The park is located near L'Anse aux Meadows, the World Heritage Site on the north end of the Viking Trail.
L'Anse aux Meadows (pronounced Lahns O'Meadows by the locals) is where Leif Eriksson landed in A.D. 1000 — the only such authentic landing site in North America. Today, L'Anse aux Meadows is a tiny village of about 25 residents — a cluster of fragile homes on the shore of a watery moonscape where snow can drift up to 30 feet in winter. What remains of the Viking structures are small, unlikely looking humps in the peaty marsh. Clayton Colbourne, our guide, remembers playing on the mounds as a child. Villagers thought they'd been made by ancient native tribes.
When an international team of archeologists unearthed tiny artifacts that were unmistakably Norse — a needle for making hats, a soapstone spindle, a characteristic pin used for cloaks — this forgotten part of the world suddenly made international news.
It is thought that Norsemen roamed throughout the region in search of materials they couldn't get in barren Greenland — furs, wood for making boats, grapes for making wine. L'Anse aux Meadows was a temporary settlement — a place to restock and repair the boats. Sails were mended here, and iron nails were smelted. ("One hundred nails makes the difference between getting home —
or not," Colbourne told us.)
In 1978, Parks Canada recreated several structures as they would have looked 1,000 years ago. With thick peat-moss walls, a sod roof and a fire, the dwellings are warm and cozy. Costumed interpreters were so convincing that we felt like time travelers eavesdropping from the future.
In the days following our visit to the Norse Village, we explored the equally timeless villages along the coast. They hunker low along the water, from which people still derive their livelihood. A slight scent of wood smoke hovers in the air, even on this August day. If you overhear conversation among the locals, you will not be able to understand them, so thick is the dialect. If you ask a question, they speak to you slowly and distinctly as though you were a child.
Several days later, we left that tip of the world, this time heading south to catch the ferry. On our last night in Newfoundland, we camped at J.T. Cheeseman Provincial Park, and I hiked through the marsh to the seashore. Autumn was creeping over the land, and rain and sun were duking it out behind the clouds. I was leaving Newfoundland, and I was going to miss this place of eerie beauty.
"There's a feeling of the spirit world here — very, very strong," said David Blackwood, a renowned artist who was raised in a Newfoundland "outport." We had felt it, too.
The next day, Julia and I boarded the ferry for the long trip home.
Traveling by Ferry
Given fair winds and a warm day, it's quite possible that the ferry crossing from North Sydney, Nova Scotia, to Port aux Basques, Newfoundland, will be one of the most pleasant memories of your trip. Marine Atlantic runs an efficient, state-of-the-art fleet that offers travelers everything from two- to four-person private cabins to a comfortable lounge, several dining options and onboard entertainment.
Make a reservation well in advance, especially if you want to reserve a cabin. Calling as early as March or April for the busy summer season is recommended.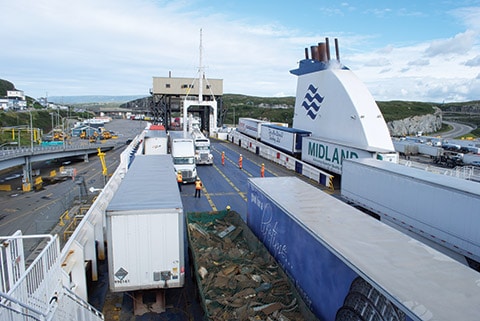 Know the length of your RV, from the front bumper of your tow vehicle to the rear of the trailer. Charges are based on length, but there are no size or weight limitations.
You must be in line for check-in at least two hours before the scheduled sailing. If you arrive late, your reservation may not be honored.
All passengers will be asked for an official photo ID — a driver's license or passport.
Once the ferry is underway, no one is allowed back on the vehicle deck for any reason, according to Canadian law. Be sure to bring everything you need when you leave your RV.
Pets are allowed on the ferry, but they must either stay in your vehicle or in a travel crate that you provide. Marine Atlantic has a kennel for crated pets.
While the crossing usually takes six to eight hours, it can take longer in rough weather, or a crossing may be canceled. Call for up-to-the-minute information.
800-341-7981 | marine-atlantic.ca
If You Go
Norstead Viking Village
Two miles from the UNESCO site at L'Anse aux Meadows, a nonprofit organization has recreated an authentic Norse village. Intended as a complement to the historic site, Norstead offers a lively sense of daily life in Viking times with costumed actors, reenactments of games and battles, fireside tales and the Snorri, a 54-foot Norse boat.
877-620-2828 | www.norstead.com
Grenfell Historic Properties
This museum near the northern tip of the peninsula presents the heroic life of Sir Wilfred Grenfell and his wife, Anne. Grenfell was a physician trained in England who dedicated his life to serving the desperately poor fishing communities along the coasts of Newfoundland and Labrador. The city of St. Anthony is still a regional center for medical care.
709-454-4010 | www.grenfell-properties.com
Dark Tickle Company
Located in St. Lunaire-Griquet on the road to L'Anse aux Meadows, this is the only place on the island where you'll find jams and spreads made from all the local wild berries: bakeapple, squashberry and crowberry, to name a few. The company also features high-quality crafts made in Newfoundland.
709-623-2354 | www.darktickle.com
RV Camping
From national and provincial parks to privately owned RV parks, there are plenty of places to camp along Newfoundland's Viking Trail.
NATIONAL PARK
Gros Morne National Park
709-458-2417 | [email protected]
• Berry Hill Campground, Rocky Harbour
• Green Point Campground, Green Point
• Lomond Campground, Lomond
• Shallow Bay Campground, Cow Head
• Trout River Campground, Trout River
PROVINCIAL PARKS
877-214-2267 | www.nlcamping.ca
• Pistolet Bay Provincial Park Campground, Raleigh
• J.T. Cheeseman Provincial Park Campground, Cape Ray
RV PARKS
• Gros Morne/Norris Point KOA Kampground, Rocky Harbour
800-562-3441 | www.grosmorne.com/koa
• GrosMorne RV Park and Campground, Rocky Harbour
877-488-3133 | www.grosmornervcampground.com
---