With fuel prices and tow-vehicle versatility no doubt on the minds of RVers for the coming year, RV manufacturers tended to offer smaller and lighter models for 2010 at the 47th Annual National RV Trade Show in Kentucky. This was especially apparent in the teardrop-shaped MPG trailer from Heartland Recreational Vehicles, which was named as one of two runner-ups for "Best of Show" by RV Business, the industry's leading trade journal and Trailer Life's sister publication.
Top-honor "Best of Show" went to Class A motorhome builder Tiffin Motor Homes, which also went small for 2010 with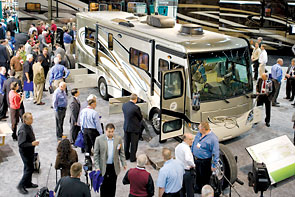 the Allegro Breeze, the first 28-foot Class A diesel pusher. The other runner-up also was a pint-sized unit, Roadtrek's first Class B, slideout-equipped camping van on a Sprinter chassis imported to North American by Germany-based Daimler
AG. Roadtrek's 20-foot SS-Ideal offers a new spin on increasing interior space with a slideout extending through the Sprinter's rear doors, thus requiring no chassis modification.
The continuing tight lending market exiting 2009 and buyer austerity in general led to a certain amount of pragmatism on the part of manufacturers who designed smaller and lighter RVs into their 2010 product lines. Certainly, though, not all towable builders went in that direction.
Among the more active manufacturers at the Louisville Show was Heartland RV, which introduced five new lines,
including the aforementioned MPG travel trailer and the Greystone fifth-wheel.
"There are some themes out there that make sense to us and we want to tie into those themes," said Heartland President Brian Brady. "We're not just lightweight, we're not just environmental. We're not 'just' anything. We try to be broad-based."
Bringing smaller fifth-wheels to Louisville were SunnyBrook RV, which added a 29-foot fifth-wheel to its ultra-lightweight Harmony towable series, and Chalet RV, which introduced a compact Takena5 fiver.
Meanwhile, EverGreen Recreational Vehicles introduced the first all-composite fifth-wheel — a 30-footer that the company says is fully recyclable, while CrossRoads RV offered a new take on its all-composite SlingShot travel trailer series.
Keystone RV also went lightweight in its high-line Montana and mid-profile Cougar fifth-wheels with what it calls "Helium Technology," a construction method about which the company declined to elaborate, which shaved 1,400 pounds off Keystone's best-selling Montana. The company also redesigned its ultra-lightweight Premier travel trailer series.
Forest River's new Prime Time Manufacturing division also introduced the ultra-lightweight Tracer Executive and Micro series trailers.
"With a lot of the emerging technologies with composites, all of a sudden you can get the floorplan you want and it's 2,000 pounds less than it was," said Prime Time President Jeff Rank.
Here's a look at some of the key products from the National RV Trade Show in Louisville….
Highlights From the National RV Trade Show in Louisville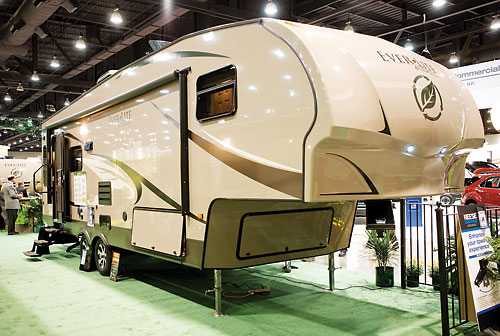 SunnyBrook RV added a fifth-wheel to its expanding lightweight Harmony towable
series, now available in 10 floorplans. SunnyBrook's 29-foot fiberglass-and-aluminum Harmony fifth-wheel weighs a little more than 7,000 pounds and retails from $25,477. Outfitted with a 12-foot "superslide," the Harmony fifth-wheel, featuring a rear living room, is built on a Z-frame allowing a large amount of front pass-through storage.
Gulf Stream Coach introduced the ultra-light Visa travel trailer series intended for towing behind minivans and crossovers. Available in four 23-foot floorplans with dry weights of 2,830 pounds, Visa sports fiberglass side walls and a radius front end on an aluminum superstructure with lightweight SymaLITE composite substrate. The low-profile Visa comes with a full bath, walk-around queen bed, 82-inch interior ceilings, balsa-core wood cabinets, LED running lights and independent torsion suspension. msrp: $15,600.
Forest River has redesigned the interiors of its mid-priced Cedar Creek fifth-wheel series built at the Berkshire Hathaway Inc. subsidiary's Millersburg, Indiana, facility. Available in eight 34- to 36-foot floorplans — with a 40-footer soon available — Cedar Creek features frameless windows, six-point remote-controlled "DaBoda Level Up" stabilization systems, Corian countertops, 6-foot 8-inch cabover ceilings, a retractable HDTV in the rear living room, radius one-piece
showers, on-demand hot water, multipurpose Hoosier cabinets and pet dishes integrated with the kitchen cabinets. Base msrp: $72,000.
With a dry weight of 2,950 pounds, Jayco's new V-nose, ultra-lightweight Skylark travel trailer is designed to be towed by most SUVs and light trucks. The single-axle 2011 Skylark is available in one 22-foot floorplan. The air conditioner in the 2011 Skylark has been moved to the floorline to create a lower center of gravity to improve towability. Euro-style dual-pane acrylic windows are equipped with integrated roller blinds. Side walls are laminated to Azdel SuperLite
composite to reduce weight. Base msrp: $23,143.
Canadian van camper builder Roadtrek Motorhomes engineered the first Sprinter chassis-based Class B motorhome with a slideout. The 3-foot-deep slide in Roadtrek's new 20-foot SS-Ideal motorhome extends from the rear door opening and contains a convertible queen sofa. The SS-Ideal is built on the high-mileage 8,550-pound gvwr Sprinter 2500 chassis equipped with a 154-hp six-cylinder Mercedes-Benz diesel engine. msrp: $97,110.
CrossRoads RV has redesigned its ultra-lightweight SlingShot travel trailer. The Thor Industry Inc. division's SlingShot features an upgraded interior with Azdel SuperLite composite side walls, roof, interior walls and floors and is available in six 21- to 29-foot floorplans — all with slideouts. The 29-footer has a dry weight of 3,600 pounds. msrp from $20,000.
Dutchmen Manufacturing has designed a cedar-lined walk-in closet for its all-new luxury Grand Junction fifth-wheel series using space that usually is overlooked in the front cap. The effect is that the floorplan gives the fiver 3 feet of additional space between what is usually the front wall and the cap itself. The Grand Junction, revamped
for 2010 with new floorplans and a more moderate price point, is available in five 32- to 38- foot floorplans with three or four slides — the 340RL has the closet — and features high-gloss fiberglass exteriors, command centers, heated-and-enclosed underbellies, solid cherry cabinets and Corian countertops throughout. Base msrp: $58,000.
With its teardrop shape and retro-look ABS fenders, the new MPG travel trailer from Heartland RV hearkens back to the early days of RVing. But the laminated fiberglass-and-aluminum MPG, available in four 19- to 20-foot floorplans, three with slideouts, is fully equipped with amenities such as ducted-air conditioning, wet baths with integrated
toilets, solid-wood cabinet fronts with raised-panel doors, three-way refrigerators and two-burner stoves. msrp: from $13,650.
EverGreen Recreational Vehicles introduced its first all-composite Ever-Lite fifth-wheel. Available in three 31- to 32-foot floorplans featuring a 42-inch-deep streetside slideout, the Ever-Lite fifth-wheel incorporates several "green" advancements, including EverGreen's composite "ComposiTek" construction that results in one-piece floors,
side walls and roofs. At a maximum dry weight of 7,670 pounds, the Ever-Lite fiver is as much as 1,000 pounds lighter than a traditional fifth-wheel. Features include high-gloss exterior, flush-frame tinted windows, enclosed and heated underbellies, pass-through storage, porcelain toilets, laundry chutes, solid-wood cabinet doors, crown molding, padded vinyl floors and 26-inch LCD TV. msrp: $41,000.
Forest River's new Prime Time Manufacturing division introduced two ultra-lightweight towable series — the Tracer Micro and the Tracer Executive. Tracer Micro is available in three 19- to 25-foot floorplans with msrps starting at $15,000. The Tracer Executive, available with one or two slideouts in three 28- to 32-foot floorplans, starts at $24,000.
Both feature gelcoat fiberglass-on-aluminum construction with 61?2-foot ceilings, tinted radius windows, E-Z Lube axles, solid-core cabinets, large-bowl kitchen sinks with high-rise faucets, ABS tub surrounds, two-door refrigerators and three-burner ranges.
Keystone RV Company has added three lighter "Helium Technology" floorplans to its popular Montana high-profile and Cougar mid-profile fifth-wheel series. The company trimmed weight from Montana's and Cougar's roofs, countertops, frames and side walls with either new materials or new ways to build the coach. The "Helium" construction
process in the Montana and Cougar High Country series removes up to 1,400 pounds from the standard Montana fiver, the company reported. The 33-foot four-slide Montana built with "Helium Technology" featuring Azdel SuperLite side walls has a dry weight of 9,400 pounds. Base msrps for the Montana Helium trailers are in the mid-$40,000s.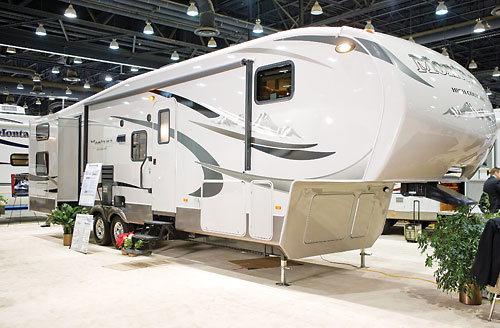 A-frame folding camping trailer manufacturer Chalet RV has been aggressively expanding its product offerings. That was made apparent at the show, where the company unveiled a small fifth-wheel and triple-slide truck camper Chalet's 21 1/2-foot Takena5 fifth-wheel has a single galley slideout and a base retail price of $14,900. A 19-foot Takena5 fifth-wheel floorplan is expected by summer 2010.
Pacific Coachworks launched a powered kitchen slideout as an option on eight Tango travel-trailer models and two fifth-wheel models. The company also introduced a new line of Turbo SURV travel trailers. The laminated fiberglass-and-aluminum Turbo is offered in four 24- to 34-foot floorplans, including one featuring a 49-inch-deep king-bed
slide.
Louisville proved that the RV market is keeping with the trends and hopping with choices — from lightweights to extra slideouts to green technology. 2010 will surely be an exciting year for RVers.