The latest National RV Trade Show reveals the newest motorhome trends and manufacturing technology
While manufacturers of towable RVs might take exception, the fact remains that designing, engineering and constructing a motorhome is among the most involved processes known to any vehicle industry. Whether it's having to craft a comfortable environment within the confines of a van body (as in the case of Class B motorhomes), utilizing a cutaway chassis for a Class C or any of the multitude of rolling chassis available to the Class A segment, the systems, electronics and moving parts involved make the act of bringing a new motorhome to market an intensive, expensive and time-consuming exercise.
But, don't get the impression that anyone is complaining. With the RV industry entering into uncharted territory – it was expected to ship more than a half-million units to dealers by the end of 2017, a number never before seen since the Recreation Vehicle Industry Association (RVIA) began tabulating shipments in 1978 – a growing audience of outdoor enthusiasts continues to provide motorhome manufacturers with incentive to push the design envelope.
While it's not uncommon for a manufacturer to introduce mid-year model changes, most of these new-model-year concepts debut at one of the RV industry's two premier trade events: the Elkhart County RV Open House in September and the late-fall National RV Trade Show in Louisville, Kentucky. We published the first look at the 2018 models from Elkhart in the February issue. The Louisville show – presented by RVIA and now in its 55th year – continued the vehicle rollouts among nearly 1 million square feet of space inside the Kentucky Exposition Center. Following are some of the highlights, direct from the show floor.
Coachmen Pursuit 31BH
Bunkhouse floorplans are generally hot sellers, but the Coachmen Pursuit 31BH "ups the ante" by including a bunk space that can double as a wardrobe when not in use. "If you are taking a longer trip and you don't want to use that area for sleeping, the bunks convert to a full wardrobe, making it a great floorplan for families and for extended stays," said Zach Eppers, Coachmen's Class A gas sales manager.
The master bedroom suite, which includes a king bed as well as an impressive amount of storage, also has been revamped. "We have been able to design the bedroom in this motorhome where you can fully walk around the bed. There are end tables on both sides of the bed for plugging in cellphones or the like," he said. The bedroom wardrobe, by the way, is located in the full-wall streetside slide, a decision Eppers said was made to maximize the campground experience "so the camping area is not impeded by a slide."
As he noted, that also allowed Coachmen designers to increase exterior storage where it is most needed – on the patio side of the motorhome. The $117,000 MSRP 31BH also offers an optional 50-inch external TV (larger than the typical 32-inchers most offer, said Eppers). All that adds up to a versatile floorplan, which Eppers says is unmatched in this segment.
"The fact that we can do a king bed, plus the end tables with storage, plus the fact that the bunkbeds convert to a wardrobe, makes our floorplan more multidimensional than others – and having that 50-inch TV on the exterior really pumps up the 'wow' factor."
Entegra Emblem
Entegra Coach, a division of Thor Industries' subsidiary, Jayco Inc., introduced the all-new Emblem, a gasoline-powered Class A motorhome, to grow the company's family of products beyond its diesel-pusher offerings. Slated for early 2018 delivery, the 38-foot Emblem debuts with two bath-and-a-half floorplans built on the Ford F-53 chassis.
While both models feature a rear bath and king bed slide as part of a large master suite and a curbside galley, the two-slide 35T features an L-shaped expandable sofa, while the triple-slide 36T offers bunk beds and either a sofabed or optional theater seats.
Featuring one-piece fiberglass front and rear caps and a seamless crowned fiberglass roof, the exterior also offers lockable pass-through storage compartments with slam latches, electric-powered entrance step and an entrance door with the industry's largest travel view window.
The Emblem's interior luxuries include 7-foot interior ceiling height with padded vinyl ceiling and high-intensity recessed LED ceiling lights. The kitchen features a 21-cubic-foot residential refrigerator, convention microwave oven, LP-gas cooktop and a water filtration system. MSRP: N/A at presstime.
Erwin Hymer Group North America Aktiv 2.0 Loft Edition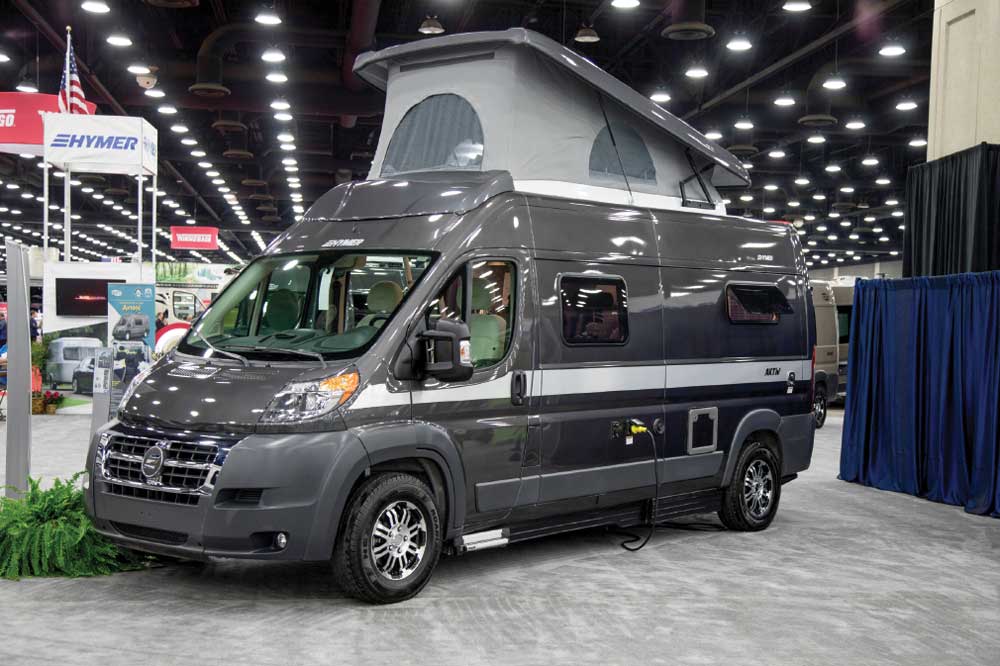 Erwin Hymer Group North America (EHGNA) made waves at the Open House by debuting the Aktiv 2.0 Loft edition, and we spent some extended time with it at the Louisville show. "The Loft is basically a pop-top on an Aktiv that has a built-in bed," said Mike Snell, vice president of sales and service for EHGNA. "A Class B has never been capable of comfortably sleeping four; now we have the capability of sleeping five, or even six in some cases. That opens up the market to families. We see it being a huge boost to the segment because it opens up a whole new client base that would never before have considered a Class B," said Snell. Like the standard Aktiv 2.0, the Loft edition is built on an extended 3500 RAM ProMaster chassis, and is available with a power sofa option. Snell did say that EHGNA has discussed including the Loft feature on other vehicles, but nothing concrete is in place. The Aktiv 2.0 Loft edition retains some of the newer technology that EHGNA has adopted across its platforms. "We remain very excited about our Volt Start and lithium battery technology, which allow us to run the roof air without a generator or being plugged in," said Snell. MSRP: $119,000.
Fleetwood IROK
After introducing REV Recreation Group's first Class B, the Patriot, in its American Coach lineup last June, REV debuted the Fleetwood IROK at Louisville. From its near-monochromatic black appearance – which carries over to the interior – to rear bike racks, the Class B is, noted Lenny Razo, REV vice president of sales and marketing, "going more after that outdoorsy, Millennial look."
"It comes in one floorplan – what you see is what you get. We wanted to make it very simple, but we try to give you everything that you need to go on a nice four or five day trip," Razo added. "We don't have any options, but we really loaded it up with a continuous water heater, 15,000-Btu air conditioner, really just everything we could." Other standard features of the RAM ProMaster-based IROK include high-end wood cabinets, solid-surface countertops, large electric sofa, 32-inch flat-screen TV and a spacious bath area behind double doors. With an MSRP of "right around $100,000," Razo said the IROK would go into production in April 2018 as a 2019 model-year motorhome.
Gulf Stream Conquest 6220
Gulf Stream has added a new floorplan to its popular lineup of Conquest Class C motorhomes. The Conquest 6220 is just under 25 feet long and is easy to operate, said Paul Campbell, Gulf Stream's director of marketing. "If you're looking for an economical purchase price, a real livable floorplan, the kind of motorhome you'd be comfortable in driving all day long in terms of stability, handling and drivability, this is an ideal one to consider," he said. Built on the Ford E-350 SD chassis, the 6220 is an abbreviated floorplan that offers sleeping for up to six and a single slide in the bedroom that houses the 60-by-74-inch bed. And like other Conquest motorhomes, Campbell says it comes with an impressive list of standard features. "We have a base build like just about everybody else, but then we automatically add the things that most people charge extra for as options, like stainless-steel appliances, under-lit counters, upgrades like awning toppers on our slideouts and even a 4-kW generator. All the things that you're going to know you want once you've been in a motorhome for a while, and perhaps wish that you had." That includes stout construction, which Campbell explained: "We always build a special chassis underneath the floor. We call it 'The cradle of strength.' It adds a lot of steel bracing and fore-and-aft support to the chassis to keep it as stable as possible and to keep the weight low so it handles particularly well," he said. MSRP: around $79,000.
Thor Motor Coach Tuscany 40RT
Thor Motor Coach (TMC) revamped its Tuscany line of diesel pushers for 2018, including the introduction of a new floorplan, the 40RT. The $399,999 (MSRP) 40RT is a new single-rear-axle diesel pusher with triple slideouts, extensive kitchen workspace and two large-screen TVs.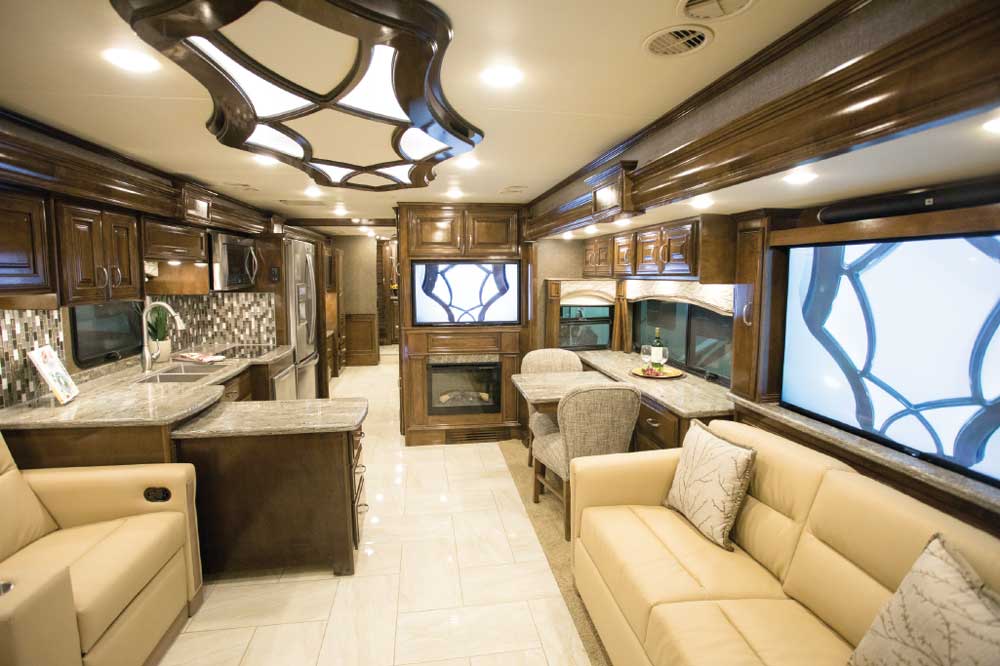 "This is a brand-new 40-footer for us," said Jon Krider, TMC's vice president of product development and marketing, noting that the lack of a tag axle on this unit makes it attractive to a sizeable group of RVers. "A lot of people like bigger motorhomes, but some just don't want the second tag axle back there."
Mounted on a Freightliner XCR raised rail chassis, the 40RT has a side radiator, 450-hp Cummins ISL 8.9-liter engine and, as Krider said, "all the electronics and all the goodies."
Other highlights include theater seating, mid-coach half bath and large rear bath, drop-down bunk over the cockpit and a Tilt-A-View inclining king bed in the master suite.
Thor Motor Coach Vegas 25.6
Among a host of new models in its several motorized lines, TMC also unveiled the Vegas 25.6, which Krider described as offering a tremendous amount of storage in its 26-foot, 6 inch-long single-slide configuration.
"We continue to get a lot of great feedback on our RUV products – Recreation Utility Vehicles – and so one of the things we wanted is a small coach that has a lot of wardrobe space because we're finding people who are downsizing from bigger coaches. They like everything about the small coach except they're just not willing to give up a few things, like some wardrobe space and some living space. They may not be using this as much as they were as a full-timer, but this 25.6 gives you a nice full-wall slide and two different wardrobes – so you've also got his-and-hers closets," Krider said of the $115,000 MSRP motorhome.
Tiffin Wayfarer 24FW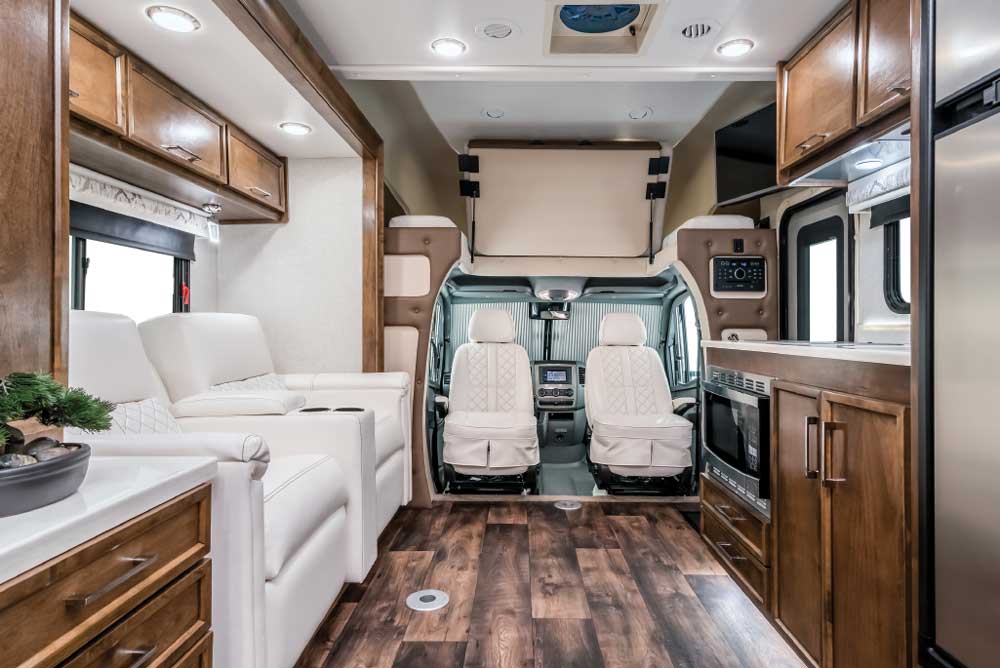 Tiffin began its second year of manufacturing the luxury Class C Wayfarer by introducing the 24FW, a full-wall-slide floorplan built on the Mercedes-Benz Sprinter chassis with a gross vehicle weight rating (GVWR) of 11,030 pounds. "A lot of the features on our Class C models are carried over from our Class A's," said Stan Posey, Tiffin's national sales manager, highlighting a water-filtration system, black-tank flush, LED lighting throughout and the one-piece seamless slideout (which "opens up a ton of room at the campsite," said Posey).
Interior appointments are likewise what you'd want – and expect – in a luxury motorhome. "The interior is contemporary modern," said Posey. "That's a direction a lot of manufacturers are headed, but we're really happy being ahead [of the curve] with our interior design.
"All cabinets are solid wood, hand-made and hand-crafted," he added, "but the thing I really like about this unit is the amount of storage available. There's a wardrobe in the living area, along with a wardrobe in the bathroom. There's also 32 square feet of storage in the exterior bays." With a 60-by-74-inch queen-size Murphy bed as the main sleeper – with the bed folded when not in use, there's plenty of room for a desk/workstation – the easily maneuverable 24FW is less than 26 feet long. MSRP: around $136,000.
Tiffin Zephyr 45PZ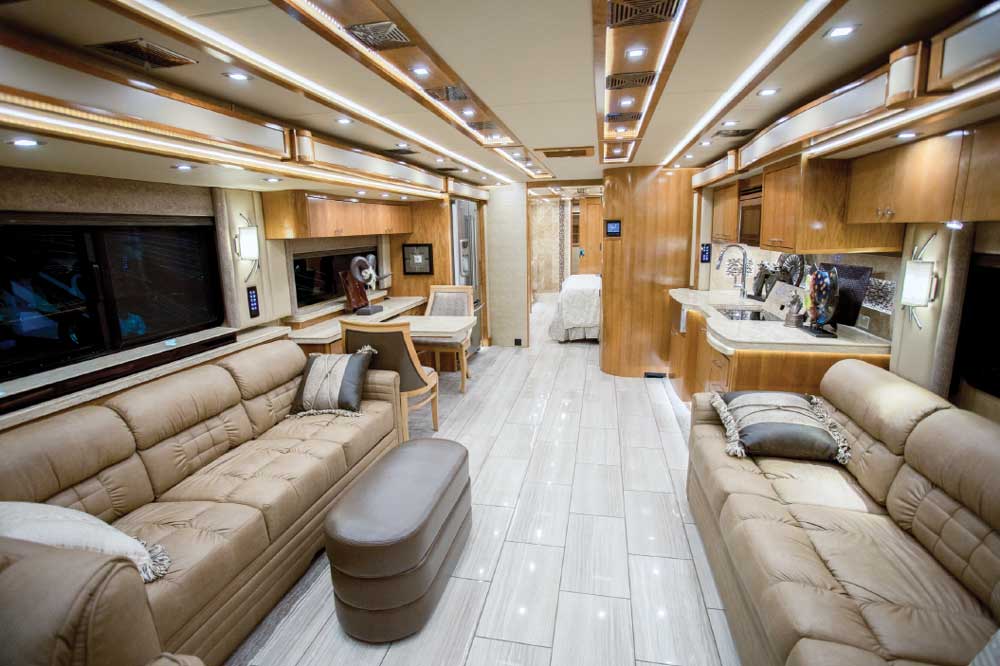 Built on Tiffin's proprietary PowerGlide chassis and featuring the optional Tru-Track passive steering tag axle, the new 2018 Zephyr 45PZ is, said Posey, "a real head-turner."
"The Zephyr is our top-of-the-line product," said Posey. "We went with this floorplan because everything seems to flow really smoothly." That free-flowing interior features new-for-2018 upgrades like a tiled wall in the master bath, a layered backsplash with integrated LED lighting, attractive decorative flourishes and JBL premium audio.
"This also has our contemporary ceiling, which is new to us. We put upgraded LED accent lighting in the soffit," he pointed out, adding the flooring is all tile, with a heated subfloor. Also new for 2018 is the usage of a high-definition digital dash panel with larger monitors in the cockpit. Additional electronics includes Mobileye Driver Assistance, a passenger-side GPS screen and a PressurePro tire-pressure monitoring system. The Zephyr has a 51,000-pound GVWR and features full-body, clear-coated paint; new front and rear caps; and stainless-steel trim at the bottom of the cargo doors. MSRP: $650,000.
---