Longtime Class A builder Tiffin Motorhomes enters the Mercedes-Benz Sprinter-based Class C segment with the Wayfarer, a luxury line with strong company DNA
Within an extremely short time period, the Class C motorhome has evolved into a number of sub segments that have steadily grown in a market that's getting a lot of attention these days. At one time the Class C culture was popularized by families looking for versatile sleeping arrangements and a package that was easy to maneuver and value-priced. But the sea of Class C's has matured into offerings from small to big and Spartan to luxurious; vastly different, yet officially still the same class of motorhomes.
To be called a "Class C," a motorhome must be built on a cutaway van chassis and that can result in the classic cabover model with few amenities or a Super C with diesel-powered, executive-class, commercial underpinnings that rival luxury Class A coaches. But the most recent (and growing in popularity) iteration of Class C is the type built on the Euro-styled van chassis spearheaded by the Mercedes-Benz Sprinter. These newer, sleeker type Class C's – which now include chassis entries from Ram and Ford – are heavily inspired by the styling and space-saving motorhome design/size found overseas. Livability and road performance rival just about any motorized RV, and once you throw in automobile-like fuel economy potential, it's no wonder this field of motorhomes is growing so rapidly.
Seeing these more compact Class C motorhomes flying off dealers' lots was undoubtedly the key factor for the people of Tiffin Motorhomes in deciding to try their hand at creating a smaller luxury Class C, founded on the much-acclaimed Mercedes Sprinter chassis. The Wayfarer is Tiffin's entry into this market and the company is currently offering three floorplans. To see just how well Tiffin transitioned into the Class C arena, we tested a preproduction model 24 TW.
Starting life on the Mercedes Sprinter foundation was no accident. The Sprinter platform has been proven for its great design, comfort, drivability and excellent fuel efficiency in Europe and the U.S., as well as in the automotive commercial markets. Much of the success can be attributed to the small but sporty 3.0-liter, six-cylinder turbodiesel engine boasting a mere 188 hp but enough torque at 325 lb-ft to propel the motorhome aggressively down the road. Tied to a pleasantly shifting five-speed automatic transmission, the motorhome is certainly a product of good power-to-weight balance. What this translates to in real-world driving terms is a fully equipped luxury motorhome that easily averaged more than 17 mpg with no problems climbing hills or keeping up with traffic on all road types.
While the cockpit is not fancy, it is ergonomic and the seats are supportive, but not super soft. Long stints in the driver's seat can be accomplished with little complaint, which can be partially attributed to the SumoSprings Ride Assist System. These springs use micro-cellular urethane technology, which absorb some of the shock and help support the suspension for improved handling and ride comfort. Since these springs have no moving parts to speak of, there is no maintenance, and longevity will usually parallel the chassis service life. Driving the Wayfarer took no more effort than that of a large SUV and simply felt like a solid motorhome with a hidden sports-car personality. The big benefit here, and probably a big reason for the Sprinter-based motorhome popularity, is the lack of driving intimidation for veterans and newcomers alike. Adding to the short acclimation period is a little extra safety insurance in the way of Lane Keeping Assist, Collision Prevention Assist, the High Beam Assist and a set of heated electric mirrors to complete that Mercedes equipment list.
In keeping with the Tiffin reputation for handsome graphics and the super shiny Obsidian full-body paint job, the exterior of the Wayfarer features swept-back smooth and subtle curvy lines that follow the body shape and a classy color scheme, consisting of dark gray, black and white hues. Blended into the front, top portion of the body is a uniquely contoured outcropping that adds more interior space and enhances the exterior styling. On the outside, you'll quickly notice hints of everything you want and nothing you don't in the way of features and accessories. Some of these options are concealed behind a number of slam-latch equipped compartments housing items like an RV QD 3200 Cummins Onan diesel generator, exterior entertainment system, easy-to-manage and use plumbing/filtration center and just enough storage space to match the motorhome's smaller stature. Blissfully blended into the rolled and contoured upper edges are the 14-foot Carefree awning and the convenient back-up camera.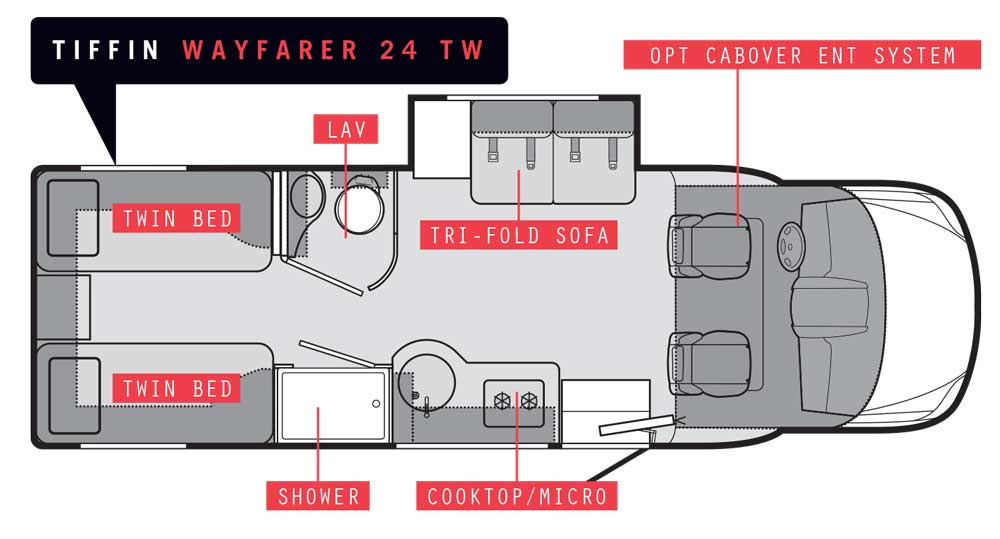 Upon entry there's an immediate inviting and warm feeling enhanced by the impressive assortment of European elegance that focuses on functional design and pleasant décor gracing the abundance of curved cabinetry throughout the span of the 25-foot, 7-inch floorplan. Up front and positioned right behind the cockpit seats, the vast majority of the compact living area is dependent on the slideout fitted with a plush and lush 52-inch tri-fold Ultraleather couch. The khaki-like light-beige Ultraleather-appointed living room takes full advantage of the cockpit's driver and passenger swivel chairs, for expanding the seating surfaces for more than two people when entertaining.
It's evident, by way of furniture and luxury living components, that the 24 TW and the rest of the Wayfarer line was directed at couples seeking extended weekend adventures. The only extra bed is tucked away into the smaller-than-average sofa because the cabover space is devoted to an entertainment system complete with an appropriately appointed, significantly sized LG flat-screen TV and coordinated Jensen stereo system with all the app, Bluetooth and connectivity needed. And once again, targeting couples, the entertainment center is best enjoyed on the two seats of the very comfy sofa bed, as there are no seats for guests in view of the TV.
The widely splayed, artistically laid out and flowing Amber Glazed curvaceous cabinetry stands out dramatically, showing not only a quality fit and finish, but great looks and plentiful space for provisions. Storage space is well thought out and placed exactly how and where you'd want it. Take, for example, the kitchen cabinets, both overhead and low lying, which create far more room and usable cooking space than imagined. Luxury continues with the use of a solid-surface kitchen countertop, which is home to the flush-mounted two-burner stove and the nicely sized – and actually usable – deep, round sink, both stainless-steel. Topping off the sink, literally, are the matching solid-surface sink covers and tall stainless sprayer faucet. And residing just below the counter is a clean-looking stainless convection microwave unit to handle any baking or heating requirements. This kitchen counterspace, albeit technically small, is quite usable for nearly any culinary task and super simple to use, thanks in part to the tons of correctly placed and sized aforementioned cabinets and drawers, which include a handy little pull-out pantry at arm's reach. Directly across from the business end of the kitchen is a very unique, but efficient (and possibly ideal for the motorhome this size) 5-cubic-foot three-way refrigerator nestled neatly next to the couch and consuming the remaining bits of the slideout.
En route to the master bedroom is a passage which can best be described as a clean corridor leading to the bathroom area. The split-bathroom design might be on the small side for some occupants, since all water features are snugly spaced. There is just enough room to pull off the necessary cleaning and primping, but if you're a little long legged, like me, it's going take some preplanning to sit on the toilet. It's not unusual for a compact motorhome to have bathroom facilities that are somewhat challenging, but in this motorhome it almost felt as if the door system needed its own GPS with detailed directions. Again, space is at a premium here, noted by the cramped shower stall and difficulty reaching for a towel. A little reorganizing or even a slideout expansion could help cure these imperfections – or simply an attitude adjustment when considering the overall benefits of easily tooling around town or camping in tight, primitive locations.
The master bedroom could easily be labeled as "Cabinet land with beds." At the entrance point of the bedroom a sufficiently sized wardrobe is parked at the foot of each twin bed, which leads the healthy portion of overhead wraparound cabinets. Just below rests the opposing sliding twin bed frames, each outfitted with an incredibly cozy, sleep supporting memory foam mattress. The matched beds are intended to slide together and meet in the middle to make up a king-size bed, which affords great sleeping versatility. Twin beds are not found that often in motorhomes these days, but there is a contingent of owners who prefer the separation. Mating the two beds is not as straightforward as you would hope and when in position there's a small void in the center of the two structures. There's potential for this to system to work very well, but the hardware can use some help from nylon glides, or even a motorized operation. Recognizing this model was a prototype, we believe refinements will be part of Tiffin's ongoing process to improve its newest entries.
Assisting the living capabilities are a number of key components that help make the Wayfarer 24 TW a logical competitor in this Class C segment. The ducted 15,000-Btu air conditioner with heat pump and 30,000-Btu furnace highlight the HVAC system, which for the size of the motorhome does a more than credible job of keeping the interior cool and warm. You'll also have use of an on-demand Girard tankless water heater, which is coupled to 40-gallon freshwater and 33-gallon gray-water tanks. And to light the way, all LED lighting has been strategically placed, along with some mood lighting.
One caveat to any well-equipped motorhome is weight, and the Wayfarer prototype was on the heavy side when compared to its gross vehicle weight rating (GVWR). Since the motorhome was only able to take on another 450 pounds before exceeding the GVWR, we'll give Tiffin the benefit of the doubt that this situation will be addressed in production models.
With some "edge-smoothening" (which we expect will be the case) here and there, Tiffin's Wayfarer 24 TW will make for an exceptional couples' getaway rig that's fun to drive, economical to live in and maintain, with just the right amount of class and luxury. And it's backed by a company that has a legendary reputation for building quality motorhomes and an almost cult-like following.
Tiffin Motorhomes
256-356-8661 | www.tiffinmotorhomes.com
---