Motorhomes that have extra space for stand-up paddleboards, kayaks and all your outdoor gear
We've all got stuff. Lots of stuff. Some of us may even have too much. And, especially while spending time in a motorhome, that stuff can add up. It can not only affect the livability inside the motorhome – requiring gymnastics and as-yet-unheard-of yoga poses to navigate the aisles – but it can also cause the motorhome to become overloaded, which can have disastrous consequences.
As a result, one of the decisions to make before hitting the road (along with where you're headed) is exactly how much of that stuff you should take with you. Space, of course, dictates our final decisions, as does the realistic occupant and cargo carrying capacity (ROCCC). And, unless you're a minimalist, chances are you'll have to leave some of your favorite stuff behind.
While we would never recommend bringing along everything including the kitchen sink (a motorhome already has one of those, after all), there are many motorhomes that can accommodate quite a bit of stuff, from outdoor gear to recreational toys to tools and furniture. But, you don't need a 45-footer or a toy hauler to enjoy a floorplan with extra room to spare (though that may help). We have gathered a group of motorhomes here that have the capacity, space and storage to allow for all the extras you'll need to enjoy the trip. And now that you know stand-up paddleboards are a great way to enjoy the outdoors while exercising and burning some calories (as are canoes, kayaks, bicycles and the like), the motorhomes included here are a great starting point to enable you to begin your new hobby (or enjoy it more than ever) by seamlessly blending your favorite recreational pursuits – while at the same time staying within the weight limitations of a highly livable floorplan.
Coach House Platinum II 241XL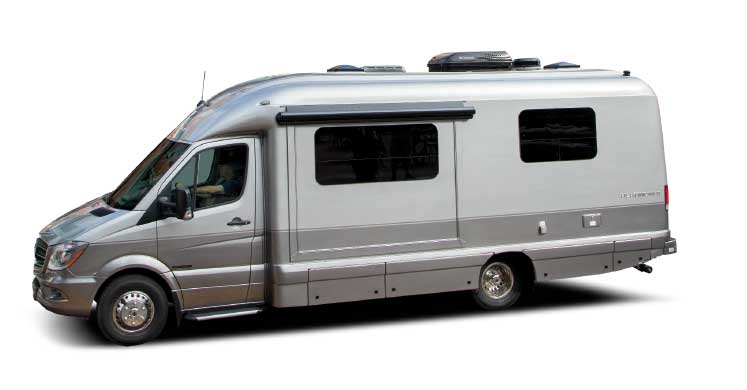 With 10 different floorplans to choose from, the Platinum II 241XL from Coach House is sure to provide a configuration that works well for on-road performance, living and bulky-item storage. Buyers who opt for one of the rear twin-bed layouts (two beds that can become one larger bed for sleeping) should find more than enough room for storage in the rear aisle, while exterior storage compartments offer enough real estate for an inflatable kayak or SUP. Premium floor coverings, stainless-steel appliances and a Truma AquaGo continuous water heater are all standard, as are the 3.6-kW LP-gas MicroQuiet AC generator, Wi-Fi booster and power box awning. Driving conditions are improved with the power-assisted steering and in-dash GPS, while campsite rocking and rolling is reduced by the standard Equalizer stabilizer system. Coach House motorhomes are sold factory-direct for maximum value, come with full-body paint (with optional Premium upgrades available), and feature the upscale craftsmanship for which the manufacturer is known.
Coach House
800-235-0984
coachhouserv.com
---
Fleetwood Pace Arrow LXE 38N

With exterior storage totaling 156 cubic feet – in addition to the 151 cubic feet of storage inside – Fleetwood's Pace Arrow LXE 38N offers plenty of room for bulky items without sacrificing on luxury. And seeing as how the 38N floorplan offers two bathrooms, convertible bunk beds and an adjustable king-size bed in the master – the crew you bring along will no doubt find that space necessary. Things inside will seem wide open thanks to the 84-inch soft-touch vinyl ceiling height throughout. The full-wall slide – one of three total slides on the 38N – makes aisle storage an easy affair. But livability is where the Pace Arrow really shines. A full bath serves the bunk area, while an en-suite full bathroom off the master runs the full width of the rear of the coach. A 43-inch LED TV in the living area is mounted above an electric fireplace, while the galley features an induction cooktop, pantry and residential refrigerator. The 38N is built on a Power Bridge chassis, which allows for what the company calls the industry's largest pass-through chassis storage.
Fleetwood RV
800-854-1344
www.fleetwoodrv.com
---
Forest River Berkshire XLT 45A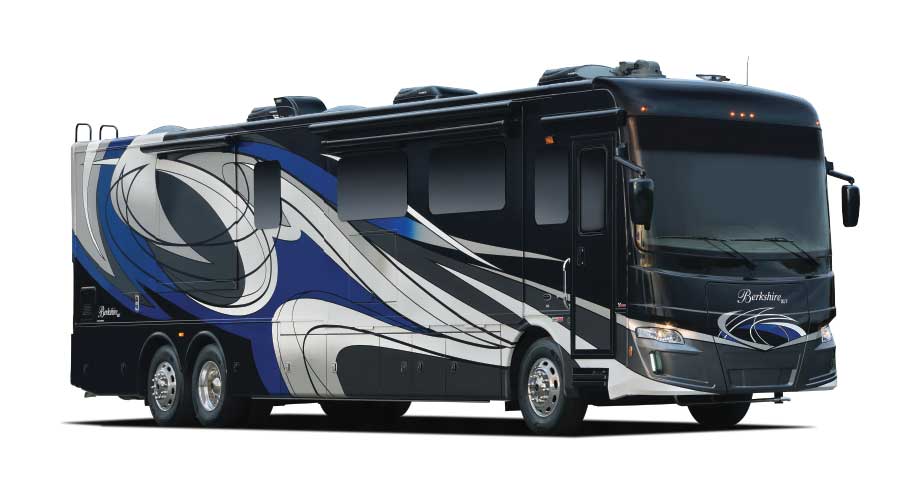 By building the Berkshire XLT 45A on a Freightliner XCR raised-rail chassis, Forest River was able to include a relative surplus of basement cargo storage. All baggage doors are fully insulated, and owners with SUPs or kayaks – or any large, bulky items – can take their pick of one large bay with café-style doors that can accommodate a large slide-out tray, another bay right behind that which could house a tray of its own, and a third compartment that could easily swallow most outdoor gear. But, when the coach you're piloting is nearly 45 feet of luxury on wheels, storage is rarely an issue. The Berkshire XLT is Forest River's flagship motorhome, and the 45A bunkhouse is outfitted with top-shelf appointments. All countertops are polished solid-surface, the flooring is polished porcelain tile with accents and the appliances are all residential-grade. Two full bathrooms and a variety of configuration options make this a great motorhome for families and those who like to bring along guests. New for the model year is a Truma AquaGo continuous water heater, which makes the coach all-electric; however, one interesting wrinkle is that the manufacturer will include a compartment for a customer-supplied LP-gas cylinder to allow for campsite grilling. The Berkshire XLT also boasts a 15,000-pound towing capacity, should your SUP preferences evolve into that of an actual boat.
Forest River Inc.Berkshire XLT Division
574-522-3963
www.forestriverinc.com
---
Jayco Redhawk 29XK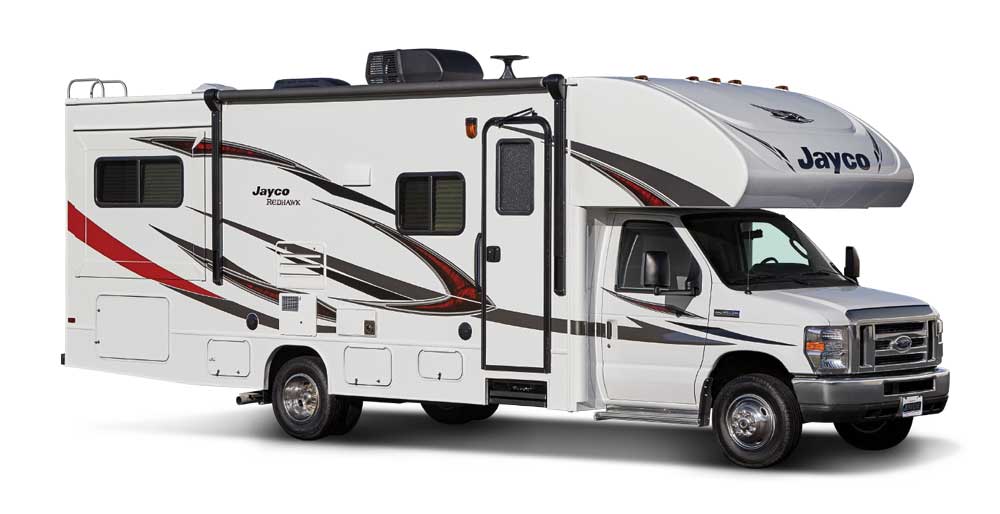 After 50 years in the RV industry, Jayco continues to pride itself on customer service, offering peace of mind long after the initial purchase by including a two-year limited warranty on its vehicles. Plus, motorhomes like the Redhawk 29XK are equipped with the JRide Plus system, improving overall ride and handling even with additional cargo aboard by employing Hellwig helper springs, rubber isolation body mounts, Bilstein monotube shocks, jounce bumpers and stabilizer bars, combined with air brakes, computer-balanced driveshaft and rear air suspension. Inside, the Redhawk 29XK offers plenty of sleeping space for six to seven happy campers, including a walkaround queen bed in the rear. A large U-shaped dinette can easily accommodate the whole family, as can the surplus of counterspace and storage areas, while the linoleum flooring makes for easy cleanup or stress-free SUP transport. When the party moves outside, a large 16-foot awning protects owners from the elements, while the heated holding tanks help with all-season enjoyment. The Redhawk also includes a standard backup camera integrated into a third rear brakelight for added convenience. Further highlights include a 7,500-pound tow rating, a one-piece fiberglass front cap and spacious pass-through storage.
Jayco
574-825-586
www.jayco.com
---
Leisure Travel Vans Unity Island Bed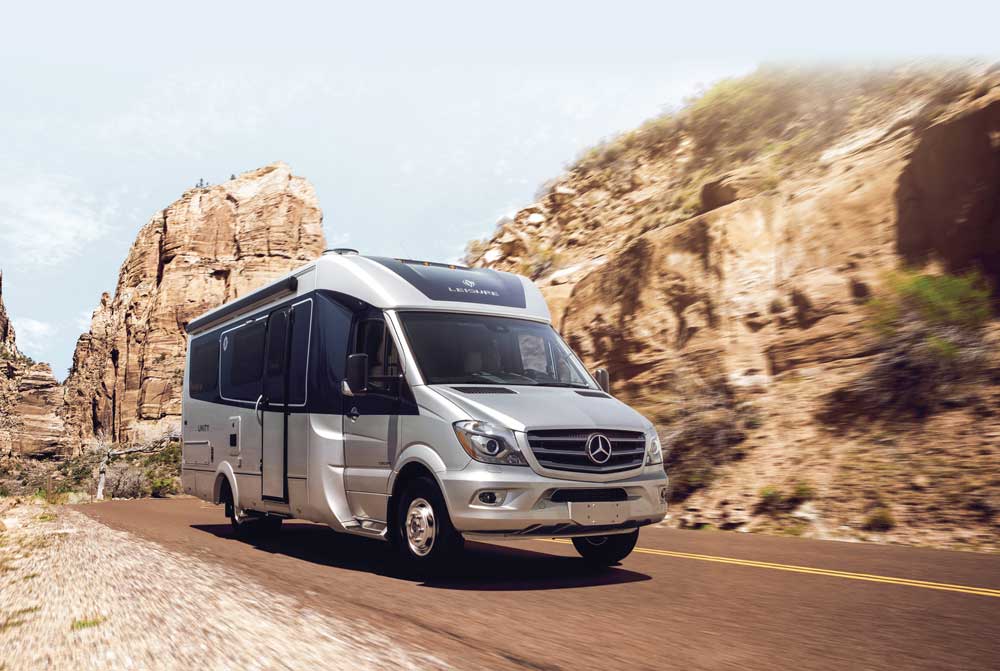 When you think motorhome storage, a compact luxury Class C without any slideouts may not immediately jump to mind. But when it comes to a balance between maneuverability, livability and innovative use of available space, Leisure Van's Unity Island Bed is tough to beat. At just over 25 feet long, the Unity is easy to drive right up to the dock, and its 63 cubic feet of exterior storage – including the rear full pass-through compartment – has a decent amount of space for your bulky aquatic adventure items. The interior of the Unity is designed around the rear walkaround 54-by-74-inch bed, and the clever usage of the footprint (and curved doors) makes the rear of the motorhome feel like its own master retreat. The Unity also features a split dry bath, plenty of interior storage (including a pair of wardrobes in the bedroom) and upscale curved cabinetry. LED lighting, whole-coach water filtration, Corian countertops and the Truma AquaGo comfort plus water heater are much appreciated. Outside, frameless windows and Euro-inspired front and rear caps adorn the Mercedes-Benz Sprinter chassis, which also sports bi-xenon headlamps, collision prevention assist and a standard in-dash GPS system.
Leisure Travel Vans
877-992-9906
www.leisurevans.com
---
Newell Coach 1642
With almost 500 square feet of living space, the quad slide, bath-and-a-half Newell Coach 1642 is a virtual penthouse on wheels. But its luxury doesn't mean it can't accommodate outdoor equipment: dual pass-through storage bays up front measuring 92 inches deep by 45 inches wide will be more than enough for your floatables. Each tray is controlled via a handy remote, allowing access from both sides of the coach. Inside, everything about this coach exudes luxury, from the limestone tile flooring to the underlit quartz countertops in the bathrooms to the premium leather furniture. Two TVs reside in the front salon area, while a 49-inch TV entertains in the bedroom area. Plus, there's a fourth TV on an articulating arm in the exterior storage bay. The galley features dual stacked pullout panty cabinets for plenty of food storage, in addition to a Fisher & Paykel DishDrawer dishwasher, garbage disposal, Wolf-brand two-burner cooktop and GE Monogram refrigerator/freezer. And did we mention the stackable Whirlpool washer/dryer located amidships? All this on a motorhome with a gross vehicle weight rating (GVWR) of more than 63,000 pounds.
Newell Coach
888-363-9355
www.newellcoach.com
---
Phoenix Cruiser 2552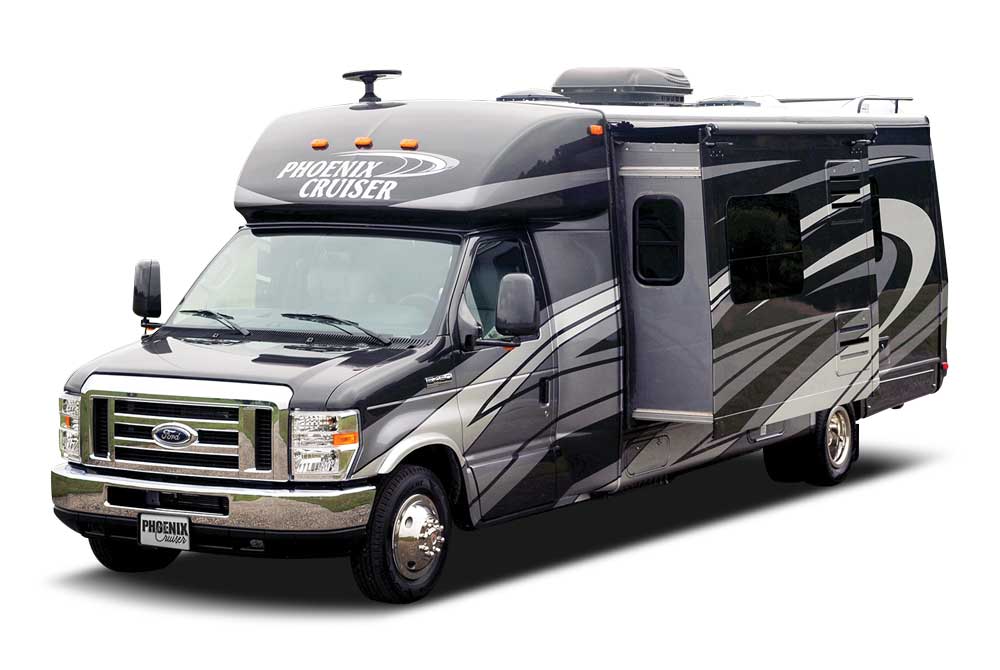 With factory-direct pricing and the ability to customize any of its nine floorplans, Phoenix Cruiser is a good choice for RVers who want to be more hands on in the design process. Phoenix says its motorhomes – like the 2552 – are more aerodynamic than other Class C's due to their low center of gravity, shorter profile, and curved fiberglass walls and roof. All that adds up to an enjoyable driving experience, even while the storage areas are stuffed to the gills with recreational equipment (staying within weight limitations). All-LED lighting illuminates the interior, and cabinets come in your choice of hickory or cherry hardwood. Most selections of interior appointments are your own, but the 2552 is standard with a U-shaped dinette and two 32-by-74-inch beds located just off of the large rear bathroom. Outside, a pullout storage tray is rated for 200 pounds of gear, while the rear cap also features a large side-to-side storage compartment for the shorepower cord and bulky items. And, for a more custom storage option, Phoenix can even attach a roof-mounted rack for your favorite toys.
Phoenix Cruiser
877-754-8535
www.phoenixusarv.com
---
Sunlight RV Van Two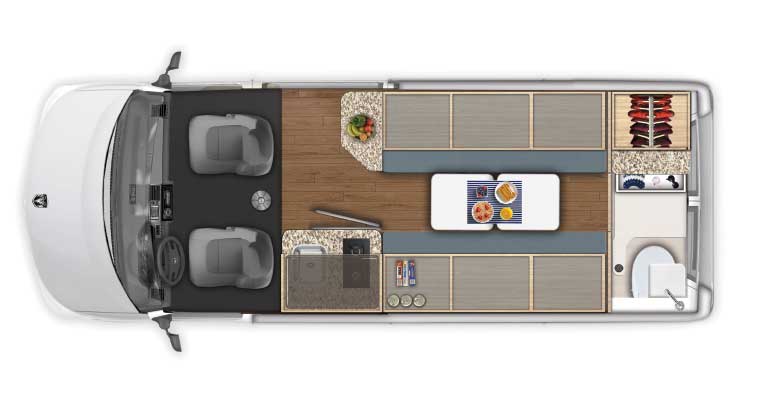 A division of Erwin Hymer Group North America, Sunlight RV manufactures the Sunlight Van Two Class B that has clearly been designed with access to adventure in mind. The fully equipped no-nonsense interior is thoughtfully laid out and features a rear dinette and bench seating that can convert to a single king-size sleeper or two twin beds. The galley features a 3.1-cubic-foot refrigerator, microwave and two-burner LP-gas stove, while the spacious bathroom with shower, toilet and foldaway sink is a great use of available space. The captain's chairs up front both swivel to turn the front of the Van Two into a dining area, which frees up the rear of the motorhome for storing kayaks, SUPs and the like. Optional EcoTrek lithium batteries and 200-watt solar panels enhance the Van Two's ability to perform off the grid, and climate control is via an 11,000-Btu roof-mounted A/C and an automatic LP-gas heating system. The Sunlight Van Two is available at Camping World locations nationwide.
Sunlight RV
844-745-4410
www.sunlightrv.com
---
Winnebago Travato 59K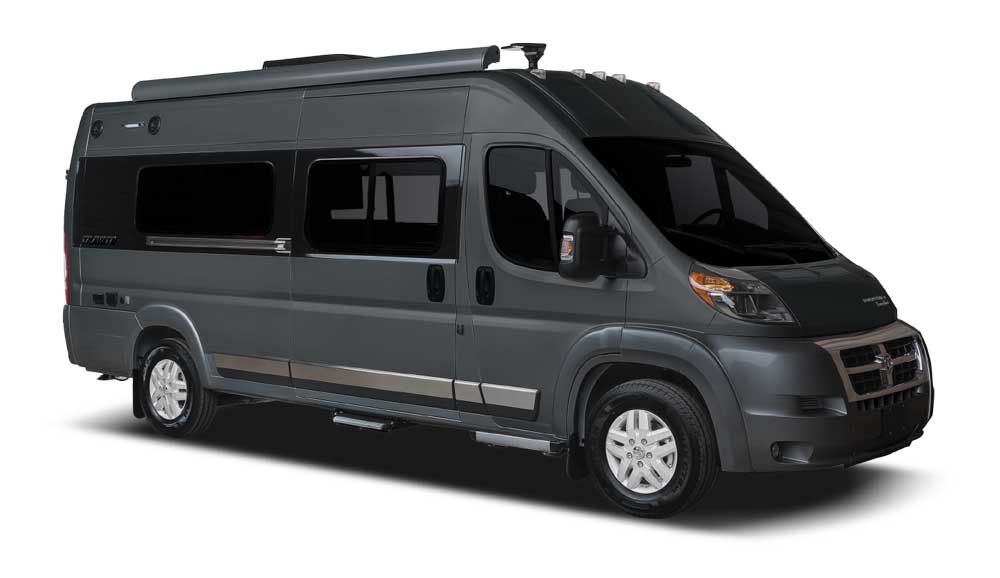 Versatility is what makes the Travato 59K a good choice for RVers who have cargo that may be a bit bulkier than the norm. The seating area located amidships leaves the aisle open for your SUP or kayak by day, and can transform into dual twin beds or a single large sleeper by night. But more than a modest space to lay your head (or canoe), the luxurious Travato is outfitted with standard premium features like Corian countertops, Truma Combi eco plus heating and 200-watt solar panels. The ultraleather captain's chairs turn around to expand the entertainment and dining opportunities in the front living area. A 24-inch LED TV and coach stereo system are also standard, as are the microwave convection oven, two-burner range top and powered patio awning with LED lighting. The bathroom is outfitted with a foot-flush toilet, flexible showerhead and fold-down sink. For more storage versatility, buyers can also opt to add a bike- or luggage rack to help haul additional recreational gear.
Winnebago Industries
641-585-3535
www.winnebagoind.com
---