Journey into the land that gave birth to the blues and experience deep-rooted traditions, small-town charm, and the history and flavor of the South
When my husband, Guy, and I are planning a trip, we always scan the road map — yes, the old-fashioned foldout kind — for designated scenic routes that are going our way. Almost invariably, they are "roads less traveled," which we prefer.

We recently "discovered" scenic Mississippi Highway 1, which is also a stretch of the Great River Road. It parallels the Mississippi River from U.S. Highway 49 just east of Helena, Arkansas, south to U.S. Route 61 at Onward, Mississippi, a distance of about 160 miles. The drive leads in the direction we were headed, although we altered the starting point a little to check out the unusual "crossing" we'd read about at Lula, a tiny burg off U.S. Route 49 a couple of miles east of Highway 1.
Anyone familiar with the blues knows that Mississippi is famous not only for the dozens of blues artists that originated and played here but also for several fabled "crossings" that appear in song or legend. The best known is the intersection of routes 49 and 61 in Clarksdale, where 1930s blues prodigy Robert Johnson, being down on his luck, is said to have sold his soul to the devil for wizardry on the guitar.

The Lula crossing is not shrouded in lore but probably could tell a few tales of its own. It's a rare perpendicular junction of two rail lines, the east-west Mobile and North Western and the north-south Mississippi Delta. The Mobile and North Western, now abandoned, was built in the 1870s to carry passengers from Lula to the river at then-booming Trotter Landing.

Today, Trotter Landing is a ghost town, and rusted freight cars sit idle on both tracks. But there was a time when Lula, now a forlorn town clearly fallen on hard times, with fewer than 300 residents, was, like Trotter Landing, also a "happening" place. A blues marker on Front Street notes that, between the 1930s and 1960s, it was "an important center of blues activity." Nearly 200 similar blues markers dot the Mississippi landscape as part of the relatively new Blues Trail, pointing out the birthplaces of various musicians and other blues-related sites.

Lula, the sign reads, was home to such blues luminaries as Son House, Sam Carr, Frank Frost and Charley Patton, who immortalized his town in song ("Dry Well Blues," 1930, and "Stone Pony Blues," 1934).
Our quest was not particularly to follow the Blues Trail. But seeing the markers is almost unavoidable when traveling through Mississippi, which, incidentally, counts more musicians in the Blues Hall of Fame than any other state.

After visiting Lula, we drove 4 miles west on Route 49 and turned south onto Highway 1 to officially begin the scenic drive. This is the Delta, land scoured flat by Mississippi floods, with the only "hill" in sight the grassy levee that snakes along the river, arcing around every bend. It's a lovely rural landscape dotted with an occasional small town. On our visit in mid-June, wide fields of corn not yet in tassel shimmered under a hot sun like sheets of emerald-colored silk.

Half-a-dozen miles along, Moon Lake Road turns off to the left, and we suggest making the short side trip that borders the 2,300-acre lake, an old oxbow, with rows of graceful cypress trees.

Moon Lake, separated from the river by the levee, was the site of the famous Civil War "back-door attack" in early 1863. During the many months the Union tried repeatedly to take Vicksburg — to gain control of the entire Mississippi — the Yazoo Pass Expedition, one of the attempts, was launched. Union forces blew up the levee, then tried to send ironclad gunboats into the Yazoo near Vicksburg via Moon Lake and a series of other waterways. But low-hanging trees delayed the boats, giving the Confederates time to toss up Fort Pemberton — cotton bales covered with earth — on the Yazoo, the only fort on the river to resist an attack by Union forces, and the expedition collapsed.

Years later, during Prohibition, the lake was home to one of the South's most famous landmarks, the Moon Lake Club. Gambling was allowed, but unlike speakeasies of the era that were frequented by gangsters and thugs, this was a family destination. Playwright Tennessee Williams was a visitor, and the club appears in several of
his dramas.

Today, Moon Lake is popular with fishermen, who come for some of the best crappie fishing anywhere. Bait is available at Bite My Worm Pitt Stop and Restaurant, the only bait-and-tackle shop on the lake. As RVers, Guy and I don't normally dine out, but sometimes we make an exception, such as for BMW, which we'd been told serves great food. The recommendation was right on. The catfish sandwiches and homemade slaw are terrific. And if you can afford it, calorie-wise, try the house specialty, a deep-fried Moon Pie.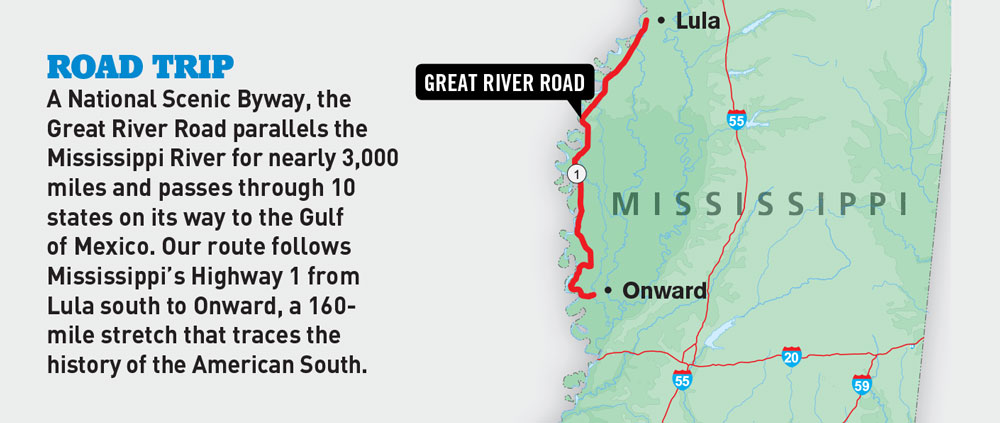 Another short side trip, to historic Friars Point, revealed a quiet backwater town of lovely antique homes and enormous magnolia trees. But 80 years ago it was a bustling center of river commerce and a center for the blues. A marker explains that Robert Nighthawk, one of the foremost guitarists of the 1920s to '60s, lived here at various times, and in a 1940 recording sang about "going back to Friars Point down in sweet old Dixie Land." Nighthawk (born Robert McCollum) and others played local juke joints and in front of stores.

Friars Point's historic homes include the Robinson-Slack-Marinelli House, the oldest house in town, built in 1850. Now called the Minie Ball House, it still bears the marks of shelling from Union gunboats during the Civil War. Local historians claim it was briefly the headquarters for Union General Napoleon Bonaparte Buford.
The town is also home to the North Delta Museum, its lawn adorned with a tank, a tractor and a memorial to American war veterans. A nearby sign says Friars Point was the birthplace of country singer Conway Twitty.

McKee Road runs back out to Highway 1. The drive, which continues south through the tiny community of Sherard, runs between acres of golden wheat and groves of the biggest pecan trees you've ever seen. Land once polka-dotted white with cotton plants now sprouts rice, corn and soybeans, as well as wheat.

We stopped for cold drinks in nearby Rena Lara at Great River Road Country Store (mailing address: Alligator, Mississippi). The store sells fuel and all sorts of snacks, and includes a café.

Just south of town, the DeSoto Trail turns right, and we followed it the couple of miles through fields of giant sunflowers and over the levee to DeSoto Lake. A large sign notes that here on May 8, 1541, explorer Hernando de Soto "discovered" the Mississippi. He and his party camped at the site, built barges and, about six weeks later, crossed the "rio grande."

We continued south through Gunnison, and on to Rosedale, the Delta's City of Brotherly Love. Then we stopped in at Joe's Hot Tamale Place, aka the White Front Café (902 Main Street), established 50 years ago.

We drove on through Beulah, a rural community at the east edge of Lake Beulah and one of eight enormous oxbow lakes between here and the end of the route, to Benoit, where the 1956 film Baby Doll was shot. Benoit was also the birthplace of three blues greats — guitarist Eddie Taylor, the so-called architect of post-World War II Chicago blues; James DeShay, a mainstay of the St. Louis blues scene; and drummer James Curtis, famed for his work on King Biscuit Time, the longest-running blues radio show in the country (since 1941, on KFFA in Helena, Arkansas).

South of Lamont is Winterville Mounds State Historic Site, a prehistoric ceremonial center built around 1200 A.D. by Mississippians who thrived in the area from 1000 to 1450 A.D. Many of the original 23 platform mounds are gone, leveled by road crews or farmers before Winterville became a state park. A dozen remain, among them 55-foot-high Temple Mound. Climb the stairs to the top for stunning views of the surrounding countryside.
Greenville, the largest town on the drive, with a population of about 34,000, offers the 1927 Flood Museum, the Greenville History Museum and the Greenville Writers Exhibit at William Alexander Percy Memorial Library.

The Writers Exhibit is interesting, as the Delta "has inspired more writers (and musicians) per capita than anywhere else." Among the 19 Greenville-native writers featured here are Hodding Carter, Shelby Foote and William Alexander Percy.

You'll learn more about attorney and poet Percy at the first-rate Flood Museum, as he was put in charge of flood relief (and wrote Lanterns on the Levee about the disastrous event). Housed in Greenville's oldest building, a former carriage house, the museum tells the story. The flood was one of the worst natural disasters the country has ever seen, with nearly 250 people dead, 750,000 displaced and 27,000 square miles under water. When the floodwater finally receded, "a river of humanity flowed out of the Delta," mostly to the North — a migration that changed the country. At a time when the federal budget was $3 billion, damage from the flood was estimated at $1 billion.

While in Greenville, we suggest camping at (or at least visiting) Warfield Point Park (U.S. Route 82 West). The lovely tree-statued park on the banks of the Mississippi has ATV trails, raised walking paths and a 38-foot observation tower. The Mighty Mississippi Music Festival takes place here October 2 to 4, 2015.

From the park, take Route 82 west toward the bridge, then Highway 454 south to Highway 1 to continue the trip. The turnoff for Leroy Percy State Park is about 20 miles ahead (then drive east 10 miles on Highway 12). It's the oldest in the Mississippi state park system and the only one that includes a wildlife preserve, plus it offers 16 RV campsites. Alligators living here can be observed in their warm artesian-water home from two observation towers.

Return to Highway 1 and continue south 4 miles, then turn right on Roy's Store Road to see a stretch of the original 144.6-mile road approved for construction in 1916. The strip of one-lane road that you see today and can still be driven, from Longwood to Chatham, was part of the original Highway 1, connecting Greenville and Glen Allan. Roy's Store, at the north end of Lake Washington, includes the tiniest post office imaginable, sells all sorts of camping and fishing supplies, and also offers a campground.

At the suggestion of Pam Hammond, the store's current owner and postmaster, we drove a mile west on Lake Washington Road to see what's left of an unusual cotton-seed storage house, a round building with 16 pie-shaped rooms, built in the 1920s by then-postmaster Lawrence Stein. As we walked to the fence around the building for a look, five friendly donkeys came to greet us, and an American Paint horse with eyes the startling blue of wolfsbane emerged from the ruins of the old gin.

From here, you can return to Highway 1 and continue south, or follow the Lake Washington Road east, a parallel route that arcs along the shore of the beautiful 5,000-acre, 9-mile-long oxbow. We chose the lake road — it's just a couple miles longer — for the fine scenery of the wind-blown lake.
We passed Mount Holly, a red-brick Italianate plantation house that in its day was among the Delta's finest. According to a National Register of Historic Places placard on the front wall, it was built around 1856 for an early settler's daughter. Later, it belonged to wealthy planter Hugh Foote, Civil War historian Shelby Foote's grandfather, and, in 1927, served as headquarters for a flood relief committee. It was sold in 2001 to a Texas buyer who has allowed this once-magnificent home to fall into ruin.

Continue south through Glen Allan (at Highway 436) to the 1852 Greenfield Cemetery and nearby ruins of St. John's, the first Episcopal church in the Delta. The stained-glass windows were removed for the lead to make bullets during the Civil War, and afterward the church was left open to the elements. A tornado in 1904 furthered the destruction.

Return to Highway 436 and drive east, crossing Highway 1, and continue about 5 miles to the Yazoo National Wildlife Refuge. Established in 1936, it's the oldest such refuge in the state, with nearly 13,000 acres of habitat for egrets, herons, ducks and numerous other waterfowl species. A quarter-mile boardwalk leads to an observation tower at Lizard Lake. Another tower at Alligator Pond shows off the refuge's largest resident reptiles. If you come at the right time of year — June — you might see females building nests; three months later, you can see the young gators hatching out.

Back on Highway 1, we continued south to Onward, the end of the line, at U.S. Route 61. The Onward Store is here — actually, all that's here. The cavernous store, new in 1913 when this was a thriving town, is liberally adorned with stuffed teddy bears, displayed among its many other wares. At the back, a restaurant, whose specialty is hot tamales, looks out over wide fields of cotton and soybeans.

Asked about the numerous teddy bears, the store's manager, Linda Agee, explains that in 1902 President Theodore Roosevelt came on a bear hunt to the area with several friends. After three days, everyone had shot a bear except the disgruntled president.

"His guide, Holt Collier, went into the woods and found a sick old bear, knocked it out and tied it to a tree for him to shoot," Agee said. "But, so the story goes, Roosevelt said it wasn't sporting and refused to take the shot."

Cartoonist Clifford Berryman heard the tale and drew a caricature of Roosevelt, shotgun in hand, threatening a cowering baby bear, Agee said. "The cartoon went viral, we'd say today," she continued with a smile. "New York shop owner Morris Michtom heard about it and contacted the White House for permission to name the stuffed bears in his display window for the president." Permission was given — and thus was born the "teddy" bear.
Where to Camp
Leroy Percy State Park
In Hollandale, off Mississippi Highway 12 (10 miles east of Highway 1), the park includes 16 RV sites with water and electricity, some with sewer; dumpsite available. Bathhouse, picnic facilities, playground, restaurant and hiking trail. Rate is $18 to $20 per night.
662-827-5436 | www.mississippistateparks.reserveamerica.com
Roy's Store, Cabins and Campground
Off Highway 1 in Chatham, the campground is located on Lake Washington and includes 37 RV sites with water, electricity and sewer. Boat ramp, fish-cleaning station, and camping and fishing supplies available at Roy's Store. Rate is $25 per night.
662-827-2588 | www.royscabins.net
Sunset View Resort
For RVers continuing south on U.S. Route 61 toward Vicksburg, this park has 1,000 feet of lakefront on 4,500-acre Eagle Lake, 14.6 miles west of  Route 61 on Mississippi Highway 465. The resort includes 39 RV sites with water, electricity and sewer. Motel rooms, a private pier, boat ramp, pavilion, bathhouse and playground. Rate is $25 to $30 per night.
601-279-4723 | www.visitvicksburg.com
Warfield Point Park
Off U.S. Route 82 West, this park includes 70 RV sites with water and electricity (five with sewer), with a dumpsite available. A 38-foot observation tower provides stunning views of the river and surrounding countryside. Rate is $13 to $15 per night.
662-335-7275 | www.warfieldpointpark.com
If You Go
Highway 465 is a lovely drive along Albemarle and Eagle lakes. But as the road north of Sunset View Resort runs for a stretch along the levee, we recommend not bringing a fifth-wheel or trailer. We also recommend not bringing it when visiting DeSoto Lake. We often leave our fifth-wheel parked in camp while we drive scenic routes where turning around might be difficult.
For More Information:
Mississippi Development Authority/Tourism Division
601-359-3449 | www.visitmississippi.org
Mississippi's Great River Road
www.msgreatriverroad.com
---