So Trailer Life began publishing in 1941. That is about the same time I started serious fantasies about pickup campers. I doodled pictures of such wondrous vehicles on my homework papers, much to the dismay of my teachers. It would be 1965 before I got to experience a real camper.
I grew up as a shop rat, in the family hardware/ farm implement/truck business. Like most kids in rural America, I was driving as soon as I could see over the steering wheel. But because my father had MS and could not drive, I was driving on streets and highways by 1941, in shop trucks and trade-ins.
One of my jobs was to bring trucks from the GM distributor in St. Paul to Wyoming, by twos and threes, saddled. I was 15. Back then Wyoming had more laws about horses than vehicles.
I had been "camping" with pickups for several years, on hunting and fishing trips,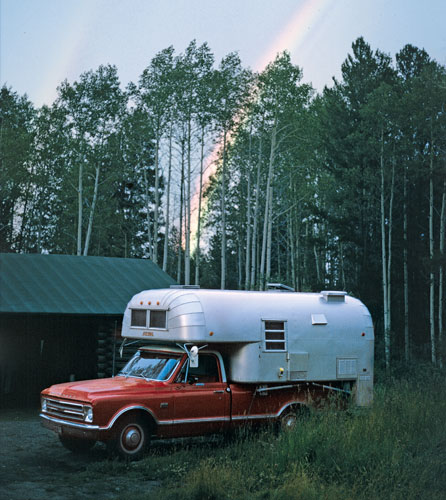 and just exploring. Bedroll under a tarp, Coleman stove and lantern, a water jug and a cooler. My favorite was a 1938 Diamond T, but Dad sold it. After Air Force service and college, I got a 1948 F3 Ford and camped with it. Saw an Alaskan camper being set up in 1955. The owner let it down, then let me set it back up. Amazing!
By 1963 I was making a living as a photographer and writer, mostly in the skiing industry, and doing some location shooting for TV and movie clients. This involved travel. Perhaps some camper company could use photos of their products in scenic places, I thought. So I went to an RV/boat show and looked over the exhibits. I soon found the star attraction to be the Avion.
After contacting Avion, I suggested the six-month loan of a camper, for which the company would get photos from upcoming assignments including the television series "American Sportsman" and "Wide World of Sports," as well as photos on various locations. Avion agreed.
Meanwhile, Ford had just introduced the F-250 Camper Special. It was "special" only in the nameplate; it was really just a 3⁄4-ton pickup with the proper specs for a camper. I ordered one and drove it to Benton Harbor. The truck was everything I had hoped for, including the bucket-seat option. The seats themselves were a surprise, however: black leather, with silver trim, comfortable, but the mounting brackets looked strange. Years later, talking with a Ford tech guy, I learned that there were no bucket seats ready for the Camper Specials. So somebody had grabbed two Thunderbird seats and cobbled up mountings for my truck.
I sent photos to Avion, who asked if I could shoot the new catalogue and advertising portfolio in Jackson Hole. I did. Then I got a call that said there was a problem: The new camper material made the trailer brochure and ads look dated and dull. There were to be new models with improved windows, so Avion wanted to update that portfolio, and I could trade "my" camper for a new one.
I got more than a new camper with new windows. I also became the "house photographer" for Avion, traveling from Wyoming to Michigan several times each year. I had been shooting and writing for outdoor and adventure travel, boating and ski magazines, as well as for Sports Illustrated, Time, Life, National Geographic — but Avion was my first steady commercial client.
The new Ford/Avion rig traveled 60,000 miles in the next three years, all over North America. On some trips we included our four children. Six people in a truck camper? No problem. Load the kids in the back, turn off the intercom and you're all set. That was then, and we never even considered the potential risks. Today, we would most likely be convicted of child endangerment.
Those four kids? Sometimes they shared the big overhead bunk, while my wife and I slept on the convertible dinette. Once in a while we would put the kids in a tent.
In 1968, Chevy wanted into Avion ads, brochures and editorial coverage. It seemed Chevy had been caught asleep on the RV market, but starting in 1968 there would be a Custom Camper pickup, and towing options on sedans and wagons. The Custom Camper would have the 327 engine. What color did I want?
I had just loaded a camper onto a new Chevy when the founder of United Mainliner called and asked if I wanted to work for a new magazine, called Chevy Camper, which would be a travel/adventure quarterly.
We had a great time with that magazine. We photographed and wrote about interesting destinations, with campers and trailers from many manufacturers, including Avion. RV choice was based on quality, usually my call. Chevys were mentioned, and sometimes photographed, but in an editorial arms-length manner. Neither Chevy corporate nor the ad agency was involved. But no Camelot lasts forever and in 1973 the plug was pulled.
We moved over to Dodge Adventurer, Chrysler Spectator, Pontiac Safari and several other company-backed travel magazines. During those years I had the opportunity to test, sometimes for a weekend but more often for a few weeks or more, on long trips, a wonderful variety of campers, trailers and motorhomes. I worked for Trailer Life and Woodall's, as well as several other RV magazines that are now long since dead. Whenever possible my wife and often my children went along, to Mexico, Québec, California, Utah, Wisconsin — all over North America.
Highlights included a one-month expedition using an Avion and a Chevy on the first-ever run of two Polaris snowmobiles from Vancouver, British Columbia, to Portland, Maine, for Sports Illustrated. I did the story, photography and press coverage on a route that wound back and forth across the United States-Canada border, covering most of the snow states and provinces. I also carried fuel and spare parts for the snowmobiles.
In 1972 I terminated my connections with Avion when it became apparent that quality compromises were appearing.  Later, at an Outdoor Writers conference in Colorado, lunching with the editor of Popular Mechanics, friends from Coleman and Ford, I was lamenting the fancy van craze: murals, white-shag carpets, low-ride wheels and side pipes. Said I'd like to do a story on a "practical van." Start with the display model, build a custom interior that would serve as a passenger vehicle, camper and toy hauler. Ford said he'd furnish an E-150. Coleman said he'd outfit it. Popular Mechanics said he'd print it.
A year, 42,000 miles, that van and several more stories later, I called Ford and said I didn't want to return the van. I wanted to buy it. "Why?" they asked. "Nothing broke. And don't want to de-rig it," I replied. Ford then offered me a deal I could not refuse.
But I still wanted a pickup camper. At 120,000 miles, I passed "Robert the Red Ford" on to one of my sons and asked Ford for another loaner, this time a 1997 F-250 4WD turbodiesel. I had hoped to put a highly modified Alaskan Camper on it. Alas, Alaskan said it was too busy to deal with a special project.
I still wanted a pop-up. I had tested a few big hard-side campers, and saw many more swaying all over America in winds and when buffeted by big trucks. Cornering? Mileage? The only full-size camper I ever loved was the Avion, and that company was history. And I had tested several soft-side pop-ups. I liked the Northstar models, which offered an Arctic Pack winter option and double-insulated windows. The company offered to build one to my specifications. I drove it up the Dalton to Prudhoe Bay, to Texas, to Maine, and throughout much of Canada. After 120,000 great miles, I bought the truck and camper.
But I still lusted for an Alaskan. This time, finally, Alaskan agreed to consider a project. When I sent in my plans, the company was still lukewarm, but the owner's son said Alaskan would build the basic shell if I would do most of the electrical and plumbing modifications. He would give me a key to the plant and I could work nights. Ford offered me an F-350 4WD dually Powerstroke, with a one-year buy option, the same deal Alaskan offered. I sold the F-250/Northstar combination.
Into the Alaskan went everything I had learned in 46 years of RV testing and living, plus the trial run with the Northstar. My wife Suzanne and I knew what we wanted for our "keeper," and what we did not want. All our needs and a few luxuries. Mobility, independence, performance, durability and the economy of a diesel. Compact, because we sometimes go on ferries, where you pay dearly for long rigs.
Then the problem. Suzanne and I had worked on a Habitat for Humanity "Blitz Build" — 20 houses in six days — in Georgia. Now came an invitation to work on a similar build in St. Johns, Newfoundland. We had been to Newfoundland once before, and wanted to go back. Trailer Life wanted a story. But the 1999 F-350 was still on the assembly line.
Ford found a low-mileage press fleet F-350 Dually Powerstroke to loan me. It was shipped to Chehalis, Washington, where Alaskan loaned me a clean trade-in 10-footer.
Off to Newfoundland. While building houses, I heard that the Canadian government was building a road from Goose Bay, Labrador, to connect with roads in Québec. Goose Bay had forever been an "outport," reachable only by sea or air.
Two phone calls confirmed that there was a road being built. Could we get through? Driving what? F-350 Powerstroke dually 4WD. Maybe, but there is only one fuel stop for 332 miles, and no service anywhere. So we took another ferry to Goose Bay. Three days, two nights, and wonderful wilderness later, we were in Québec, on real roads. Luck and pluck saw us through some stretches of rocks and mud and more survey stakes than road. A great adventure with a pickup camper. Not recommended for a fiver, travel trailer or motorhome. Probably better now that the road is finished, but it was special to have it all to ourselves.
Back home, truck now ready, and off to Chehalis. Finished the camper in four nights. To Baja for whale watching, then running legs of the Baja 1000 I had raced in 1992. To Alaska, the Yukon and Northwest Territories. To Vermont, New Orleans, Texas, California, and again to Alaska. Bella Coola, and Telegraph Creek at the mouth of the Stikine in British Columbia. We run the Winter Alcan 5000 Rally as competitors. Summer events include motorcycles, so we drive the camper to serve as timers; sweep, tow and sometimes rescue; and pull a trailer to haul biker's luggage, and to pick up dead or wrecked motorcycles. Routes include places in Alaska like Prudhoe Bay, Yellowknife, Inuvik, Dawson City, Valdez, and Chicken, usually finishing in Anchorage 10 days after starting in Seattle.
Pushing 200,000 miles now, aiming for half a million with this camper. Seventy years of dreaming about campers. Fifty-six years since I first saw an Alaskan Camper. Forty-six of driving, testing, camping and exploring with RVs, mostly pickup campers. And wherever, on back roads and dead ends.
No big RV could give us the freedom and versatility to go where we go. That's what makes a pickup camper so special. Most treasured are the priceless gifts of a sunset on a remote Baja beach, watching beavers play and eat while we were camped at an unmarked trail off the Dalton haul road, and having a nightcap while listening to loons and coyotes singing duets in the dark, at the Chief One-Eye lakeshore. You simply will not find these places on road maps.