Acadia, the first national park in the eastern United States, offers abundant activities from hiking granite peaks and biking historic carriage roads to basking in breathtaking scenery and wandering through shops and galleries
Long before French explorer Samuel de Champlain named the largest island off Maine's rocky coast Île des Monts Deserts (Mount Desert Island in English), the Wabanaki Indians, who'd been hunting and fishing here for some 5,000 years, were calling it Pemetic ("sloping land").
"Sloping" — and so much more. This is magnificent, dramatic terrain, where wide, glacier-gouged mountaintops are treeless and granite is lichen-stained. An extraordinary fjard (a smaller version of a fjord), also created by the glacier, nearly cuts the island in half. Craggy bluffs plunge stair-stepped to the Atlantic, and hammering breakers launch like geysers against the rocks. It's a world of sea versus shoreline.
The island claims more than a dozen mountains, some of them dotted high up with car-size boulders, delicately balanced "erratics" or "bubbles" the glacier placed here. Hillsides are thick with maples, oaks, aspens and other hardwoods, even lovelier, some observers believe, than the evergreens they replaced after much of the original fir and spruce forest was destroyed in a massive fire more than half a century ago. And there are alpinelike ponds, cobblestone beaches and endless sublime vistas of island-speckled sea.
Champlain was on a mapping mission for the French government when in 1604 his ship struck a shoal off the island. While repairs to the ship were being made, the cartographer had a look around. He spoke with some of the natives about their 108-square-mile island, but had his own opinion — and christened it Île des Monts Deserts (pronounced like "dessert" with the accent on the second syllable), meaning "island of barren mountains."
A French Jesuit settlement was here a few months in 1613, but it was destroyed by the British, who also had designs on the island. Later that century, the French governor of Quebec gave Mount Desert to French soldier Antoine de la Mothe Cadillac. He didn't stay long, but the highest mountain on the island — and on all the Atlantic coast north of Brazil — is named for him. Cadillac Mountain, at 1,530 feet, greets the sunrise earlier than most everywhere else in the country.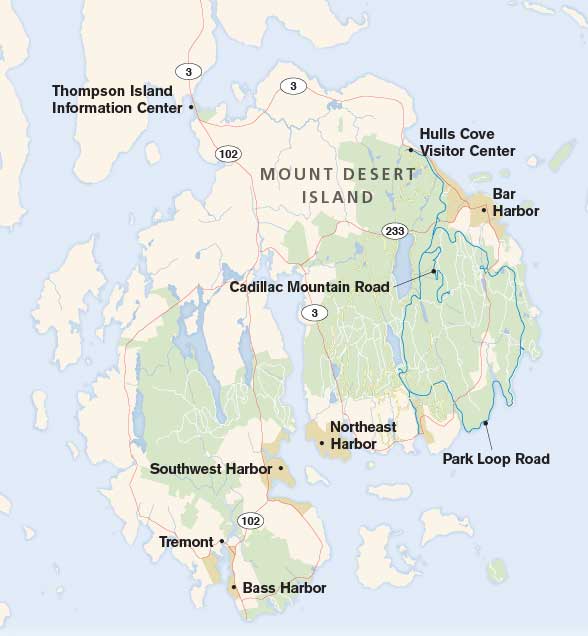 In 1759, the British captured Quebec, ending French dominion over the area, and it was opened to British settlement. Île des Monts Deserts became Mount Desert Island. After the American Revolution, it became part of the new United States.
Word of the remote lobster-claw-shaped island and its fine summer weather began filtering down the northeastern coast, and by the late 19th century, Mount Desert and its quaint fishing villages, linked to the mainland at Trenton since the first bridge was built in 1837, had become popular as a retreat for prominent wealthy families. Folks with names such as Rockefeller, Morgan, Ford, Vanderbilt, Carnegie and Astor came to "summer" here, building palatial "cottages" for themselves. Elegant hotels sprang up. A steamship line from Boston was established.
But soon after the turn of the 20th century, some of these wealthy summer residents became concerned that overdevelopment of the island would spoil it, and a small group, propelled by textile heir and conservationist George Dorr, who would be called the Father of Acadia National Park, opted to set aside some of their holdings for everyone in the country to enjoy.
In 1916, the year the National Park Service was founded, 5,000 acres on Mount Desert were dedicated as Sieur de Monts National Monument. Three years later it became Lafayette National Park, and in 1929 the name changed to Acadia, derived from the Greek for "idyllic place." It was the first national park established east of the Mississippi.
Today Acadia spans more than 47,000 acres — 35,332 acres that belong to the National Park Service and 12,416 additional acres that are privately owned but managed under a conservation easement. Most of the park is on Mount Desert (where it occupies nearly half the island) but also includes holdings on tiny Baker Island and Isle au Haut (reached by boat) and the Schoodic Peninsula off the mainland.
Once considered remote, Acadia now hosts more than 2 million visitors annually. Guy and I were among them last year — our second visit. We'd come more than 17 years ago to be among the first in the country to welcome the new millennium. This time we were holding our own celebration of the National Park Service centennial, and where better to celebrate than in this beautiful park, also established (albeit as a national monument) a century ago?
We suggest stopping first at Hulls Cove Visitor Center, just off State Route 3, where a 15-minute film shown every half hour offers an introduction to the island's natural and cultural history, and dozens of books, maps and posters are available. Visitor passes, required to enter the park, are for sale here, as well as at park campgrounds, park headquarters and the Thompson Island Information Center near the entrance to the island.
Open mid-April through the end of October, Hulls Cove Visitor Center is also at the start of the 27-mile Park Loop Road, a lovely drive that showcases many of the park's natural wonders. Designed in the 1920s by landscape architect Frederick Law Olmsted Jr., it winds roughly along the perimeter of the island's eastern "lobe" and includes a 3½-mile spur that climbs to the summit of Cadillac Mountain. As you'll want to make numerous stops along the loop, plan on a minimum three- to four-hour trip. Also bear in mind that much of the drive is one way.
Our first stop was at a pullout overlooking Frenchman Bay, which lies between Mount Desert and the 7-mile-long Schoodic Peninsula, and on a fine day is as richly blue as cobalt. Small islands, among them the humpbacked Porcupines — Bar, Sheep, Burnt, Long and Bald — dot the water, and placards explain that "during the long struggle to possess North America, French frigates would hide here to prey on English warships, hence the name of the bay."
Continue south and follow signs to Sieur de Monts Spring, a favorite park attraction. It had been purchased in 1909 by Dorr, who was also Acadia's first superintendent. He named the spring for the "proprietor" of the first French colony in North America, Pierre Dugua, Sieur de Mons, and built the octagonal springhouse over it.
The neighboring Nature Center displays plants and animals that live on Acadia. Also nearby are the ¾-acre Wild Gardens of Acadia, where more than 400 native species grow along pine-needle walkways, and the 1927 Abbe Museum, which interprets the history of the Wabanaki ("people of the dawn").
Beaver Dam Pond lies south along the loop and is worth a stop.
In search of beavers, we briefly followed an oddly zigzag trail that the animals had trenched through thick reeds along the water. No beavers were in sight, but the pond bristles with their spiky lodges.
Ahead, cresting the hill, far below and on the left, you'll see Highseas, a grand "cottage" and one of only a few estates in the area to have survived a 1947 fire that also destroyed much of the evergreen forest. Highseas had been built 35 years earlier by Prince­ton Professor Rudolph Brunnow.
Nearby is the parking area for Precipice Trail, which Brunnow also had built. Of Acadia's 130 miles of trails, ranging from easy to strenuous, Precipice, at just under a mile, is one of the shortest. But it's also by far the most challenging, requiring hands and feet as you negotiate iron rungs and ladders up the vertical stone face of Champlain Mountain. If you're afraid of heights, don't even think about it.
Then again, you may find the trail closed, as we did on our June visit. In the mid-1980s peregrine falcons were reintroduced on the island and began nesting here regularly a few years later. Precipice is closed as long as chicks are in the nest. Two visitors at the parking lot, scanning the high cliff face with a powerful telescope, reported they'd seen four chicks — three females, one male.
Other attractions along the loop include Sand Beach, Thunder Hole, Monument Cove, Otter Cliffs, Otter Point (an odd world of gray spars and fallen trees), Little Hunters Beach, Jordan Pond Gate Lodge and Jordan Pond, among others.
Ideally, you should get to Thunder Hole midway between low and high tides to descend a series of concrete staircases and look down into the hole. When tide and surf are right, incoming water, dead-ended at a small cave with nowhere else to go, thunders high into the air. Unfortunately, we weren't there at the right time, but we still found the unusual geology intriguing.
You'll pass the turnoff for Wildwood Stables at Seal Harbor, where for a fee you can take a horse-drawn carriage ride (you may also walk or ride a horse or, except where it's posted otherwise, a bicycle) along a stretch of the 57-mile carriage-road system built by John D. Rockefeller Jr. Between 1913 and 1940, he bought the land, paid for the roads and stone bridges, and then donated them to Acadia.
Ahead, parking is available for Bubble Rock Trail, and, if you're able, we recommend making the climb. The trail isn't long — 1½ miles round trip — but it's rough, very steep and involves a little rock climbing. However, spectacular views await at the top, and you get a close-up look at enormous granite "bubbles" deposited by the glacier some 12,000 years ago.
Our two geriatric dogs were game, so we subjected them to the trail, and then ended up having to carry them much of the way. When we arrived back at the parking lot, we noticed a small sign: "You are entering backcountry. No dogs."
Acadia and Mount Desert offer more. Much more.
A free shuttle-bus system with seven routes serves the entire island. There's spectacular mountain-bordered Somes Sound, the only fjard in the Lower 48 states, which nearly bisects the island. Picturesque Bass Harbor Head Light, built high on the granite shore in 1858, marks the entrance to Bass Harbor on the park's southern tip. Now automated and managed by the U.S. Coast Guard, it's the only lighthouse on the island, though five others are nearby (tours are available). You can take a 45-minute boat ride out to Isle au Haut, where more trail-webbed acres of the park are located.
The Schoodic Peninsula, 2,000 acres stretching off the mainland, includes a 6-mile park road, hiking trails, cobblestone beaches, Schoodic Education and Research Center, and Schoodic Woods Campground with 45 sites. Two other park campgrounds, Blackwoods and Seawall, are on Mount Desert, and a fourth, Duck Harbor, with primitive tent camping only, is on Isle au Haut. Numerous private RV parks are also located on Mount Desert and the
surrounding mainland.
Four principal towns feature superb views of the water among their attractions: Tremont, Southwest Harbor, Northeast Harbor and — the largest — bustling Bar Harbor, with dozens of trendy shops, galleries and restaurants. A fifth town, Trenton, is at the north end of the bridge to the island.
As RVers, we don't often dine out, but in Bar Harbor we made an exception and chose at random; dozens of restaurants looked tempting. But we can say with some authority that the seafood at Stewman's Lobster Pound (35 West Street) is first-rate, and the view from the upper deck of Frenchman Bay, which we watched turn to liquid gold in the evening light, is just as fine. We didn't learn till later that our dogs would also have been welcome; Stewman's and nearly two dozen other restaurants in Bar Harbor allow dogs at outside dining areas.
We saved the trip up Cadillac Mountain to watch the sunset for our last night on the island (sunrise and sunset are the most popular times to visit). The road is steep with precipitous drops, as it coils through a near-desert landscape. Generous parking is available, a good thing, as we imagine this evening was typical, with at least a hundred spectators. From the top, the mountain provides breathtaking views in all directions.
Placards explain what you see from this high-up "great whaleback of granite": the entire park plus faraway Mount Katahdin at the north end of the Appalachian Trail, Frenchman Bay with its many shadowy islands and the silver-blue water of open sea.
While we watched, the sun, veiled behind a swath of gray, rain-bruised cloud, suddenly emerged at the horizon, setting the western sky ablaze. Even the scattering of clouds
in the east turned pink as a conch.
Then the sun was gone, but for long minutes it fired volleys back at the horizon, and the sky flared brighter, striped with fuchsia, rose, apricot. Finally, the sun's arsenal spent, color drained from the sky, leaving a dome of pale blue dotted with charcoal-gray clouds. Far below in Bar Harbor, pinpoints of gold and silver were winking on, as the long string of vehicles wound back down the mountain, where there are no lights. But overhead, among dark clouds that looked like islands lifted from their proper place in the water, a handful
of stars were shining.
If You Go
ACADIA NATIONAL PARK
Maine's Acadia National Park, a 47,000-acre recreation area, encompasses most of Mount Desert Island and associated smaller islands. The 27-mile Park Loop Road is the main avenue through the park. Cadillac Mountain, at an elevation of 1,530 feet, is the first place to view sunrise in the United States from October to March.
207-288-3338 | www.nps.gov/acad
COASTAL CAMPING
Acadia National Park offers three campgrounds with RV sites: Blackwoods with 61 nonelectric sites, Seawall with 40 nonelectric sites and Schoodic Woods with 43 electric sites. Potable running water, flush toilets and dump stations are available. The campgrounds are open from Memorial Day to Columbus Day, and the fee is $30 to $40 per night.
Reservations: 877-444-6777 | www.recreation.gov
Mount Desert Island has numerous private campgrounds. We enjoyed our stay at Smuggler's Den Campground in Southwest Harbor. Open from Memorial Day weekend to the last Saturday in October, the campground has 47 RV sites, all with full hookups. Amenities include a camp store, free Wi-Fi, a swimming pool and walking trails. Cost is $40 to $64 per night, and pets are welcome.
877-244-9033 | www.smugglersdencampground.com
Across the bridge in Trenton is Timberland Acres RV Park, a Good Sam Park that is open from mid-May to mid-October.
207-667-3600 | www.timberlandacresrvpark.com
---
FOR MORE INFORMATION
Acadia Welcome Center | 207-288-3338 | www.acadiainfo.com
Bar Harbor Chamber of Commerce and Acadia National Park
800-288-5103, 800-345-4617 | www.barharborinfo.com