Accessorizing a motorhome's patio awning is a sure way to maximize the functionality and comfort of your outdoor living space
They shade us from the blazing midday sun, protect us from passing rain showers, help keep interior temperatures cooler, provide a comfortable outdoor area to take in surrounding vistas and become a natural focal point for entertaining family and friends. Patio awnings are a valued component of any motorhome.
Like the patio covers of conventional homes, motorhome awnings fitted with a few of the right accessories will bring even greater functionality, convenience, comfort and enjoyment regardless of the season or application.
Whether you are a first-time owner who uses the motorhome just a few times a year, or a seasoned full-timer, we are sure at least a few of the newest awning accessories and products we've highlighted here will be of interest.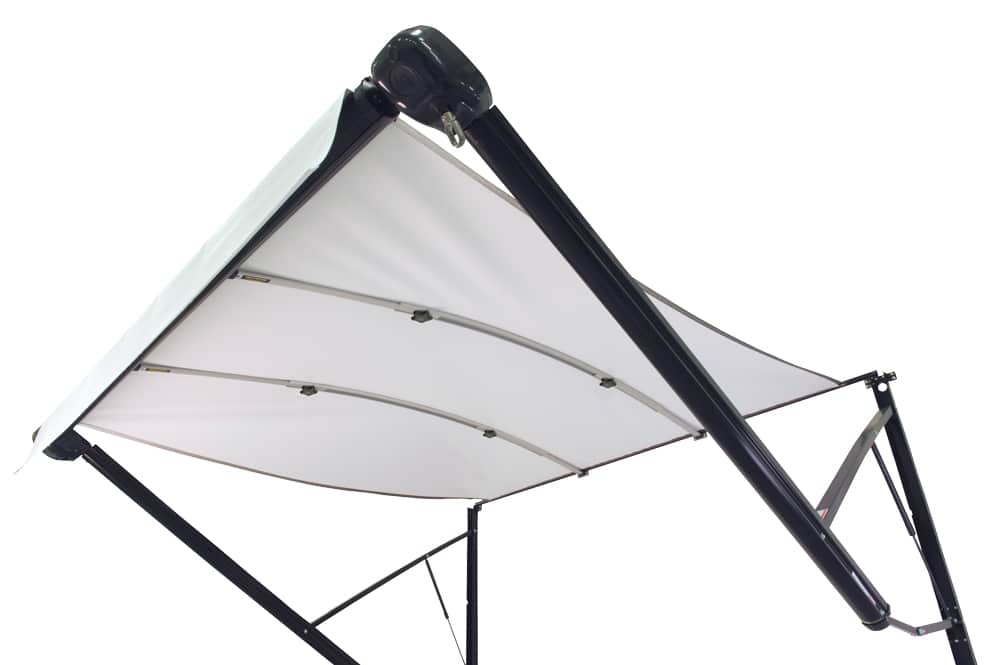 They can be found at Camping World and other RV stores or online. Utilizing a couple of the right awning accessories can make a big difference the next time you step out the door.
All Bowed Up
Tired of having rain showers creating a puddle on top of the awning fabric? Lippert Components' Awnbrella kit, available at Camping World and other RV centers, solves that issue with rust-resistant aluminum bows that keep the fabric taut and arched. Easy to install, the 8-foot extendable bows help shed water and debris. A two-bow kit handles awnings from 10-14 feet in length, while a three-bow pack will support 14- to 18-foot awnings.
MSRP: From $166.99 | 574-537-8900 | www.lci1.com
Power Rail
Many motorhome owners roll out the patio awning and then string extension cords so they can plug in fans, lights, speakers or other electrical accessories to bring some of the indoor enjoyments outdoors. Dometic's PowerChannel Awning Hardware Rail, which mounts directly onto the arm of the awning, eliminates the need for messy extension cords, providing power to dedicated accessories (LED light, a wireless speaker and a fan) by twist-locking them into the rail's channel, in a similar manner to those found in residential homes. The PowerChannel is available in either black or white, is UV-resistant, and can withstand harsh weather conditions.
MSRP: $49.99, accessories sold separately.
www.dometic.com/en-us/us/products/climate/awnings/accessories
Zip It Up
An awning is great, but having additional shade, protection and privacy greatly improves its functionality, and also the comfort of those who enjoy being outdoors. The EZ ZipBlocker from Carefree of Colorado is designed to do it all without blocking the view. It's easy to install with a two-piece design. One piece is the main body panel (with 7- to 9-foot drops), and the other is a 1- to 3-foot zippered insert that can be left in the roller-tube slot during retraction. The zippered insert makes installation and removal as simple as zipping and unzipping your jacket. EZ ZipBlocker works with both power and manual-crank awnings, and comes in 10-, 15- and 19-foot lengths.
MSRP: From $146 | 303-469-3324 | www.carefreeofcolorado.com
Light Works
Lippert Components' LED Awning Light Kit is designed to integrate seamlessly with Solera patio awnings to provide soft, bright, indirect lighting whether the fabric is extended or retracted. The waterproof light strips, which are powered by the motorhome's 12-volt DC system, are available in several lengths up to 21 feet, providing the perfect illumination for gatherings under the awning or under the stars. The kit is easy to install, and an optional dimmer allows users to adjust the light's brightness to fit the mood.
MSRP: From $120 | 574-537-8900 | www.lci1.com
Boogey Lights
When it comes to lighting up the area under an awning and making a statement, there's nothing quite like Boogey Lights. Most motorhomes today come with some kind of outdoor lighting, but few compare to the brightness, capabilities and convenience of Boogey Lights RV Awning Lights. These cool awning lights are offered in single and multicolor 12-volt DC/120-volt AC LEDs, and can be operated via a wide variety of controller options, including Bluetooth. Boogey Lights RV lighting products are designed, assembled and supported in the United States.
MSRP: From $139.99 | 800-847-1359 | www.boogeylights.com
Happy Hooks
A floppy awning is an unhappy awning. That's easily cured with Valterra's Happy Hooks awning tie-downs. These nifty C-shaped hooks fully rotate around the awning tube; the cinching hardware keeps the tie-down pressure on the main support. Simply unhook for quick awning takedown. The spiral stakes are designed to securely anchor the awning in normal or sandy soil. Happy Hooks come with bright white cords for quick visibility and safety.
MSRP: $24.77 | 818-898-1671 | www.valterra.com
Drape Lighting
Valterra's Awning Drape with Solar Rope Lights is a great awning accessory because it allows you to enjoy shade by day with the added convenience of lights at night. With a 7½-foot drop, you can extend the drape farther away from the wall for more usable space. The waterproof LED lights come on automatically at night, and you can choose from on, off or blink mode. The all-in-one kit contains a 15-foot awning drape, 15 feet of clear solar rope lights, five 3-foot Rope Light Traks, three tie-down stakes with cords and a carrying bag.
MSRP: $199 | 818-898-1671 | www.valterra.com
Quick Fix
One way of fixing a torn awning or, for that matter, any other torn fabric like a pool toy, raft or even Sunbrella fabric, is a product called TEAR-AID. Available in two types, depending on the material being mended, TEAR-AID is a strong and flexible patch that is clear, so it will work with any color material, and will not fade or turn gummy. It cuts easily, is UV-resistant and requires no glue tubes to install, according to the company. The elastic nature of the product allows it to move with awning fabrics and inflatable items.
MSRP: Starts around $9.99, but varies on type and size of kit.
800-937-3716 | www.tear-aid.com
Cool Track

Forget about tying a loop in a garden hose's spray nozzle around an awning arm so it showers those sitting under the awning on a hot, steamy day. Valterra's 15-foot RV Mister Trak keeps everyone pleasantly cool in hot temperatures with a fine, adjustable, evenly spread mist from the awning's roller tube. This awning accessory misting system comes preassembled so it will easily slide into a roller tube utility slot. The misting supply tube extends 25 feet beyond the misting jet assembly for easy water source hookup. The Trak includes an additional utility slot for extra accessories. It also includes a misting tube with six powerful metal jets, 15 feet of RV TwinTrak, hose "Y" shut-off, pressure control valve and a handy nylon storage bag.
MSRP: $68.42 | 818-898-1671 | www.valterra.com
Family Room
Turn the space under your motor­home's awning into an enclosed outdoor patio with the Solera Family Room kit. Add up to 160 square feet of enclosed space so you can enjoy meals without battling pesky insects. Or roll down the all-weather panels and use as a cozy outdoor sleeping area for kids. Its neutral tan material helps to block out extra heat, making the Solera Family Room perfect for outdoor dining, board games and social gatherings on hot summer days. Fits most 10- to 21-foot-long manual and power awnings with awning rail-to-ground measurements of up to 130 inches.
MSRP: From $888 | 574-537-8900 | www.lci1.com
Remote Control
Wind is one of the biggest threats to lateral-arm awnings, and by updating your motorhome's old awning motor with one from Somfy System's Simu line, you no longer need worry about it. Simu's Type 6 HZ wireless awning motors communicate with a full line of companion sensors, receivers and controls including a motion sensor, which detects wind and automatically retracts awnings to protect them from damage. The 120-volt AC motors also feature a manual override in the event of a power failure. Owners can extend the awning effortlessly, as well as protect it from damage and create evening ambiance with the simple touch of a button.
MSRP: From $549 | 866-518-1909 | www.somfysystems.com
Double Tracks
Make the most out of the outside space under your motorhome's awning by sliding Valterra's Rope Light With Traks into the awning's utility track. The 18 feet of clear LED rope light bathes the area with soft lighting, perfect for any occasion. The track system is simple to install into the roller tube utility track, and the kit comes with a second utility track for additional awning accessories. Includes ½-inch-by-18-foot UL-listed 120-volt AC clear rope lights and 18 feet of Rope Light Trak. Made of UV- stabilized materials.
MSRP: $72.55 | 818-898-1671 | www.valterra.com
Another Quick Fix
A falling limb pierces the fabric, or a piece of debris gets trapped when the awning is being retracted, creating a tear. Camco's Awning Repair Tape, available in both 3- and 5-inch-wide rolls, easily handles rips and punctures, keeping them from getting worse. The UV-coated, tear-resistant tape, available in clear or multicolor, is designed specifically for permanent canvas and awning repair. The aggressive adhesive fuses the tape to the awning fabric, and the tape works equally well, repairing everything from rain gear and backpacks to seat covers and tents.
MSRP: $14.49 (3-inch wide); $15.99 (5-inch wide) | 800-334-2004 | www.camco.net
---