From retro teardrops to compact hybrids and off-roaders, these easy-towing trailers are surprisingly comfortable and go almost anywhere
If you're in the market for a super-lightweight towable RV, the good news is that there are more options than ever. For the past few years, manufacturers have scrambled to provide hip, fun little trailers for those who want the comforts of RV travel while remaining nimble and adventurous.
This roundup of innovative tiny trailers includes 15 models with a gross vehicle weight rating (gvwr) between 1,800 and 2,900 pounds that can easily be towed with a properly equipped SUV or crossover. This segment of the market is particularly appealing to anyone who isn't interested in a truck as a daily driver and would prefer to tow, for example, with their Subaru Outback or Jeep Wrangler.
Besides allowing for a smaller tow vehicle, lightweight RVs are easier to store, and many of the featured models can fit in the average garage. If you are planning to keep your trailer under cover, carefully measure the height of the garage's entrance before making your purchase. Also be sure to note the additional height of a roof-mounted air conditioner.
With a nod to outdoor adventurers, most of these trailers come equipped with off-road features, or they are offered in optional packages with upgraded tires and raised axles. You'll also see many with solar-prep and solar-panel options, along with a variety of 12-volt DC appliances that will run off the RV's battery. You'll want to make sure the trailer can haul all the toys you want to bring along, so look for roof-rack and hitch-receiver options that will suit your needs, and confirm that the trailer is rated to carry the added weight.
While it's easy to find a trailer in this segment that will support your off-road and off-grid adventures, it's also important to note what these ultra-lightweight rigs don't have. For the most part, you will have to forgo gray- and black-water tanks to stay under 2,500 pounds gvwr. If carrying water is important to you, look carefully at the freshwater-tank capacity, which varies greatly within this roundup of trailers.
Now let's figure out which of these tiny trailers is the perfect match for your future adventures. The road is calling, and with a lightweight towable in the rearview mirror, it's easier and more comfortable than ever to answer it.
---
Rockwood Geo Pro G12SRK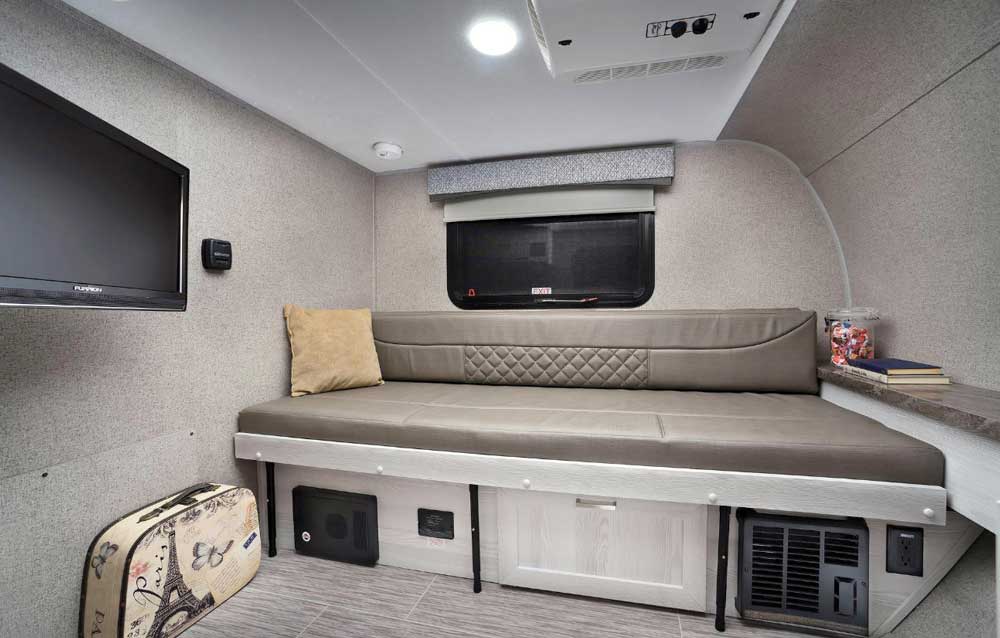 This trailer from Forest River's Rockwood division offers an important amenity not available in the other featured models: a gray-water tank. It's hard to find waste tanks in trailers of this size, but the Geo Pro G12SRK shows up with a 6-gallon gray tank and adds a 20-gallon freshwater tank as well.
Another luxury that stands out in the tiny-trailer sector is the pair of 5-gallon LP-gas cylinders that come standard. A 13,500-Btu roof-mounted air conditioner is available as an upgrade. Add the Chill Chaser heat strip if you plan on camping in cooler temperatures.
Exterior Length 12′
Exterior Width 7′
Interior Height 4′ 10″
Exterior Height 7′ 6″
Freshwater Cap. 20 gal.
Black-Water Cap. NA
Gray-Water Cap. 6 gal.
LP-Gas Cap. 10 gal.
UVW 1,763 lbs.
Hitch Weight 258 lbs.
GVWR 2,898 lbs.
MSRP, Base $16,442
The gvwr is a bit high compared to most of the other options in this article, coming in at 2,898 pounds. However, the unloaded vehicle weight (uvw) is 1,763 pounds, giving a solid 1,135 pounds of cargo-carrying capacity. Careful packers can stay below a 2,500-pound threshold.
Like many trailers in this category, the Geo Pro G12SRK has a rear hatch that lifts to reveal a well-outfitted kitchen to include a sink, microwave, two-burner cooktop, three-way refrigerator, 120-volt AC outlets and USB ports. A Coleman grill completes the cooking setup.
The interior is unique in that it contains a gaucho couch that transforms into a bed. This will be immensely appealing to folks who prefer a transformed living space during the day. The sofa bed also allows for more storage cabinets than one usually finds in a trailer
this size. Light cabinetry brightens up the cozy interior.
---
The TAG XL takes the teardrop design and puts a fresh, modern spin on it. The exterior base can be white or silver, but the fun really starts with mixing and matching the trim colors and graphics. Many owners take advan-tage of these options to coordinate
Exterior Length 13′ 7″
Exterior Width 7′ 9″
Interior Height 3′ 7″
Exterior Height 6′ 4″
Freshwater Cap. 8 gal.
Black-Water Cap. NA
Gray-Water Cap. NA
LP-Gas Cap. 5 gal.
UVW 1,418 lbs.
Hitch Weight 133 lbs.
GVWR 2,200 lbs.
MSRP, Base $20,220their TAG with their tow vehicle.
At the rear, a hatch opens to give access to the well-appointed kitchen. Savvy shoppers will note the inclusion of a Yeti cooler, claimed to offer ice retention for up to seven days, in lieu of the 12-volt DC refrigerator often seen in smaller RVs. This will appeal to many folks who camp off the grid. However, others who take advantage of the standard solar prep might prefer a battery-powered cooling option.
The kitchen's ash-colored cabinetry is modern and fresh, with streamlined hardware and storage hooks and baskets. It also houses a two-burner stove, sink, microwave, LED lighting and Bluetooth stereo speakers. An 8-gallon freshwater tank comes standard and will feed into the kitchen sink and outdoor shower.
Inside, the queen bed sleeps two, with upper storage cabinets at the head and foot of the mattress. You'll also find a 19-inch TV, a wall-mounted air-conditioning unit, USB ports and 120-volt AC outlets.
The Boondock Lite and Boondock Edge packages will appeal to those planning to camp without hookups. Extra features include upgraded off-road tires and a heavy-duty axle.
---
Jayco Hummingbird 10RK
The smallest offering in Jayco's Hummingbird lineup nods at the traditional teardrop design but supplies more interior space and amenities normally found on larger travel trailers, such as a power A-frame jack and dual battery mount. Other notable standard features include Goodyear 15-inch radial tires with self-adjusting electric brakes, Dexter rubber torsion axles and an enclosed underbelly with a layer of Astro-Foil insulation.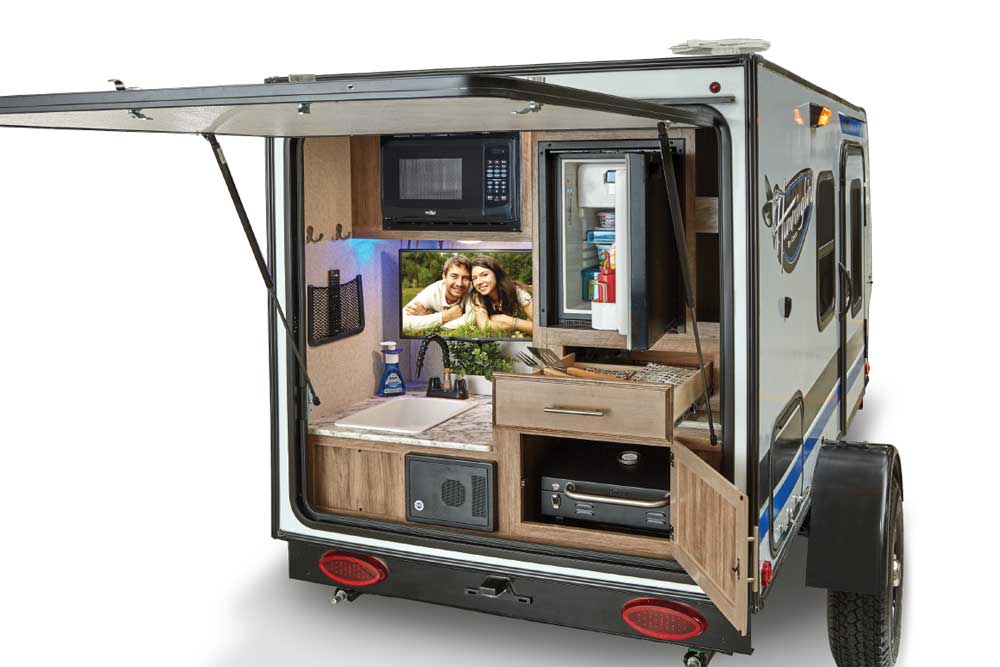 The rear hatch opens to reveal an outdoor kitchen complete with a two-way refrigerator, two-way television, microwave, sink, counter space and drawer storage. The quick-connect faucet is easily swapped out with a hose for cleaning the toys or dogs. An exterior storage compartment can fit the grill that comes with the trailer, but this is also a great place to store a Porta Potti away from the living area.
Exterior Length 13′
Exterior Width 6′ 8″
Interior Height 4′ 5″
Exterior Height 7′ 7″
Freshwater Cap. 25½ gal.
Black-Water Cap. NA
Gray-Water Cap. NA
LP-Gas Cap. 7 gal.
UVW 1,545 lbs.
Hitch Weight 180 lbs.
GVWR 2,000 lbs.
MSRP, Base $12,927
The interior holds a residential 54-by-74-inch mattress, which easily hinges, creating a couch for reading or watching television. Plentiful interior storage solutions include cabinets, cubbies, cargo nets and a flip-down table. USB ports, 12-volt DC and 120-volt AC outlets are available for charging and powering various devices. The Hummingbird comes standard with a Fan-Tastic Vent fan, but buyers might choose to add the 8,000-Btu side-mount air conditioner if they hook up to shorepower and need the cooling.
The 30-amp electric service, 7-gallon (30-pound) LP-gas cylinder and roof-mounted solar prep, paired with two-way appliances, make this trailer versatile for those who plan to enjoy both boondocking and traditional campgrounds.
---
Taxa Outdoors Tigermoth
The Tigermoth allows adventurous folks to camp in comfort while still enjoying the beauty of the outdoors by offering innovative windows and a side hatch that maximizes ventilation and views. With an exterior height under 7 feet, the trailer can be stored in a standard garage. It comfortably sleeps two adults and a small child, and an optional rooftop tent will sleep two more.
The exterior is designed to offer a variety of options for transporting and storing gear. The rooftop cargo rack will hold up to 200 pounds, and optional Thule racks can be added for bikes or kayaks. There's also an A-frame-mounted tool box for additional storage and room for add-ons like a 12-volt DC refrigerator. An outdoor kitchen slides out from the rear, providing 5½ square feet of counter space and compartments for cookware.
Exterior Length 12′ 5″
Exterior Width 6′ 7″
Interior Height 4′ 7″
Exterior Height 6′ 10″
Freshwater Cap. 5 gal.
Black-Water Cap. NA
Gray-Water Cap. NA
LP-Gas Cap. NA
UVW 1,360 lbs.
Hitch Weight 44 lbs.
GVWR 2,200 lbs.
MSRP, Base $13,900
The Tigermoth has a 120-volt AC shorepower connection, but the real selling point is the promise of getting off the grid for up to seven days. To this end, you'll find 12-volt DC accessory outlets on the interior and exterior of the rig. There are also 12-volt DC LED lights, USB ports and a roof exhaust fan. Adding the optional solar panels will keep the batteries charged and the Tigermoth performing at full capacity, even in the middle of nowhere.
Taxa Outdoors, manufacturer of the Tigermoth, eschews the term RV when referring to its models, preferring to call them "mobile human habitats." And they are, indeed, about as mobile as it gets when it comes to tiny trailers.
---
inTech Flyer Explore
This super-lightweight toy hauler is practical for folks who want to bring their favorite gear along on their RV adventures. Designed for the outdoor enthusiast, the Explore offers rugged off-road tires and an all-aluminum, fully welded cage frame. The trailer can comfortably sleep up to six people, depending on how it is configured. It comes with a tip-out bed, rated to hold up to 1,100 pounds, and a second tip-out can be added. Floor space can be converted to fit another bed, if needed.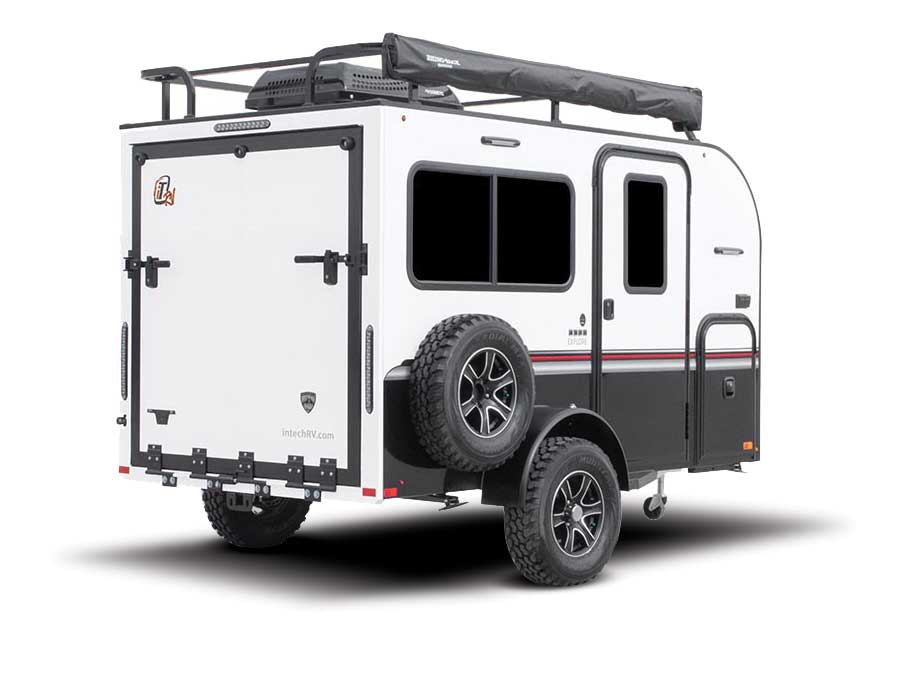 The rear door opens as a ramp, allowing campers to easily load the 97-by-69-inch cargo space with an ATV, motorcycle, kayak or surfboards. Buyers can also swap the ramp door for a double door when ordering. Have even more gear to bring? The standard 2-inch hitch receiver is rated at 200 pounds for an RV-approved bike carrier. Plus, you can add an optional roof rack.
Exterior Length 13′ 9″
Exterior Width 6′
Interior Height 5′ 6″
Exterior Height 7′ 11″
Freshwater Cap. NA
Black-Water Cap. NA
Gray-Water Cap. NA
LP-Gas Cap. NA
UVW 1,400-2,050 lbs.
Hitch Weight 290-390 lbs.
GVWR 2,990 lbs.
MSRP, Base $18,802
The inside offers gear storage, comfortable sleeping and a USB/Bluetooth stereo, but not much else in the way of amenities. However, an exterior slide-out kitchen can be added with a two-way refrigerator, two-burner LP-gas stove and storage space. A removable side table attaches to the trailer, providing an additional food-prep area.
If you are going to be camping with shorepower, consider adding the 11,000-Btu Dometic rooftop air conditioner, which also has a 5,000-Btu heat strip for cooler temperatures. Boondockers might instead opt for the MaxxFan, which circu—lates air using 12-volt battery power.
Of course, you'll want to watch your weight numbers closely if towing with a smaller vehicle. Adding these options can bring the uvw of the trailer from a light 1,400 pounds to a much heavier 2,050 pounds and limit capacity for carrying gear.
---
Little League
Ten more tiny, ultra-lightweight trailers to try on for size
These trailers are built in Portland, Oregon, and are fully customizable. They start with a 5-by-10-foot aluminum teardrop on a welded custom frame. Add your choice of A-frame storage, roof rack (including an optional tent) or even a child's bunk in lieu of interior cabinets. An under-floor storage compartment comes standard, as do interior and exterior LED lights and a Bluetooth stereo system.
Exterior Length 14′ | GVWR 2,500 lbs. | Base MSRP $15,499
---
Made in Mount Pleasant, Pennsylvania, the Classic A-frame trailer is as easy to tow and store as a traditional pop-up camper but a whole lot simpler to set up and break down. An 11-gallon freshwater tank, sink, microwave and outside shower are just some of the standard features that will make camping trips feel downright luxurious.
Exterior Length 15′ | GVWR 2,500 lbs.| Base MSRP $18,250
---
Armadillo
British Columbia's Armadillo is building trailers with two-piece fiberglass shells from the rescued molds of Boler and L'il Bigfoot trailers. The attention to quality can be seen in the use of marine-grade materials and sealants. Radius-corner cabinetry creates a roomy feel in the tiny interior. The kitchen is outfitted with a two-burner stove, stainless-steel sink and Nova Kool refrigerator.
Exterior Length 13′ 6″ | GVWR 2,500 lbs. | Base MSRP $19,500
---
Camp365
According to its Minnesota manufacturer, the Camp365 is "the world's first fold-out cabin." When set up, the 4-foot-wide, 15½-foot-long trailer pod offers a surprising amount of living space, a ceiling height that's over 7 feet and sleeping room for six. Folded, it easily fits in a garage or shed. With a two-burner stove, 12-volt DC refrigerator, heating, air conditioning and solar prep, this cabin on wheels is comfortable no matter where you park it.
Exterior Length 7′ | GVWR 2,200 lbs. | Base MSRP $23,400
---
Coachmen Clipper Express 9.0TD
Built by Forest River's Coachmen division, this unique hybrid trailer combines some of the best features of a teardrop trailer and a pop-up camper. An air conditioner, furnace, refrigerator, Bluetooth stereo and grill are all standard, along with a 54-by-74-inch bed. The V-Package adds off-road tires and a roof rack.
An optional screen room is available to expand the outdoor living space. Cargo capacity is a robust 1,042 pounds.
Exterior Length 13′ | GVWR 2,122 lbs. | Base MSRP $8,293
---
A small Boulder-based family business, Colorado Teardrops has been building teardrop trailers since 2014. The rugged Canyonland is crafted for off-road camping with an aluminum-welded frame, full skid plate, heavy-duty torsion axle and all-terrain tires. An optional solar-power package is available to extend time off the grid.
Exterior Length 12′ 4″ | GVWR 2,200 lbs. | Base MSRP $15,500
---
This double-hulled fiberglass trailer can sleep up to five, with an interior that is customizable using Happy Camper's modular-furniture system. The large rear hatch makes it easy to haul gear, and wide windows allow panoramic views from inside the trailer. A contoured solar-power panel will appeal to off-grid RVers. The Los Angeles manufacturer offers the two-tone HC1 in white and five standard colors or multiple custom hues.
Exterior Length 13′ | GVWR 2,500 lbs. | Base MSRP $24,950
---
With a sprightly uvw of 630 pounds, this tiny molded-fiberglass teardrop comes in white, silver, black, blue or red from Ohio-based Little Guy Worldwide. It fits all the creature comforts into a very small space, including an entertainment center, mounted air conditioner, three-speed Fan-Tastic Vent, and 12-volt DC and 120-volt AC power. Add-on accessories include an attachable screen room and roof rack.
Exterior Length 11′ 7″ | GVWR 2,200 lbs. | Base MSRP $10,995
---
Manufactured in North Carolina, the Go is the ultimate gear hauler in the tiny trailer market. It's able to carry a surprising number of bikes, boards or boats while in tow mode and then transform into a comfortable tent trailer at camp. The aluminum frame is rust-free, and the 220-denier ripstop nylon tent fabric is waterproof and seam-sealed to keep everything dry, no matter what's happening outside.
Exterior Length 12′ | GVWR 1,800 lbs. | Base MSRP $10,995
---
This Colorado-built teardrop offers a fully insulated cabin with custom queen-size mattress and interior cabinet storage. The rear hatch opens to a well-appointed outdoor kitchen with a sink, faucet and 12 gallons of onboard water storage with an electric pump. Space is provided for a cooktop, cooler or 12-volt DC refrigerator. Upgrades include all-road and off-road packages.
Exterior Length 14′ | GVWR 2,100 lbs. | Base MSRP $19,750
---
In addition to contributing to Trailer Life, Jeremy and Stephanie Puglisi are writers for RVFTA.com and hosts of the RV Family Travel Atlas podcast. They are also the authors of Idiot's Guides: RV Vacations. The couple spends as much time as possible exploring the country in a toy-hauler travel trailer with their three very energetic sons and Maggie the Camping Dog.
---