These towables may be small in size, but they're big on livability
Although I don't make it a habit to heed the words of cinematic puppets, the adage "size matters not" from the wise old Jedi Master, Yoda, is true in many ways, and is especially apt when it comes to the towable RV market. Sure, it's nice to own a 45-foot-long, 13-foot-tall tricked-out toy hauler that can accommodate you and the rest of the neighborhood, but it's probably not necessary and, in many cases, not practical. It all depends on what is important to you, your family and/or your RVing group.

Sometimes, a smaller, easy-to-maneuver trailer is all that's needed to enjoy your favorite outdoor recreation. Getting off the grid means just that, and an electric fire­place, washer/dryer and, in some cases, indoor plumbing, are all luxuries that many RVers can do without. Indeed, "living large" can be more a state of mind than a literal translation, so a departure from the standard 30-foot hard-sided travel trailer may be in order for some RVers.
It's for those folks that we've selected a number of outside-the-box towables, which run the gamut from tent-trailer extensions to teardrops to more compact units that contain exactly what you need to enhance your RVing experience. Did we mention that they often come in at a fraction of the price of their behemoth brethren? How about the fact that they are likely towable by one of the vehicles already parked in your driveway?

Now that we really have your attention, check out the following pages to learn more about these little big trailers. To once again paraphrase the lovable green guy of Star Wars fame, these towables cannot simply be judged by their size.
Airstream
Proof that compact need not mean a sacrifice in quality (or cool factor), the Airstream Sport 16 is a single-axle trailer that sleeps up to three and contains all the comforts of home. The eye-catching "Silver BB" features Airstream's signature monocoque construction with pop-riveted aluminum skin, lower-profile shape and chassis design, all of which are designed for improved towing efficiency. Inside, a queen bed is flanked by dual hamper/storage units with a closet nearby, while a two-burner cooktop, roomy refrigerator, convertible dinette and wet bath handle the day-to-day living activities. Buyers can choose from standard Mocha Blue or Sharkskin decor, or opt for the plusher Golden or Black Ultra­leather options.
Airstream
877-596-6111
www.airstream.com
Aliner
Anybody who has towed a trailer knows that, generally speaking, the lower the profile, the better the fuel economy (not to mention the easier it will likely be to tow). Aliner has been manufacturing fuel-efficient A-frame pop-ups for more than 40 years, and the Expedition shown here represents the manufacturer's largest offering, at 18 feet and less than 2,000 pounds. The true victory, of course, is the scant 68-inch towing height, which makes it easy to forget you're towing a trailer — especially one that pops up to 8 feet 6 inches (in 30 seconds, according to Aliner) and can handle a family of four. The trailer features a low-maintenance fiberglass and aluminum exterior, tubular steel construction and sturdy PerformMax 500 flooring. Inside, you'll find a dual-burner stove, microwave, sink and refrigerator. Options include a toilet or wet bath, LED interior lighting, water heater, 5,000-Btu air conditioner, stereo, dormer windows and an off-road package.
Aliner
724-237-5227
www.aliner.com
American Teardrop Campers
We've all seen teardrop trailers heading down the highway, often towed by classic cars or perhaps even a Harley-Davidson. But you don't need to be a collector of big-dollar tow vehicles to enjoy the benefits of what American Teardrop Campers (ATC) owner Bud Hausman calls "a lifestyle, not an RV." ATC offers a variety of teardrops, including the popular 5.1- x 9-foot Merlin shown here. The trailers are a great way to bring along the essentials wherever you go, and include plenty of storage room and a place to sleep out of the elements. Options are seemingly endless and include a mattress, an air conditioner, AM/FM/CD/DVD player, 12-volt DC solar charger, sink module and even tent attachments for dressing or living space. ATC offers custom graphics and paint schemes to match your tow vehicle (check with the manufacturer for availability) so you can be comfortable and stylish.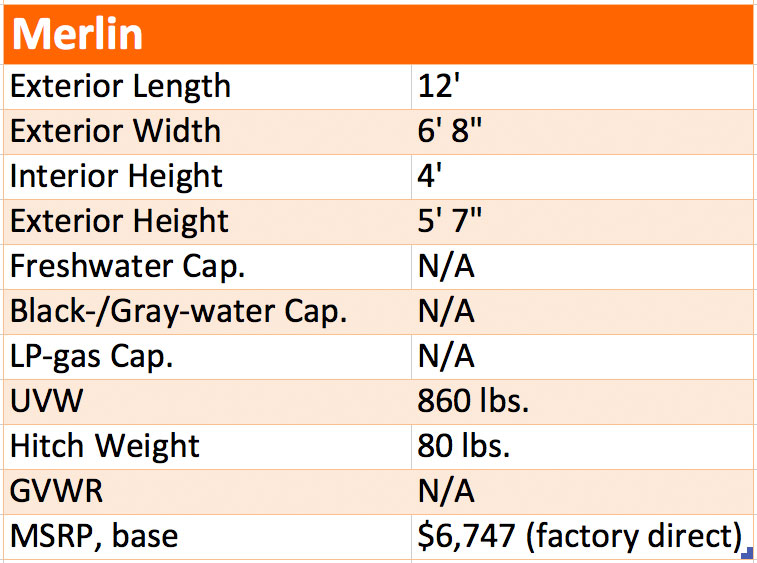 American Teardrop Campers
530-718-0046
www.americanteardrop.com
Camp-Inn
Camp-Inn trailers are high-end teardrops designed with marine-grade woods, finishes and components. The manufacturer offers an extensive list of options and accessories that make extended living possible in an abbreviated 8-foot package, to the extent that Camp-Inn models are referred to as teardrop travel trailers. Models feature an aluminum exterior, stainless-steel fenders and all-birch interiors for retro looks and extended durability. Options include air conditioning, a TV/DVD player, furnace, bunk beds, a couch, a side-entrance tent, a dining table and much more. "Some teardrop manufacturers focus on filling the needs of the entry-level market," said Cary Winch, co-owner at Camp-Inn. "Our models are geared toward the final solution product for most customers."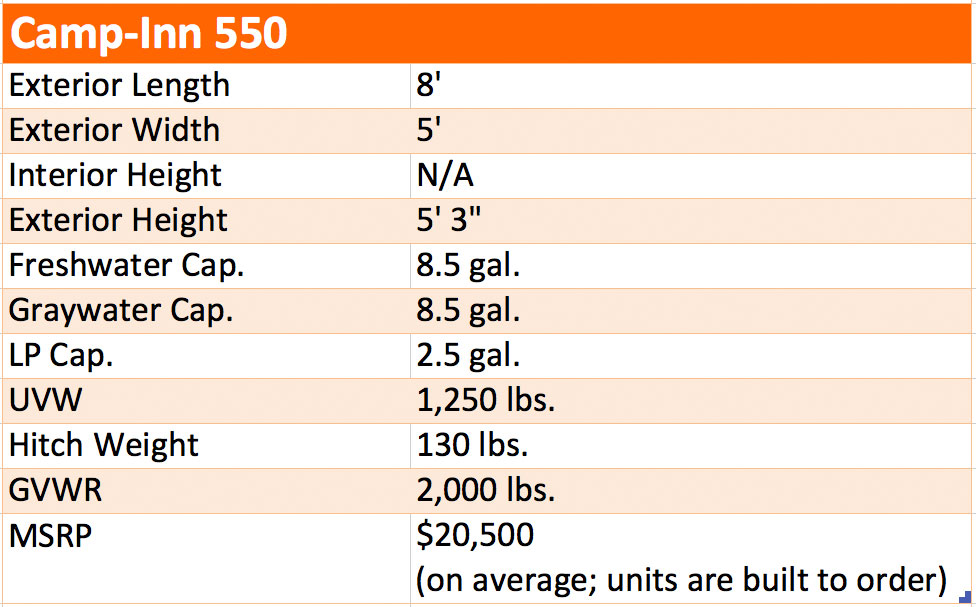 Camp-Inn
www.tinycamper.com
Escape
The Escape is an aptly named trailer that offers features not expected for a seemingly no-frills RV of its size. The 21-foot Escape featured here has it all, though, from a wet bath to a two-burner cooktop range, and from a large 6.7-cubic-foot refrigerator to sleeping space for up to five. Outside, the Escape features a seamless two-piece molded fiberglass body, which protects against water penetration while maintaining a strong, long-lasting, lightweight trailer. The Escape is framed with tubular steel, and a rubber-ride torsion-axle suspension helps smooth out the ride. The interior offers natural oak cabinetry, large windows, high-grade linoleum flooring and an insulated vinyl headliner/wall covering. Each Escape is backed by a full two-year warranty.
Escape Trailer
855-703-1650
www.escapetrailer.com
Forest River R-pod
The R-pod is a great addition to this roundup, not only because it looks great and lives large, but because the manufacturer has made no secret that the primary goal of building it was to offer potential owners a trailer that could be towed by a vehicle already in the driveway. Standards include a one-piece fiberglass roof, 20,000-Btu furnace, 6-gallon water heater with quick recovery, independent torsion axles, aluminum wheels, LED lighting inside and out, solar-panel prep, black-tank flush kit, four stabilizer jacks, tinted safety-glass windows and a detachable power cord. The 179 shown here features a roomy galley with top-shelf Euro styling that spans the entire width of the trailer, handy storage cabinets and sleeping accommodations for a family of four.
Forest River
574-642-3119
www.forestriverinc.com/rpod
Little Guy Trailers
Little Guy has been making compact and teardrop trailers since the early 2000s, so the company knew a good thing when it saw one. Once Dutchmen discontinued its [email protected] lineup in 2009, Little Guy leaped at the chance to purchase the brand, and it has been going strong for several years. The [email protected] [email protected] S (above left) is anything but basic. The trailer's styling alone is sure to turn heads, while owners are offered a "basic" template of a sink, two-burner stove, Fan-Tastic Vent fan, awning rail, screen door, alloy wheels, and black and gray tanks. From there, options include windows, an air conditioner, a three-way refrigerator and an entertainment center and/or a stereo, to name a few. There's plenty of sleeping for up to five close family or friends, a lavatory and a galley area that ensures fine RV dining for all.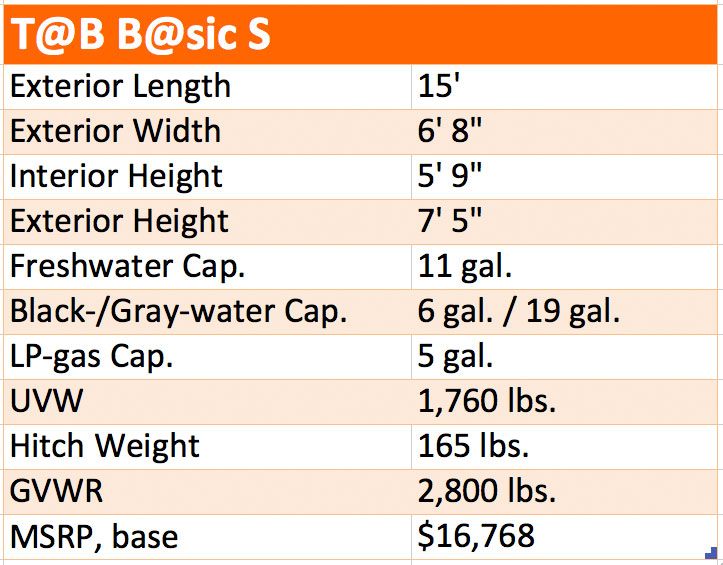 Little Guy [email protected]
877-545-4897
www.tab-rv.com
Little Guy also offers the [email protected] (directly above), a combination of the [email protected] and the classic teardrop trailer from the 1940s. The [email protected] features modern amenities, doors and windows, and borrows styling cues from the [email protected] The aluminum-framed trailer sports a silver or white fiberglass exterior with colored graphics. The mini [email protected] doors are double locking and feature a portal window with circular blind. The trailer also features two mini [email protected] windows with screen/shades, a full galley in the rear with a sink and stove, and a queen bed so owners can sleep in classic retro style.
www.littleguytrailers.com/tg/tagbasic
Starcraft
The AR-One 15RB is a hybrid version of the popular AR-One hard-sided travel trailer. The 2015 15RB features bolder graphics, a two-year limited warranty and new touches such as Honey Glazed Cherry wood cabinetry and upgraded quilted bunk mats. The AR-One has plenty of standard amenities to ensure an enjoyable camping experience, including a two-burner range, 3-cubic-foot refrigerator, 5,000-Btu air conditioner and exterior flush-mounted stone guard. With the addition of the optional Extreme Package, users can enjoy 15-inch off-road tires with 5 inches of extra clearance, an enclosed underbelly, double entry step, upgraded graphics and six-sided FlexFoil insulation. The galley, tub and lavatory make this a nice choice for RVing families, and the tip-out rear bunk offers an extra 60- x 70-inch sleeping position.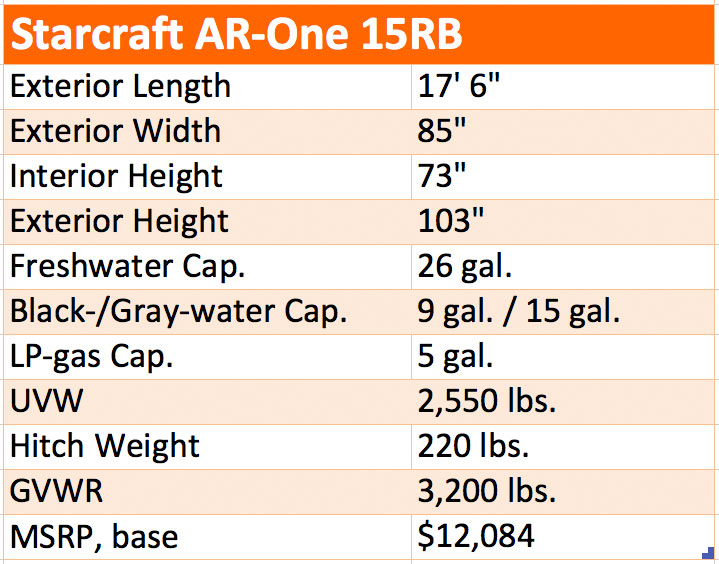 Starcraft RV
574-825-6094
www.starcraftrv.com
SylvanSport
SylvanSport Go trailers are designed for adventurous RVers who have more fun in a Mother Nature setting than an RV park. The Go is a multifunctional product that can be towed by virtually any properly equipped vehicle and is designed to easily transform from its compact traveling profile to rugged toy-hauler mode to spacious tent-camping configuration in one integrated unit, according to the manufacturer. The Go is a great way to easily carry loads of bikes, kayaks, coolers or any combination of outdoor gear. The Go comes standard with a large rear awning, spare-tire kit, two bed and table panels (to configure the interior in multiple ways) and two additional self-inflating air mattresses (to configure the interior), additional straps and small accessory items.

SylvanSport offers an extensive lineup of optional accessories at www.store.sylvansport.com.

One option in particular we found of interest is the Solar Ready package, the result of a collaboration between SylvanSport and Goal Zero, the premiere solar-power company in the outdoor industry. The package is available in two configurations: The Goal Zero Go 400 solar power kit ($739.97) and the Goal Zero Go 150 solar power kit ($439.97).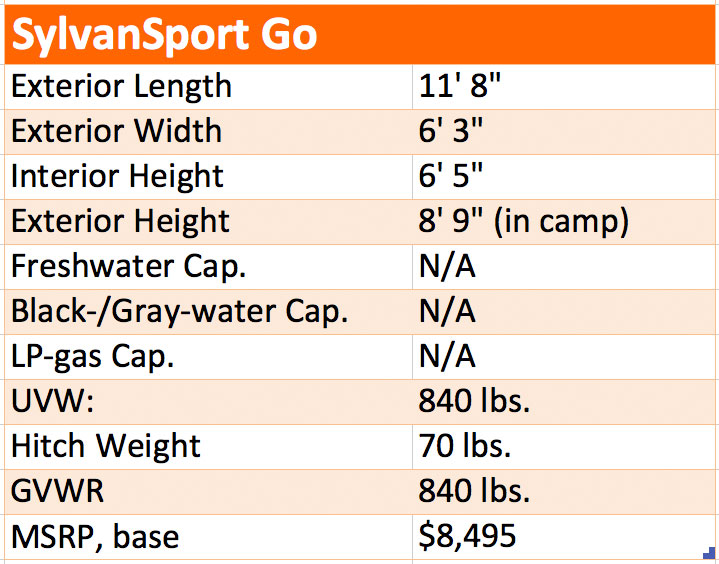 SylvanSport
828-883-4292
www.sylvansport.com
Weis Craft
The Little Joe trailer has garnered quite a reputation among RVers for its easy-on-the-driver diminutive size and long list of amenities. These trailers are instantly recognizable by their smooth, lightweight fiberglass bodies wrapped around a lightweight steel frame and are a great getaway for two (or three close-knit RVers). Creature comforts on the Ponderosa include a two-burner stove, microwave, air conditioner, cassette toilet and a water heater. There's even a shower head/removable shower pan for the ultimate in off-the-grid comfort. The interior also offers plenty of room to rest your head when the sun goes down once the large 54- x 76-inch bed is deployed. Options on Little Joe trailers include an 8-foot box awning, electric brakes (mandatory on a trailer of this size in many states), a furnace and a roof rack, among others.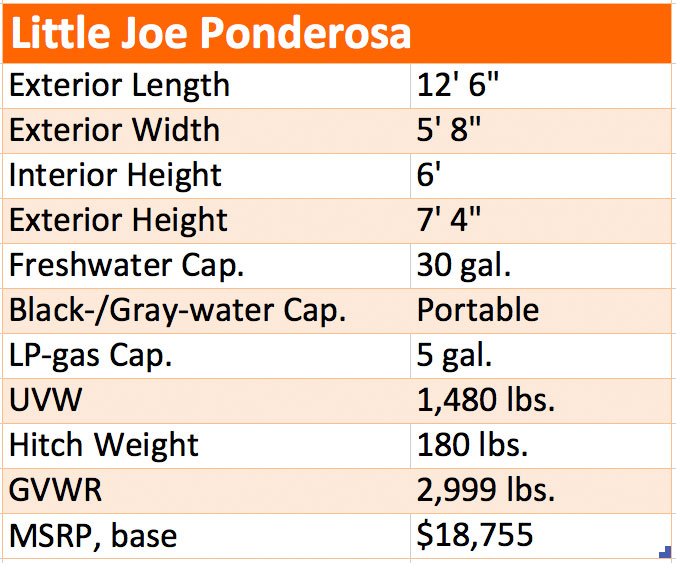 Weis Craft Trailers
720-540-4542
www.weiscrafttrailers.com
---