As travel trailers evolve to match a wide range of tow vehicles, RV makers are rolling out slimmed-down and trimmed-up models — from feathery fold-downs and lithe hybrids to longer but still lean floorplans
When the new millennium roared in, bigger was most definitely better. The full-size SUV and pickup rage was on, financing was no-money-down, and equity lines on fast-appreciating homes were there for the asking. No wonder lineup after lineup of bigger and better RVs followed suit. Fast-forward past the burst bubble and ensuing recession, and for many RVers in the market for new travel trailers — both big and small — lighter is now better.
With manufacturers offering "light" and "ultralight" lineups across a broad spectrum of sizes, slimmed-down trailers can actually stretch up to 35 feet and weigh 6,500 pounds or more. Accordingly, the family SUV, minivan or compact pickup may be all that's needed to tow many trailers on the lighter side of the spectrum. And even the largest lightweights can be pulled by properly equipped half-ton trucks, eliminating the need for owners to fuel, store, insure and maintain a more powerful tow vehicle.

With so many buyers opting for easier-towing RVs, designs and features have advanced to suit, making the new crop of light-but-loaded trailers just as attractive as those triple-axle Conestogas. As a result, leaner models have been embraced by a wide range of RVers, including empty-nesters, young families and active couples, all of whom still want to have a great time outdoors and on the road but without the size, cost or hassle of owning the biggest barge in town.

Of course, it's important to keep real-world weights in mind when shopping for any RV. The dry weights claimed by manufacturers are typically nowhere near what trailers weigh when loaded for use. For example, a vehicle rated to pull 3,500 pounds may seem capable of towing a trailer with a 3,000-pound dry weight, but after adding the factory-installed options — which often are not included in the dry weight — plus fuel, water, LP-gas and cargo, that 3,500-pound rating is quickly surpassed. Buyers are much better off using the trailer's gross vehicle weight rating (gvwr) as a towing match. As long as the gvwr isn't exceeded, chances are good the tow vehicle's factory limit won't be eclipsed either.

The good news is that the selection of trimmed-down trailers with big-time amenities has never been better. Here's a sampling of the leading lightweights for 2017.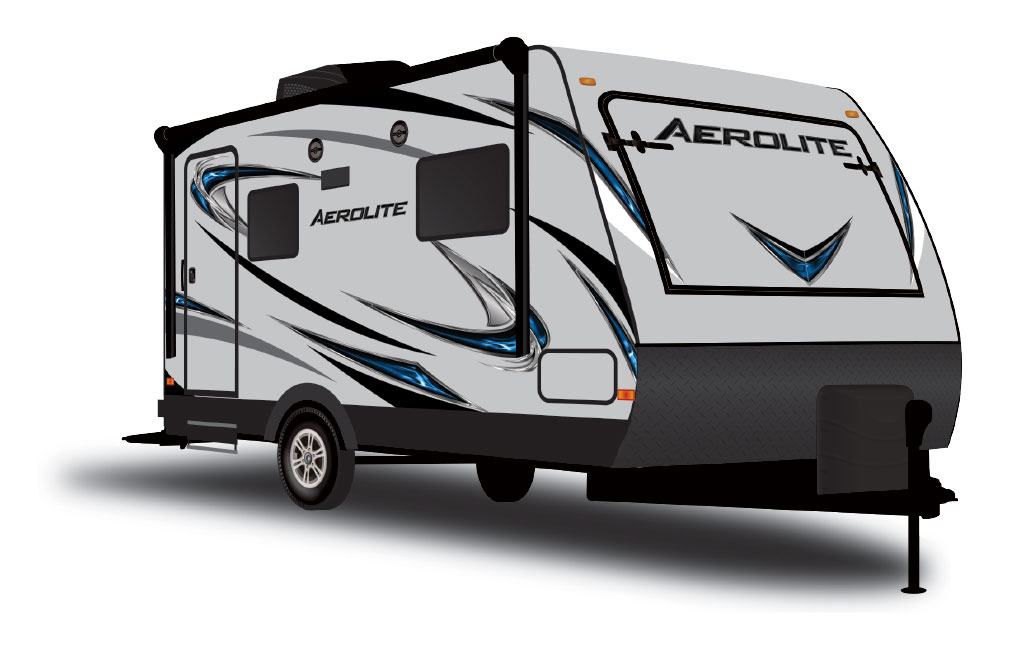 Aerolite
Among the seven travel-trailer brands offered by Indiana-based Dutchmen RV Company, Aerolite has a name committed to lightweight performance. Making up Aerolite's Zero Gravity Series are 19 trailers ranging from 181⁄2 to 371⁄2 feet, plus a new Aerolite Luxury Class. The single-axle Aerolite 174E ($16,353 MSRP), an expandable hybrid with two tip-out tent beds, has a friendly dry weight of 3,188 pounds to go with its 181⁄2-foot length. Numerous Aerolite packages include upscale outside speakers, an exterior shower, stainless-steel appliances, electric stabilizer jacks, aluminum wheels and a power A-frame jack. Another Dutchmen brand, Coleman, promises family-focused amenities in amply equipped lightweight trailers. For instance, the 22-foot 9-inch Coleman Light 1805RB, with its fold-down sofa and single slideout, weighs 4,189 pounds dry.

574-537-0600 | www.aero-rv.com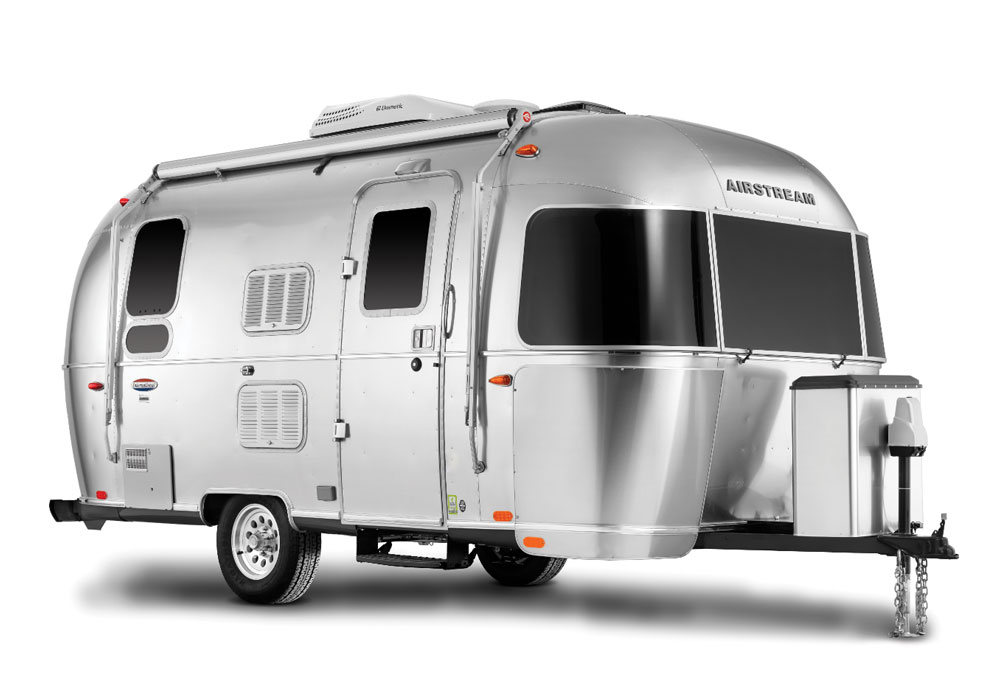 Airstream
From the spritely Basecamp to the elegant and aptly named Land Yacht, 85-year-old Airstream continues to roll out an extensive RV fleet from its Ohio factory. While prices can soar to six figures for premier models, lighter but still well-equipped Airstreams can be found for far less. Smallest is the two-person Basecamp, a stylized single-axle trailer stretching 16 feet 3 inches and weighing 2,585 pounds dry. Just slightly larger and featuring Airstream's traditional silver-bullet styling, the 16-foot, 4-inch Sport 16 sleeps up to four and tips in at 2,860 pounds dry. Weighing 3,634 pounds dry, the Sport 22FB adds interior volume, thanks to its longer 21-foot 8-inch length. Other Airstreams on the leaner side include the smaller Flying Cloud and International models. With a length of 19 feet 2 inches and a dry weight of 3,823 pounds, the International Signature 19 ($65,600 MSRP) adds a sleek, upscale interior at an equally upscale starting price.

877-596-6111 | www.airstream.com

Bigfoot
When the lead photo on a manufacturer's website shows an RV parked not in a grassy meadow with sunflowers and butterflies but buried in snow against the backdrop of a frozen mountain, you know the company is serious about four-season RVing. Based in British Columbia, Bigfoot builds lightweight, well-insulated fiberglass trailers that are ready to tackle such real conditions. Available in seven floorplans, Bigfoot's 2500 Series trailers come in lengths from 17 feet 5 inches to 25½ feet. With a dry weight of 3,275 pounds, the Bigfoot 25B175FB ($38,948 MSRP) is the heaviest of the three smallest models. Niceties include prewiring for solar panels, 15-inch aluminum wheels and an exterior shower. Optional are a power A-frame jack, barbecue hookups and an 11,000-Btu air conditioner — perhaps unnecessary when surrounded by snow!

250-546-2155 | www.bigfootrv.com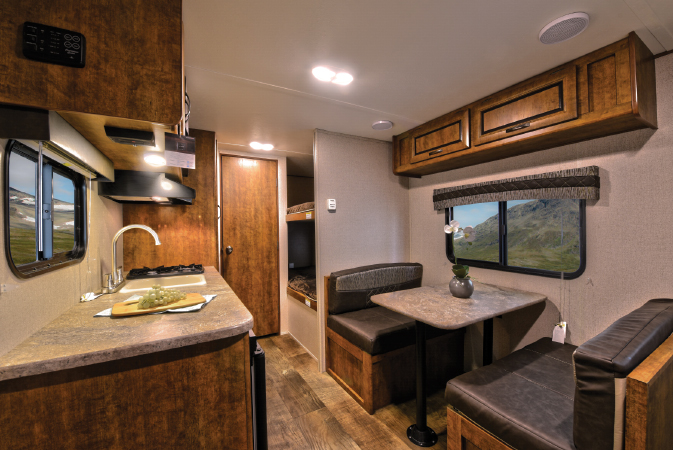 CrossRoads
With a triple-axle Elevation toy hauler and 43-foot Hampton "extended-stay" trailer in its lineup, Indiana's CrossRoads Recreational Vehicles knows how to impress. But when it comes to maximum features and minimal weight, the single-axle Zinger Z-1 Lite makes an impact, too. With a length of 21 feet 11 inches and a dry weight of 3,320 pounds, the Zinger Z-1 Lite ZR-18BH ($13,800 MSRP) is a viable choice for towing with many SUVs and compact pickups. For the price, it nets unexpected features like a DSI water heater, diamond-plate protection up front, a generous 6½-foot ceiling height and bunk beds. Stepping up, the tandem-axle Sunset Trail Ultra Lite adds a full-size refrigerator, LED lighting and a power awning. Lengths extend from about 22½ feet to almost 26 feet, with dry weights from about 4,000 to 4,600 pounds.

260-593-3850 | www.crossroadsrv.com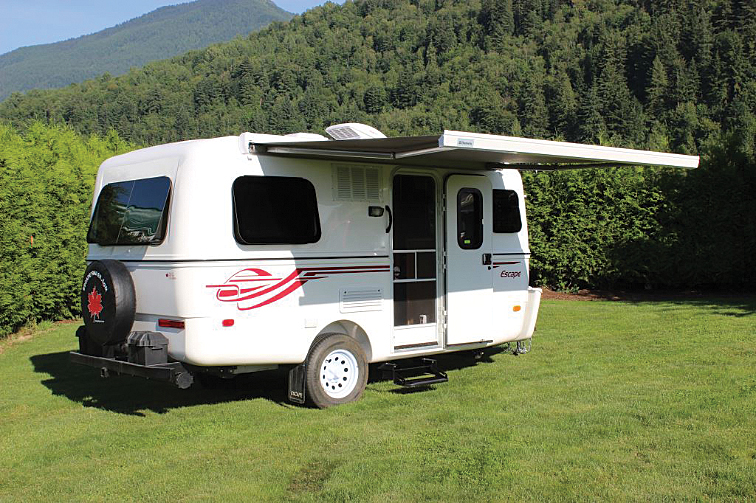 Escape
From British Columbia comes Escape Trailer Industries' compact and lightweight lineup. The manufacturer's trademark two-piece molded-fiberglass shell results in low weight and dura-bility. The smallest model, a 17-foot 8-inch single-axle trailer, comes in two floorplans. The Escape 17 ($25,500 Canadian MSRP) weighs only 1,970 pounds dry, within range of many commonly owned vehicles. For an extra $1,400 and an additional 200 pounds of dry weight, the Escape 17 Plan B has a full wet bath and a pair of dinettes that convert to beds. A bit longer at 19½ feet and with a tandem axle, Escape's most popular model has a dry weight of 2,610 pounds. The company's longest trailer, a 21-foot, 4-inch unit, weighs 3,140 pounds dry and can pair with a wide range of tow vehicles.

855-703-1650 | www.escapetrailer.com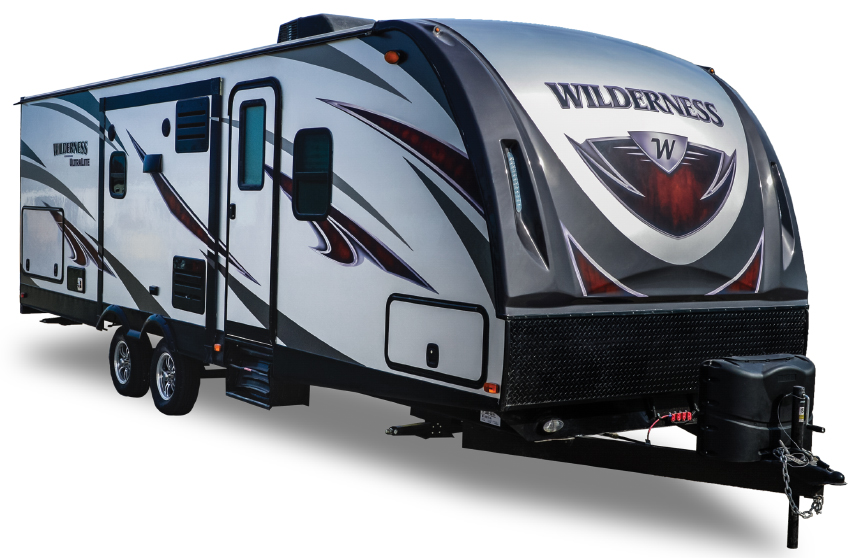 Heartland
Headquartered in Indiana, Heartland RV offers an impressive 60 tandem-axle trailers under its Lightweight banner, including nine Mallard, 15 Sundance, 20 North Trail and 16 Wilderness models. Dry weights for Wilderness trailers begin at 4,683 pounds for the 26-foot, 9-inch 2250BH and extend to 7,680 pounds for the 36-foot, 9-inch 3250BS, all within the towing range of most half-ton pickups and full-size SUVs. In the middle of the lineup, the 31½-foot, two-slideout Wilderness 2775RB ($27,300 MSRP) has a 6,280-pound dry weight. Upscale features include a kitchen island and dual-ducted air conditioning. Lighter still, North Trail has dry weights that start at 4,450 pounds for the 261⁄2-foot 21FBS and 4,695 pounds for the 24-foot, 3-inch 20FBS, then build to a scale-tipping 8,095 pounds for the 37-foot 9-inch 32RETS.

877-262-8032 | www.heartlandrvs.com

Highland Ridge
Fully embracing the growing interest in lightweight and easy-to-tow travel trailers, Indiana-based Highland Ridge RV offers five Light models, from 22 feet 7 inches and 6,035 pounds dry, and nine even airier Ultra Lite models, starting with the 24-foot, 1-inch UT2310RK at a dry weight of 5,070 pounds. With vaulted ceilings, a flush-floor slideout and bunk beds, the 31-foot, 9-inch Ultra Lite UT2802BH ($28,275 MSRP) sleeps up to eight. Other desirable amenities in the Ultra Lite lineup include a full entertainment system, a 13,500-Btu air conditioner with a Quick Cool feature, plenty of R-38 reflective-foil insulation in the floor and roof, a power A-frame jack, 15-inch aluminum wheels and a 15-foot power awning. Highland Ridge presents these trailers as half-ton towables for good reason: They are.

260-768-7771 | www.highlandridgerv.com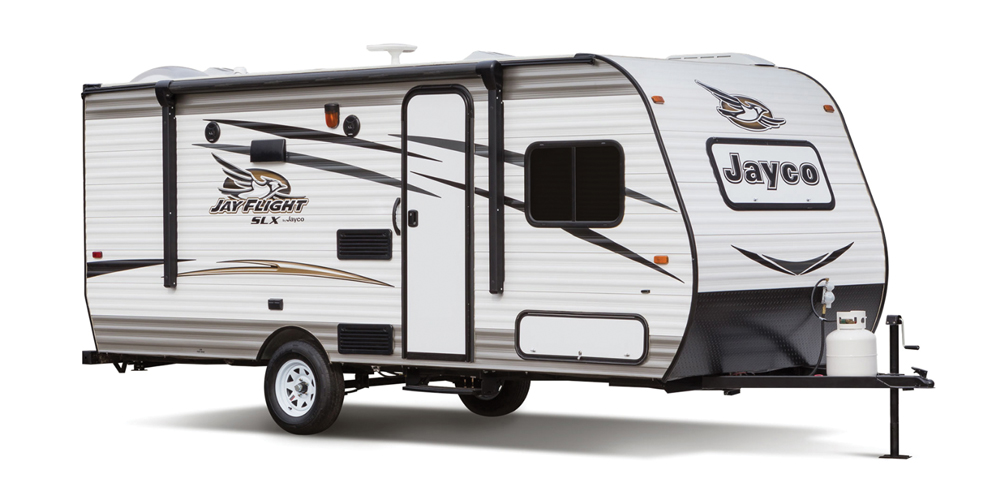 Jayco
If you have a smaller tow vehicle, Jayco's 11-foot, 7-inch Jay Sport 8SD folding trailer makes sense. With a 1,535-pound dry weight, the Indiana manufacturer's lightest trailer yields a six-person sleeping capacity, and its novel carryout stove lets you move the cooking outside. Working up the ladder brings the Hummingbird, which, as the name implies, is a line of ultralight single-axle trailers. The entry point is the new 16FD, but even the largest and best-equipped model, the 19-foot, 9-inch 17RK, weighs just 2,860 pounds dry. You'd never guess by appearances, but the 21½-foot, tandem-axle Jay Flight SLX 174BH ($14,392 MSRP) weighs a mere 2,880 pounds dry, making it an easy-towing family bunkhouse.

574-825-5861 | www.jayco.com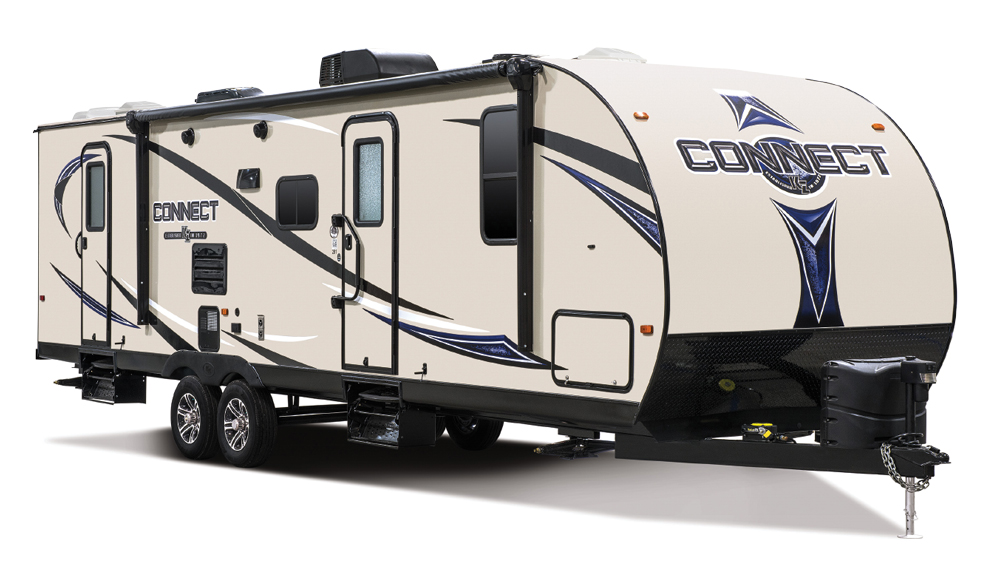 K-Z
K-Z RV, a division of Indiana-based Thor Industries, makes travel trailers with a half-dozen nameplates and more than 80 floorplans. Billed as an Ultra Lightweight, the Spree Escape comes in 16-foot to 27-foot, 3-inch lengths. The smallest model, the 16-foot E14RB, weighs a feathery 2,202 pounds dry. Stepping up from there, the Vision V19RB weighs a relatively modest 3,650 pounds dry, despite its tandem axles and 23-foot, 1-inch length. Edging into half-ton pickup or V-8 SUV territory, the 28-foot, 3-inch tandem-axle Spree 240BHS weighs 5,160 pounds dry. The new 33-foot, 5-inch Connect C281BH ($27,000 MSRP), with a 5,940-pound dry weight, appeals to families with its roomy kitchen and bathroom, and wide bunk beds.

866-472-5460 | www.kz-rv.com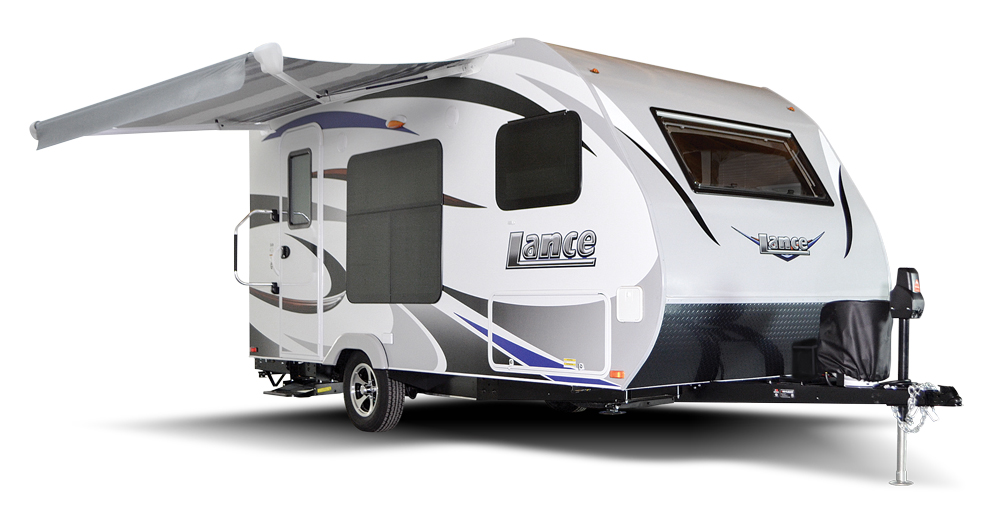 Lance
Southern California's Lance Camper puts a Match Your Vehicle toolbar right on the homepage for its travel trailers, letting buyers select from 3,500-, 5,000- and 6,000-pound tow ratings. In the 3,500-pound category are the 15-foot, 9-inch Lance 1575, weighing 2,655 pounds dry and sleeping four, thanks to its standard slideout, and the 14-foot, 10-inch Lance 1475 ($23,888 MSRP), weighing 2,495 pounds dry. Even without a slide, the 1475 still packs a lot into its floorplan, including a pair of comfortable armchairs and a small table, a dry bath and an entertainment center with a 24-inch flat-screen TV. Pluses include a backup camera, a 160-watt solar panel and a 10-foot power awning. Starting point for the 5,000-pound search is the 16½-foot 1685, with a 3,710-pound dry weight and a single slideout, while the entry model in the 6,000-pound camp is the 21-foot, 2-inch 2155 with a 4,600-pound dry weight, dual slideouts and a kitchen island.

661-949-3322 | www.lancecamper.com

Northwood
Among the four trailer brands offered by Oregon's Northwood Manufacturing, the company devotes three — Fox Mountain, Snow River and Nash — to lightweights. The Nash brand supplies the most compact and towable of the group, starting with the 22-foot, 4-inch Nash 17K ($23,193 MSRP), with a 4,400-pound dry weight. Built to get the job done, the 17K has what Northwood describes as an "off-road chassis," along with a high quotient of practical features like a 13,500-Btu air conditioner, heated holding tanks, a power A-frame jack, four-season insulation, an exterior shower and 15-inch aluminum wheels for its tandem axles. Options include 60- or 100-watt solar panels, exterior marine-grade speakers, a bike rack and a cargo carrier. Weighing 5,145 pounds dry, the 28-foot, 8-inch Nash 25C offers front and rear doors — one for the living room and the other for the rear bedroom — a dinette slideout, and a bedside 12-volt DC and USB charging center.
800-766-6274 | www.northwoodmfg.com
Oliver
Based in Tennessee, Oliver Travel Trailers builds a unique pair of trailers, the Legacy Elite and Legacy Elite II, that utilize double-wall fiberglass-shell construction mounted atop aluminum-box frames. The formula gives maximum strength and strong insulation from heat, cold and noise, and is lightweight for easy towing. The 18-foot, 5-inch Legacy Elite has a single axle and weighs 3,640 pounds dry. Up-level features include 16-inch aluminum wheels (even the spare!) and a dinette that converts to a large 74-inch-long bed. Moving up, the 23½-foot tandem-axle Legacy Elite II ($49,900 MSRP) has a dry weight of 4,600 pounds. One of two floorplans, the twin-bed model offers an uncommon but welcome layout.

888-526-3978 | www.olivertraveltrailers.com

Winnebago
Winnebago Industries divides its operations into Motorized, built in Iowa, and Towables, built in Indiana. The company has the travel-trailer market covered with four lightweight model lines, from the 18-foot, 4-inch, single-axle Winnie Drop WD1710 ($13,333 MSRP) at 2,360 pounds dry, up to the 35½-foot Ultralite at 6,500 pounds dry. Right in between are four Micro Minnie floorplans, including the 19-foot, 2-inch 1706FB. Tipping the scale at 2,980 pounds dry, this tandem-axle trailer impresses with such standard features as an aluminum frame, an aerodynamic front wall, a slideout, ducted air conditioning, a stainless-steel sink and a double-door refrigerator. But back to the little Winnie Drop, with styling reminiscent of 1950s-era "canned ham" trailers. Three of the four floorplans include a kitchen slideout — perfect for storing a real canned ham!

574-825-5250 | www.winnebagoind.com
---
John L. Stein served as a charter editor of Automobile magazine and road-test editor of Cycle, the world's largest motorcycle magazine. His expertise stems from decades of automotive, motorcycle, truck, trailer and marine product testing. Competing at Daytona and Sebring sharpened his analytical skills — as did racing a kangaroo through Australia's outback on a motorcycle.
---