New models and strategies were on display at the annual Open House event in Elkhart, Indiana
If there remained any lingering doubts about the surging health of the motorized RV market, Entegra Coach eliminated them last fall. Just eight months after another venerable Class A builder, Tiffin Motorhomes, rolled out the Wayfarer – its first Class C since 1992 – Entegra ended its holdout as a Class A-only manufacturer with the debut of the Middlebury, Indiana-based company's Odyssey and Esteem Class C motorhomes. And though this clearly was one of the more newsworthy releases during the annual RV Open House in Elkhart, Indiana, plenty of other manufacturers made waves with model updates, upgrades and new products altogether. Some of the highlights include:
Airstream Atlas
Airstream has debuted what it calls a "Class B-plus" Atlas motorhome. The Atlas represents growth into a new segment for the RV manufacturer, which also produces the Class B Interstate and several travel-trailer lines. Built on the Mercedes-Benz 3500 cutaway chassis, the upscale Atlas features a power slideout room that houses a Murphy bed suite with a Froli ergonomic sleep system, rear bath with teak shower inlay, soft-touch interior styling with ultraleather seating, signature high-gloss Airstream cabinetry and a 40-inch LED HDTV hidden on a power lift inside the credenza.
Noting that backlog on the Atlas already is to "at least mid- to late- next year," Tim Garner, general manager of Airstream's motorized division, said the 24-foot, 9-inch long, $216,000 (MSRP) Atlas boasts 50 "best-in-class" features – including standard air-ride suspension and a 3.2-kW Cummins-Onan quiet diesel generator – and the most spacious floorplan in Airstream's touring coach lineup.
Carado
With the debut of the Carado Banff and Carado Axion, Erwin Hymer Group North America (EHGNA) added the Carado badge to Roadtrek and Hymer as the third brand under its burgeoning umbrella. Like Hymer, Carado also is a brand of Erwin Hymer Group, one of Europe's largest RV manufacturers and Hymer's Germany-based parent company.
Both Carado models are built on the RAM ProMaster chassis. The Axion, listed at $73,461 (MSRP), offers comfort and maneuverability with its shorter exterior length of 17 feet, 9 inches, yet is fully equipped. At 19-feet, 6-inches long, the $71,000 Banff is basically a bigger version of the Axion, EHGNA Vice President of Sales and Service Mike Snell pointed out, so it offers more interior cargo and living space.
Their appeal is their versatility, added Snell. "During the day, their living areas feature a 72-inch-long couch along the driver's side. At night, the couch converts into either a single bed or a 47-inch-wide double bed. On the opposite wall, a galley with plenty of storage leads into a spacious Euro-styled rear bath."
Coachmen Pursuit Precision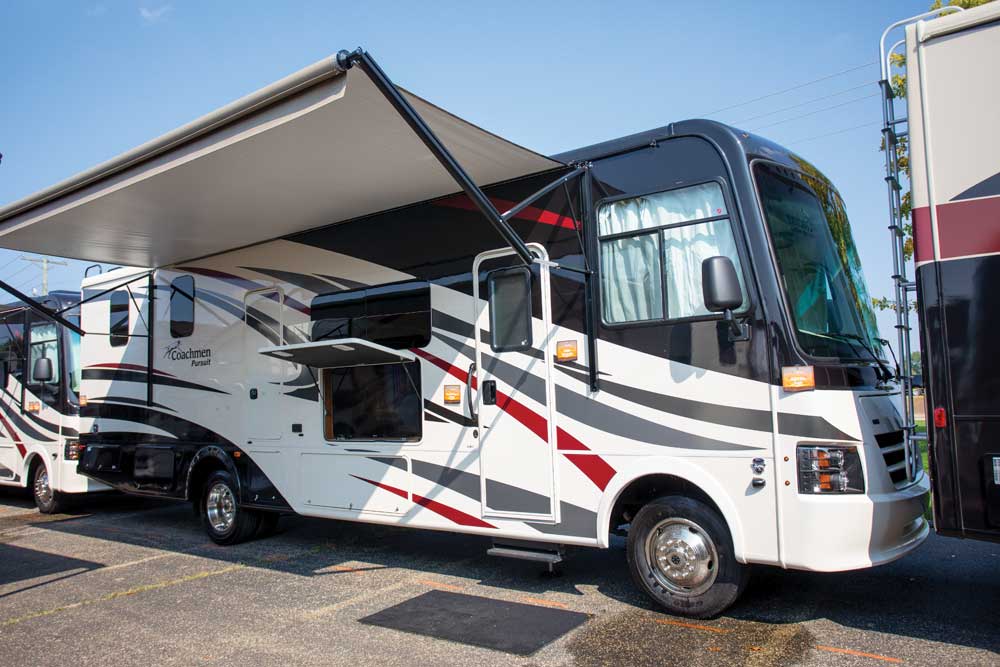 Coachmen RV rolled out the Pursuit Precision – a new gas-powered Class A line that slots as a shorter, entry-level version of its five-model Pursuit brand. Also built on the Ford chassis, the Pursuit Precision debuts with two models, the 27DS and 29SS, with an MSRP at about $120,000. Where the Pursuit ranges from 29 to 33 feet in length, the 27DS and 29SS Pursuit Precision come in at 27 and 29 feet, respectively.
"The idea behind these was to introduce two floorplans that were smaller and hit that entry-level Class A segment a little stronger than we have in the past," National Sales Manager Zack Eppers said, adding the 27DS features a Dream Dinette and king bed while the 29SS offers an outdoor kitchen, Dream Dinette, large sofa and good counterspace.
"What's unique about the Precisions is, the only options to choose from are some of the different exterior and interior décors."
Dynamax Isata 5 Series 30FW
Forest River's Dynamax has been building luxury Class C motorhomes for years, but the Isata 5 Series takes it to a new level, according to Brian Clemons, general manager of the Dynamax division. "People wanted more carrying capacity and 10,000-pound towing, but they wanted something smaller. So, we went to basically a 30-foot full-wall-slide floorplan in our 5 Series. You get a sofa, dinette, a walk-around queen bed and a shorter length, so you have almost 3,000 pounds of carrying capacity on a 4×2 chassis and about 2,400 to 2,500 pounds on a unit equipped with optional four-wheel-drive," Clemons added. Built on the RAM 5500 SLT chassis with a Cummins 6.7-liter I-6 turbodiesel and Aisin HD six-speed transmission, the $170,000-$180,000 (MSRP) 30FW has a gross vehicle weight rating (GVWR) of 19,500 pounds and an overall length of 32 feet. The fully-equipped – there are only five options – motorhome is available in five exterior full-paint schemes and three interior décor options, all with Early American Cherry cabinetry.
Entegra Odyssey/Esteem
One of the most attention-getting new debuts for 2018 is from Jayco's Entegra Coach, a veteran player in the diesel-pusher market. However, the company has served notice that it is looking to grow into other product categories with the unveiling of its $110,000 (base MSRP) Odyssey and $120,000 (MSRP) Esteem Class C's, both on Ford E-450 platforms.
Behind the Class C is an effort to strategically position Entegra for the future, according to Andy Baer, Entegra's new general manager. "We've got to have a broader product line to attract more buyers who could, in the future, be a potential buyer for a traditional high-end diesel," Baer said. Nic Martin, director of product development for the Jayco Motorhome Group, considers the new Class C's an entry-level option for the traditional Entegra buyer, but not for the mainstream C-body customer. "To say the Odyssey is 'entry level' is a bit misleading," he interjected. "It has things you won't find in an entry-level Class C, like a full fiberglass roof. And the Esteem has a two-A/C option – no other Class C offers two air conditioners as even an option – plus a big, 12-cubic-foot gas/electric refrigerator. And one of the distinct differences you can see in the front cab is the large automotive-bonded window in the cabover. That's going to be a staple across Entegra's entire Class C line."
While the Odyssey and Esteem share similar floorplans in the 29V and 31L bunkhouse models, both have a unique third configuration. The Odyssey 26D has a queen bed curbside slide in the rear bedroom along with a sofa/dinette streetside slide, while the Esteem 30X has a full-wall slide on the driver's side. The 29V for both lines has the same sofa/dinette streetside slide as the Odyssey 26D, but the queen bed slide moves to the driver's side. The 31L has bunks and a wardrobe in a curbside slide, while a streetside slide in the living area contains a sofa and cooktop/cabinetry.
Fleetwood Axon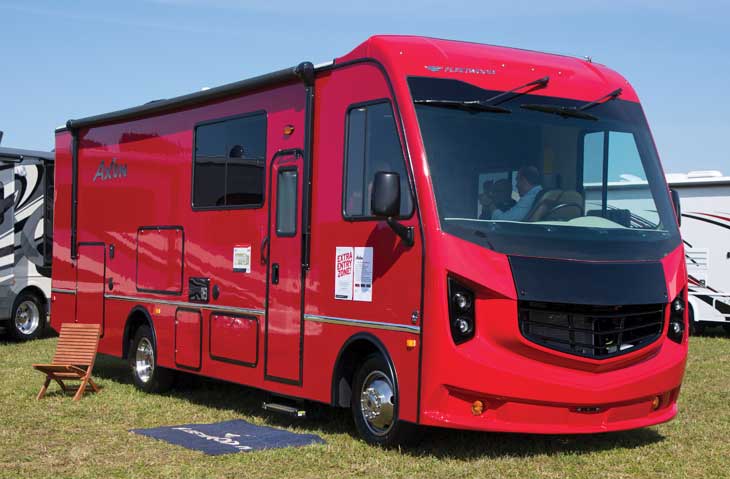 REV Recreation Group made quite a splash at the Elkhart RV Open House, with no less than 12 new models making their debut. For its bold red exterior alone, perhaps none stood out more than the Fleetwood Axon 29M, an entry-level Class A gasser at a little more than 29 feet, and an MSRP slightly less than $100,000. Vice President of Sales and Marketing Lenny Razo said the Axon – and the similar Holiday Rambler Reno 29M – is exactly the type of motorhome coveted by the next generation of buyers.
"It has chrome belt lighting in the side, black trim on everything else and a very raked automobile-type of windshield," Razo said, also mentioning the 50-inch outdoor TV and Bluetooth-controlled speakers.
Another unique feature on the outside is the multifunctional outdoor kitchen. A large baggage door opens to reveal a shelf with a power outlet to add a small refrigerator, and the insulated bottom part of the compartment can be used as a beverage cooler. Or the entire space can simply be used for gear and equipment storage.
On the inside, the 29M features a full-wall streetside slide that contains a jackknife sofa, a well-equipped kitchen and wardrobe space in the rear bedroom. Located curbside are an L-shaped booth dinette that converts to a bed, a large three-piece bathroom and, in the rear, a king bed master suite. A drop-down twin bed over the cockpit offers additional sleeping space.
Fleetwood Discovery 38N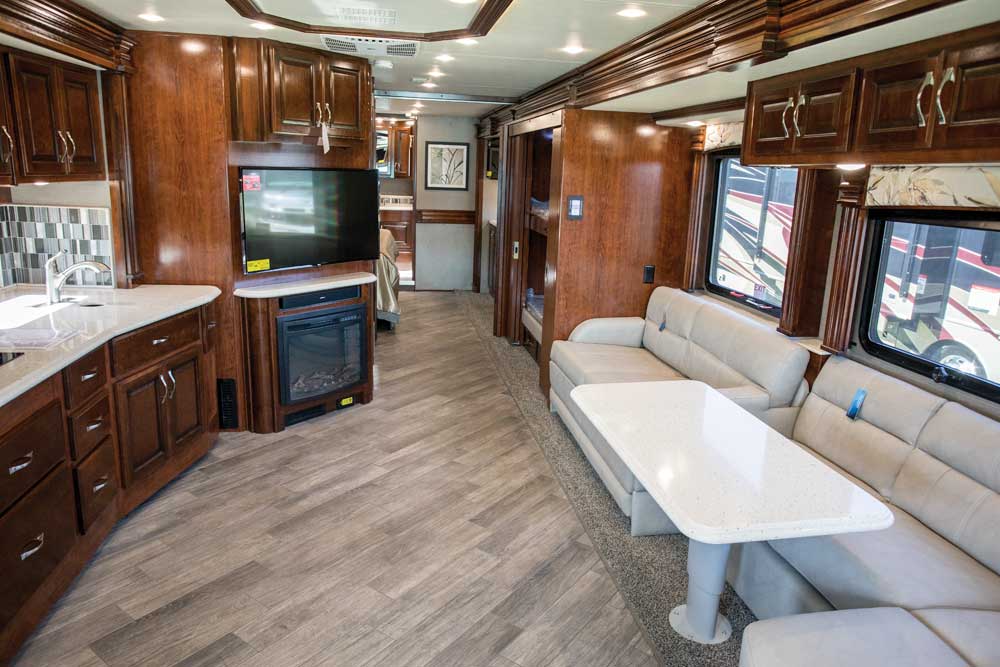 When officials at REV Recreation Group were looking to expand its Fleetwood Discovery Class A diesel-pusher lineup, Razo said they were only interested in a floorplan that would be considered an industry-first. The result is the $298,000 (MSRP) Discovery 38N, a 39-foot, three-slide bunkhouse with two full bathrooms and the type of amenities – like an Aqua-Hot hydronic heating system – you'd expect to find in longer coaches retailing well above $300,000, according to Razo.
"Everybody likes to build bath-and-a-half models, but when you really look at it, if you've got that many people with you – and you could, because this is a bunkhouse – you need an extra shower," Razo added.
The rear bath features a tiled shower with seat, and the second three-piece bath is tucked behind the angled entertainment center that offers a 42-inch flat-screen TV, fireplace and Bose sound system.
Across the hallway is the mid-level bunk arrangement – each with its own DVD system – that converts to wardrobe or storage. The bunks are set in the middle of the full-wall streetside slide that also includes a side-by-side washer and dryer and wardrobe opposite an adjustable king bed slideout in the bedroom, and a sofa and L-shaped dinette in the living area. The curbside kitchen slide includes a convection microwave, two-burner induction stovetop and residential refrigerator.
Fleetwood Pulse 24A
The Fleetwood RV Pulse and its sister motorhome, the Holiday Rambler Prodigy, both of which debuted at the Open House – are REV Recreation Group's first Class C diesel RV product since 2009. The Pulse debuts with the 24A and 24B models. The 24A has a dinette slide off the driver's side and a north-south queen bed slide in the rear. The 24B has a full-wall slide on the driver's side that houses a dinette, wardrobe and east-west queen bed. Both have a small, but functional, three-piece bath and a well-appointed galley with high-gloss cabinetry.
The exterior features a choice of partial paint or full-body paint, aluminum baggage doors and an optional Mobileye collision avoidance system. Another feature is the Truma water heater system. MSRP on the Pulse will be less than $130,000, Razo added.
Forest River Berkshire XLT 45A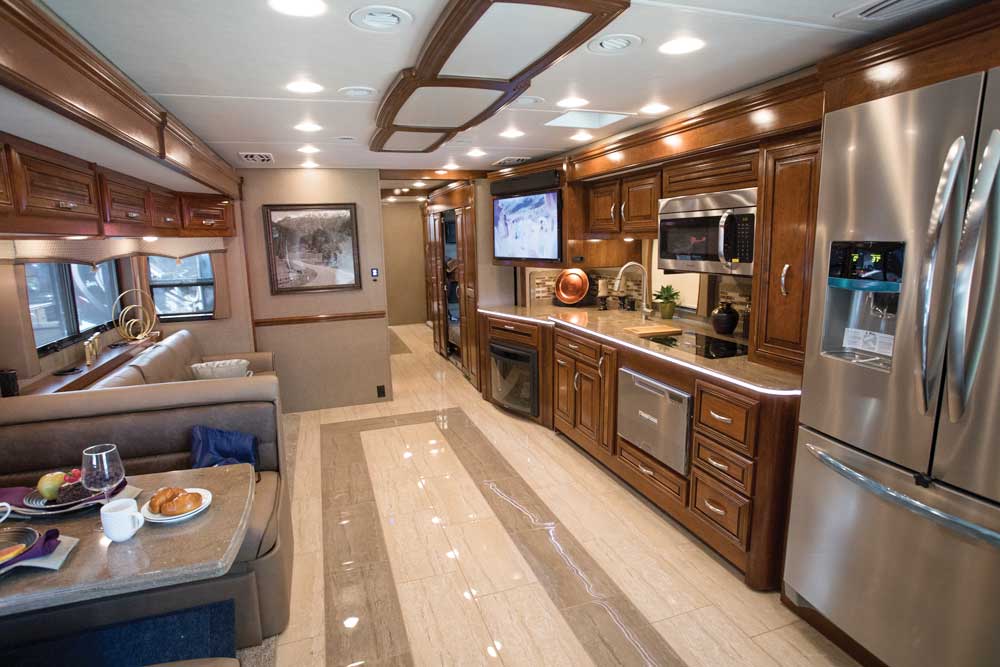 Forest River's Berkshire division has gone all-out for 2018, with a new bus-style look on the outside and an upgraded furniture redesign inside. With the company's flagship Berkshire XLT, there's also a new family floorplan.
The $376,055 (MSRP) 45A is a four-slideout, two-full bath, bunkhouse motorhome, built on Freightliner's XCR chassis with a GVWR of 44,320 pounds and a 450-horsepower Cummins engine. The 44-foot, 7-inch coach is available in seven exterior full-paint options, five interior treatments and, with six seating options for the front right slideout, there's plenty of room for personal touches. The galley slide includes a stainless-steel French-door residential refrigerator, dishwasher, convection microwave, induction cooktop, solid-surface counter and more. A large LED TV sits above the fireplace and conceals a storage cabinet. The first full bath and the two bunks are built into the slideout, while the master suite features a king bed, a dresser with a full wardrobe, and a large rear bath with dual vanities and corner shower.
Hymer Aktiv
EHGNA had no shortage of debuts at the Open House, including a Hymer Aktiv with a "pop-top" roof. "The pop-top basically is a bed up top. This now allows our motorhome to be the first Class B van that's family friendly. Most vans will sleep two; now we have a four-sleeper. We think it's going to open up a huge market for us as far as families," said EHGNA Vice President of Sales and Service Mike Snell.
Jayco Seneca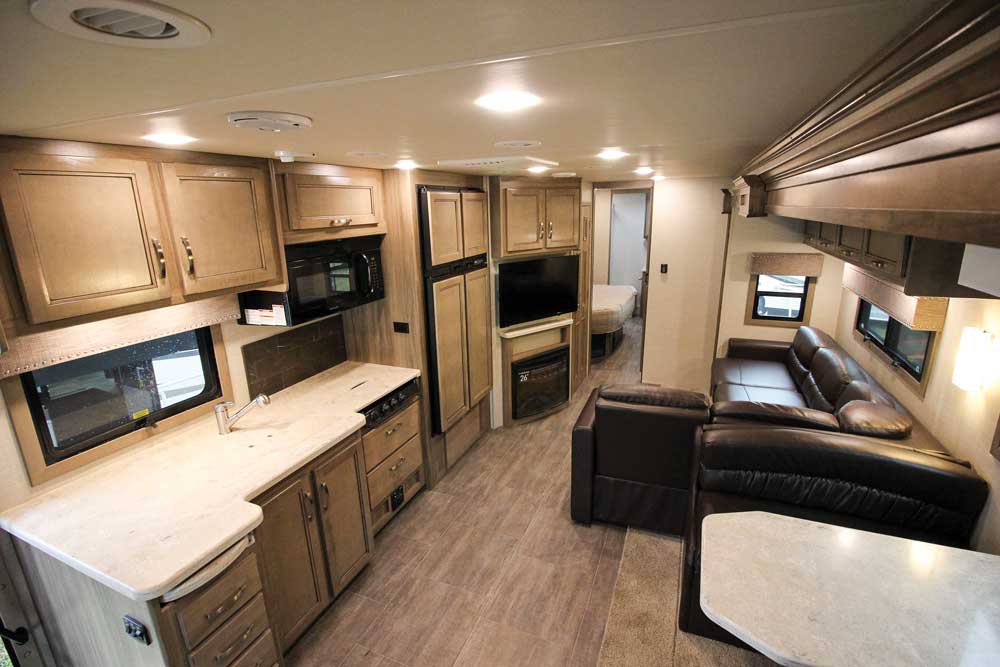 Along with other changes to its five-model Seneca line – including a new 37K floorplan – Jayco has upgraded the entire lineup to the new S2RV chassis from Freightliner Custom Chassis Corp. (FCCC). The S2RV front-engine diesel cab chassis is designed and built specifically for the RV market, and caters to drivers who want the power and performance of a diesel without the cockpit of a conventional Class A.
Jayco Motorhome Group Regional Sales Manager Ryan Eash said the S2RV chassis has a number of improvements over the previously used M2 chassis, also from Freightliner.
"You get a 360-horsepower Cummins engine now, instead of the 340. You get the 3000MH six-speed Allison transmission instead of the 2500. You get 100 gallons of diesel instead of 74. You get more DEF capacity. You also have pass-through storage now." The Seneca 37K model, with an MSRP of $244,900, features one-and-a-half baths – a spacious rear bath and a half-bath tucked in behind the living area's angled entertainment center, which is opposite an L-shaped sofa for optimal viewing. The sofa and a dinette are housed in a full-wall slide on the driver's side, while the curbside slide holds the bed in the master bedroom.
Leisure Travel Vans Wonder
In addition to a host of upgrades to its Unity and Serenity products based on the Mercedes-Benz Sprinter chassis, Leisure Travel Vans, a brand of Triple E Recreational Vehicles, has added a front twin bed (FTB) model to the Ford Transit-based Wonder lineup. Featuring European interior styling, the company's second Wonder floorplan carries a $108,550 base MSRP, has a GVWR of 10,360 pounds and is powered by a 3.2-liter, 185-horsepower Power Stroke turbo­diesel and six-speed automatic transmission.
Ryan Elias, general manager of Triple E RV, said the FTB will appeal to consumers looking for a "Class B-plus" motorhome, yet are not willing to compromise on living space or amenities. "We believe the new Wonder front twin bed model offers customers an innovative second option to the original Murphy bed floorplan," he said. "Some of the highlights of the new Wonder FTB include an open and spacious layout, a generous galley for those who enjoy cooking and a large bathroom with a 30-by-32-inch enclosed shower."
Thor Motor Coach Axis/Vegas
For 2018, Thor Motor Coach (TMC) rolled out a new 27.7 floorplan for the Vegas and Axis, the shorter gas-powered Class A lines that TMC describes as Recreation Utility Vehicles (RUV). At 28 feet, 6 inches, the 27.7 floorplan is the longest RUV to date, using the extra room for expanded living and storage spaces.
Both slides on the 27.7 are streetside, with the forward extension containing the 68-inch Dream Dinette and 40-inch LED TV next to the cooktop and microwave. The rear slide holds the flip-up queen bed. A closet in the bedroom, and the kitchen sink and cabinet storage in the living area, are in between the two slides. Along the passenger side is a 68-inch jackknife sofa, entry door, refrigerator and cabinet storage, and three-piece bath opposite the bed. "The 27.7 is a bit longer, but it still has that tapered front end, so it's a bit easier to drive," said TMC Vice President of Product Development Jon Krider. "It's not as wide, so it doesn't feel as big and boxy. It's still a little less intimidating than a big Class A."
TMC Palazzo 37.4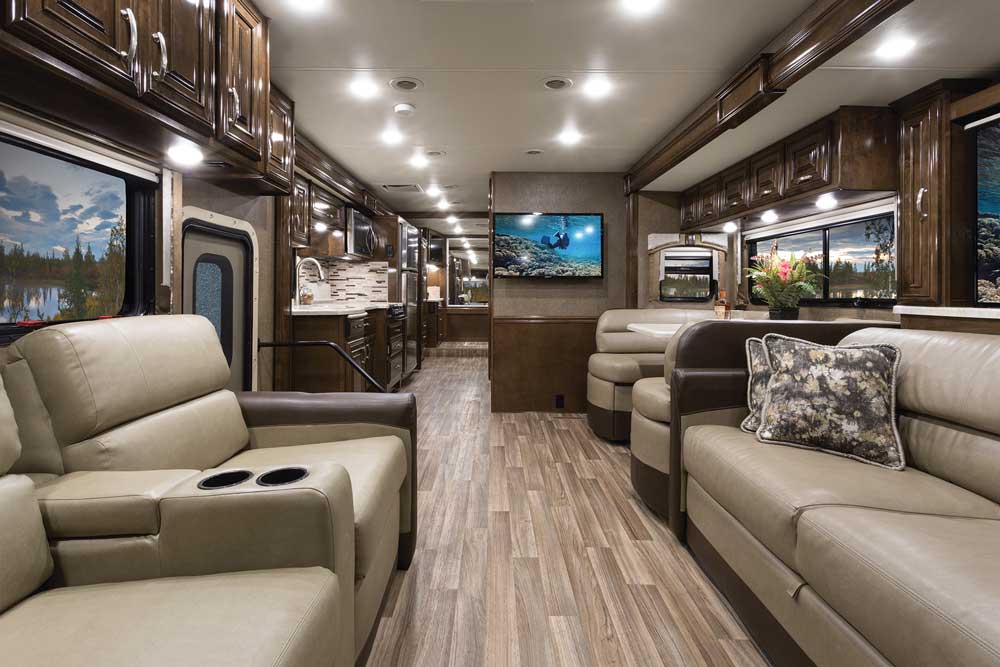 TMC also introduced the 37.4 model to its Palazzo line of entry-level diesel pushers for 2018. Featuring three slideouts and seat belts for eight passengers, the $246,300 (MSRP) 37.4 is built on a Freightliner straight-rail chassis paired with a 340-horsepower Cummins diesel engine.
"This is the longest Palazzo we've ever made; it's the only triple-slide Palazzo that's in our lineup, and it's the first Palazzo for us to have opposing seating," said Adam Gudger, national sales manager for TMC's diesel division. "What's nice is we've actually kind of overlapped this third [curbside] slide, opposing both the front and the rear [streetside] slides, so it almost gives the feeling of opposing slideouts the whole way in the coach."
Just off the mid-entry door, the curbside slide houses an 80-inch-long galley in the living area and a stackable washer/dryer and closet in the rear bedroom that also features a full-width rear wardrobe. A 72-by-80-inch Tilt-A-View king bed is set in the bedroom streetside slide, while the final slide contains a 72-inch Dream Dinette and 68-inch sofa bed backed by a 50-inch retractable LED TV. Theater seating is located opposite the sofa bed/TV setup.
TMC Quantum
Among its numerous debuts, TMC also unveiled three new floorplans in its Class C Quantum line, including the RC25 3TRAX wall-slide model with rear wardrobe and swivel captain's chairs in the cockpit; the Mercedes-Benz Sprinter-based RW28 with a MEGA-Storage pass-through basement compartment; and the Sprinter-based RT24 with a king bed that converts to twin beds. Of the new models, Krider singled out the 25-foot RC25 in particular. Featuring a full-wall slideout, queen bed, full bathroom, convertible dinette and a large wardrobe in the rear, the RC25, built on an E-Series platform, packs a lot of living in its relatively short space.
"With 25-foot motorhomes, you usually have to give up something. You either give up wardrobe, exterior storage or living space. This one does a good combination of having living space for two to four people," Krider said. "So, from a livability standpoint, if you want to be under 26 feet long in a motorhome and you want all-solid-wood cabinets, solid-surface countertops and the electronics, the big TVs – you'll get it all in this little motorhome."
TMC Tuscany 45MX
The Tuscany 45MX from TMC, Krider noted, is the motorized builder's "most luxurious model" in its Class A diesel-pusher lineup that, across the line, now features a side-radiator chassis from FCCC. "The 45MX is a new 45-footer that has all the luxury features, including a hand-built tile shower, hand-placed tile floors and countertops, Sony electronics and JBL audio systems," said Krider. "And, for 2018, the Tuscany was completely redesigned," he continued, mentioning Tuscany's new caps, dashboard, 200-watt solar panel system, Winegard 4G connect, multiplex wiring system and the drop-down Project 2000 front bunk. While the Tuscany line starts at about $399,000, Krider said the 45MX will be listed at about $420,000.
Winnebago Horizon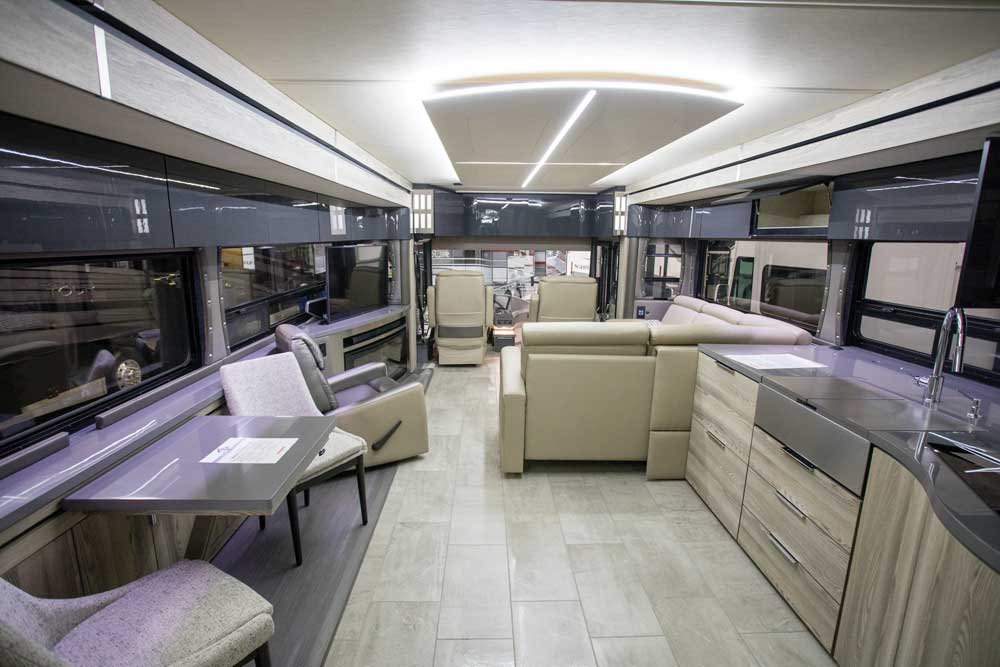 The Winnebago Horizon, in particular, proved to be a hit at Open House. "They loved it – it breaks outside of the mold in that diesel-pusher category," said Chad Reece, director of marketing. "It's very sleek, contemporary – we think there's a big market out there for folks who want to take that step in diesel pushers. This takes it to a new level, and the functionality that's designed into it also is a step forward. The layout is intuitive and the ability to use the vehicle has been stepped up, as well." Reece also noted there's more to the Horizon interior than just a sleek appearance. "The styling in the Horizon has a modernistic feel, but it also has a functional purpose," he said. "We were able to create storage inside that makes maximum use of space because we're not limited to straight lines and angles. When you can make curves in cabinetry, you open up options on how you can store things, how things fit together." Horizon interiors sport high-gloss laminates and radius doors as well as stainless-steel and backlit translucent panels that, described Ryan Roske, Winnebago's director of product management, project the ambiance of a European yacht – an impression for which he partly credits European furniture supplier Technoform S.p.A. "The company we work with is based out of Italy," said Roske. "Their lamination processes are all top-notch. Their tolerances are tight and that is a big plus working with them."
Initially available in lengths of 40 and 42 feet and retailing for $400,000 to $430,000 (MSRP), the Horizon is built on a hybrid Maxum chassis. "We buy an XCL lower rail chassis from Freightliner and then we bridge it together, adding some width for strength to the full width of the motorhome," said Roske.
Winnebago Revel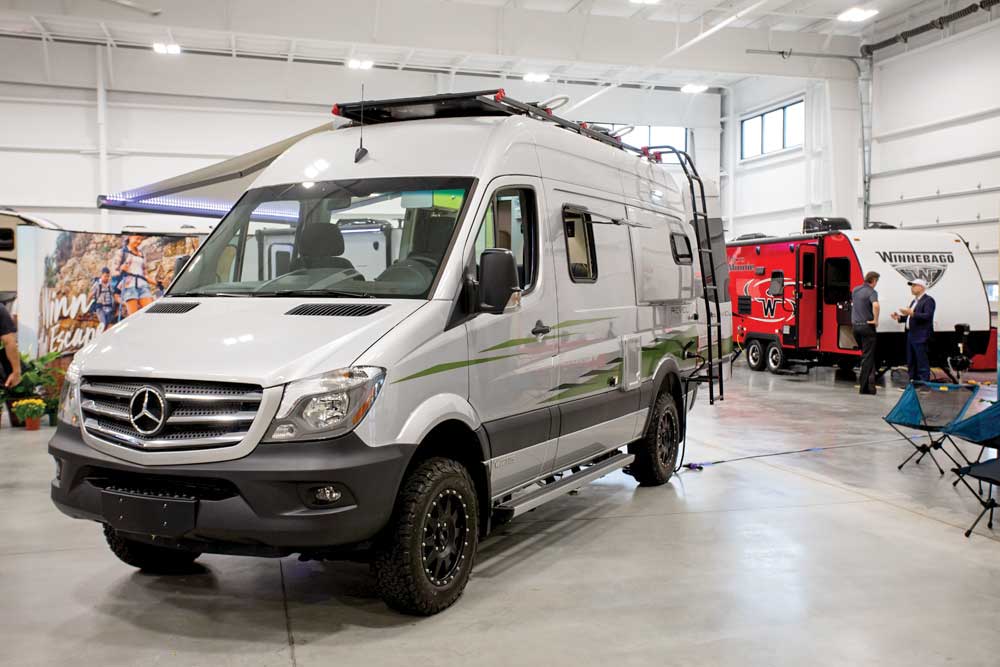 Winnebago's new Revel is an aggressively styled Class B with an MSRP of $140,000 to $150,000. Designed for outdoor enthusiasts, the Revel offers a rear queen bed that raises to the ceiling to allow storage capacity for a single motorcycle or mountain bikes. The configuration provides the room for a marine-style bathroom/shower with slide-in teakwood shelves that convert the entire bath into a large storage area when not in use. Outside, a clamp-on-style ladder that attaches to a roof rail around the entire motorhome facilitates tie-downs for kayaks or gear storage. The Revel also features a 200-watt solar panel backed by an inverter system and batteries for extended dry camping. The motorhome also has diesel-powered comfort and water heater systems.
---