Polly Judd was showing me around the Highlands Museum and Discovery Center. She stopped at a model of a large tugboat, the kind that moves mega-ton barges up and down the Ohio and Mississippi Rivers.
"I used to cook on a boat like this – lived on it, actually," she said. "I had as many as 15 to cook for. I was the only woman. They treated me well … nobody wanted to make the cook mad."
Polly is 80 now. She lives nearby. She is not normally at the museum. I was with some folks who knew her and they called ahead. She was there to greet us.
This is Ashland, just north of Interstate 64 in eastern Kentucky. It's one of the biggest ports on the Ohio River, shipping a lot of coal. For a town of 24,000, it has a large number of native notables, three from one family, and most in the country-music business.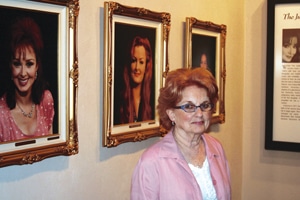 In fact, that's what brought me here. I am touring Kentucky's "Country Music Highway" – Highway 23 that runs through the Appalachian hills on the eastern edge of the state.
A big space in this museum is devoted to Polly's daughter, Naomi, and her two granddaughters, Wynonna and Ashley. Naomi Judd was born here in 1946. She was married and had Wynonna before she graduated high school. Naomi's second daughter, Ashley, was born later when they lived for a short time in California.
"We always had a piano in the house," Polly said, "but Wynonna took to a guitar that Naomi gave her. Times were tough then. Tempers and money were short, but there was always beautiful harmony in their music. In 1979 they went to Nashville and the next thing ya know, I'm seeing them on television. I was very proud … still am."
Throughout the 1980s, it looked like there was no end to the success of the singing duo. But in 1990, Naomi was diagnosed with Hepatitis C. After eight years at the top, she had no choice but to retire. The Judds had a Farewell Tour across the country in 1991 that was the top grossing concert act of that year.
Ashley has had a successful career in acting and is perhaps best known for her leading roles in the films High Crimes, Kiss the Girls, and Double Jeopardy.
"When Wy and Ashley come home, they raid the drawer with the junk food and go up in the attic to check on their toys," Polly said. "Naomi, on the other hand, likes to walk through the neighborhood where she grew up. Their roots are definitely here."
Eastern Kentucky is steeped in musical history. The musical talent developed in the hills south of here includes Loretta Lynn, Billy Ray Cyrus, Tom T. Hall, Ricky Skaggs, Keith Whitley, Dwight Yoakam, Gary Stewart, Patty Loveless, Crystal Gayle and more.
There are music venues all along Highway 23 – all 144 miles of it. In Ashland, it's the Paramount Arts Center with its 1,400-seat theater. The Paramount is one of those grand movie theaters built in the early 1930s. Gone with the Wind was so popular here that seating was by reservation.
The focus of these venues is on the country and bluegrass stars of the future. At the Paramount, I was able to see a young singer named Stephen Saylers. Stephen is good. Will he hit it big like the Judds? Who knows? But coming from eastern Kentucky is a good start.
Welcome to America's Outback.
 Bill's e-mail address: [email protected]