With the latest advances in clothing, gear, and shelters, there's no reason for winter anglers to be left out in the cold
Ice fishing in North America began before the arrival of Europeans. Native Americans took fish from frozen lakes as a means of sustenance in some places after the summer and fall foraging seasons had passed. Tribes in the upper Midwest in the United States and central Canada fished by breaking or chipping a hole through the ice. They used carved decoys in the shape of a fish to lure living specimens within the range of a spear that was then used to harvest the catch. A 1948 photo from the Minnesota Historical Society shows examples of a covered shelter and its pole frame used by the Ojibwe people on Lake Mille Lacs.
Ice fishing is popular in other parts of the country, but folks in the upper Midwest, especially in Minnesota and Wisconsin, claim a particular affinity for the sport and a long history with its practice. Another photo from the Minnesota Historical Society's collection documents about a dozen anglers posing with their catch in Pequot Lakes, Minnesota, around 1915. The black-and-white photo bears the inscription, "Great Northern Pike:
A Few 10 to 20 Pounders."
The Scoop on Ice Fishing
Ice-fishing contests were staple activities at winter carnivals and other cold-season events in the early decades of the 20th century. More recently, the 1993 movie Grumpy Old Men and its 1995 sequel, Grumpier Old Men, brought national attention to the beloved Midwestern sport in a pair of hilarious portrayals of the culture. The first film had an unexpectedly strong showing, earning $70 million in the U.S. market.
However, ice fishing has changed dramatically since legendary actors Walter Matthau and Jack Lemmon had theater audiences laughing in the 1990s. Images of chilly anglers sitting on a bucket over a hole in the ice or huddled in primitive shanties poorly illustrate the current state of the sport. Advances in gear, from ice augers to shelters to GPS devices, have put ice fishing on the map as a sport that's ever innovating to help anglers catch more fish and remain comfortable and safe while doing it.
Staying Warm on the Ice
Jarrid Houston of Houston's Guide Service in Duluth, Minnesota, is an avid angler and accomplished guide who focuses heavily on ice fishing. He has followed the evolution of ice-fishing gear since he was old enough to fish. In his mind, there's been no better time to be angling through the ice than the present.
"Staying comfortable while fishing is huge," Houston says. Advances in apparel and footwear in the past few years have yielded gear that's not only more comfortable to wear, but warmer and safer. "There's so much available now. Clothing with a personal flotation device integrated right into the apparel is getting popular. Known as 'float suits,' more people are using these all of the time."
There's also a growing emphasis on clothing that's more wearable in the early and late seasons. "Ice fishing has become so popular in the last 10 years that there are more people out there in the spring and fall," Houston says, pointing out that super-warm apparel isn't usually necessary in the shoulder seasons. "We're seeing clothing that's lighter, breathable and more mobility-favorable when it's not so cold."
When the temperatures are frigid, ice anglers, like other winter-sports enthusiasts, have an ever-growing array of battery-powered clothing items to keep them warm. On the footwear side, heated socks and insoles are available from a variety of manufacturers. As an individual whose feet seem perpetually cold while engaged in stationary winter activities, I've found these to be a game-changer, not only on the ice, but for waterfowl hunting and winter fly-fishing.
A more recent development in heated clothing is the battery-powered vest. Produced by several different outdoor-clothing companies, heated vests puts warmth right on the core of the body. Layered under an insulating, windproof outer garment, a lightweight, heated vest is the proverbial game-changer in really cold weather, especially for folks lacking the protection of a shelter when ice fishing.
Taking Shelter
Speaking of shelters, that's another area where Houston has seen dramatic improvements in portability, functionality and design in the past few years. "The newest portable ice shacks are easier to transport but durable enough to really take the elements," he says.
Quite recently, a couple of manufacturers have added another very appealing feature to their shanties: an extra door. "Some of the brand-new portable houses have side doors so you don't have to climb over people to get in and out," Houston adds. "They're also pretty neat because you can butt two houses together through the side doors to accommodate larger parties of anglers."
Breaking the Ice
"When I was a kid, we chopped and chiseled holes in the ice to go fishing," Houston recalls. For the modern ice angler, those days are long gone. The development of hand-
powered and engine-driven augers made getting through the ice so much easier than chopping. But as Houston describes it, "That older stuff was heavy and hard to work with." The latest evolution in hole-boring technology is the battery-powered ice auger, a device receiving rave reviews from guides and other ice anglers for its light weight and ease of operation.
Battery-powered ice augers may be driven from a fixed internal battery or interchangeable battery packs. While some folks may be skeptical of the capacity of a battery-powered device auguring through numerous holes in thick ice in frigid temperatures, such concerns are unfounded. "The best ones out there will last a weekend on a single charge," Houston says. "Extremely cold temperatures diminish their efficiency a little bit, but they are nothing short of amazing."
Tracking Fish
Warm, comfortable clothing, portable fishing shelters and lightweight, easily operated ice augers are all focused on one thing — catching fish under the ice. Houston believes the biggest challenge of ice fishing isn't having just the right lure or bait and employing it with the best technique. It's finding the fish. "Chasing pods of fish is the huge puzzle, especially on big water like Lake Superior where I do lots of my fishing," he says.
For anglers seeking to make the most of their time on the ice, recent technological advances have eliminated much of the guesswork in finding schools of fish. "People are decking out their vehicles with GPS mapping software to look at what's under the ice — the structure of the lake bottom that's so important for finding fish. These units can go on a snowmobile, side-by-side or a pickup truck." The GPS units allow an angler to know exactly what's under the ice in terms of lake-bottom structure.
"A lot of people are starting to use information for their summer fishing trips in the winter," Houston says. "You can, for example, store the waypoints from productive locations and structure from summer outings in your GPS." Fish are often in the same places in the winter. If the summer hotspots are retained in the GPS unit as waypoints, the angler can return to exactly the same place in the winter.
No GPS? Not to worry. "You can do so much of this stuff now with a smartphone," Houston says. "You don't need to buy an expensive map or a high-end GPS. Pretty much all of the basic information you need can be done with an app."
Ice fishing has advanced far beyond a couple of grumpy guys sitting in makeshift shanties. Technology has made the pastime not only more comfortable but has also given anglers the tools to achieve the end-goal of this popular winter sport, fish on ice.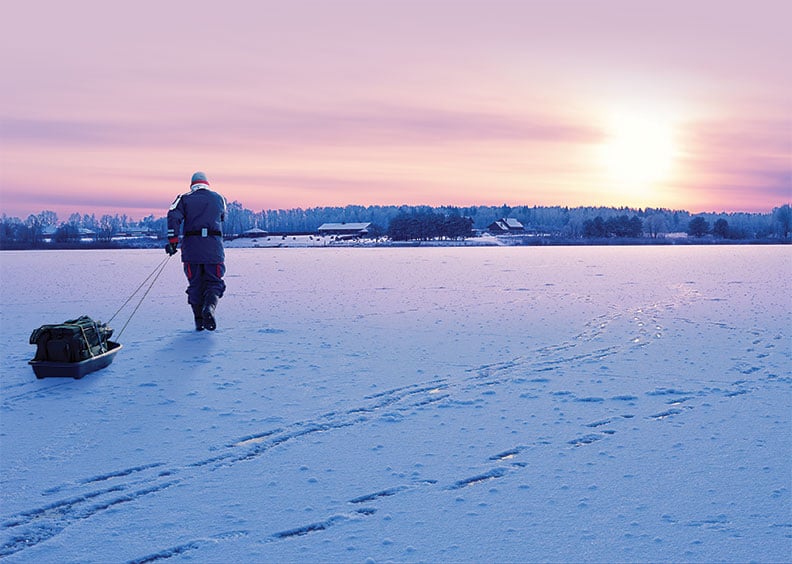 ---
In-Stream Winter Fishing
There's another wintertime fishing experience besides angling through the ice that's become increasingly popular. On trout streams across North America, more and more anglers are extending their fishing season into the winter. Just as in lakes, fish in rivers eat when snowbanks pile up at streamside. Fly-anglers in many locations have learned that, with the right timing and technique, the fishing can be as good in February as in July.
Winter fly-fishing requires open water, which is most commonly found in "tailwater" streams (those that issue from a dam). The warmer water released from the bottom of a reservoir may flow for many miles before freezing, giving fly-anglers plenty of liquid real estate to fish in the winter. In some places, freely flowing streams will also stay ice-free, except during the coldest winters.
With very few exceptions, fly-fishing during the cold season is most productive for a few hours at midday, when water temperatures are highest. This gives a rather casual approach to winter fly-fishing in terms of the daily schedule. There's no need to barge out of bed in the morning to beat the heat and experience the best bite.
By far the most consistent technique for winter fly-fishing is nymphing, drifting flies that mimic the immature form of aquatic insects under a float or "strike indicator." It's a fly-fishing method that's great for beginners, making winter angling accessible to novices and experts alike.
As it turns out, ice fishing isn't the only winter-angling pastime that's increasing in popularity.
---
Winter Games
Each year in central Minnesota, more than 10,000 anglers brave the cold to compete in the world's largest charitable ice-fishing contest. The 30th annual Brainerd Jaycees Ice Fishing Extravaganza takes place January 25, 2020, on frozen Hole in the Day Bay on Gull Lake. www.icefishing.org
---
Jack Ballard, Trailer Life contributor and an award-winning author and photographer, has written hundreds of articles on outdoor recreation topics that have been published in more than 50 different magazine titles. He has also written 13 books. Jack's first RV was a 1961 Aristocrat camping trailer he bought for $500 in 1989. Although he appreciates the technological advances of modern RVs, he retains a keen interest in vintage units.
---