Q: I will call this the case of trailer brakes or no brakes. We have a 2005 Ford F-350 that we bought new, and a 2003 Cardinal fifth-wheel that we bought used. Our problem is that at times we have trailer brakes, and then we don't. We may go five miles, or we may go 1,000 miles, we never know when it will happen. We've had the truck at different dealers and they say everything is fine, we've brought the trailer to dealers and they say the brakes are OK. We have even gone to changing from the Ford dash-mounted brake controller to an add-on controller, replaced the plug-in cord and added an extra ground wire. We also had the brakes replaced. We don't feel safe when we are towing because we never know if we will have brakes. I have been pulling my hair out over this (and don't have much hair left to pull), so any help you might be able to offer would be appreciated.
Dave Arrasmith, Warsaw, Mo.
A: This is a serious safety concern and needs to be fixed before you continue towing. Fortunately, the solution will probably be relatively inexpensive, especially compared to what has been done already. It's likely that you have an intermittent connection somewhere in the wiring harness going from the brake controller back to the brakes at the trailer's wheels. The most likely spots are inside the connector plugs, or any place that wires flex (such as the wires in the trailer cord) as the rig goes down the road. Also check for wires being chafed if they run through holes in the trailer axles, etc. If a thorough, careful inspection turns up nothing (which I doubt) then replace the wires carrying the electric power to the brakes.
– Ken Freund
---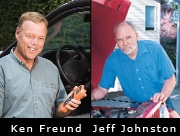 To send your questions to RV Clinic, write to 2575 Vista Del Mar, Ventura, Calif., 93001; or email [email protected]. Also, check out TrailerLife.TV for our expert RV how-to videos.