Virginia's High Country is unlike anything else in the state. Its breathtaking vistas and thickly wooded ridges that suddenly open into lush rolling pastures make Grayson Highlands State Park and adjacent Mount Rogers National Recreation Area a treat for anyone with a fondness for the outdoors.
Hiking, horseback riding, picnicking, fishing, mountain biking and camping are just some of the activities that make this place so appealing to so many. But what makes the area extra special is its high alpine meadows where ponies roam free, as well as its panoramas of uniquely preserved geography that were created millions of years ago by ancient seas and volcanoes.
Several months prior to our visit, we laid out our plans to spend three days at Grayson Highlands, where there is a fine RV campground. We also scripted our plans to hike the park's many trails and make the trek to Mount Rogers, centerpiece of the 118,000-acre national recreation area and highest point in the state at 5,729 feet. We had read that resident miniature wild ponies near the mile-high crest are friendly to hikers and encountering them sounded like fun, but we were also cautioned by a park ranger that the ponies are not tame and are capable of injuring visitors who attempt to touch them.
The Mount Rogers Scenic Byway takes you to the heart of these wonders. You can experience the byway from two different routes, but no matter which direction you're coming from, the final approach to this area in the ruggedly beautiful Appalachians of southwest Virginia is steep and tortuous. The easiest way to get there is to take Interstate 81 to Marion then follow Virginia Highway 16 to Mouth of Wilson, where Big Wilson Creek flows into the New River. This unincorporated community was home to a woolen mill during the Civil War, and today it has a post office and little else. From there, climb U.S. Highway 58, a corkscrew road, 13 miles and hundreds of feet in altitude until you get to the park.
Mount Rogers is a short distance northwest. Its summit is densely wooded with a spruce-fir forest, which blankets any chances of views from the top. The Appalachian Trail, however, passes within a half mile of the summit and offers plenty of far-reaching views, making the trail especially popular with hikers in the summer months.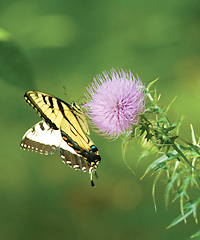 Winter often delivers upwards of 10 feet of snow, but during the time the temperature at lower elevations is well into the triple digits on the Fahrenheit scale — as on our summer visit when the heat index was 120° at 1,800 feet lower in Marion and 1,460 feet lower in Mouth of Wilson — that's when these lush green hills in the higher altitudes are a fine place to be. The temperature drops about 12° every thousand feet you climb, according to park ranger Theresa Tibbs.
The Mount Rogers National Recreation Area, established in 1966, lies within the 1.8-million-acre George Washington and Jefferson National Forests (350 miles end to end, stretching into West Virginia and Kentucky), and is webbed with some 500 miles of hiking trails, including a 78-mile stretch of the famed Appalachian Trail. With all of these trails, we had plans for some serious hiking.
However, I sprained an ankle, which forced us to modify our plans. Even with an ankle brace, hikes of more than a few miles — including half of the nine-mile round trip between park and mountain — had to be trimmed from the agenda.
We found other superb shorter trails, most of them less than two miles long. There are also many miles of crystal-clear mountain streams, which are excellent for trout fishing or simply viewing: Big Wilson Creek, Cabin Creek, Quebec Branch and Mill Creek. Guided fishing trips are also available (call the park office at 276-579-7092 for information).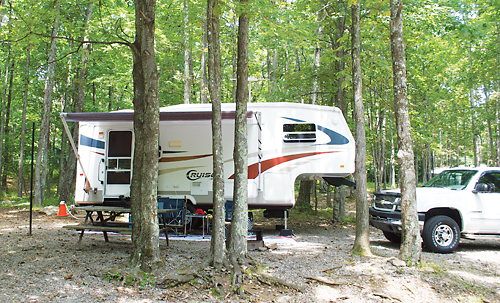 We kept our plans to stay at the RV campground in Grayson Highlands State Park, little more than 10 miles west of Mouth of Wilson. A good place to learn about the park is at its extensive and first-rate visitor center, about four miles from the campground on Haw Orchard Mountain, named for the abundant hawthorn trees there. A short video tells the history of the 4,822-acre park, which is one of Virginia's largest and most scenic. Originally called Mount Rogers State Park, it was established in 1965, thanks in large part to the efforts of a physician, outdoorsman and public servant named Virgil Cox.
The mountains here, once higher than the Rockies, were formed some 300 million years ago, the film continues. Today, with thick stands of Fraser firs, they might be thought of as "a bit of Canada in southwest Virginia."
The park hosts several popular annual events, including the Wayne C. Henderson Music Festival and Guitar Competition, an annual event since 1995 that's held the third Saturday in June "rain or shine." It was begun to express appreciation for this local living legend, whom the National Endowment for the Arts presented with a National Heritage Award. The event includes a "flat pickers or finger pickers" competition, followed by a concert featuring local and regional bluegrass and old-time bands. There are also games, crafts and storytelling for all ages (call 276-579-7092 for information).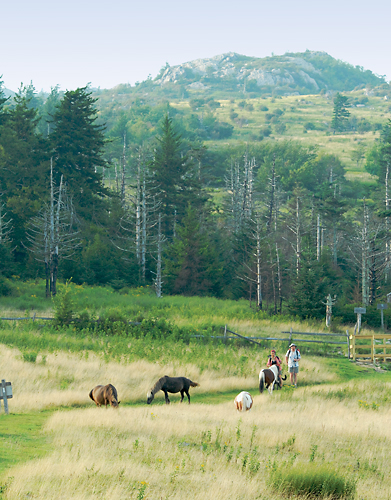 The last full weekend in September is the fall festival, begun in 1976. It attracts thousands of visitors who come for the entertainment of a long-gone era: molasses; apple butter and cider-making demonstrations; games; crafts; bluegrass and gospel music; plus a variety of foods appropriate to pioneer-day Appalachia, such as pit barbecue chicken with fixin's.
During the festival an auction of "colts of the season" is held. Days earlier they and the other wild ponies are rounded up and given veterinary care. According to area ranger Beth Merz, Wilburn Ridge Pony Association, a group of breeders who own the animals, have long held a permit to graze 90 of them at Mount Rogers, and handle the roundup and auction; the ponies are sold for pets.
If you're not in the area for the festivities, be sure to check out the museum at the visitor center. It is a pictorial history of the area and includes a re-created cabin with stone chimney and pioneer furnishings: cradle, spinning wheel, loom and more — plus a host of historic photos and artifacts that interpret early life in the area, emphasizing the important role music played. There's also a fine bookstore, gift shop and mountain crafts shop, where you can find locally made items such as cloth bags, wooden bead bracelets, sunbonnets and more. Another smaller gift shop is located near the campground.
But we were here mainly for the outdoor recreation, so we were determined to hike the area. Our first trek began behind the visitor center on Twin Pinnacles Trail, 1.6 miles long and not too difficult. The gravel-loop trail crosses the two highest points in the park: 5,089-foot Little Pinnacle and its curiously named shorter neighbor, 5,068-foot Big Pinnacle. Views from the Pinnacles are spectacular, far across seemingly endless tiers of smoke-shrouded mountains to North Carolina and Tennessee. In the distance along the horizon, we could see Mount Rogers and the next highest peak in Virginia, the 5,520-foot Whitetop. In 1933, a music festival on Whitetop's bald — a grassy meadow — drew more than 22,000 spectators, including First Lady Eleanor Roosevelt.
There was no music festival happening during this hike, however. Other than the subdued voices of other hikers, the most we heard on the trail was the rush of wind in the trees and occasional buzz of a fly. Yellow and black butterflies flit in and out of the sunlight that dapples the forest floor, where lime-green ferns grow thickly between stands of yellow birches with peeling papery bark. We saw an odd tree that seemed to be growing straight out of a boulder, its roots clutching the stone like the arms of a mighty octopus.
Between the Pinnacles is a short but steep and rugged stretch that leads to a trail winding 400 feet down into Massie Gap. Despite the spelling change, it was named for the Massey family — Lee, his wife Laura and their five children — who lived here a century ago when a towering forest of virgin red spruce trees, with trunks 3-4 feet in diameter stood here.
Lee Massey had worked for a lumber company helping to build a railroad line into the area for hauling out cut timber. It's since long gone, but the grade can still be seen in the gap. So dense were the enormous trees that one acre alone would yield 100,000 board feet, enough to build about 30 average-size houses. After the mighty trees were gone, cattle grazed on the slopes. Today a scattering of red spruce — minute versions of their forebears — still show their presence.
Over the course of our visit we walked other trails: 1.9-mile Cabin Creek Nature Trail, a loop that begins at Massie Gap parking area and arcs downhill to Cabin Creek and a short distance beyond to its lace-like waterfalls. We hiked 1.8-mile Wilson Creek Trail, which begins near the campground and winds through a forest of beech and sugar maple trees. Here, too, the woods are thick with ferns to the rushing creek. Another fun hike was the 1.7-mile Stampers Branch, a footpath connecting the visitor center and the campground, a downhill walk with an elevation change of about 600 feet.
Interestingly — as altitude dictates inexorably what grows where — the difference in trees between the two locales is readily apparent. Northern species red spruce, beech, birch and maple grow near the visitor center, while at the campground the forest consists of oaks and hickories.
Rock House Ridge Trail — a 0.6-mile trek that begins at the picnic area parking lot — is named for the nearby lean-to-like rhyolite boulder. Black polka-dotted with pink nodules, the enormous boulder provided shelter for Native Americans whose many artifacts, including tools made of rhyolite, have been found here as well. The trail leads to a meadow, site of the homestead of William Marshall Jones and his wife Eunnace, who married in 1884 and raised nine children.
The cabin there today, built in 1902 by Grant Weaver using lumber from a dwelling 150 years older, was moved from its original location on Mud Creek. Placards explain construction typical of the era: Hand-hewn hemlock and yellow poplar logs mortised to fit together, weatherproofed with wood strips and clay mixed with horse or cow hair.
Another placard explains that the American chestnut was once the most abundant tree in these southern Appalachians. This tree was highly valued for its wood and delicious nuts that settlers enjoyed and hogs "fattened on into flavorful meat." But in the 1930s, the Asiatic chestnut blight struck, destroying the rich resource. Today, mute testimony to the durability and beauty of this hardwood, a century-old split-rail chestnut fence remains.
Also on the four-acre site of meticulously groomed meadows are a dozen or so other antique log cabins and outbuildings, with placards telling the history of each.
On our last day at the park we walked a few miles on the trail to Mount Rogers. Beginning at Massie Gap it follows a cobble of trails: Rhododendron, Virginia Highlands Connector, Appalachian through a stile in the fence that marks the boundary between the park and recreation area, and onward. We witnessed panoramic views of the purple-gray rhyolite, volcanic rock created long ago. A trek all the way to the summit would have to wait for another time, but we did encounter nearly a dozen of the resident ponies.
"They're up there to graze, which helps maintain the open land," ranger Merz said. "They're extremely popular with visitors. We're glad to have them."
The frisky, waist-high equines are very curious. Hikers are asked to not feed them, as "people food" makes them dependent on humans, which could hurt them in the long run. But the ponies don't know that, and so the little panhandlers rub their soft muzzles against pockets to check for granola bars and to plead their case.
More Info
Grayson Highlands State Park, (800) 933-7275. The campground is open May 1 through October 31. It has 41 RV sites with water, electricity (20- and 30-amp) and a dump station. There's also a horse campground with 69 stalls and 23 RV sites with water, electricity (20- and 50-amp) and a dump station.
Mount Rogers National Recreation Area, (800) 628-7202, www.fs.fed.us/r8/gwj/mr. There are 11 campgrounds on the recreation area, several with RV sites and hookups.