In the shadow of snowcapped Mount Hood, the Hood River Valley has it all each fall, from harvest festivals and farm-to-table fare to colossal views and a colorful history
Where can you sip local beer and fine wine, eat at farm-to-table restaurants, hike, bike and windsurf, shop for antiques and collectibles, dine aboard a vintage train, sample freshly picked apples and pears and visit one of the best antique airplane and auto museums in the country? In Oregon's Hood River Valley you can do all this and more while surrounded by the breathtaking scenery of the Cascade Range and the Columbia River Gorge.
The Columbia River Gorge is a favorite destination for RVers (see "Simply Gorge-ous" in the May issue), and Hood River, a walkable town of about 8,000, is the crown jewel. For many years, Hood River was a sleepy agricultural community renowned for growing apples and peaches. However, several decades ago, windsurfers and kiteboarders discovered that the gorge's high basalt cliffs create the perfect conditions to ply their wind-driven pursuits on the waters of the Columbia.
With the influx of water-sport enthusiasts, the town literally woke up. Great restaurants, bakeries and coffee shops opened. Vineyards were planted, and wineries set up tasting rooms. Craft brewers began making beer. Artisans set up studios and galleries. A collector opened a sprawling aero and auto museum. The old train began offering rides and meals while chugging through the verdant foothills of Mount Hood. And the Hood River Valley became one of the coolest destinations in the Pacific Northwest.
Even if you don't ride the currents of the Columbia, you can still enjoy the valley's fine apples, pears and other produce, and it's something we try to do every fall. Hood River is an easy, one-hour hop from Portland, but it's a five-hour jaunt from our home in Washington, and we're happy to have our RV along for the ride.
History and Heritage
We arrive in Hood River on a beautiful autumn day and pull off Interstate 84 at exit 62 to visit the Columbia Gorge Hotel. Constructed in 1921 by Simon Benson, a timber baron who helped build the scenic drive now known as the Historic Columbia River Highway, this mission-style hotel was for years a favorite of Hollywood's elite. During the Jazz Age, stars such as Rudolph Valentino and Clara Bow visited, along with presidents Hoover and Taft.
We amble through the hotel's lovely gardens and scramble up rocks overlooking the river and Wah Gwin Gwin Falls. Then we enjoy happy-hour cocktails and jazz piano before heading to the Mount Hood Railroad depot. Built in 1906 to transport fruit and lumber, the railroad now runs four-hour passenger tours on the scenic route from Hood River to Parkdale.
After parking at the train station, we board one of the dome cars. These two-story coaches, outfitted with white-clothed banquettes for dining, present panoramic views on a 22-mile journey through forests and vineyards. The company offers dinner trains from spring through early fall, as well as ride-only excursions, train-robbery trips and seasonal outings that include October's microbrew-infused Harvest Fall Special and cocoa-fueled Christmas trains to visit Santa.
As slivers of sunlight illuminate the autumn leaves, the train passes through thick forests and orchards heavy with pears and apples. Our dinners arrive — a bacon-wrapped 7-ounce filet mignon with mushroom demi-glace and pan-seared salmon topped with saffron sauce. As dessert is served, Matt the Magician entertains with clever card tricks.
It's after 9 when we drive down State Route 35 toward Toll Bridge Park, a county park that's our base during our Hood River stay. While the Columbia River Gorge is a popular RV destination, most of the RV parks are situated along the river between busy I-84 and the freight rail line that follows the river. We prefer the campground at Toll Bridge Park near the base of Mount Hood.
Fruit Loop Tour
We wake to brilliant blue skies and cool breezes, perfect weather for driving the 35-mile Hood River County Fruit Loop. A genuine circle tour, the Fruit Loop runs from the Columbia River down one side of the valley toward Mount Hood on Route 35 and up the other side through the little towns of Parkdale and Dee before returning to Hood River. With its acres of orchards and vineyards, and assorted berry, lavender and nut farms, fruit stands, wineries, alpaca ranches, and antique and collectible stores, not to mention side roads and detours, the loop can take from a few hours to several days to drive.
We meander through the valley at our own pace, stopping at many of our favorite farm stands and exploring a few new ones. At Kiyokawa Family Orchards, we're dazzled by 100 varieties of apples and dozens of types of Asian and European pears. We sample Jonagold, Mutsu, Zestar, Gravenstein, Golden Supreme, Honeycrisp and more, and we're amazed by the differences. Some are sugar sweet, others have a sweet-sour bite, and still others offer complex flavors similar to those found in good wines. There are apples as tiny as cherries and ones as big as small melons. They come in a rainbow of colors — red, pink, green, yellow, and even orange — and all are super fresh and crisp. We buy several varieties to take home.
In Parkdale, the southern terminus of the Mount Hood Railroad, we pass the Ries-Thompson House (built in 1900), the town's oldest remaining residence and part of a 2-acre National Historic Site. Although the visitor center is closed during our stop there, we enjoy checking out the grounds, the barns and an old lumber truck.
At Mount View Orchards, we walk the dog through fruit orchards and a pumpkin patch. In addition to fresh fruit, this farm stand dries apples and pears, and we buy a few bags of crispy cinnamon-sugar apple chips for the road. We also sample rich pear squares made with delectable dried fruit.
In the town of Odell, we stop for lunch at one of the small Mexican taquerias scattered throughout the area. Odell is one of the stops for the Mount Hood Railroad, and we take our to-go carnitas burritos to Clear Creek Station, the railroad park, and join the train passengers listening to a country-western singer serenade them.
After lunch, we peruse the Old Trunk, an antique and collectibles store that's been serving the Hood River community since the early 1900s. This eclectic shop and soda fountain sells antique furnishings, books, vinyl records, and repurposed art and gifts that are so fun we spend more than an hour combing through treasures. Before leaving, we belly up to the old soda fountain with its Western-saddle stools and enjoy fresh raspberry soft-serve ice cream.
We also stop at the Apple Valley Country Store. This little shop just off Tucker Road sells 50 varieties of jams, syrups, mustards, pepper jellies and pie fillings, all with samples to try. The shop also makes pies and cookies, and huckleberry and marionberry milkshakes. We stock up on a few jars of our favorite AJ's Walla Walla Sweet Onion Mustard.
Since the windsurfing revolution, Hood River boasts several good restaurants, and one of the best is Celilo, an upscale farm-to-table eatery with an über-cool ambience. Established 10 years ago by chef-owner Ben Stenn, it has become a favorite with locals and visitors alike. The place is packed, and we settle for two seats at the long wooden bar to enjoy crispy, house-made lavash (cracker bread), a sourdough baguette and giant salads made with heirloom tomatoes. Then we dive into fork-tender steak served with a pile of frites. Heaven!
Vintage Oregon
After a restful night at the campground, we head for the Western Antique Aeroplane and Auto Museum (WAAAM), nestled in the hills above Hood River. For 50 years, pilot and airplane aficionado Terry Brandt collected vintage planes, cars and motorcycles. In 2006, he needed a place to display his large collection, and WAAAM was born. Today, the museum hosts one of the country's largest collections of still-flying antique airplanes and still-driving antique automobiles.
Housed in several cavernous hangers, the museum boasts more than 130 planes, including a 1917 Curtiss Jenny, a 1928 Boeing 40C mail plane, and more Waco planes than the Waco Air Museum in Ohio. The auto collection is equally impressive with more than 175 vehicles including two Detroit Electrics and a steam-powered Locomobile.
We wander through the museum, amazed by the gleaming brass, chrome and aluminum all around us, and watch videos about early fliers, including female pilots. This is a museum even people not interested in planes and cars can enjoy. It also houses old guns, tractors and military equipment, as well as Harley-Davidsons, Indians, Cushmans and other classic motorcycles. On the second Saturday of every month, museum volunteers fire up several old cars and planes and put them through their paces.
WAAAM was so fascinating that it's afternoon before we leave, and my stomach is growling. Fortunately, several craft brewers have set up shop in town, and we head to Full Sail, one of the largest. We order Amber Ale and huge burgers topped with Gouda cheese and bacon. After lunch, we take a free 30-minute brewery tour and learn that Full Sail uses local ingredients, including hops from nearby Yakima, Washington.
Hood River not only attracts craft brewers, it's also home to a number of artists, including glass master Laurel Marie Hagner, the owner and artist behind Glassometry Studios. When we wander inside, the glass ovens are blazing hot, and we're mesmerized as Hagner and several artisans pull plugs of molten glass from the fire and shape them into bowls, bottles and other items. Hagner makes and sells glass-art pieces and teaches glass-making classes. After watching the process, we're tempted to sign up.
The afternoon sun is lighting up Mount Hood when we make our last stop at the Wy'East Vineyards tasting room just off Route 35. More than 30 wineries and 45 vineyards surround the Columbia River Gorge, and many are here in the Hood River Valley. The area's diverse micro-climates and rich soil allow a wide range of grapes — from Aglianico to zinfandel — to grow.
The Wy'East tasting room is a comfortable and relaxing space, and we join a couple from Portland sampling estate wines. As we swirl a delicious red in our glasses, we take a moment to toast the Hood River Valley.
Hood River Harvest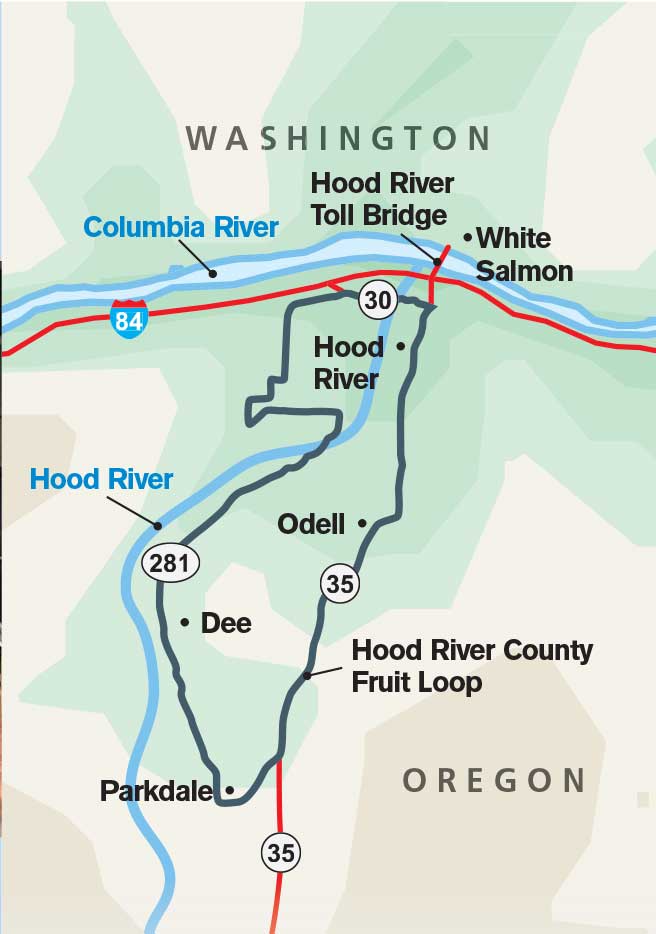 Fall is festival time in the Hood River Valley, starting with the Hood River Hops Fest (September 23 this year), where more than 50 brewers share their hop-based libations. The fun continues at the Hood River Valley Harvest Festival (October 13 through 15) and the Gorge Fruit and Craft Fair (October 21 and 22), celebrations of regional goods from arts and crafts to produce, wine, beer and cider.
Hood River County Chamber of Commerce
www.hoodriver.org/hops-fest
www.hoodriver.org/harvest-fest
Hood River County Fairgrounds
www.hoodriverfair.org
Camp It Up
OREGON
Toll Bridge Park
Situated 15 miles south of downtown Hood River on the city's namesake waterway, this 100-acre county park offers spacious RV campsites with full or partial hookups.
www.co.hood-river.or.us
WASHINGTON
Bridge RV Park and Campground
Across the toll bridge from Hood River in White Salmon, this full-service Good Sam Park has 35 full-hookup RV sites with 30 and 50 amps, free Wi-Fi and cable TV.
509-493-1111 | www.bridgerv.com
For More Information
Hood River County Fruit Loop
www.hoodriverfruitloop.com
---