Q: I have a hitch problem and I have talked to the manufacturer of the hitch but they were unable to help me resolve this issue. Maybe you can help.
I tow a 27-foot SunnyBrook travel trailer. It probably weighs around 8,000 pounds when loaded. I use a 2007 GMC 3/4-ton four-door crew cab with the Duramax diesel — great truck. The hitch has a 10,000-pound rating. The hitch was used on a previous truck with no noticeable damage.
The factory had me take some measurements with the stance of the truck both with and without the trailer, and with the trailer without the bars attached. All measurements proved to be right on.
Last spring we took a 4,400-mile trip down south and back up through Kentucky and Ohio, and then back to Minnesota, crossing several mountain ranges. When we got home I went to pull off the hitch, but could not get it out of the receiver. The hitch pin came out OK, but the hitch bar was stuck. When I finally got it out of the receiver I noticed that the hole in the hitch bar and the receiver were worn oblong and there was a burr on the inside of the receiver, which was holding the hitch from releasing.
I had not changed any of the weight-distributing hitch tension settings since I installed the hitch in 2007, but to tighten up the hitch I increased the tension of the bars.
Glenn A. Peterson, Stacy, Minn.
A: This doesn't seem like a weight-distributing adjustment problem, Glenn. While general wear and tear on steel parts that are heavily loaded may be the culprit, I'd say it's because your brake control gain isn't adjusted properly. When you apply the truck's brakes and the trailer brake control is too "lean" the trailer weight pushes forward against the truck, with the truck needing to supply an inordinate amount of the lashup's braking action. That pushing takes place at the pin holding the hitch head in the receiver, and as a result, you have the oblong wear in the receiver holes as shown in your photos. When you release the brakes and accelerate again, the weight of the trailer pulls the hitch pin back against the back part of the
receiver pin hole, which in turn aggravates the oblong wear-and-tear on the holes. I don't think your hitch receiver is worn enough to require replacing it yet, although for peace of mind, have it inspected by a qualified technician. You will definitely also want to have your brake control adjustment, and the trailer's brakes, checked for proper operation.
– Jeff Johnston
---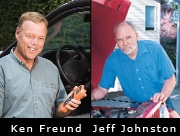 To send your questions to RV Clinic, write to 2575 Vista Del Mar, Ventura, Calif., 93001; or email [email protected]. Also, check out TrailerLife.TV for our expert RV how-to videos.