Class A motorhomes are leading the charge with new and exciting changes for 2016; makers of Class C's and Class B's are also adding new models and appealing features
While the RV industry has not only been on the rebound but actually flirting with all-time record sales for the last few years, data from groups like Statistical Surveys Inc. (SSI) also shows that the Class A segment has been the last to fully recover. That said, Class A sales and model proliferation have blossomed as of late, with manufacturers either reviving shelved Class A's, expanding their current floorplan offerings or designing entirely new models. There's still a lot of movement and development in the Class B and C segments, and in addition to celebrating the full-throttle return of Class A's, we're excited to take an early look at what's new for models throughout the motorized spectrum.
American Coach Allegiance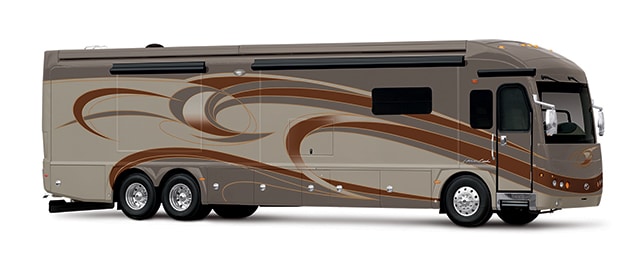 With the 25th anniversary of the American Coach brand in 2016, its parent company, Allied Recreation Group (ARG), has been busy with new releases, including the 2016 Allegiance, which is making its first appearance since 2011. The Allegiance was discontinued after two years due to the recession, so there is a lot of excitement at ARG in seeing it reborn.

"We've been taking American Coach in a more contemporary design direction and this coach is a reflection of that, although we also offer a few graphic designs and interior options that are more traditional," said ARG Director of Marketing Steve Hileman.

The Allegiance has a base MSRP of $431,250 and is offered in three floorplans from 40 to 43 feet. The coach is built on American Coach's Liberty chassis with a 450-hp Cummins ISL9 and a side radiator.

Some of the differences between the new Allegiance and its predecessors include roof-mounted Girard Nova series integrated awnings with LED lights, heated porcelain-tile flooring, a low-profile automotive-style dash, a 450D Aqua-Hot heating system and a king-size Serenity MAX adjustable bed with heat/massage functions.

Other features include an electric fireplace, power roller shades and blinds, Tecma Silence Plus porcelain toilets, a multiplex wiring system, a residential refrigerator, dishwasher and stackable washer/dryer.

American Coach | 800-854-1344 | www.americancoach.com
Born Free Imperial
The 2016 Imperial is the newest Class C from Born Free, in more ways than one. "This is our biggest and roomiest Born Free yet," said Product Manager Brandon Dodgen. "It's for people who want a lot of room and also the power and handling of the Ford F-550 chassis."  

This model is the first Born Free to offer two slides, and in addition to the new bedroom slide, the company has expanded the width and height of the living-room slide.

"We're also featuring an outside entertainment center for the first time and we've redesigned the outside storage to double the capacity," Dodgen said.

The 33-foot Imperial comes in four floorplans and is offered at a base MSRP of $190,000, which includes features such as automatic leveling jacks, a 4-kW Cummins generator, electric awning and 15,000-Btu ducted A/C. Options include an induction cooktop, an on-demand tankless water heater and electric day/night shades.

The Ford F-550 chassis comes with a standard E85 ethanol-compatible, 385-hp 6.2-l V-8 gas engine, though owners can also opt for a B20 biodiesel-compatible Power Stroke 300-hp 6.7-l V-8 turbodiesel engine.

Born Free RV | 800-247-1835 | www.bornfreerv.com
Entegra Anthem

With a base MSRP of $461,151, the Entegra Coach Anthem anchors the middle of the three-model Entegra line, and for 2016, it has received an exterior face-lift with new front and rear caps.

With a gross vehicle weight rating (gvwr) of 49,000 pounds, the coach rides on a Spartan Mountain Master chassis with a Cummins ISL turbocharged 450-hp engine, and is offered in five floorplans ranging from 43 to 45 feet – with the most popular being the 44B.

Standard features for the Anthem include independent front suspension, a 12,500-watt Onan generator, a Tempur-Pedic king-size mattress, MCD American Duo shades, a JBL sound system and a fireplace with LED technology. Window sizes have also been increased in this all-electric motorhome.

Popular options include two, 100-watt solar panels; an exterior freezer with slide-out tray; Winegard TRAV'LER satellite dish with DirecTV; a 100-inch sofa; two ottomans and a sofa bed (select models); and a Vegatouch iPad control center that allows owners to control many interior functions.

Entegra Coach | 800-517-9137 | www.entegracoach.com
Fleetwood Bounder
Early on, Fleetwood's iconic Bounder model was lovingly dubbed the "ugly duckling with the heart of a swan," for the impressive, industry-changing functionality that founder John Crean managed to engineer under that beige, kangaroo-clad exterior. But no one should be judged by the way they looked in the '80s, and each successive generation of Bounders has become decidedly more swanlike. Such is the case for the 2016 Bounder.

At a base MSRP of $135,905, the Class A gas Bounder with fresh front and rear caps comes in five full-body paint exteriors and three interior décor packages, offering five all-new front-entry floorplans ranging from a 34-foot dual slide to a 37-foot triple slide. They all ride on a Ford chassis with a 362-hp 6.8-l V-10 engine and Fleetwood's proprietary Power Platform structure.

Inside, the ceiling-mounted Hide-A-Loft bed (optional) is the coach's biggest new feature. This bed (74 by 52 inches) stays tucked away above the cockpit until it's needed to provide extra sleeping room. Other upgrades and new features include a larger 100-gallon freshwater tank, increased exterior storage capacity with multiple pass-through bays and side-swing cargo doors, an IllumaPlex electronic control system, legless awning with LED lighting, a re­designed dash with integrated camera and AV monitors, a co-pilot workstation with drawer and a low-profile doghouse with cup holders.

Fleetwood RV | 800-854-1344 | www.fleetwoodrv.com
Jayco Alante

There was a time when Class A diesel sales were threatening to outpace Class A gasoline-model sales, but post-recession, the tide has turned back toward gas, with a current sales mix of roughly 65 percent gas and 35 percent diesel, according to SSI. Riding the crest of that surge, Jayco has introduced its newest Class A gas model, the 2016 Alante.

The Alante is now one of two gas Class A's in Jayco's lineup and, with an advertised base retail price of $79,995, is an attempt to strike a balance between luxury and affordability.

"We are extremely excited about the all-new Alante," said Chuck Lasley, vice president of sales for Jayco Motorized Group. "This entry-level gas Class A gives us more confidence than ever that we can satisfy any coach buyer's needs."

Available in four floorplans from 27 to 32 feet, the Alante rides on a Ford F53 chassis with a gvwr of 16,000 to 18,000 pounds, depending on the floorplan, and a 6.8-l Triton V-10 362-hp engine.

Jayco put special attention on visibility with the Alante, equipping it with one of the largest windshields and narrowest A-pillars in the industry, as well as an entrance door with the largest travel view window available. Other key standard features include a seamless front cap with LED lighting accents, one-piece fiberglass roof, pass-through storage with slam-latch baggage doors, power awning and an exterior 32-inch LED HDTV.

Jayco | 574-825-5861 | www.jayco.com
Monaco Diplomat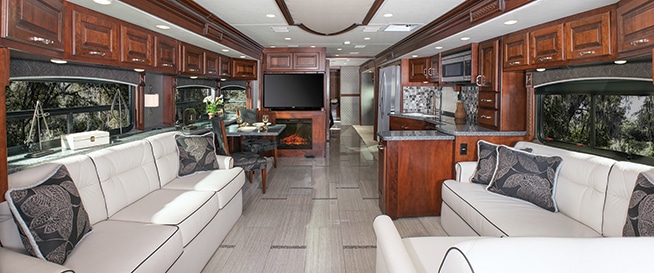 After ARG (a subsidiary of Allied Specialty Vehicles) purchased Monaco RV assets in 2013, including the Monaco and Holiday Rambler brands and models, the company set about re-releasing some of the most beloved luxury diesel models, starting with the 2015 Dynasty. Now comes the storied brand's second re-entry, the 2016 Diplomat, at a base retail price of $369,000.

Whereas ARG has taken American Coach in a modern direction regarding design and décor, the company has returned Monaco to its more classic luxury roots. The company is testing the waters with two floorplans. The first is the 43-foot 43DF, a dual-sink rear lavatory bath-and-a-half floorplan with a full-wall streetside slide and two smaller slides on the curbside. The second floorplan is a similar layout with larger rear shower, single rear sink and dual recliners up front.

Chassis and engine changes were two of the concerns voiced by Monaco owners before ARG acquired the brand, and the company believes it has addressed them. The chassis is a proprietary Roadmaster B-series integrating Freightliner components with a few ARG modifications such as electro-coating and larger volumetric air bags, and the engine is a 450-hp Cummins ISL9.

Other features include a standard Aqua-Hot 450D hydronic heating system, heated high-gloss ceramic-tile floors and a 50-inch TV housed in an entertainment center with an electric fireplace.

Monaco | 800-648-6582 | www.monacocoach.com
Newmar Canyon Star
While luxury diesels are Newmar's traditional mainstay, the company has also been expanding its gas offerings of late. The 2016 Canyon Star 3922 "shed" floorplan is the most recent fruit of those efforts, providing Class A enthusiasts with a toy hauler without going to a full garage. The "shed" portion at the rear of the 40-foot coach features a separate entrance and measures 8 feet wide by just over 4.5 feet long.

"It's a cavernous space with an extra-wide entry door for access and it comes with a standard bicycle ramp," said John Sammut, Newmar's vice president of sales. "So it's great for bikes, but also golf clubs and other sporting equipment."

Inside the compartment is a modular Gladiator storage system with movable cabinets and bins attached to racks, all built from easy-to-clean materials.
The living area offers a full-wall slide on the driver's side and a second, passenger's side slide in the bedroom. The living area has an 87-inch jackknife sofa, booth dinette and pantry. The bedroom features a queen bed, LED TV and a full wardrobe along the rear wall that can house an optional two-piece washer and dryer.

The Canyon Star rides on a Ford F53 chassis with a gvwr of 26,000 pounds, powered by a 362-hp V-10 gas engine. The "shed" floorplan has a base MSRP of $168,000.
Newmar Ventana

Despite the surge in sales on the Class A gas front, don't discount the comeback of diesels, especially from the midrange up. That's according to manufacturers like Newmar, which is paying special attention to its midrange diesel offerings by introducing a comprehensive redesign of the Ventana for 2016.

With base MSRPs starting at $259,275 (for 34-foot and 37-foot models) and $303,543 (for 40-foot, tag-axle models), the Ventana rides on a Freightliner XCR chassis with a Cummins ISB 360-hp engine or a Freightliner Tag Axle XCR with a Cummins ISL 400-hp engine.   

Sammut said drivability is one of Newmar's top priorities and one of the main selling points for the Ventana, pointing to the standard Comfort Drive Steering feature, as well as the standard passive steerable tag axle on 40-foot and longer models.

The meat of the Ventana's redesign is in its looks, as the coach features new front and rear caps integrating stainless-steel trim accents and modern styling. Inside, all-new interior packages are being offered, featuring porcelain-tile flooring in the kitchen, bath and living areas, solid-surface countertops and Ultraleather furniture throughout.   

Newmar Corp. | 800-731-8300 | www.newmarcorp.com
Renegade Verona
"We've taken all the Renegade product strengths and made them more family-oriented." That's how Kevin Erdman, Renegade's director of sales and marketing, describes the 2016 Verona model, one of the newest additions to the Renegade product lineup of "Super C" motorhomes.

With a base MSRP of $275,485, the Verona debuts with two 40-foot floorplans. When it comes to making its product more family-oriented, Renegade has focused on sleeping accommodations, kitchen size and storage.

"The Verona provides comfortable sleeping for up to seven adults," Erdman said. "And we've created a huge kitchen area, as well as outstanding interior and exterior storage space."  

In addition to the standard king-size 72-by-75-inch bed, the Verona provides 80-by-30-inch bunk beds, a queen-size sofa bed and a convertible dinette. The kitchen is outfitted with stainless-steel appliances, solid-surface counters throughout and an 18-cubic-foot french-door residential refrigerator.

For those who have trouble leaving things at home, the Verona provides up to 7,200 pounds of passenger and cargo capacity on its Freightliner M2 chassis as well as a towing capacity of up to 20,000 pounds with a fully loaded motorhome. "With our chassis, the customer is buying the most heavy-duty, durable, long-lasting chassis that they can find," Erdman said. "It has a million-mile life expectancy."

Power comes from a Cummins ISL9 350-hp diesel engine located up front, paired with an Allison six-speed electronic transmission.

Popular options include a stackable washer/dryer, a dinette table with freestanding chairs and Armstrong Luxe plank flooring in the bedroom.

Renegade | 888-522-1126 | www.renegaderv.com
Roadtrek Zion

The Zion is the first model Roadtrek has built on the new, front-wheel-drive Ram ProMaster chassis with a 280-hp gas 3.6-l Pentastar engine.

With a starting MSRP of $86,931, Roadtrek is positioning the Zion as a fully loaded, midlevel model "perfect for someone just starting out in the RV lifestyle or someone looking for a less expensive Class B option with all the Class B features," said Karyn Torcoletti, director of marketing for Roadtrek "It's a great two-person coach, perfect for couples of all ages who are active in the outdoors."

That "good for active owners" billing is becoming increasingly popular, and the Zion fits the description by focusing on storage capacity for large items such as bikes and kayaks. This is especially true for one of the two floorplans offered, which creates a larger rear cargo space through the use of facing sofas and a wide center aisle, rather than a forward-facing sofa at the rear.

Details often make the difference in a field as crowded as the Class B market, and Roadtrek has added several touches to help it stand apart, such as drawer latches that double as D-ring anchors for strapping interior cargo, an optional automatic power step below the front passenger's side door and an optional sliding screen on the rear passenger's side door.
Other key features include a roof-mounted awning, 11,000-Btu air conditioner, a 5-cubic-foot refrigerator and fold-open rear cargo doors that lay flat against the sides of the vehicle. Options include a 200-watt solar charging system, underhood 280-amp generator and 22-inch HD flat-screen TV.

Roadtrek | 888-762-3873 | www.roadtrek.com
Thor Vegas RUV
Thor Motor Coach (TMC) introduced its recreational utility vehicle (RUV) concept in 2013 with the release of the AXIS and Vegas models, the first compact Class A units in the industry built on the Ford E-Series framework. This year, TMC is adding a fifth floorplan to the Vegas – the 25.3, which brings additional kitchen prep area and bedroom space to this 26-foot motorhome that TMC bills as providing "increased comfort, function and drivability when compared to the ever-popular vehicle segment of SUVs."

The Vegas 25.3 comes with a starting MSRP of $97,500, features the same nearly parabolic-shaped panoramic windshield and is powered by the same 6.8-l Triton V-10 engine, but houses a queen bed in the single slide at the rear driver's side, allowing for easy walkaround when the slide is extended. This also allows for a larger 32-by-32-inch shower in the fully enclosed rear bathroom. Up front, the Dream Dinette converts to a sleeping surface with the flip of a lever and the overhead bunk above the cockpit provides plenty of family-friendly sleeping accommodations. Thor designers also point out that pet-friendly materials are installed throughout the entire line, with easy-care vinyl floors and scratch-resistant leatherette furniture.

Options on the 25.3 include a 32-inch exterior LED TV, 32-inch TV in the bedroom, an oven addition to the high-output gas cooktop, an upgrade to a 15,000-Btu roof air (from 13,500) and heated holding tanks.

Thor Vegas | 800-860-5658 | www.vegas-motorhomes.com
Winnebago Adventurer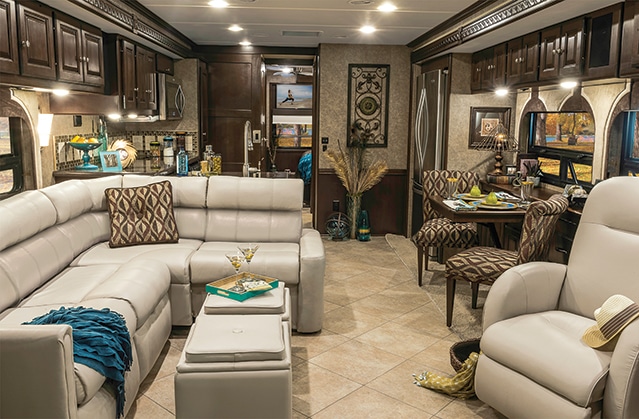 The revamped 2016 Winnebago Adventurer appears to be another product of the gas Class A boom, striving to give RVers the look and styling of a diesel without the price tag.

"The Adventurer offers the comfort and quality of a diesel pusher with the convenience and affordability of a Class A coach," said Sam Jefson, Winnebago's public relations specialist. "And for 2016 we have new exterior styling, including six new full-body color schemes, new dash styling and an upgraded infotainment system."

Exterior changes include an aluminum-finned-style grille, modular headlamp designs, blade-type wheel trims with chrome accents, a curb-view window and rear fiberglass cap with a side-wing design.

The cockpit also received a redesign, with all dash switches relocated for better ergonomics, 3 inches of insulation added in the cab, and a newly designed "pullover" co-pilot workstation with USB, 12-volt DC and 120-volt AC receptacles.

As the company's flagship Class A gas coach, the Adventurer provides high-end details such as hardwood cabinet facing, polished Corian countertops, glass and tile backsplashes, crown molding and a french-door, residential-style stainless-steel refrigerator with a 2-kW inverter and auto-generator start.  

The 2016 Adventurer is built on a Ford F53 chassis, with a gvwr of 22,000 pounds to 26,000 pounds depending on floorplan, and is powered by a 6.8-l 362-hp Triton V-10 engine. It is offered in four floorplans, ranging from a 32-foot quad slide to a 38-foot triple slide (MSRP $197,603).

Winnebago | 641-585-3535 | www.winnebagoind.com
---