Pairing a full-size pickup with a suitable travel trailer starts with knowing the truck's limits and staying within the tow ratings
If you've been shopping for travel trailers in the past few years, you've probably heard the phrase "half-ton towable." But what does that actually mean, and why has it become such an important classification in the RV industry?
With RV sales continuing to rise and so-called half-ton trucks remaining the largest sales category in the U.S. auto market, many shoppers are looking for the biggest and most well-appointed trailer they can safely tow with their beloved Ford F-150, Chevrolet Silverado, GMC Sierra, Ram 1500, Nissan Titan or Toyota Tundra.
It's certainly no mystery why these trucks are so popular. Most manufacturers have completely redesigned their full-size pickups, offering higher towing capacity, trending technology and refined cabin comforts. Combine all that with the ability to reach 20 miles per gallon or more on a daily commute, and you have a tow vehicle that fits nicely with the lifestyle demands of many RVers.
Unfortunately for the RV consumer, the label "half-ton towable" can be misleading, mostly because these trucks have a wide range of towing and payload capacities. The towing limits of 150/1500-series trucks can range from around 5,000 pounds to 12,000 pounds, depending on the engine, rear-axle ratio and addition of available options. Likewise, payload can vary by hundreds of pounds, depending on cab size, bed length and whether the truck has two-wheel- or four-wheel-drive.
The bottom line is that there is no set towing capacity for half-ton trucks, and that also applies to the larger 250/2500-series pickups. RV shoppers need to know the towing and payload limits of their specific vehicle, as these limits are equally important in safely matching a truck and trailer. For example, a truck with a towing capacity of 12,000 pounds might look like the perfect fit for a particular 9,000-pound travel trailer. However, the 900-pound hitch weight of that trailer may max out the vehicle's payload after factoring in passengers, optional equipment and cargo.
RV shoppers should also keep in mind that some lightweight-classified trailers that can be towed by suitably equipped half-ton trucks are rather large relative to their weight. For instance, even if you choose a fairly long ultralight trailer that's matched properly to your tow rig, it still can be affected by crosswinds and weather conditions. If you tow in areas frequently affected by strong winds, it doesn't hurt to be conservative when making a trailer selection.
When choosing a full-size truck, or any tow vehicle for that matter, the following five steps can ensure you won't wind up with a vehicle that isn't a good match for your trailer.
1. Find the maximum towing capacity for the vehicle. Dealerships have that information on hand for current-model trucks, and it's also available on manufacturers' websites. Trailer Life's annual tow guides (www.trailerlife.com/trailer-towing-guides) are another great resource, offering downloadable PDFs with tow ratings on vehicles as far back as 1999.
2. Subtract the weight of the passengers, pets and cargo that travel in the vehicle to find the true towing capacity. Don't forget to include bikes, kayaks or any other recreational gear in your calculations. All of these weights must be deducted from the truck's gross combination weight rating (gcwr), which is the maximum operating weight of the vehicle and trailer when loaded. You can find the gcwr listed with the towing data in a printed brochure or on the manufacturer's website.
3. Know the gross vehicle weight rating (gvwr) of the truck, as equipped, which is the maximum operating weight of that specific vehicle when loaded with passengers and cargo. You can find the gvwr on a data plate on the driver's-side doorjamb.
4. When selecting a trailer, focus on the gvwr of the trailers you are researching instead of dry weight or unloaded vehicle weight (uvw), since those figures do not include cargo, trailer options or tank fluids. If, for example, your truck can tow 9,000 pounds and you choose a trailer with an 8,500-pound uvw, it's almost guaranteed that it's going to exceed the truck's tow rating. Choose a trailer with an 8,500-pound gvwr instead, and don't overload it.
5. Avoid "magical thinking." Sometimes folks know the numbers are tight but go forward with a purchase anyway simply because they are desperately in love with either their half-ton truck or a particular trailer. This scenario often leads to unsafe towing conditions or a financial loss when either the tow vehicle or trailer is quickly traded in for a more suitable model. You should also be skeptical of "magical thinking" on the part of RV salespeople, because they can get caught up in the excitement of selling a trailer and sometimes encourage buyers to broadly interpret the numbers to accommodate making a truck and trailer match up.
Fortunately, recent innovations in the design of trucks and travel trailers make it a great time to be shopping in this market segment. The new full-size trucks are more powerful, remarkably comfortable and chock-full of the latest technology, and travel trailers in this weight range are spacious, well appointed and available in a wide selection of floorplans, including the dozen 2018 tandem-axle trailers profiled on the following pages.
Know your numbers, shop within the tow ratings and be prepared for a fantastic RV experience.
Airstream Flying Cloud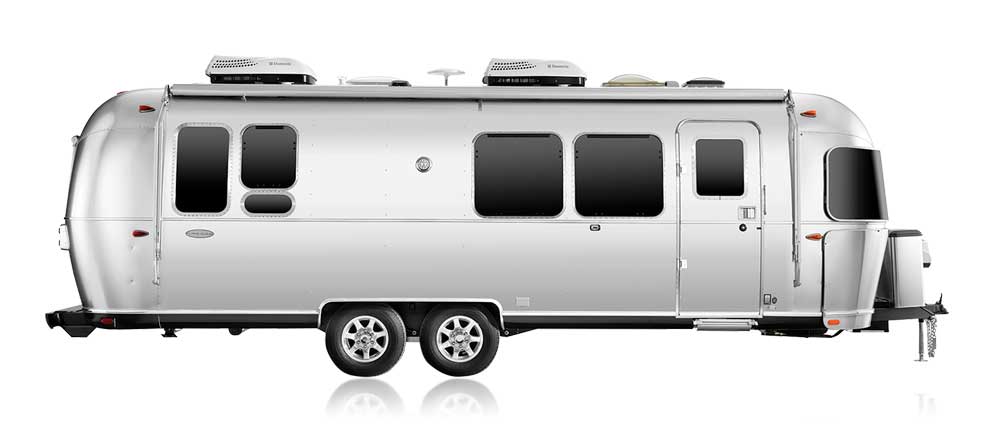 Airstream is one of the few manufacturers to offer twin-bed floorplans, other than bunks, and the 28 Twin comes with two single beds (the 28RB has a queen). Panoramic windows wrap around the front and side of the nearly 28-foot trailer, making it easy to take in the views while lounging on the L-shaped Ultraleather couch, which converts into another bed. The stylish kitchen has a 7-cubic-foot fridge, a three-burner cooktop, a convection microwave, and a stainless-steel sink with a cutting-board cover. The split bathroom places the toilet and sink on the curb side and the shower across the hall. There are no slideouts on this model, but Airstream tucked plenty of functional storage into all the nooks and crannies including cabinets under the dining booth, a magazine rack, and coat and key hooks.

877-596-6111
www.airstream.com/travel-trailers/flying-cloud
---
Coachmen Freedom Express
The layout of the nearly 32-foot 279RLDS offers a ton of seating room and open floor space. Housed in the single slideout, the U-shaped dinette is popular with some buyers because of the ample seating area; others prefer not having to scoot around or climb over people to get out. The dinette has abundant under-seat storage and converts into a good-size sleeping area, as does the sofa that stretches along the rear of the rig. The entertainment center offers a television angled for comfortable viewing. The L-shaped kitchen has a good amount of counter space for food prep and appliances. Up front, the bedroom comes with a residential-size queen bed and is prepped for an optional second air conditioner, which may be necessary to adequately cool the space.

800-353-7383
www.coachmenrv.com
---
Cruiser RV MPG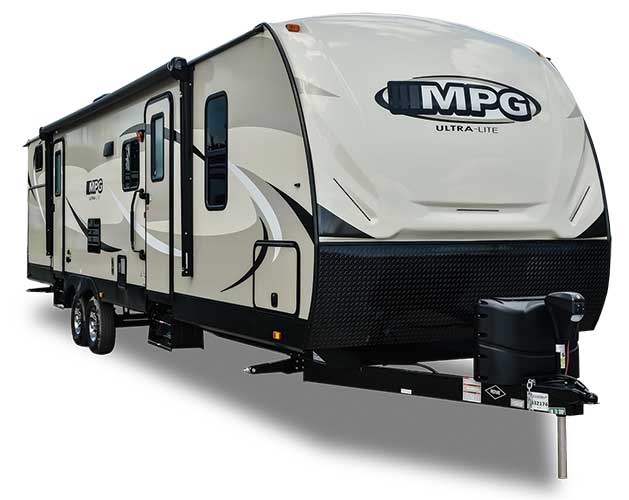 A key feature of the 30-foot 2450RK is the walk-around king-size bed with wardrobes on each side and overhead cabinets for extra storage. Another unusual feature in a trailer of this size is the dual-entry bathroom with doors leading to the bedroom and the main living area. The L-shaped kitchen in the rear offers great counter space along with views out the two windows. The couch is in a slide and has a perfect line of sight for watching the TV, which is mounted above the opposite booth dinette. This feature is important to folks who don't like twisting their necks to watch TV from the sitting area. An entry door up front leads directly into the master bedroom, and the main entry affords easy access to the kitchen. A hutch to the right of the rear-entry door offers additional storage and a decorative touch.

---
Grand Design Imagine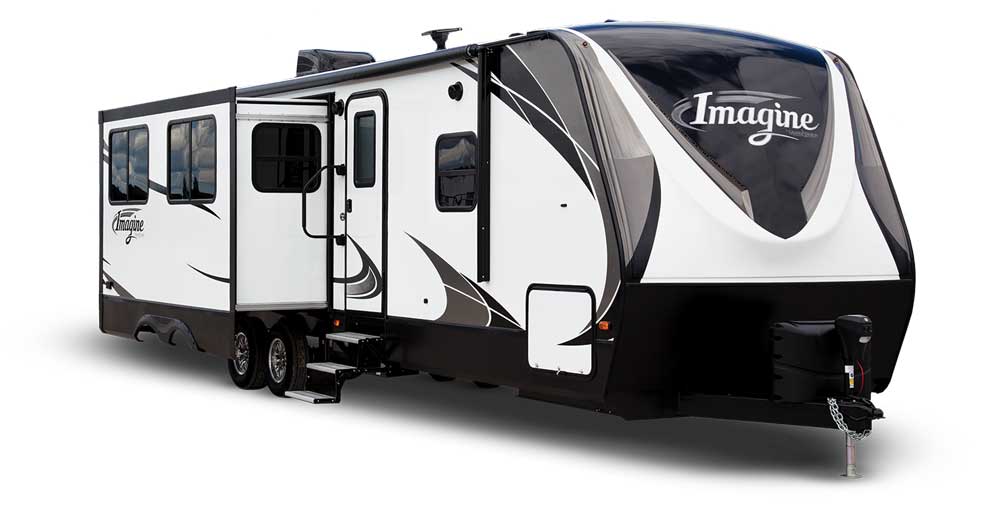 The double-slide 2670MK packs a remarkable number of thoughtful design features into a 32-foot-plus package. Panoramic windows and overhead skylights create an airy interior, while an extra wardrobe in the bedroom and dedicated work space in the main living area make the trailer feel like a small apartment. Residential touches are everywhere from the electric fireplace to the stainless-steel appliances to the 40-inch TV with a telescoping wall mount. Storage and counter space are ample, as are options for customizing the living space. Buyers can swap the dinette for a freestanding table and chairs and choose theater seating over the standard trifold sofa. The outside kitchen contains an LP-gas cooktop and a 1.6-cubic-foot refrigerator that is perfect for drinks and condiments.

574-825-9679
www.granddesignrv.com
---
Heartland Wilderness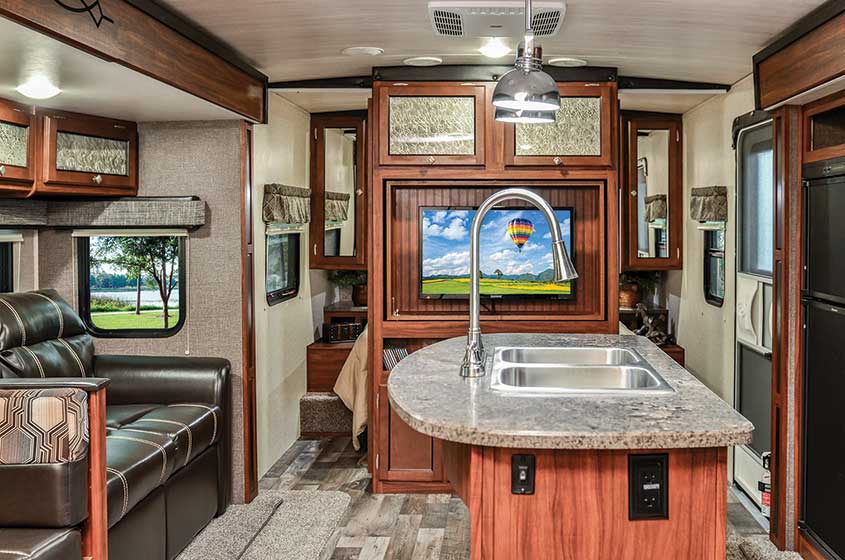 Offering a traditional design palette with darker wood and decor finishes, the 31½-foot 2775RB aims to provide a residential cooking experience with a double-door refrigerator and three-burner range in a slideout, and a kitchen island with a deep double sink and high-rise pullout faucet. The opposing slide houses a couch and a booth dinette with a freestanding table. Large windows and the 7-foot curvilinear ceiling create a spacious feel. The television rotates for viewing from the living area or the master bedroom. The roomy rear bath contains plenty of cabinet space, perfect for toiletries, towels, linens or extra clothing. For the outdoor kitchen, buyers have the option of purchasing a grill that connects to the LP-gas line. Other options include power stabilizer jacks, a power A-frame jack and the much-coveted central vacuum.

877-262-8032
www.heartlandrvs.com
---
Highland Ridge Light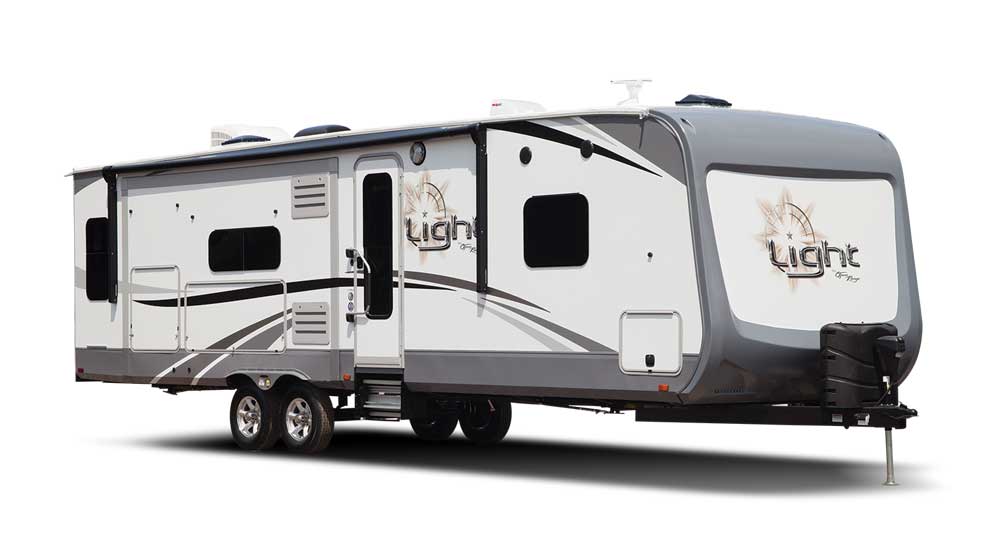 The living area in the 35-foot LT272RLS has an open-concept layout, and the opposing slides make it feel incredibly spacious for a rig this size. On the rear wall, the trifold sofa with a pullout queen bed is perfect for older kids or a visiting in-law. The entertainment center features Bluetooth technology with an accompanying sound bar and contains an electric fireplace. The bedroom offers some nice twists on the standard wardrobe and cabinet designs, introducing drawers and shelf space on both sides of the queen bed, some decorative nooks and crannies above, and a very large wardrobe. Designed to provide comfort during all four seasons, the trailer has foil insulation in the floor and ceiling, and a heated and enclosed underbelly. The power A-frame jack is standard, but power stabilizer jacks are an upgrade.

866-583-7771
www.highlandridgerv.com
---
Jayco White Hawk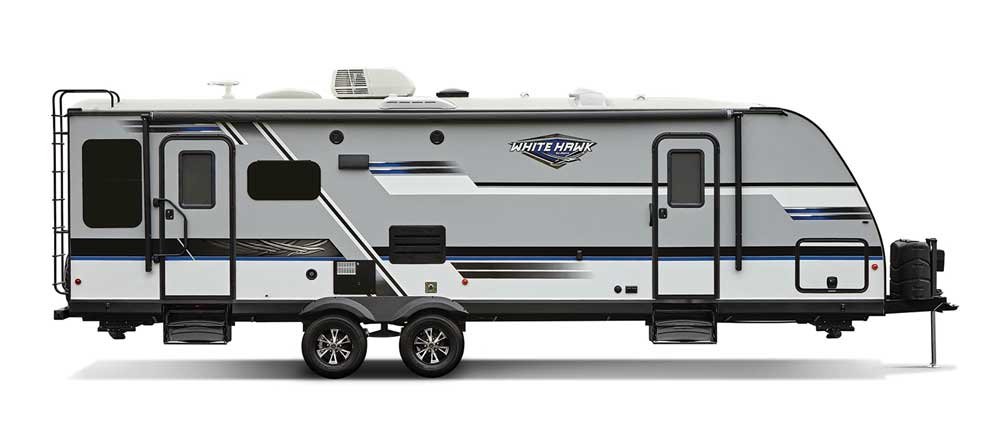 If you're looking to enjoy the scenery at your destination from the comfort of your RV, the 28RL will hit the mark. The rear-living layout in this 33-foot-plus trailer allows for a pair of recliners and an end table to be situated under a large window that spans the back wall. Other seating includes a trifold sofa and booth dinette, or buyers can upgrade to theater seating and a freestanding table and chairs. Either way, the seating is nicely positioned to enjoy the view of the outdoors or the television, which is mounted on a wall that extends on an angle at the rear of the kitchen. Below the TV is space for an optional electric fireplace, but buyers will have to upgrade to 50-amp service to enjoy that feature. Bookended by wardrobes, the walk-around queen bed has overhead cabinets for additional storage.

800-283-8267
www.jayco.com
---
Keystone Cougar X-lite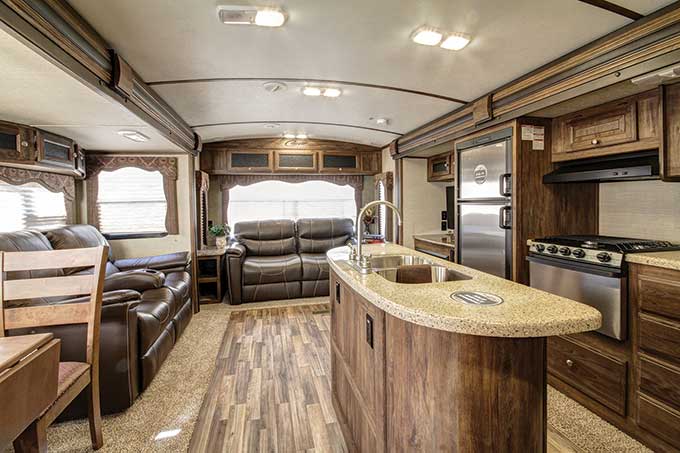 The design of the 36-foot, triple-slide 30RLI places a premium on comfort and livability. The rear sofa and additional theater seating are oriented around an entertainment center with a TV, stereo, optional electric fireplace and space for additional gadgets. The booth dinette can be upgraded to a freestanding table with chairs. The roomy kitchen is well equipped for cooking with an 8-cubic-foot refrigerator, three-burner range and a microwave. A large drawer under the oven stores bulky pots and pans, and a side hutch is perfect for a coffeemaker or blender. The bathroom maximizes space by angling the shower, linen closet and toilet. The king-size master bed in a slideout will delight many shoppers, as will the expansive closet with mirrored sliding doors.

www.keystonerv.com/cougar-xlite
---
Northwood Arctic Fox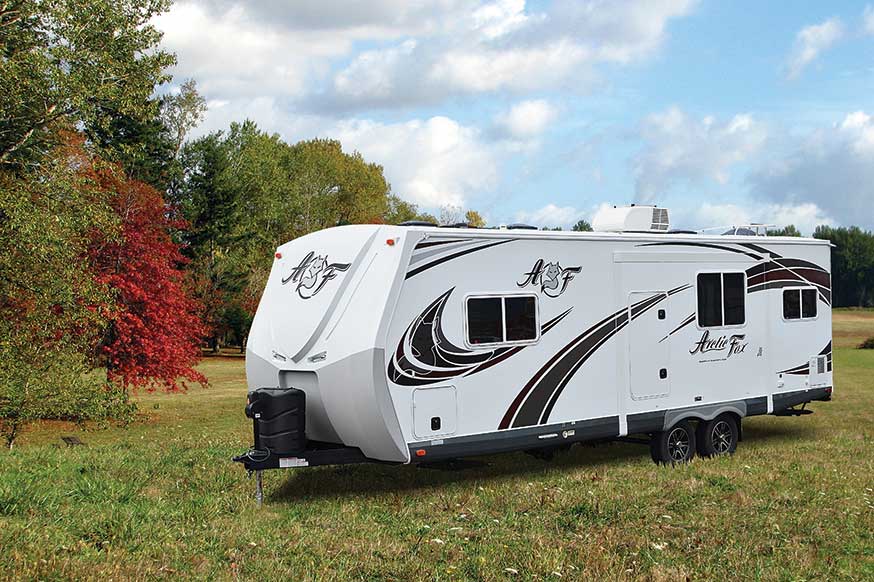 Designed for four-season RVing with high-density block-foam insulation and fully insulated holding-tank areas, the 25W is built for adventurous travelers who may need an off-pavement chassis, fully welded aluminum frame and shocks on all four wheels. The substantial construction puts this 29½-footer on the heavy side, with a gvwr of 10,000 pounds, but the moderate length allows RVers to stay at many national and state park campgrounds. A pair of exterior doors provides convenient access to the kitchen and the bedroom. The rear kitchen offers plenty of space for food prep and storage. The couch is in a slideout that includes a pantry, an extra wardrobe and linen space. The TV is mounted on the wall above the booth dinette, making it difficult to see from the couch, which may be inconvenient for some people.

800-766-6274
www.northwoodmfg.com
---
Palomino SolAire
The layout of the 35½-foot 304RKDS is ideal for RVers who prefer more distinct living and sleeping areas. The master queen is in a slide, creating a walk-around bed and leaving room for the closet, wardrobe and dresser. Cabinets above the bed provide more storage space. The living area offers a sofa and booth dinette in a slide opposite a pair of captain's chairs. On the forward wall, the entertainment center includes a television and electric fireplace. Separating the bedroom from the living area, the bathroom is on the small side but offers a shower with a built-in seat. The L-shaped kitchen provides plenty of room for the chef to work, and the 8-cubic-foot refrigerator has ample food storage. A small fridge in the outside kitchen chills more snacks and beverages. To add solid-surface countertops, stainless-steel appliances, a premium mattress, heated holding tanks and other options, buyers can upgrade to the GT3 package.

269-432-3246
www.palominorv.com
---
Venture RV SportTrek Touring Edition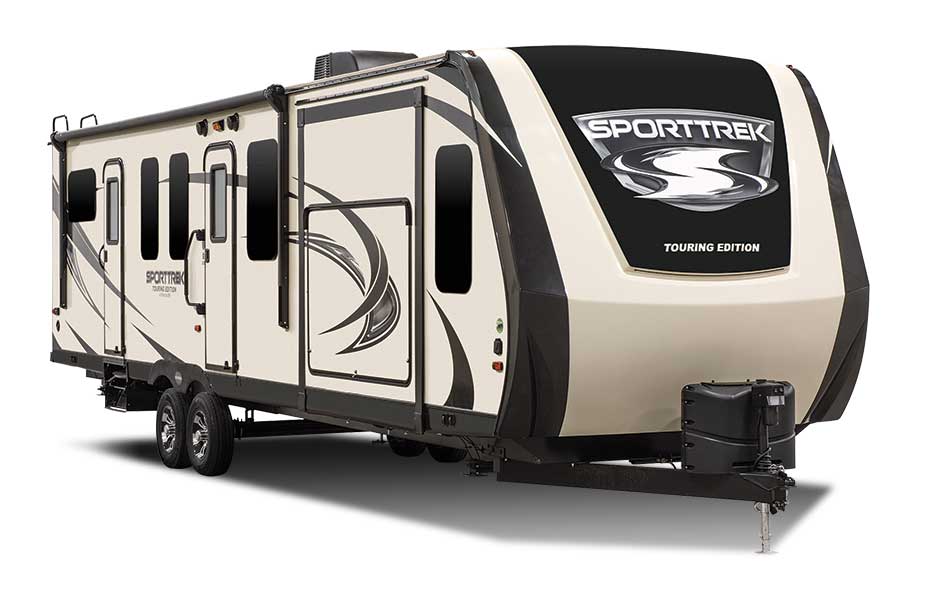 At nearly 37 feet long and with a 9,995-pound gvwr, the 333VFL is on the larger side for a half-ton towable, but the dual-entry floorplan takes advantage of the space by including some design features normally found in high-end fifth-wheels. A half wall splits the main living area, creating more storage and a cozy living room complete with a 70-inch sofa, theater seating and a slideout-housed entertainment center with an electric fireplace. A freestanding table and chairs are standard. The kitchen boasts solid-surface countertops, a stainless-steel sink and a skylight with a retractable shade. The bathroom has a tub and shower, as well as a sink with significant counter space and cabinet storage. The king-size memory-foam mattress will be a big hit with many shoppers, as will be the second fireplace built into the dresser. Outside, the camp kitchen contains a refrigerator, cooktop, sink, cabinets and drawers.

866-472-5460
www.venture-rv.com
---
Winnebago Minnie Plus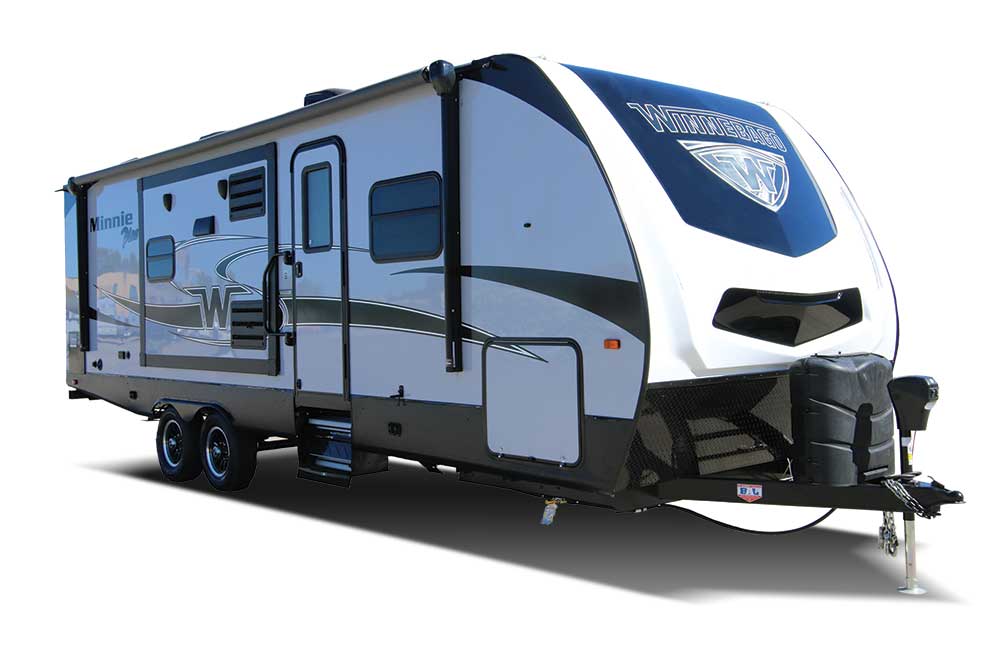 The light interior decor of the Minnie Plus line sets it apart from other industry options, and the choice of eight exterior colors — including orange, yellow and cherry — appeal to shoppers looking to make a bold statement. White, champagne and platinum are more subdued options. The 30-foot, 7-inch 27RBDS features opposing slides, creating plenty of open floor space. One slide holds the kitchen appliances and cabinets, and the other contains a trifold sofa and booth dinette that can be changed out for a freestanding table and chairs. A kitchen island with a double sink adds counter space for food prep and serving. Extra storage appears everywhere in this trailer, including the kitchen pantry, bathroom wardrobe, four entertainment-center cabinets and double wardrobes in the master bedroom. Dual adjustable lights over the queen bed and nightstands create a cozy space for reading.

574-825-5250
www.winnebagoind.com
---
In addition to contributing to Trailer Life, Jeremy and Stephanie Puglisi are writers for RVFTA.com and hosts of the RV Family Travel Atlas podcast. They are also the authors of Idiot's Guides: RV Vacations. The couple spends as much time as possible exploring the country in a toy-hauler travel trailer with their three very energetic sons and Maggie the Camping Dog.
---