Achieving towing Nirvana with the lightweight Lance 2375 and the Nissan Titan XD Pro-4X
In some cultures, personal journeys are measured by spirituality and success in finding inner peace and harmony. Although not quite as thought-provoking, RV enthusiasts spend a great amount of time seeking an ideal truck-and-trailer union, especially if they have narrowed the field to the modern half-ton truck and a lightweight towable. When the right combination is selected, the result is usually a heavenly experience resulting in satisfaction and enjoyment of the lifestyle. The Lance 2375 rear-lounge trailer hitched up to Nissan's Titan truck will certainly make you a believer that not all things in life happen by accident.
Peering deeper into this nearly perfect pair reveals the nuts and bolts of the 2375, the newest and largest to date of Lance's lightweight travel trailers. From an aesthetic standpoint, the smooth and streamlined exterior lines intersect nearly flawlessly. Aside from the excellent fitment where multiple materials mate, the trailer's walls are finished with tasteful graphics and a uniquely styled rear cap and front gravel guard.
To bring this trailer to life, the Huck-bolt-assembled frame serves as a base that's destined to eliminate weak and rust-prone welds. The frame rides on rough-road-absorbing rubber-torsion independent-suspension Dexter axles with EZ Lube bearings and self-adjusting brakes. Stylish aluminum five-point wheels wrapped with relatively standard 205/75R14 tires connect the axles to the asphalt. This combination proved to not only be roadworthy but flexed its muscles off-pavement with grace and confidence.
All the belly region areas have four-season protection with strategically placed insulation and heating of all three holding tanks and their associated plumbing parts. Rounding out the frame features are BAL electric stabilizer jacks at all four corners, an electric hitch jack and the unique Tri-Five Propane Tank. This system utilizes three 5-gallon LP-gas cylinders that can quickly and easily be exchanged at multiple locations throughout the United States, almost eliminating the need to hunt down a propane filling station. The powered stabilizer jacks are a convenient feature, but having two locked compartment doors on
either side of the trailer for housing the switches, with only one main power switch, takes orientation and a little exercise walking from side to side.
Building the home portion on the chassis takes advantage of precision alignment of an aluminum wall structure. All Lance products are subjected to stringent assembly guidelines by employing CAD- and CNC-designed and -operated cutting, bending and laminating equipment. Building in this manner ensures that the walls, cabinetry and all included interior items end up where they're supposed to be. This sort of building technique also allows for such close tolerances that both the exterior and interior walls require no tape or gap concealers, providing essentially a near-perfect fit and finish.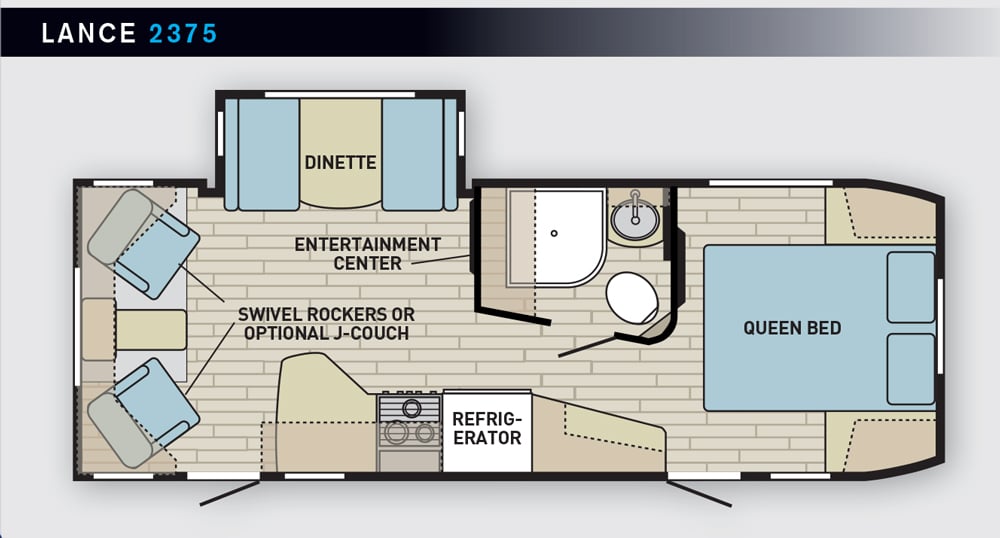 The same kind of detail goes into laminating the walls, substituting standard lauan for plastic-based composite Azdel, which is layered behind the outer fiberglass and on either side of the dense solid-foam insulation. The panels have three times the insulation value and half the weight of wood, and are impervious to water, so they will not rot, mold or delaminate side walls, according to Azdel. This is all processed in a state-of-the-art room that uses special lights and heating, temperature and humidity controls driven by key sensors.
On the exterior walls, amenities are placed where they work best and look clean. Such items include a 20-foot lateral-arm Carefree electric awning with a wind sensor and LEDs, frameless dual-pane windows, slam-latch compartment doors and opposing battery boxes built into the walls. This is a good use of space, freeing up the area for the triple-LP-gas-cylinder configuration. Topping off the outer structure is a one-piece molded TPO roof backed by a healthy 12-year limited warranty.
During a weeklong trip in the lower regions of California's Sierra Nevada range, the 2375 lived up to Lance's reputation as one of America's premium truck-camper and lightweight-trailer builders. What you won't find aboard the 2375 is an over-appointed interior with gaudy decor. Instead, the trailer is thoughtfully designed and loaded with just the right amount of features — everything you need and nothing you don't for going out and creating your personal adventure.
The 2375 was fitted with the Passage decor package, which exudes a home-away-from-home atmosphere. A highlight is the optional laziness-inspiring J-couch near the entryway. This convertible couch is made for serious lounging and has a great view of the entertainment center, but the recliner portion might work better placed in the center of the couch to allow for true reclining rather than providing an upright position with just the legs kicked out. Besides the couch, the only other seating comes in the form of a comfy dinette, nestled snugly in the single slideout and surrounded by the natural brown and gray tones of the cabinetry and countertops.
On the other side of the open floor space is a small but functional kitchen offering a selection of stainless-steel cooking appliances and a matching Norcold 6-cubic-foot refrigerator. The kitchen is outfitted with all the necessities but could benefit from a small folding- or sliding-counter extension. There's no shortage of storage here, with an ample amount of cabinetry fore and aft. Within the confines of the perfectly fit cabinet structure is the aforementioned entertainment center, housing a 32-inch, 12-volt DC Jensen HDTV and matching AM/FM/DVD/CD/USB/Bluetooth audio/video system.
Just beyond the reach of the kitchen lies the bathroom and bedroom. The bathroom doesn't offer extravagance or massive free space, but it does provide enough room to do what's necessary. Part of this is thanks to the new curved shower enclosure, giving good looks and greater functional space. Although floor space is somewhat restricted, slight toilet repositioning could be very helpful in keeping the lid open.
Inside the master bedroom, an extra-cozy, serious-slumber-inducing queen bed is located beneath a large curved window and between flanking wardrobes. Each side is equipped with reading lights and soft-close drawers. At the foot of the bed, near the bathroom, resides an additional lighted double-door closet and extra counter space.
Indoor creature comforts are supported by a ducted 25,000-Btu furnace and a centrally located 15,000-Btu air conditioner, both of which are controlled by the same wall-mounted digital thermostat. The wide array of LED lighting includes a dimmable fixture over the dining table.
Given the trailer's generous storage spaces and its modest, at best, 310-pound payload capacity, users will need to be aware of how much cargo they're hauling to avoid overloading its 6,500-pound gross vehicle weight rating (gvwr).
Out on the road, it was easy to learn that Nissan's diesel-inspired Titan is not just another run-of-the-mill half-ton from Japan trying to compete against the current Big Three and Toyota trucks on the market. This is a much-acclaimed truck, and the Cummins V-8-powered Titan XD Pro-4X Crew Cab was even given the 2017 half-ton truck of the year title by a number of automotive publications. For a time, the rumor mill had this truck headed for extinction, but the resurgence of a top-notch drivetrain has catapulted new life into Nissan's truck entry. There are five levels of Cummins-powertrain-based Titans, and the beefy XD has all the meat and potatoes expected by truck owners.
The Titan XD is built on a fully boxed ladder-type, corrosion-resistant steel frame. Holding the frame up is a front double-wishbone/coil-over independent suspension tied into a 36mm stabilizer bar, while out back is a multi-leaf spring pack, mounted to a solid axle coupled to an 18mm stabilizer bar. At all four corners, additional ride control is handled by Bilstein shocks, standard for the Pro-4X.
Also built right into the frame direct from Nissan are the optional integrated gooseneck and Class 3 receiver hitch along with a Trailer Sway Control (TSC) system. The TSC really strutted its stuff in strong headwinds and crosswinds. During these windy events, the combo maintained straight lines, demanding little effort for correction. For towing, the necessary four-way and seven-way plug receptacles are ready for use in the rear bumper. Once the trailer is plugged in, a light test can be handled by the clever optional trailer-light-check function found on the key fob.
The Cummins-prepped 4×4 Titans are rated to pull a significant 12,030 pounds when properly equipped. In addition to the well-appointed, well-designed frame and the factory towing system, Nissan offers bed-mounted options like the aluminum Utili-track cargo system with adjustable tie-down cleats and removable, lockable in-bed storage boxes that double as coolers and even have drink holders. These items only top the list of usable and realistic accessories earmarked for the truck bed. The truck is rated for a full ton of fun, thanks to its 2,000-pound payload capacity, which, of course, is dependent on accessories and options.
The truck has the first Cummins V-8 turbo-diesel made specifically for the Nissan Titan XD. The optional power plant is a beast, a smaller-scaled version of its bigger cousins. Coupled to the impressively smooth-sounding, -running and -performing 5.0-liter, double-overhead-cam turbo-diesel V-8 is an equally smooth and effective Aisin six-speed automatic transmission. Not only was the Aisin fully capable of harnessing all 310 horsepower and 555 lb-ft of road-ripping torque, it did so with finesse and plenty of optional shifting and tow modes built into the column shifter. Nissan managed to nail the placement and functions of the shift column, making it a breeze to physically move up and down through the gears using a simple fingertip touch for manual gear selection.
The Cummins diesel ran without hiccup or hindrance, providing plenty of power on its own or coupled to the Lance 2375, which weighed in at 6,190 pounds wet; the truck weighed 7,246 pounds. The Titan XD not only pulled the trailer comfortably and with pure confidence, but in the handling and comfort departments, the truck was surefooted, providing plenty of stability and unparalleled ride quality. The Titan is so well-built and ideally balanced for towing, work, play and comfort that it was hard to notice
the Lance was behind the truck.
In a nutshell, it was hard to find fault with the Titan's performance. The new Cummins works and runs rhythmically and will probably do so for a long time. However, all that power and pickup were a little too reliant on the turbo to spool up enough to get things going, which meant a little more lag than preferred. The turbo lag was quickly cured by burying the accelerator a bit more, but this method will burn up your hopes for higher mileage and a lower fuel budget.
Nevertheless, the Titan's fuel economy was pretty good. We recorded 18.5 mpg driving the truck solo at around 70 mph, and 13 mpg while towing the Lance 2375 in adverse conditions with a steady wind and traveling at about 58 mph. That's not bad for a half-ton truck that can lay down an impressive 13-second zero-to-60-mph time while towing the Lance trailer.
When it comes to comforts, the Titan XD Pro-4X will certainly impress. The cab and interior have lavish leather appointments and the most complete list of accessories we ever wanted or thought possible. For example, the powered multiposition leather seats elicited love at first sit. While comfortably cradled, it's not hard to appreciate the incredible-sounding 12-speaker Rockford Fosgate stereo that's an audiophile's dream on wheels. This was hands-down the best factory truck sound system I've encountered in terms of quality and superb acoustics, with appropriately located speakers placed by car-audio experts.
Another key interior feature is the user-friendly 7-inch touch-screen audio-and-navigation center. The operations of this screen are many, but when it comes to being usable for towing situations, the backup camera with bull's-eye accuracy makes it possible for a person who struggles with hitching a trailer to relax. From the first try, it was easy to place the ball under the coupler alone and with precision.
It wouldn't be all that tough to go on and on about the seemingly endless list of options, but the bottom line is this truck made short work out of towing the Lance and was a ball to drive. It's not surprising that the Titan XD has accumulated best-half-ton-truck status in the media.
By the same token, it's not surprising to see why the Lance 2375 has been getting accolades in its few short months on the market. Some trailers, even with all the best hitch equipment, are prone to sway, causing discomfort during towing, often requiring a person to "really drive" the combination. That's not the case here. With the Lance 2375, it was smooth sailing all the way and one of the best-towing travel trailers we have ever personally pulled, especially coupled with the Titan XD. You'll be hard-pressed to find a better-built or -equipped lightweight travel trailer for the dollar amount, and a bit more available cargo capacity would further sweeten the pot. Pairing the Lance 2375 and Nissan XD will find you in half-ton heaven.
Nissan | 800-647-7261 | www.nissanusa.com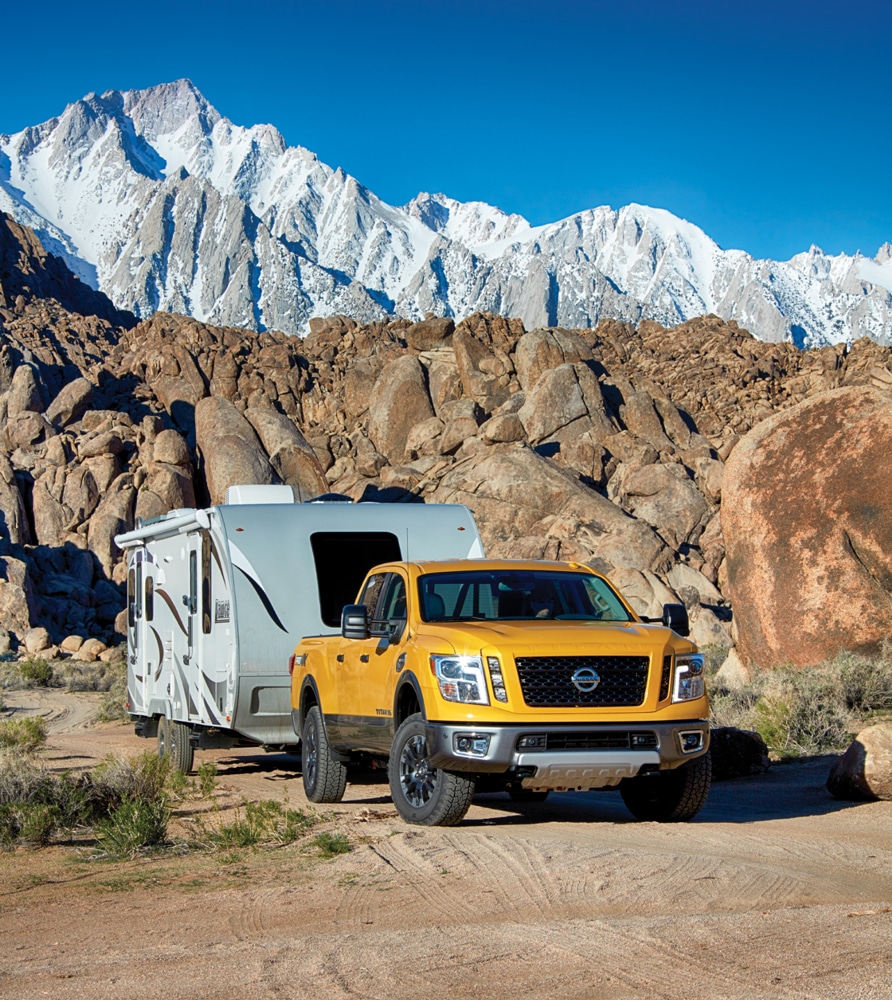 ---