In a breakfast, lunch and dinner cook-off at the campground, Trailer Life staffers push a couple of premier outdoor grills to the limits.  
To test the Blackstone Tailgater Combo and Coleman Road Trip 285, Production Director Bob Dawson and his wife, Seana, and Marketing Manager Lorisa Pierson and her husband, Ron, took their travel trailers to Southern California's Lake Casitas Campground. In a friendly rivalry we called "Grillapalooza," the two couples came up with competing menus to compare the popular outdoor grills with competing menus. Here's what they cooked up.
Breakfast
There's nothing quite like campsite brunch on a sunny morning by the lake. Bacon, eggs and potatoes are basic ingredients, but they are only the beginning of these two meals.
Rancho Santa Rosa Omelet and Hash Browns
– Bob and Seana Dawson
Bacon, cheese and tomato egg-white omelet:
1 cup or so of egg whites (we use the carton variety)
4 ounces (maybe 5 slices) of bacon, cooked and crumbled (cook more so scavengers won't have to be thwarted)
tomato, diced
2-3 ounces (1/3 cup or so, to taste) shredded cheddar cheese
4-5 tablespoons red salsa (we use Herdez, medium)
ripe avocado
Cook the bacon ahead, drain, crumble and set aside. Heat an 8- to 10-inch skillet and coat lightly with margarine. Pour in the egg whites and cook on low to medium heat (covering helps to cook the egg evenly) until the egg is cooked through. The trick here is to cook low and slow so as not to scorch the bottom before the egg whites are cooked through. Spread all the bacon, tomatoes and half the cheese and half the salsa on the top surface of the cooked egg (or in middle third along what will be the fold). Fold the egg over to envelope those ingredients, then top with avocado and the remaining cheese and salsa. Cover and cook on very low or indirect heat until all ingredients are heated through and the cheese is melted.
Russet- and sweet-potato hash browns:
russet potato
red sweet potato
chopped onions
salt
red-pepper flakes
Grate the potatoes in separate bowls. After grating the russet, put it into a colander and run under a tap until the water is clear (this removes some of the starch and allows the potato to cook a little crispier). Preheat the griddle on high, reduce heat to medium high and coat lightly with canola oil. Mix together a tablespoon or two of each grated potato and dollup onto griddle. Add a teaspoon-ish of onion, and a dash of salt and red-pepper flakes to taste. Smash that dollup of potatoes with a spatula and allow to cook for a couple of minutes on each side or until browned and a little crispy.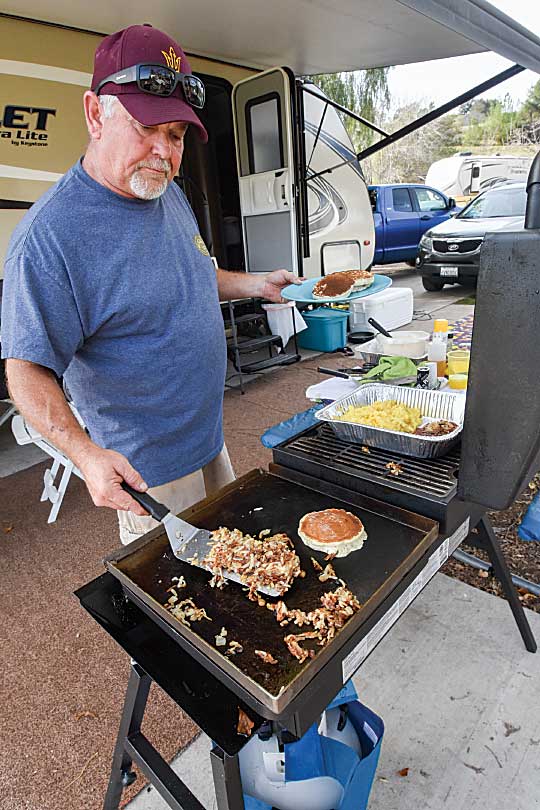 Country-Style Breakfast
– Lorisa and Ron Pierson
bacon, 1-pound package
eggs
Simply Potatoes Shredded Hash Browns, 20-ounce package
buttermilk pancake and waffle mix
syrup (any type)
milk
butter
Cook bacon on the griddle (ideally, with bacon presses). Using bacon grease, cook hash browns on the griddle to desired crispness. Scramble eggs with a little milk and cook in a skillet with some butter. Measure pancake mix for desired number of pancakes. Follow package directions and mix with milk. Spray griddle with nonstick cooking spray and pour about ¼ cup pancake mix for each pancake. Cook each pancake until top bubbles, flip and cook until golden brown.
Lunch
Sandwiches are staples of campsite meals, and toasting them definitely ups the ante, especially when cheese is involved. Here are a couple of crowd-pleasing recipes that are made to order for grills with griddles.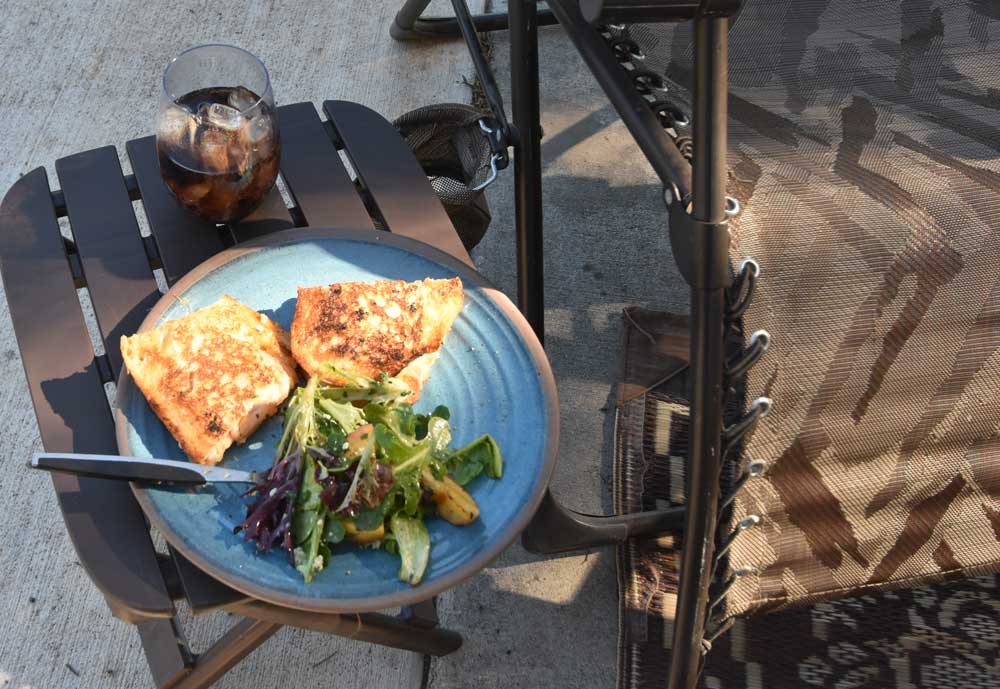 Grilled Onion and Ham Melt
– Bob and Seana Dawson
onion, small, peeled and thinly sliced
olive oil
margarine
4 slices sourdough bread
2 slices American cheese
2 ounces white cheddar cheese, thinly sliced
or crumbled
2 ounces orange cheddar cheese, shredded
3 ounces Black Forest ham, thinly sliced
medium tomato, thinly sliced
Dijon mustard
Cook onions in olive oil over high heat on the griddle until tender and some caramelization appears, and set aside. Spread margarine on the outer side of the bread slices, and spread Dijon mustard on the inner side of two slices. Layer cheese, ham, tomato and onion on two bread slices. Top with the remaining slices of bread and place on the griddle on medium-high heat. Grill until toasted, then flip and reduce heat, grilling again until toasted. If needed, remove to indirect heat on the other side of the grill until the cheese is fully melted.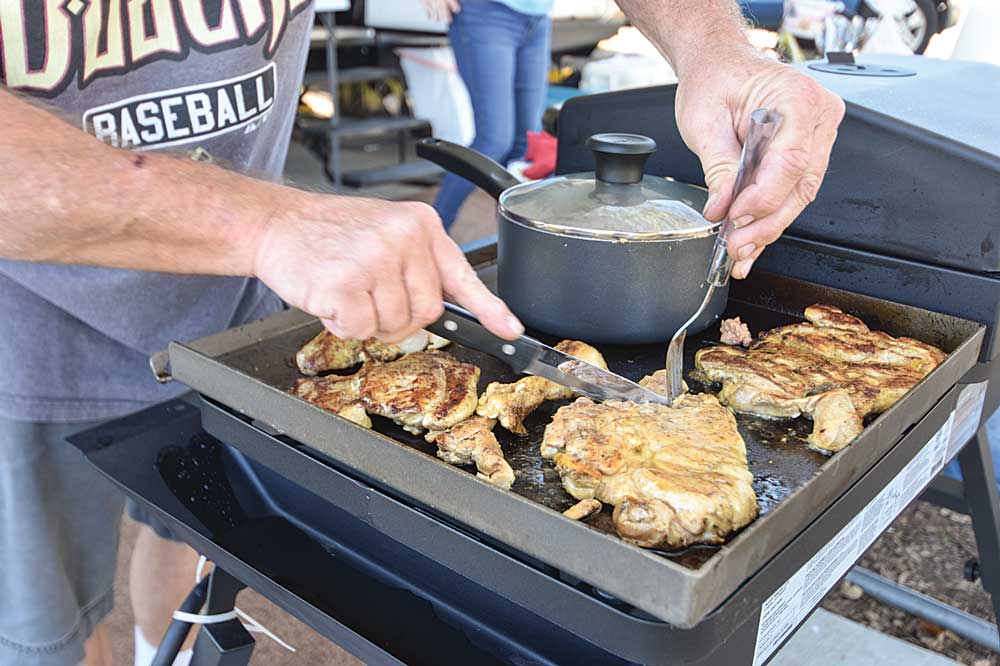 Beef and Chicken Tacos
– Lorisa and Ron Pierson
¾ pound carne asada
¾ pound boneless chicken (dark or breast)
taco seasoning, 1 package
lettuce, 1 head
cilantro, 1 bunch
white onion
large tomato
refried beans, 16-ounce can
corn tortillas, 1 package
Mexican-style shredded four-cheese blend, 1 package
salsa
tortilla chips, 1 bag
Prepare taco seasoning following directions on the package, and marinate carne asada and chicken overnight. Chop lettuce, cilantro, onion and tomato. (We precut everything the night before and put in separate self-locking bags for less work at the campsite.) Cook carne asada and chicken over the grill or griddle (both work great). Once the meat is cooked, cut into small pieces, set aside and keep warm. Heat refried beans in a saucepan on the grill while warming corn tortillas on the griddle. Top the warm tortillas with meat, beans and chopped veggies. Serve with chips and salsa.
Appetizers
Some might say appetizers are a bridge too far for camp cooking, but here are a couple of recipes that might have you thinking twice.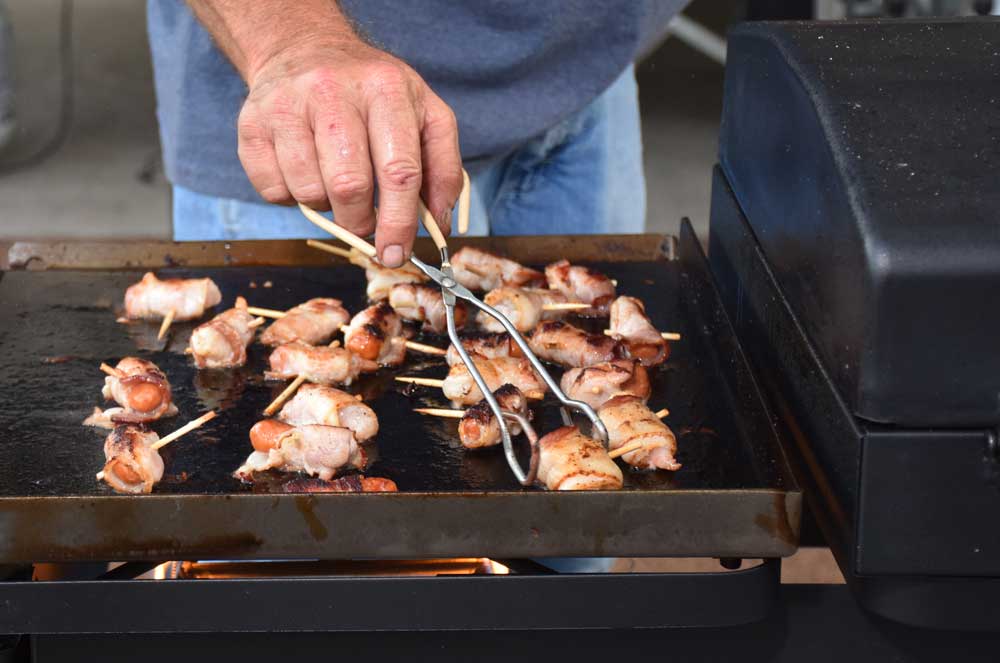 Bacon-Wrapped Smoked Sausage and Shrimp
– Lorisa and Ron Pierson
Hillshire Farm Lit'l Smokies, 1 package
24 uncooked jumbo shrimp
bacon, two 1-pound packages
Cut one package of bacon strips into thirds. Wrap each piece of bacon around a Lit'l Smokies smoked sausage and slide each sausage onto a presoaked wood skewer. Cut the remaining package of bacon strips in half. Wrap each piece of bacon around a shrimp and slide each shrimp onto a presoaked wood skewer. Place the bacon-wrapped sausage and shrimp on the grill and cook until bacon is done. (Alternatively, metal skewers can be used, with about four Lit'l Smokies or shrimp per skewer.)
Artichoke Hearts and Goat-Cheese Pizza
– Bob and Seana Dawson
naan (Indian flatbread)
chopped artichoke hearts, 1 can
medium tomato, sliced
4 ounces goat cheese
Trader Joe's Pesto alla Genovese basil pesto
3 cloves garlic, minced
¼ cup olive oil
fresh basil leaves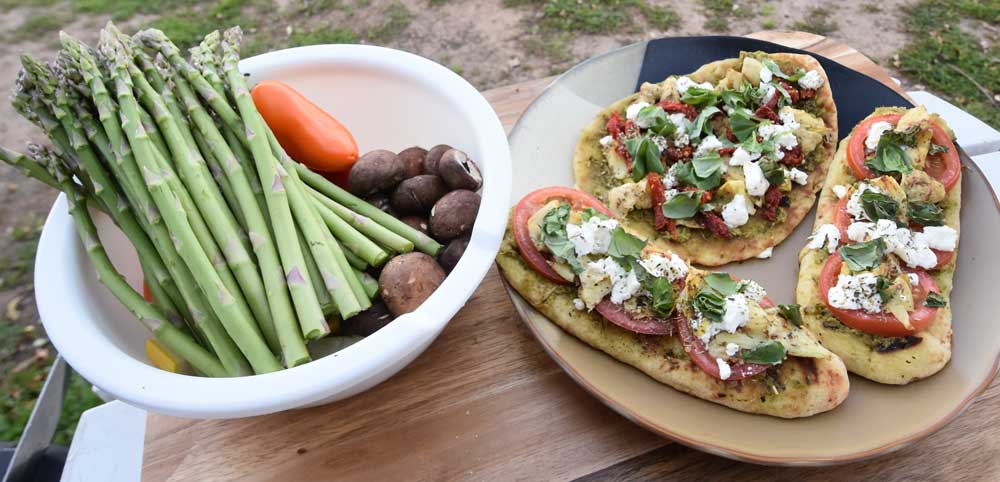 Mix the garlic into the olive oil, brush on both sides of the naan and grill on the grilltop over medium heat, just enough to toast on each side. Remove to a platter, layer on the pesto, tomatoes, artichoke hearts and goat cheese, and replace on the grill with indirect heat for 5 to 10 minutes or until heated through. Remove, cut into pieces and serve.
Dinner
Here are a couple of recipes that take cooking alfresco to the next level and pose the question, is there anything better than a great camp dinner?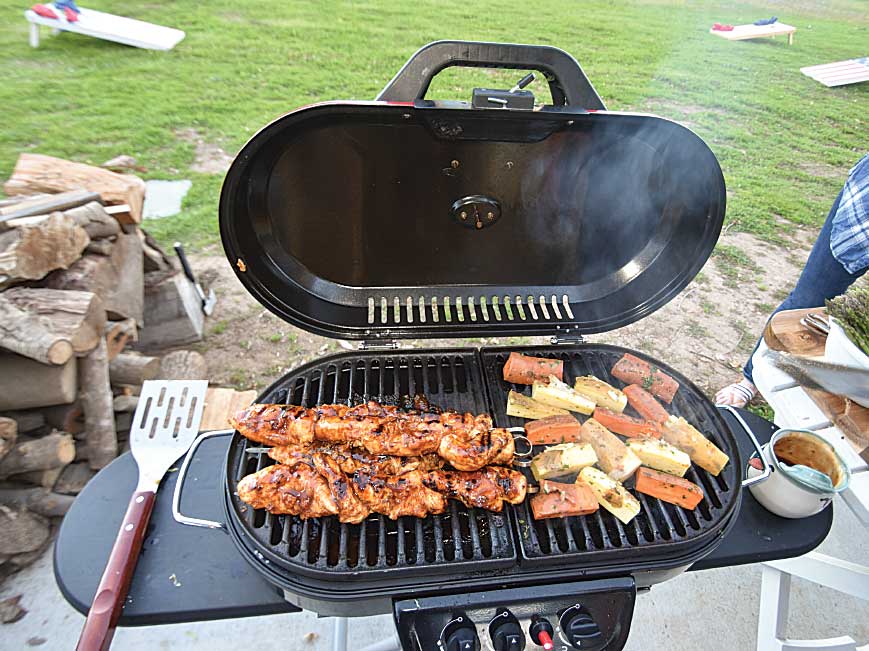 Chicken Skewers and Grilled Veggie Basket
– Bob and Seana Dawson
Chicken breast skewers with dry rub and barbecue sauce glaze:
1-2 cups Southwest barbecue sauce. (We have our own combination of ketchup, honey, soy sauce, crushed garlic, fresh orange zest, ground ginger and Tabasco.)
apricot preserves, 1 jar
1-2 pounds boneless, skinless chicken breasts, cut into tenders
½ cup olive oil
Southwest dry rub. (We have our own combination of 1 part chili powder, 1 part granulated garlic, 1 part mustard, ½ part paprika, ½ part coriander, ½ part ground cumin, ½ part kosher salt, ¼ part onion powder, ¼ part black pepper, 1/8 part cayenne chili powder.)
Mix barbecue sauce with equal amount of apricot preserves and set aside. Skewer the chicken tenders, three or four to a skewer, depending on the length of the skewers and size of the grill. Lightly coat the chicken with olive oil and coat with dry rub on all sides to taste. On medium high to high heat on the grilltop, sear the chicken for three to four minutes, then turn and sear another three to four minutes. Remove to indirect heat and and brush generously with the barbecue sauce glaze and repeat every few minutes until chicken internal temp is at 165 degrees.
Grilled sweet potato wedges with barbecue sauce and dijon-mustard glaze:
red sweet potato, parboiled and cut into wedges
white sweet potato, parboiled and cut into wedges
canola oil
2-3 tablespoons of Southwest rub (above recipe)
½ cup of barbecue sauce (above recipe)
½ cup Dijon mustard
Mix the Dijon mustard and barbecue sauce together in a small bowl. Oil the potato wedges and coat lightly with the Southwest rub. Place on grilltop on medium-high heat for two to three minutes on each side. Brush on the Dijon barbecue sauce and grill for another minute or so on each side and set aside.
Grilled Veggie Basket
asparagus
mushrooms
sweet peppers
zucchini
yellow squash
Trim asparagus and cut other veggies into bite-size pieces or slightly larger. Coat with dressing left over from that yummy salad from lunch and grill either on the griddle side or in a steel grill basket until desired tenderness.
Philly Cheesesteaks
– Lorisa and Ron Pierson
½ stick butter
red onion, medium
green bell pepper
1 package presliced mushrooms
¾-1 pound rib eye, thinly sliced
salt, pepper, garlic powder
1 package (six) Francisco French sandwich rolls
1 package Swiss cheese, presliced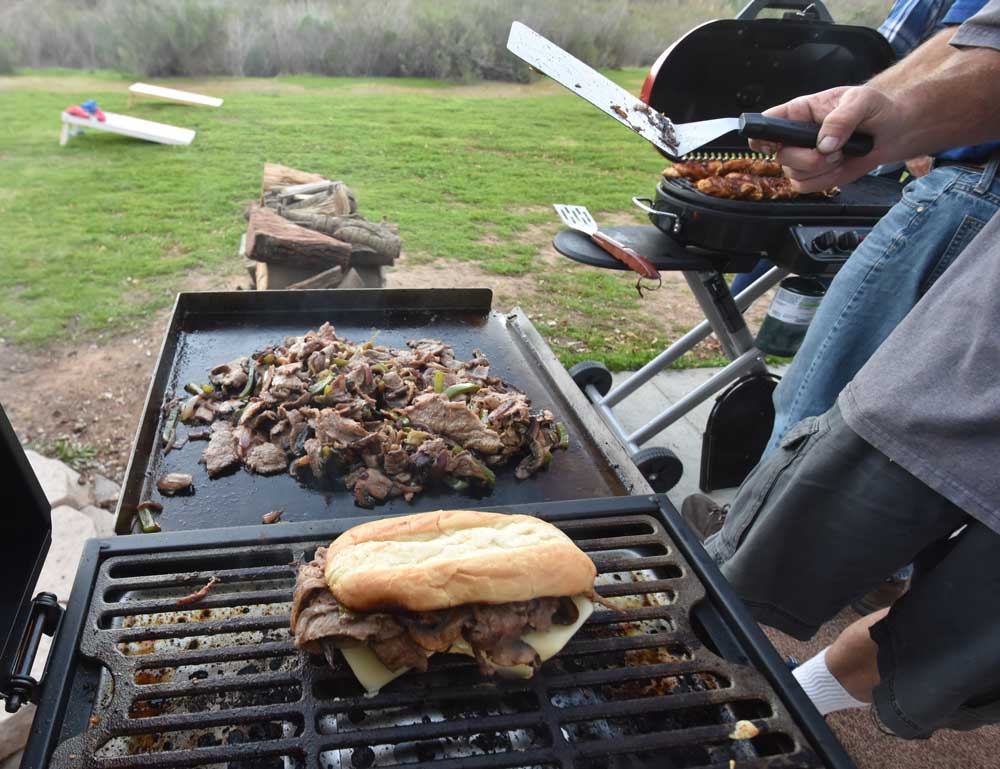 Melt butter on the griddle. Grill sliced onion, bell pepper and mushrooms until soft, then add the rib-eye slices. Season the meat and vegetables with salt, pepper and garlic powder, and continue grilling until the meat is done. Separate the two halves of the french rolls and place a Swiss-cheese slice on the bottom half of each, then load on the grilled veggies and rib eye. Cap each sandwich with the top half of the roll.
Dessert
Even after a delicious and satiating camp dinner, these two recipes say there's gotta be a corner left in the belly for more….
Sautéed Apples à la Mode
– Lorisa and Ron Pierson
sliced apples, 14-ounce package
¼ cup butter
2 teaspoons cornstarch
½ cup cold water
½ cup brown sugar
½ teaspoon ground cinnamon
vanilla ice cream
Melt butter in skillet or saucepan on grill; add apples and cook, stirring constantly, until apples are almost tender.  Dissolve cornstarch in water and add to skillet.  Add brown sugar and cinnamon and boil for 2 minutes, stirring occasionally.  Remove from heat and place in bowls and top with vanilla ice cream.
Grilled Pears with Raspberry-Grand Marnier Sauce
Adapted by Bob and Seana Dawson from Williams-Sonoma Collection Series, Grilling, by Denis Kelly (Simon & Schuster, 2002)
4 Bosc, Anjou or other firm winter pears
lemon, halved crosswise
¾ cup sugar
1 tablespoon ground cinnamon
vanilla ice cream or gelato (optional)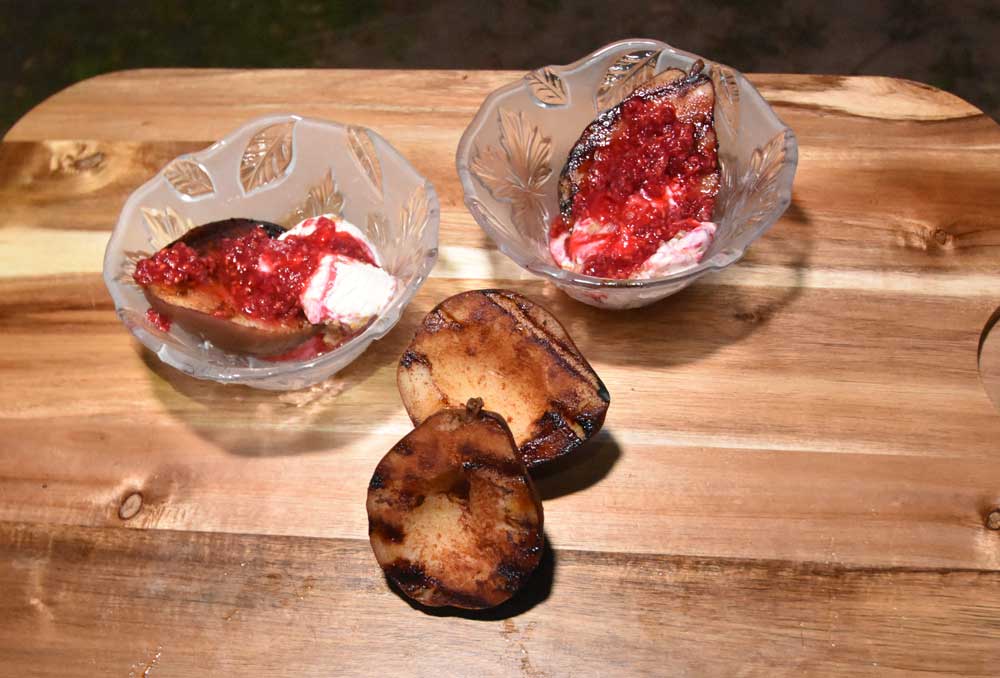 Sauce:
1 cup fresh or thawed frozen raspberries
1 teaspoon honey
1 tablespoon Grand Marnier or other orange-flavored liqueur
Prepare a medium-hot fire in a grill. Oil the grill rack.
To make the sauce, combine the raspberries and honey in a bowl. Mash the raspberries lightly with a fork and stir in the liqueur. Set aside.
Cut the pears in half lengthwise and remove the cores. Squeeze the lemon over the cut sides of the pears to prevent browning. In a shallow bowl, stir together the sugar and cinnamon. Dip the cut sides of the pears in the cinnamon sugar.
Grill the pears, cut side down, directly over medium-high heat until the fruit is grill-marked and the sugar is caramelized, two to four minutes. Do not allow the pears to char. Using a spatula, turn the pears over and grill until tender and heated through, three to four minutes. If the pears start to char, move them to a cooler part of the grill to cook.
Serve the pears topped with the raspberry sauce and with a scoop of vanilla ice cream or gelato. Serves four.
---
Coleman RoadTrip vs. Blackstone Tailgater
Trailer Life puts these two popular campground grills to the test in our main "Grillapalooza" article.
---