Twenty miles south of Amarillo in the notoriously flat Texas Panhandle, Palo Duro Canyon surprises with spectacularly colorful rock formations, a bonanza of wildlife and an epic Lone Star musical
Mention the Grand Canyon, and most folks immediately think of Arizona's Grand Canyon National Park. At 277 miles long, up to a mile deep and 18 miles wide, it is the largest canyon in the United States and truly a sight to behold.
Although not as dramatic, Texas has a canyon of its own, and while it may not offer the same stunning views, it is definitely worthy of a visit. Located in the Texas Panhandle, south of Amarillo, Palo Duro Canyon is considered the second largest canyon in the country at 120 miles long, up to 800 feet deep and nearly 20 miles across at its widest point. Unlike the Grand Canyon, where access to the bottom is by foot, mule or raft, the floor of Palo Duro Canyon is accessible by car, RV and even bicycle.

The northernmost section, which includes the most scenic part, has been protected since July 4, 1934, when Palo Duro Canyon State Park officially opened. The Civilian Conservation Corps, also known as the CCC, literally built the park. Comprised mostly of young men and military veterans, the CCC crew worked from 1933 until 1937 developing road access to the canyon floor, as well as constructing the visitor center, cabins, shelters and park headquarters.

My husband, Mike, and I consider the 29,182-acre state park a must-visit for several reasons. First and foremost, it is a great place to view and photograph wildlife. While looking for an RV site at the park's Hackberry campground,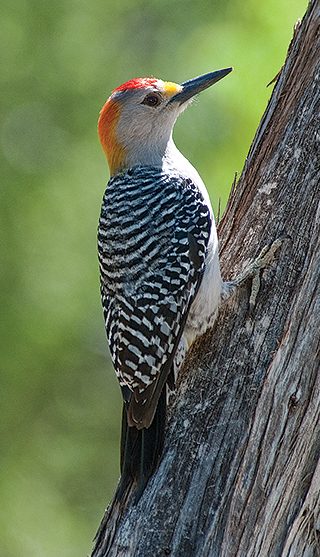 (Top to bottom) A male golden-fronted woodpecker searches for lunch, a blue jay spotted from the viewing blind near Palo Duro Trading Post, and a male northern cardinal enjoys taking a bath.
I photographed a handsome golden-fronted woodpecker and also got images of turkeys courting. We knew right then that we had hit the jackpot and opted to spend several days in the state park.

In addition to hosting wildlife, the park is a tree-filled landscape and a great place to hike, mountain-bike and just plain relax under the shade. Palo Duro means "hard wood" in Spanish, thus the place was named for the tough wood of the Rocky Mountain juniper trees found here. Visitors will also see lots of mesquite, cottonwood, salt cedar (an invasive introduced species), willow, hackberry and western soapberry trees. In spring, usually May, look for wildflowers such as Indian blanket, Blackfoot daisy, tansy aster and the blossoms of prickly pear cactus and yucca.

 We visited in May, but because of the drought we didn't see much in the way of wildflowers. We also missed out on one of the highlights of the park. Visit in summer and you'll no doubt thrill to Texas, a stage show that calls itself the most spectacular outdoor musical drama in the world. Celebrating its 50th anniversary this year, the official state play runs from June through August every evening except Monday. Tickets range from $16.95 to $30.95 for adults (discounts are available for children, students, seniors and military). If you'd like more than just a show, add a barbecue dinner to your night out for an additional $16 per adult.

Whittled through an amazing 800 feet of rusty sandstone, pastel-colored mudstone and milky gypsum, the colorful cliffs of Palo Duro Canyon took millions of years to form. The canyon was born when the Prairie Dog Town Fork of the Red River began carving its way through the southern High Plains.

The rocks visible today expose a geologic story that began roughly 250 million years ago. Cloud Chief gypsum, the oldest layer of rock visible, is seen in a few areas of the canyon. The next oldest layer, and the most visible, is the Quartermaster Formation, consisting of distinctive red claystone/sandstone and white layers of gypsum. Look above the Quartermaster Formation and you'll see the Tecovas Formation with its yellow, gray and lavender mudstone and sandstone layers. Above the Tecovas Formation you'll see the Trujillo and Ogallala formations. The Trujillo is made up of sandstone and shale, and the Ogallala consists of sand, clay, silt and limestone and comprises the easily recognizable hard caprock.

While the canyon has taken a million years to form, it's taken some Texans ages to discover the place. I talked to one fellow camper who exclaimed, "I've been to all 50 states, was born and raised in Texas, and this is my first time here. I'm glad I finally made it!"

Although Palo Duro has been a state park for 81 years, it has seen human habitation for many more. Archeological and ethnological treasures show that people have been traveling through and living in the canyon for about 12,000 years. During those decades upon decades of habitation, the climate has offered everything from abundant moisture to severe drought.
The Clovis and Folsom people were the first to reside in the canyon. They hunted large animals including the mammoth and giant bison. The canyon was home to the Comanche, Kiowa and Cheyenne in 1874 when the 4th Cavalry Regiment attacked them. Led by Colonel Ranald S. Mackenzie, the Cavalry burned their tepees and winter stores, and captured 1,400 horses. Although Mackenzie kept approximately 300 of the horses, he ordered the remaining 1,100 horses shot. During the raid, four Native Americans were killed. The rest headed back to the reservation at Fort Sill because the white man had destroyed their food supplies and horses, and with winter coming they would not survive.
As mentioned previously, the area currently is in the middle of a bad drought. Campfires and outdoor grilling were banned when we camped, and we were grateful for that. No one wants to see the park burn, and no one wants to be trapped in a canyon with but one road out. Under other conditions, park personnel ask that visitors do not attempt to cross water more than 6 inches deep during flash floods. All water crossings have depth gauges.
Three campgrounds in the park accommodate RVs with water and electric hookups, picnic tables and restrooms with showers (see "Canyon Camping" on page 45), and all are near trails. Most of the trails can be accessed by foot, horseback and mountain bike, though some are recommended for mountain bikes only, and horses are prohibited on some.

Lighthouse Trail is no doubt the most popular trail in the park. It leads to the Lighthouse, a 310-foot-high rock formation formed by erosion. Designated a National Natural Landmark, the moderate trail is nearly 6 miles round-trip. Hikers, horses and mountain bikes share the route.
Mike and I rode the single-track Capitol Peak Mountain Bike Trail. Though the trail wasn't well marked, we were able to find our way — and we discovered a western diamondback rattlesnake en route. We also biked the Rojo Grande and Sunflower trails. Both offer some shade and are perfect for hiking and mountain biking. Horses are not permitted.
As you explore, be sure to keep an eye out for Texas horned lizards, but don't get them mad. The endangered lizards squirt foul-tasting blood from their eyes as a way to thwart predators. Look for the palm-sized reptiles in spring and early summer. You'll most likely see them on 80-degree days when the sun warms their favorite food, harvester ants, into action.  

Another endangered species is the Palo Duro mouse. Found nowhere but the Red River canyon lands, the mice are secretive, emerging from underground burrows and rock crevices mostly at night. They eat juniper seeds, mesquite and prickly pear cactus.

In addition to the two endangered species, the park has mule deer, roadrunners and cottontails, as well as coyotes, Barbary sheep (an introduced species), bobcats and rattlesnakes. Beyond wild turkeys, you might see Mississippi kites, painted buntings, canyon wrens and red-tailed hawks. When driving the canyon rim, just past the entrance station, look for longhorn steers. Part of the official Texas State Longhorn Herd, the animals are fenced in and do not roam the park.  

One of our favorite activities was to visit the viewing blind each day, sometimes twice a day. Behind the Palo Duro Trading Post, a water feature and feeders attract a multitude of birds including painted buntings, cardinals, golden-fronted woodpeckers and more. We'd stay until we got hungry or thirsty, and then we'd head to the post for hot meals, drinks, even groceries and camping supplies.
Canyon Camping
With nearly 300 sunny days a year, the greater Amarillo area is a prime spot for RV camping. Here's a sampling of three state park campgrounds in Palo Duro Canyon and half a dozen nearby Good Sam Parks.
Palo Duro Canyon State Park
The road through the canyon provides access to three RV campgrounds. The closest to the entrance is Sagebrush, set in a wide-open area with 30/50-amp service, water and covered picnic tables. It's directly across from the outdoor Pioneer Amphitheater where folks enjoy the musical performance Texas. Mesquite is the farthest campground from the entrance, but it is very scenic with multihued cliffs, big sites, covered picnic tables, water and 30/50-amp service. We stayed at Hackberry, with 30-amp service, some covered picnic tables and some large sites, along with water and lots of shade trees. There's a daily fee for being in the park and another fee for camping.
www.tpwd.texas.gov/state-parks/palo-duro-canyon
www.texas.reserveworld.com
Good Sam Parks
Amarillo
Amarillo Best Wonderland RV Resort
800-538-7782 
Amarillo Ranch RV Park
866-244-7447 | www.amarilloranch.com
Fort Amarillo RV Park and Resort
866-431-7866 | www.fortrvparks.com
Oasis RV Resort
888-789-9697 | www.myrvoasis.com
Overnite RV Park
800-554-5305 | www.overnitervpark.com
Canyon
Palo Duro RV Park
800-540-0567 | palodurorv.tripod.com
---