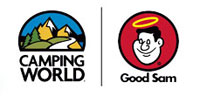 July 15, 2011 (Lincolnshire, IL) Good Sam, a Camping World Company and the world's largest organization of RV owners, announced today that they will join RCR as the primary sponsor on No. 33 Good Sam Chevrolet driven by NASCAR Sprint Cup Series Driver Clint Bowyer, this weekend at New Hampshire Motor Speedway.
"We are excited to partner with RCR and sponsor Clint in the No. 33 Good Sam Chevrolet," said Marcus Lemonis, Chairman and CEO of Camping World & Good Sam. "Clint is an avid outdoorsman who understands our business and our customers. Clint's parents have been members of the Good Sam & Camping World President's Club for many years."
Founded in 1966, the Good Sam Club is based loosely on the biblical Good Samaritan who offered to help a traveler in need. Good Sam's now-iconic halo and wide grin still signify camaraderie among members and their willingness to offer aid to fellow RVers. Today, the Good Sam Club is offering benefits such as 10% discounts at thousands of Good Sam Parks nationwide.  The Good Sam Parks are inspected and rated annually according to an exclusive Triple Rating System to ensure each park is clean, safe and comfortable plus meeting quality standards.  The Good Sam Club also offers savings on RV insurance, road service, accessories, repairs, RV publications and more.  New additional benefits are free camping certificates, the Golden Halo Savings program and additional Good Sam Parks across the country.
Good Sam Club is the sister company to Camping World, America's largest retailer of RV supplies, accessories, services and new and used RVs. The company has grown from a single store in Bowling Green, Kentucky in the mid-1960s to more than 75 SuperCenters nationwide today, providing RVers with a coast-to-coast network of service and repair professionals to keep their RV's on the road by providing warranty repairs, routine maintenance, collision repair and remodeling services.
Camping World was a co-primary sponsor when Bowyer's No. 2 Chevrolet team claimed the 2008 NASCAR Nationwide Series championship. "It's great to continue the partnership with Camping World and represent the Good Sam Club this weekend at New Hampshire," said Bowyer, a two-time winner at NHMS. "We brought a fast hot rod to the track this weekend and I hope to carry the over one-million RV enthusiasts that Good Sam represents with us into victory lane on Sunday."
BE SURE AND TUNE IN FOR AN EXCITING RACE WEEKEND!
7/16/11 NASCAR NATIONWIDE RACE AIRS LIVE AT 3:30PM ET ON ESPN
7/16/11 NASCAR CAMPING WORLD TRUCK SERIES AIRS LIVE AT 8:00PM ET ON SPEED
7/17/11 NASCAR SPRINT CUP RACE AIRS LIVE AT 1:00PM ET ON TNT