Theft-prevention products and security strategies to protect your RV and personal property
There's nothing like hitting the road to leave all of life's worries behind for a while. But some of those worries follow you wherever you go, like the possibility of break-ins and thefts of your RV and its contents. Fortunately, you don't need to fear every stopover in a new place or every encounter with strangers. Most RV folks are good, honest people. It's the other ones you have to be aware of — and taking a few sensible precautions can help you avoid meeting them.
Before You Go
Before even turning a wheel toward your vacation destination, make sure your nailed-down house is secure. If you regularly park your RV near your house and one sunny morning it's gone, it doesn't take a rocket scientist to guess you might be on the road for a while. Parking a car in the driveway instead of the garage can make the place look occupied.
Stop the mail and ask a neighbor or the local police to drive by occasionally to make sure everything is all right. Solicitations left on the porch are a sure sign that no one is home. Ask a neighbor to remove and trash unwanted materials.
Light timers inside the house might not fool anyone into thinking you're home — a few nights watching their exact regularity is the tip-off — but then again, they might. If you're gone long enough, it might be worth signing up with a home-security company.
Before you leave home, let someone know where you're going, your route and how long you'll be gone. Make sure your roadside-assistance policy is up to date and your RV is in good condition to avoid getting stranded in the middle of nowhere with no cell coverage to summon help. Check in with friends while you're on the road by phone or email to let them know everything is going according to schedule, and have a backup plan in place if you fall off the radar or have to change your itinerary significantly.
On the Road
On the way to your destination, you'll probably slip into a rest stop for a bathroom break or a nap. A short stop is fine, but try not to overnight in rest stops, especially those along interstate highways. Remote places with a lot of traffic coming and going are prime locations for thieves who strike fast and get away faster. Park near light poles at night, and alongside other vehicles anytime — witnesses discourage bad guys.
Do whatever needs to be done outside the RV in shifts so someone stays in the rig at all times. If you can't wait, lock the doors when you leave the RV, and don't leave anything valuable in the tow vehicle or visible through the RV's windows where passersby can see it. All of this applies at pit stops, too. Even the short time it takes to go inside and pay for your fuel and a snack is long enough for someone to sneak into your rig and grab something.
Plan stops for fuel, shopping and ATM withdrawals during daylight hours, and don't be shy about waiting until the next town if the vibe where you are isn't right. Not having cell-phone coverage for an emergency call is a valid reason for moving on, too.
Walmart parking lots are favorite overnight spots, but not all Walmarts are in the best part of town. Check out the surrounding area for graffiti, barred shop windows, vacant storefronts or trash in the gutters. If the neighborhood passes muster, park under a light pole with the entry door of your RV facing other overnighters, so anyone coming into or out of your rig is visible to fellow campers.
In the Campground
Once you've settled into your spot at the RV park, find out the emergency numbers for the park and area, and in public parks enter the numbers for the ranger or campground host into your phone. Ask the people in charge if there are nightly patrols and how easy it is for outsiders to come and go. Is the facility gated? Are there security cameras? How well lit is the campground at night? Where's the nearest town? Urban RV parks are more often targeted by thieves than ones out in the boondocks.
While most people in the average RV park are just like you, out for a relaxing time, you can't assume that in every case. Pay attention to who you are opening your door to when there's a knock, and don't be fooled if they ask for you by name, especially if you have a sign on your rig that says something like "Bob and Sally Brown's Rollin' Rancho." Ask unexpected visitors to stand in front of a window so you can get a look at them, and keep your phone handy in case it's a face you don't recognize.
One of the best parts of RVing is meeting new people. Introduce yourself and your family to your neighbors so they know who should be hanging around your campsite and who shouldn't. Offer to keep an eye on their site if they'll do the same for you. All the same, if you leave your site for shopping or sightseeing, secure your outdoor furniture, bikes and other valuables with cable locks to prevent walk-off thefts, or put them inside and pull down all the window shades to prevent strangers from eyeballing your valuables.
At the Campsite and in Storage
A portable wireless security system like the LarryAlert can keep you in contact with what's happening at your campsite and notify you remotely via your phone. If you're using an audible alarm, just don't be That Guy whose alarm is adjusted to such high sensitivity that it's set off by every breeze and annoys the entire campground. Motion-sensitive outside lights are less annoying but are still an effective deterrent.
RV dealers and service centers have master keys to the latch locks on many models of RVs in case the owner leaves the rig for service but not the keys. Those masters sometimes find their way to less savory places, which is why many RVers change out the factory locks for aftermarket ones that use just one key for all doors and outside-compartment lids. Also, the compartment doors on most trailers use a CH-751 key, which means anyone can open them. If you can't change the main entry lock, that's OK. Just make sure you deadbolt the door every time you leave, as the master keys can't open the deadbolt side of the lock. Keep a spare key in your wallet or someplace accessible but safe.
Theft of the contents of RVs is far more common than outright stealing the RV itself — imagine the seriocomic spectacle of thieves towing a fully loaded fifth-wheel and trying to elude pursuing cops — but you don't want yours to be one of the exceptions. Coupler, pin and wheel locks prevent tow-away thefts, and are also a good idea if you put your RV in long-term storage at a remote location.
With the basic security strategies in mind, there are plenty of products to help you stay safe on the road and protect your gear. Here's a roundup of some of them.
LIPPERT COMPONENTS
Lippert's ToyLok cable lock mounts to your RV, truck bed or hitch receiver with different mounting adapters. The shorter nylon-bodied version ($64.95) comes with a 15-foot coated cable to thread through bicycles, furniture or grills to secure them while you're away from your site; the 18-foot model ($89.95) comes with a steel body. The cable is self-retracting and secured with a specialty padlock.
BAUER PRODUCTS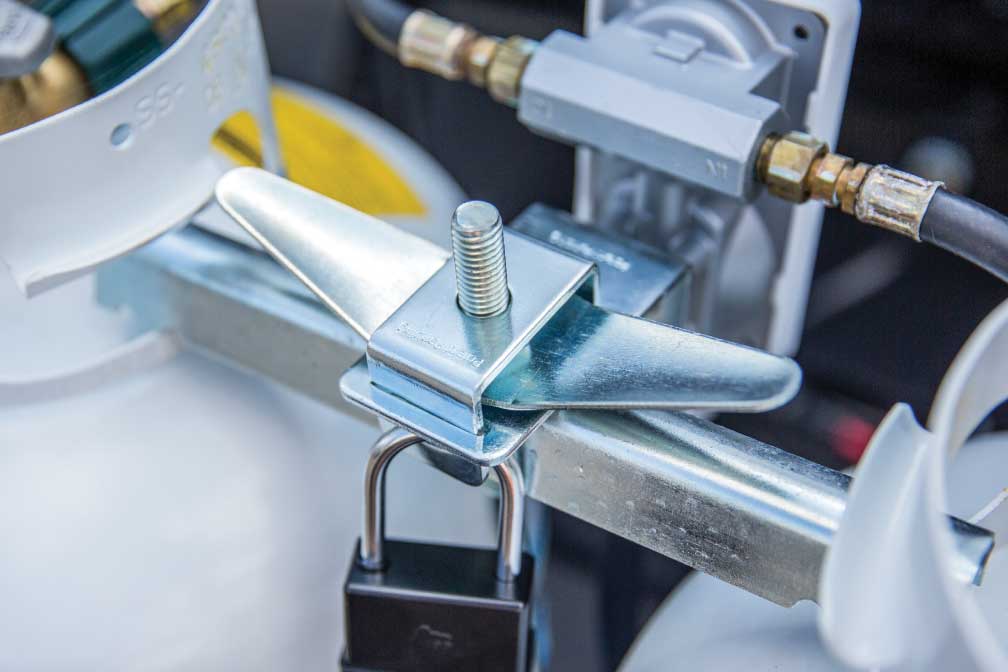 Made for travel trailer applications, the Bauer NE Keyless Entry System ($209.99) lets you program in a four-digit PIN for security and convenience. The battery-powered touch pad fits most RV-entry doors. Buttons are activated by touch and don't require pressing them to enter the code.
The LP Tank Lock ($9.99) consists of two stamped-steel, zinc-coated hasps for securing LP-gas cylinders.
The lower hasp has mounting holes for the LP-gas regulator and rests on the crossbar so the wing nut can be tightened down. The upper hasp rests on the wing nut while engaging the lower hasp. Sold separately, a keyed-alike padlock ($24.99) can be used on the upper hasp.
DEADBOLT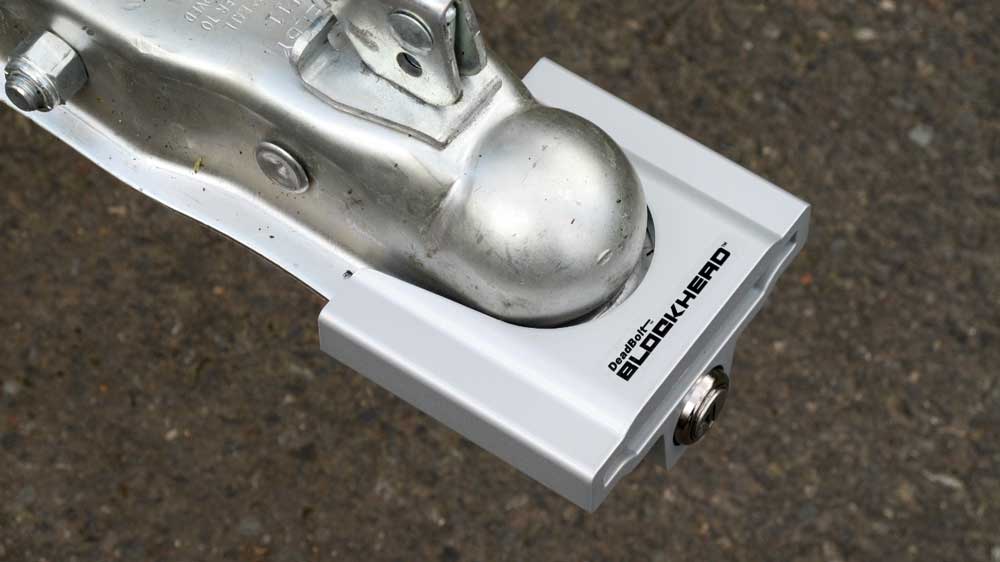 The Blockhead Trailer Coupler Lock ($34.95) provides maximum security for unattended trailers. The extruded and tempered aluminum body has a high strength-to-weight ratio and a simple, rugged push-button lock system. It uses a double-sided automotive-style key for easy insertion and removal. A shuttered key opening keeps the weather out. The lock fits all 17⁄8-inch and 2-inch couplers.
A versatile lock assortment for towing and storage, the Hitch and Trailer Anti-Theft Lock Kit ($69.95) comes with a Blockhead Trailer Coupler Lock, an RC1 Adjustable Trailer Coupler Latch Lock, an RH3 Receiver Hitch Lock that fits all Class III and IV ball mounts, and two keys. It's available for 17⁄8-inch and 2-inch couplers (TSK1-AS), and 2-inch and 25⁄16-inch couplers (TSK3-AS).
www.deadboltlocks.com
BOLT LOCK
Bolt's Off-Vehicle Coupler Lock ($74.99) prevents trailer theft by securing the coupler with a weatherproof, hardened-steel, corrosion-resistant cover. The red powder-coated finish acts as a visible theft deterrent, and the plate-tumbler sidebar prevents picking and bumping. The double ball-bearing locking mechanism opens with the vehicle's ignition key.


The Receiver Lock ($31.99) features an auto-return spring mechanism that locks when the key is removed. A double ball-bearing locking mechanism and a plate-tumbler sidebar are standard. The weatherproof Receiver Lock comes in 5⁄8-inch and ½-inch sizes and is easily keyed to your vehicle's ignition key.
Both locks come with a limited lifetime warranty.
www.boltlock.com
MINDER RESEARCH
Two LED lights in one, the Motion-Activated Emergency Light and Flashlight ($29.95) stays on as long as there is motion within range and automatically shuts off after 15 seconds of no activity. The light has a sensor range of 10 feet and a selectable on/off/auto switch. The rechargeable unit lights up automatically if the power fails and doubles as a 6-LED flashlight.
www.minderresearch.com/nightminder
LARRYALERT
Paired with a downloadable smartphone app, the LarryAlert portable wireless security system works in paired or standalone mode, and attaches via a suction cup and a hook-and-loop-strap tie-down. When activated, it creates an invisible shield around your toys or equipment, and is triggered if the shield is broken by a person or object. Fifteen sequential photos are taken to show the triggering events. You can use the voice speaker to communicate, giving a warning to intruders or a hello to friends. Two models are available: the standard LarryAlert with an active pairing range of 100 feet ($149), and the Extended Range version with active pairing of 450 feet ($179).
RJ LOCKS
The Nut Cover and Lock ($69.99) prevents thieves from unscrewing the nut under the hitch ball. Built from anodized solid billet-aluminum housing and a carbon-steel fitting, the replacement nut for a trailer ball will not rust and is designed to stay attached, whether or not something is being towed. It's made to fit existing ball mounts with a 1-inch-diameter shank, which typically have a 2- or 2¼-inch ball.
ROSS RV INNOVATIONS
Many RVs have a frosted-glass window in the entry door, making it hard to see who's outside. One solution is the Clear View Entry Door Window Kit ($149.99), a black-tinted tempered-glass RV-door window replacement that allows you to see out. Add a Zarcor CloZures shade for privacy.
www.rossrvinnovations.info/window-kit
www.campingworld.com/clear-view-entry-door-window-kit
AP PRODUCTS
Another tinted tempered-glass replacement window for entry doors, the Slim Shade ($119.95) allows you to see outside while reducing the sun's glare. An integrated pleated shade pulls down for complete privacy. Available through RV dealers and at Camping World.
www.approducts.net
www.campingworld.com/slim-shade-rv-door-window-with-built-in-shade-black
---