As MotorHome turns 50, we take a look at how motorized RVing has evolved along with the times
There's a reason that the 50th anniversary is considered "golden." Five decades is quite a long time. Over that span of time, trends come and go; businesses start up, thrive and then ultimately shutter their doors; and a new generation is born and reaches adulthood. Through it all, from fuel shortages to natural disasters to a devastating recession, MotorHome has stood tall over the RV industry since its debut in 1968. We like to think the main reason RVing has stood the test of time is because the impulse to travel, to see the outdoors, and to share experiences with friends and family has been around since the dawn of time. But it wasn't until the beginning of the 20th century when the ability to cover long distances in shorter periods finally came to fruition.


In the Beginning
The history of motorhomes (or house cars, as they were originally known) goes back almost as far as that of the automobile. Shortly after Ford Motor Co. introduced the masses to the Model T in 1908, the Pierce-Arrow Touring Landau, generally regarded as the first RV of any type, made its debut at New York's Madison Square Garden in 1910.
Accommodations on that Landau were sparse by today's standards, but the folding rear seat, fold-down sink and chamber pot were the absolute lap of luxury at the time. More important than the first Landau was the fervor it would spark among vehicle owners, who were generally affluent enough that they could afford to tinker with expensive automobiles. And tinker they did, as most of the earliest examples of house cars were homemade.
Those first house cars were far from fuel-efficient, and consisted mostly of rudimentary wooden boxes bolted onto automobile frames. But, necessity spawns invention, so some pretty revolutionary designs were the norm: everything from employing Pullman-style sleeping quarters to fold-out panels to telescoping walls and panels.
Mobile camping perhaps rose to prominence beginning in 1915, when a group of heavy hitters including Henry Ford, Thomas Edison, Harvey Firestone and John Burroughs met each summer for extended camping trips. Calling themselves the Vagabonds, the historic group brought along a caravan of cars, vans, household staff and equipment – including the 1922 Lincoln Kitchen Truck, which toted food and utensils to be used on the expeditions. Alas, by 1924, the annual trips began drawing too much national attention, so the Vagabonds elected to stop making their treks. But the seeds were already planted.
In 1929, during the dawning of the Great Depression, Wallace Merle "Wally" Byam hand-built a Torpedo Car Cruiser teardrop trailer in his backyard; he would later sell plans and kits that mimicked his design. A few years later, in 1934, Byam would collaborate with another designer, William Hawley Bowlus, before purchasing his company outright. Two years later, the Airstream Clipper was born, paving the way for the popular Airstream brand so often synonymous with RVing in general.
House cars would continue their popularity, though many manufacturers focused their efforts on trailers. One notable exception was the 1935 Hunt Housecar, which came equipped with a shower and toilet.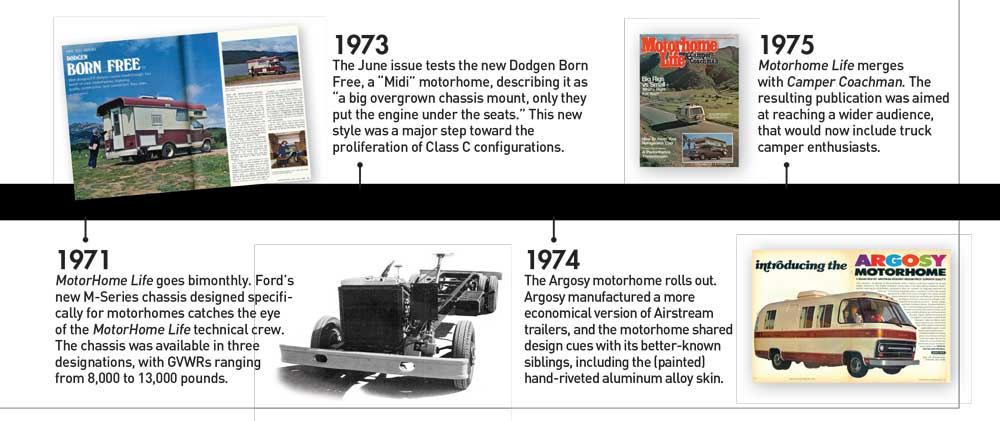 The Golden Age
In 1940, General Motors offered a glimpse into what house cars could become, in the form of Futurliner custom vehicles designed in collaboration with Harley Earl. The Futurliners were essentially traveling display stages as part of GM's Parade of Progress, each one measuring more than 33 feet long. Though not necessarily house cars, the Futurliners showed how bus-style chassis could be used to help shape the house car industry.
Western Trailer Life debuted in 1941, a significant event in the history of the industry and MotorHome magazine. Western Trailer Life would eventually drop the "Western" from its title, resulting in MotorHome's familiar sister publication we know so well today. The latter part of the decade would also see the introduction of many RV-friendly appointments like butane-gas cylinders (which would later be replaced by propane gas), portable showers and onboard flushing toilets. Flxible bus conversions began popping up around 1948.
The early 1950s saw the introduction of the Volkswagen Van, which would eventually go on to feature the popular Westfalia pop-top for additional headroom and sleeping space. Around the same time, an entrepreneur named John Crean began building RVs and manufactured housing, and would ultimately go on to start Fleetwood Trailer Co. in 1953.
The public was further introduced to the RVing lifestyle in 1954 when "The Long, Long Trailer," a movie starring Lucille Ball, Desi Arnaz and a lengthy New Moon trailer, made its debut. The film would include some of the more humorous pitfalls potential new owners could face, all in good fun, of course. In 1958, MotorHome founder Art Rouse would purchase Trailer Life magazine, setting the stage for what would spawn the very magazine you're holding. That same year, Ray Frank founded Frank Motor Homes, and a new term was added to the RV lexicon.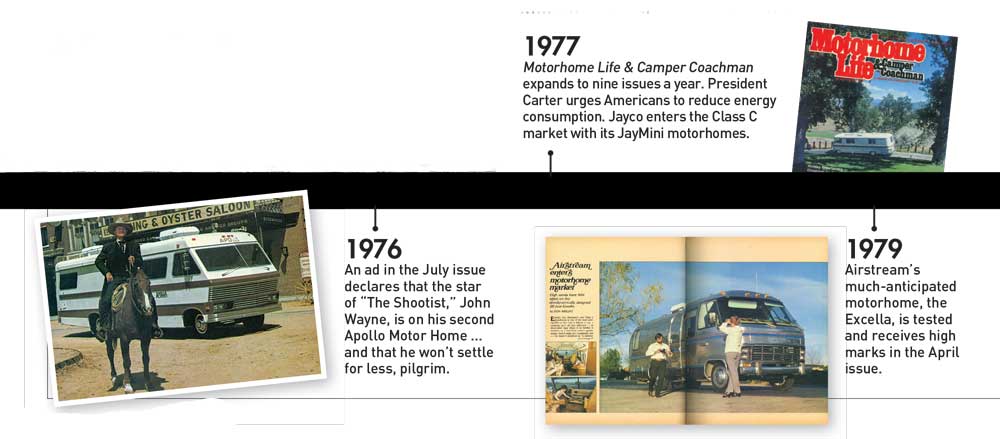 The Rise of the Motorhome
As motorized RVs continued to increase in popularity, the general consensus was still that they were luxury items, nowhere near as in-demand as the more moderately priced towables of that era. That would change with two major breakthroughs in particular: the Frank Motor Homes Dodge motorhome (which would eventually become the Travco in 1965) and the introduction of the 19-foot "Life-Time Premier" motorhome from Winnebago in '66. Winnebago would top this momentous occasion the next year by rolling out five new affordably priced, production-assembled motorhomes, including the very first Brave model.
Charles Kuralt's famous "On the Road" program featured a Dodge Travco motorhome, with television again rekindling the country's love affair with recreational wanderlust. In 1967, what is now known as Newell Coach Corp. began, and would produce its first rear-engine gas motorhome within a couple years. Newmar also opened its doors, originally to manufacture towable RVs. A short time later, in 1968, the manufacturer that would become Jayco also began manufacturing camping trailers.
These changes in production methods, technology and overall popularity were enough: that year, publisher Art Rouse introduced MotorHome Life to the readers. And although the rest of that story is history we detail in each issue of 2018, the motorhome market continued to evolve.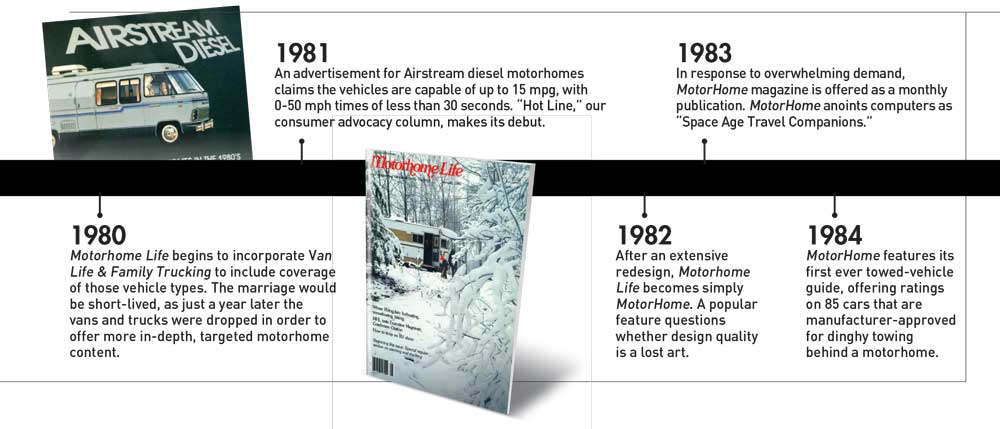 The Era of Innovation
More innovations continued throughout the 1970s. FMC motorhomes – gas pushers with a low profile – would test the boundaries of the design envelope (and also be featured in Kuralt's TV show). Frank Motor Homes introduced the Xplorer 21, a motorhome built on a van chassis. Apollo motorhomes made their way to the highways. GMC would develop a sleek front-wheel drive Class A. Revcon introduced monocoque construction and aluminum paneling, allowing motorhome frames to be lighter but more durable. Mini-motorhomes – built on minitruck chassis – gained in popularity. Family-owned and operated Tiffin Motor Homes would begin manufacturing motorhomes. After having offered a basement-storage model early in the decade, Newell developed its first diesel-powered motorhome in 1972, while the Mercedes-Benz Motoroam Monarch would follow suit in 1973. That was also the year the nation was mired in a fuel-crisis, as prices at the pumps nearly tripled, seemingly overnight.
But motorhomes continued to gain traction. Celebrities from John Wayne to Mario Andretti to Bob Hope endorsed their preferred method of recreational travel, many within the pages of this magazine.
Airstream and its "economical" trailer division, Argosy, would produce the Argosy Class A, often referred to as the "painted Airstream." Longtime (now defunct) manufacturer Born Free opened its doors, offering a unique camper built onto a truck with tag wheels.
Recognizing the need for a governing body for the booming RV industry, the Recreation Vehicle Industry Association (RVIA) was formed in 1974. The end of the '70s would see a call from our government to reduce energy consumption, a plea that is still heard loud and clear to this day (and is reflected in many of the popular designs of the early '80s). And in 1979, Airstream would finally deliver its own long-awaited motorhome – the Excella Class A.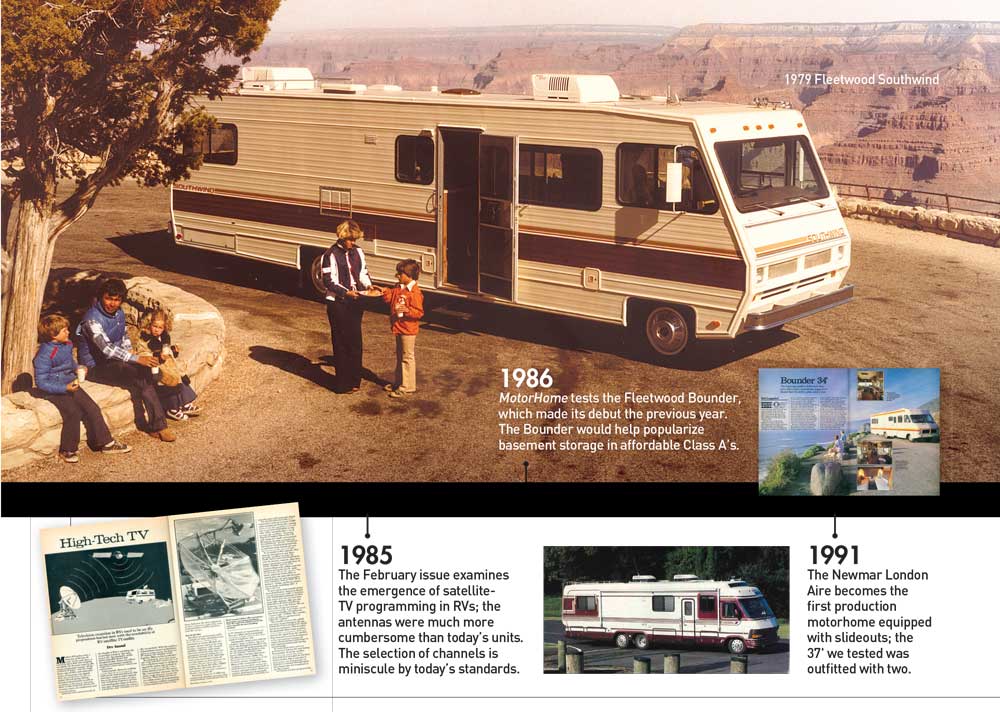 The MTV Years
The 1980s would kick off with a bang: yet another energy crisis would affect fuel costs. But that didn't stop Wade F.B. Thompson and Peter Busch Orthwein from purchasing the popular Airstream brand, and then forming Thor Industries (using the first two letters in each of their last names). Many early-decade motorhomes featured sloped noses and were low-slung, all in the interest of squeezing out a few more mpg. That made the introduction of one of the industry's most popular configurations even more exciting: in 1985, Fleetwood introduced the Bounder, an affordable Class A that made basement storage a must-have. That same year, Coach House RV would debut; the factory-direct manufacturer of Class B and Class C motorhomes continues to prosper today. The decade would also see the introduction of a new RV roof type: ethylene propylene diene monomer (EPDM), which is an extremely durable synthetic rubber roof material still in wide use.
Perhaps all the fuss about achieving improved fuel economy through more aerodynamic exteriors led to the top trends of the early 1990s, where bigger was generally considered better. After having entered the Class A market in the 1980s, Newmar announced its "official" arrival in 1990 with the Dutch Star and Mountain Aire motorhomes. A year later, MotorHome would test Newmar's 37-foot London Aire Class A, which is credited as being the first production motorhome to include powered and flush-floor slideouts, greatly expanding the potential living space inside a motorhome. Toy haulers began to ramp up in popularity, though they were mainly associated with towable units.
But "bigger" isn't necessarily confined to space, as the latter half of the decade saw lightweight diesel motorhomes continue to get bigger and beefier engines, without sucking the fuel pumps dry. In 1995 RVIA began requiring manufacturers to include weight labels on their new models, to help further clarify the differences between dry and loaded weights. Whether those early attempts were successful remains a sticking point today. The end of the decade would see MotorHome's then-parent company, Affinity Group Inc., acquire Camping World, which has quickly become the No. 1 destination for all things motorhome.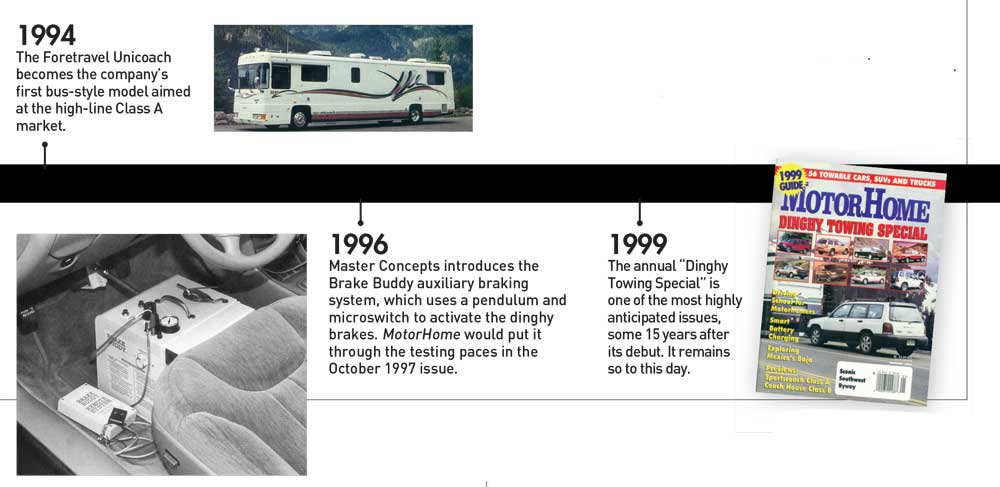 Greener and Lighter Weight
The market would again shift after the turn of the century, with a focus on more environmentally, eco-friendly RVs with lighter weights and lower profiles. The RVIA responded by requiring manufacturers to include cargo carrying capacity (CCC) on all new models, another step toward full transparency. In 2005, billionaire Warren Buffet and Berkshire Hathaway purchased Forest River Inc., which has since become one of the top RV- and manufactured-housing companies in the United States. Winnebago became the first North American manufacturer to build Class C motorhomes on Sprinter chassis (which was being done overseas for quite some time), offering buyers two choices: the View and the Itasca Navion.
As the decade progressed, the industry (and overall economy) was hit with one of the worst recessions on record. Many longtime manufacturers were forced to close their doors, and even titans like Fleetwood and Monaco weren't exempt. Their time out of the spotlight wouldn't last long, as both companies were eventually purchased (and revived) by the corporation that would become REV Recreation Group.
For a country looking to reduce its carbon footprint, Azdel composites began their rise to prominence at just the right time as we entered the 2010s. The materials were lightweight, moisture-resistant, odor-free and easy to assemble, making them the perfect kickoff to a greener era of RV construction.
Just a few years later, an oft-overlooked segment of the motorhome population would begin to break out, in a big way. Class B motorhomes, once characterized as glamorized soccer-parent vehicles, began to take full advantage of the new chassis, composites and manufacturing processes.
In 2015, Erwin Hymer, a popular RV manufacturer across the pond, joined forces with Roadtrek to form Erwin Hymer Group North America. Their first official stateside offering would be the 2016 HymerCar Grand Canyon. When combined with some of the popular models that were already well established at that time – including those from Airstream, Winnebago, Pleasure-Way and Sportsmobile, among others – their alliance would signal that the Class B market was here to stay. The proliferation of these van conversions on the roads today – combined with the emergence of Class B manufacturers like Dolphin Motor Coach, and longtimers like Coachmen and Coach House rebooting their Class B divisions – only confirms our suspicions.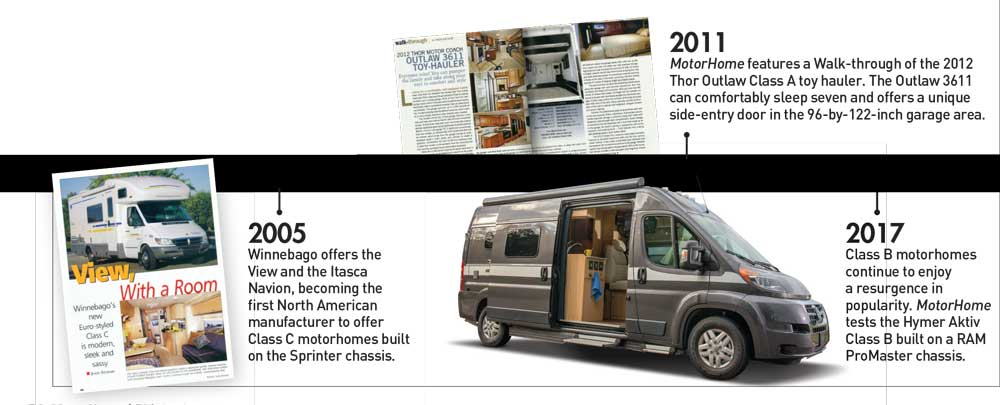 The Future
So, where to next? That's difficult to say, as the motorhome industry seems to evolve with the times as rapidly as a new iPad. But since we knew you'd ask, we consulted with MotorHome's publisher emeritus, contributor and 2014 RV/MH Hall of Fame inductee, Bob Livingston. As a recipient of the RVIA Distinguished Service in Journalism award – and with nearly 50 years in the RV industry – we can't imagine somebody more qualified to offer insight into what's on the horizon for motorized RVs. "More efficient technology," he said. "Appliances that are easier to maintain and that are very efficient. As we move into the future, energy efficiency – both appliance-wise and vehicle-wise – will be important.
Electronics will continue to play a big role." Livingston also predicts a continued trend toward the less-is-more mind-set. "As far as the rigs are concerned, I think there will be a focus on smaller units with more livability. A lot of people want to downsize, but they don't want to give up the conveniences and accessories. As people find themselves not wanting to pilot bigger rigs, they will be happy with the fact there is so much luxury and livability in a smaller package." So, does this mark the end of large Class A or Class C motorhomes? Not at all, according to Livingston. "There will always be a market for motorhomes earmarked at enthusiasts who desire the utmost in space and livability."
That expert insight is far from the 1950s-fueled dreams of flying vehicles or hologram technology, but it still portends a bright future for the motorized segment. And for as long as the industry changes with the tides of new generations, MotorHome magazine plans to be there every step of the way.
---