Q. I have a 1999 GMC 2500 with the 6.0-liter engine, and I tow a 2004 Colorado fifth-wheel with 4,610-pound gross vehicle weight rating (gvwr). The truck does great at pulling the trailer, but I would like to experience a little smoother ride when not hitched. I use Load Range E tires and keep them inflated to the tire recommendation of 80 psi. Is there anything I can do to get a smoother ride?
— J.D., Baton Rouge, Louisiana
A. The easiest solution for you, J.D., is to lower the air pressure in your tires when you aren't towing. The full 80 psi is a good idea when towing and loaded down, but it's overkill when driving solo. Even at a considerably lower pressure, there's still more than enough load-carrying capacity in an E-Range tire for an empty pickup. Try dropping the air pressure to 55 psi, or even 50 psi. You probably won't notice much of a visual difference in the tires or their sidewall bulges, but you'll immediately feel how the softer tires have taken the edge off bumps in the road. Just be sure to pump the tires back up again when you tow.
— J.J.
---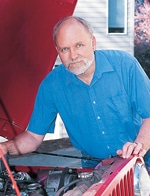 Jeff Johnston, TL consulting editor, started RVing at age 6. During his more than 20 years as a writer/photographer, he has worked for Truckin' and Four Wheeler magazines before joining TL's technical staff in 1985. Johnston also has produced an award-winning travel video and TV commercials.