In search of Southern heritage, stately antebellum homes and small-town hospitality on a slow-paced tour of the Peach State
On a recent trek north from Florida, my husband, Mark, and I took our 36-foot HitchHiker fifth-wheel on a leisurely route through Georgia along scenic back roads. We were on the hunt for historic mansions and grand estates but were thrilled to discover many other jewels in the small towns along our path, well off the beaten track.
We started just north of the Florida border in Thomasville, where graceful houses built by winter visitors in the late 1800s line the Tockwotton-Love Place Historic District. Enormous trees form natural arches high above the neighborhood's streets, their boughs reaching out from yard to yard, as if clasping hands.
Landscapers were busy tending the lawns of several homes, and I was taken aback when a grounds worker I asked for directions addressed me as "Ma'am." Throughout our stay in Georgia, we were delighted to find ourselves elevated to the respected status of "Ma'am" and "Sir."
The landscaper suggested that we check out the Big Oak, an ancient live oak that was a sapling back in 1680. The massive tree at the corner of Crawford and Monroe streets has immense branches that span 165 feet, and its trunk is 27½ feet around. Despite being well over 300 years old, the Big Oak surprised everyone in the community back in 2005 when it produced acorns for the first time in many years. A hundred seedlings were nurtured, and
one, nicknamed the Baby Oak, is planted at Pebble Hill Plantation.
The town is home to another botanical treat, the Thomasville Rose Garden. With 5 acres of gorgeous flowerbeds bursting with 1,500 rose bushes, this garden blossoms throughout spring, summer and fall. We were in town just a few weeks after the Thomasville Rose Show and Festival, held annually in April, but lots of roses were in full bloom, and the aroma was heavenly. A few steps away, we found Cherokee Lake Park, a peaceful city park with a mile-long paved trail that weaves between grassy lawns surrounding a pretty lake where geese grazed with their goslings.
After this gentle introduction to Georgia, we set upon a quest to see even grander homes from an earlier time in history. The years before the Civil War are referred to as the antebellum period, and many of the most impressive homes of that era were built by affluent plantation owners. Mapping out our way north, we discovered Georgia's Antebellum Trail, a roughly 100-mile tourism drive that connects historic towns along routes 129, 22 and 441 between Macon and Athens.
In addition to seeing elegant homes built by Georgia's high society, we learned that many of these tranquil towns share a tragic past, as they were on the path of the Union Army's brutal March to the Sea in the fall of 1864 at the height of the Civil War. After capturing Atlanta that summer, General William Tecumseh Sherman led his troops on a scorched-earth campaign across the state to Savannah.
Rather than relying on a supply line to sustain the troops in transit, Sherman penetrated enemy lines, destroying industrial and infrastructure targets, and feeding his army by seizing food from farms and taking livestock as well as horses and wagons. This crippled the region's economy and demoralized the spirit of many Southerners. Somber memorials in the center of each town make a thought-provoking contrast to the stylish antebellum homes that line the outer streets.
Our first stop was in Milledgeville, nicknamed the First Lady of Georgia. We arrived on First Friday, a citywide festival that takes place downtown on the first Friday of every month. Musicians were set up on street corners, and the doors of all the shops were open, luring customers in with special enticements.
After walking the streets past throngs of revelers and families enjoying outdoor restaurant seating on the sidewalks, we discovered another celebration was going on just a few blocks away. College students were putting on a jazz concert on the front lawn of Georgia College. The school's classic white-trimmed brick buildings made a distinguished backdrop behind the informal stage, and we found a spot between the picnic blankets and lawn chairs to listen to a few tunes from the big-band era.
Strolling through the Milledgeville neighborhoods, we learned that the wealth of antebellum homeowners was measured by the number of columns their house had out front. These impressive mansions are referred to as four-, six- or eight-column houses. Besides making an imposing statement, the lofty columns serve to extend the roofline from the upper story and create a shaded porch on the ground level that runs the width of the house. A few mansions had columns that circled the entire house with a wraparound porch.
Gazing at these magnificent homes of yesteryear, more than once my imagination wandered as I pictured myself wearing a tight corset and a long, flouncy dress, and sipping mint juleps while coquettishly entertaining gentleman callers. There is a wistful aura to these lavish houses that evokes a time when life was lived at a slower pace and social status was carefully displayed and dutifully acknowledged, from plantation owner to slave.
Milledgeville has another side that dates from more recent times. The Georgia Lunatic Asylum, which later became Central State Hospital, is a mammoth campus filled with tall brick buildings and sweeping lawns on the edge of town. Opened in 1842 to house the homeless and mentally ill, the facility initially offered a cordial environment for the disabled and downtrodden where the well-meaning director ate with the staff and residents.
Exponential growth expanded the institution into 200 buildings on more than 3 square miles of grounds. Yet despite this progress, overcrowding, underfunding and insufficient staffing made for serious problems. By the 1940s doctors resorted to lobotomies and shock-treatment therapy to subdue and control their charges.
It was well known that once you checked into Milledgeville (the nickname for the state hospital), you would never leave. Twenty-five-thousand people died at the institution, and 2,000 cast-iron markers adorned with numbers instead of names commemorate them. At one point, when the inmates were involved in the maintenance and operation of the facility, many of the markers were randomly tossed into the nearby woods to make the grounds easier to mow.
The vast facility is open to the public to drive or walk through now. Our hair stood on end as we took in the crumbling brick facades and peered through broken windows at dilapidated examination rooms, with scenes from the movie One Flew Over the Cuckoo's Nest playing vividly in our minds.
Leaving this spooky world behind, our spirits lifted as we ventured just a few miles north on the Antebellum Trail to the tiny town of Eatonton where a colorful statue of Br'er Rabbit greeted us in the middle of town. Across the street, at the small Georgia Writers Museum, we learned about Joel Chandler Harris, the man who wrote the hugely popular stories featuring this red-cloaked rabbit from the Briar Patch.
Born in Eatonton in 1845, Harris grew up listening to slaves' stories about wily Br'er (Brother) Rabbit who relied on his wits and cunning to get out of bad scrapes. Harris recorded the folktales and presented them as if told by a fictional character named Uncle Remus. Harris and his stories and characters are also memorialized at Eatonton's Uncle Remus Museum, housed in three former slave cabins.
Author Alice Walker was also born in Eatonton, almost a century later in 1944, and she is celebrated at the Georgia Writers Museum as well. A novelist, essayist and short-story writer, Walker is most well known for her Pulitzer Prize-winning novel, The Color Purple, which went on to become a popular movie and musical.
But it was Flannery O'Connor who intrigued us the most. Born in Savannah in 1925, she lived most of her life just 7 miles from Central State Hospital, and it is said that many of her stories and characters reflect the mystery and darkness of that place. At the urging of the museum's curator, we visited O'Connor's home, Andalusia Farm. Standing inside the farmhouse by huge windows that look out on a grassy lawn rolling down to a small pond, we could easily imagine how she was inspired by this setting.
After making her mark on the New York intellectual community very young, O'Connor was diagnosed with lupus in her mid-20s and returned to her family's homestead. She loved the outdoors and raised birds on her farm, from peacocks to Muscovy ducks, but as her health and mobility declined, she rarely went outside. Instead, she did her writing seated by the windows that frame the peaceful grounds and died in 1964 at age 39.
Our last stop on the Antebellum Trail was the picturesque town of Madison. Once described as "the most cultured and aristocratic town on the stagecoach route from Charleston to New Orleans," Madison is said to possess the largest collection of antebellum homes in the state. Strolling down the tree-lined streets, we admired the splendid houses that preside over large, manicured yards set far back from the road.
In the bustling heart of the lively downtown area in Madison, the tall clock tower and ornate columned facade of the regal Morgan County Courthouse rise above the lovely brick-walled shops. A few blocks away, we found a perfect spot for a picnic lunch at the new Madison Town Park.
Our tour of Georgia and the Antebellum Trail was a glorious way to see some of the highlights of the Peach State while making our way north. For RVers headed to or from Florida on the snowbird route, a detour off the interstates and onto the back roads of Georgia is a memorable diversion.
---
If You Go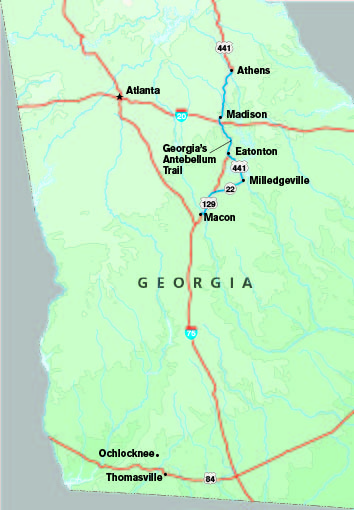 Situated in the center of the state, Macon is the southern gateway to Georgia's Antebellum Trail. The 100-mile trail leads north past the stately Southern mansions of Milledgeville and Madison and the literary museums of Eatonton, and ends in the college town of Athens near the foothills of the Blue Ridge Mountains.
www.antebellumtrail.org
The Thomasville Visitors Center, located inside the Thomasville Municipal Building at the corner of Jackson and Crawford streets, offers tourism maps and information about the city's historic sites and other local attractions.
866-577-3600 | www.thomasvillega.com
EATONTON
Little River RV Park and Campground
256-619-2267 | www.littleriverrvpark.com
MACON
Safe Haven RV Park
478-420-0775
MADISON
Country Boy's RV Park
706-342-1799 | www.countryboysrv.com
MILLEDGEVILLE
Scenic Mountain RV Park and Campground
479-454-1013 | www.scenicmountainrv.com
OCHLOCKNEE
Sugar Mill RV Park
229-227-1451 | www.sugarmillrvpark.com
---
Trailer Life columnist and frequent contributor Emily Fagan has traveled full time by RV and sailboat with her husband, Mark, since 2007. The couple's photos have appeared on more than 25 magazine covers and wall calendars, and Emily's lifestyle, travel and how-to articles have been featured in more than a dozen RV and sailing publications. Follow their adventures on their blog, Roads Less Traveled.