Fifth-wheels with a solid foundation, durable components and ample carrying capacity are ideal for living on the road 365 days a year
Choosing a fifth-wheel trailer for full-time living is a thrill, but making the right decision can be daunting. Many full-timers buy more than one rig, and some upgrade after only a year or two. We were no exception. For us, the small amount of depreciation we lost by upgrading from one trailer to another was a worthwhile investment. We considered it tuition to the School of Hard Knocks where we majored in hands-on experience.
We love visiting RV dealerships. The first thing we look at are the specs posted on the front-left corner of the trailer, especially gross vehicle weight rating (gvwr), unloaded vehicle weight (uvw), and cargo carrying capacity (*ccc), which is roughly the difference between the two. Carrying capacity is critical because it determines which of your worldly possessions you can keep with you.
Typical full-timer cargo includes winter and summer clothes, shoes, boots, jackets, bedding, household appliances, dishes, pots, pans, food in the refrigerator and pantry, power tools, spare parts, cleaning supplies, toiletries, barbecue grill, bikes and other recreational gear, hobby items, a portable generator and more. The trailer must also accommodate the weight of any optional equipment or furnishings, from an onboard generator to a washer and dryer, solar-power components and extra batteries. And don't forget the contents of the LP-gas cylinders and holding tanks.
Staying at a full-hookup RV site requires very little water in the trailer, but we carry a full freshwater tank and empty waste tanks when we dry camp so we can stay awhile. Our 36-footer has a carrying capacity of 3,439 pounds, and despite traveling light with many half-empty cabinets, we max that out when our 70-gallon freshwater tank is full. We'd love another 1,000 pounds of leeway.
The fifth-wheel's gvwr determines which trucks can tow the trailer. If you have a truck already, its maximum tow rating and payload are readily available. It is tempting to oversize the trailer or undersize the truck, but after upgrading to a more powerful dually, we love being able to tow our fifth-wheel anywhere in the Rockies effortlessly. For full-timers who travel just twice a year between favorite summer and winter destinations, decluttering can lighten the trailer prior to towing.
When it comes to features, full-body paint is the most durable, and gelcoat can be buffed to a shine, while a fiberglass roof will last longer than a rubber one. High R-factor insulation is important in both cold and warm weather. Non-opening skylights without shades or insulation may make the interior hot in summer. Disc brakes provide phenomenal stopping power, especially in emergencies, and can be added later if the manufacturer doesn't offer them, which is what we did. Over the years, we also replaced the shocks and upgraded from E-rated to G-rated tires.
Basement storage, battery-compartment size (if extra batteries are desired), and the accessibility of the converter, hot-water tank, furnace, water pump, landing jacks, circuit-breaker panel and slideout mechanisms are essential if any of these systems ever needs to be repaired or replaced, especially for do-it-yourselfers.
A hitch receiver mounted to the frame will be more than strong enough to accommodate a bicycle rack or small cargo carrier. If the receiver is only mounted to the rear bumper, you'll need to check the owner's manual for weight restrictions and to make sure using one won't void the warranty.
For extended dry camping, our 70, 78 and 50 gallons of fresh-, gray- and black-water holding tanks, respectively, are adequate, but bigger would be better. If you won't be dry camping much, large tanks are less important.
The interior of the trailer must evoke a satisfied "Ahh… I'm home!" We like light-colored, open and airy floorplans, but everyone has different tastes.
For couples accustomed to a king-size bed, downsizing to a queen may be difficult. For us, it is the one aspect of our rig we'd like to change. But not all kings are equal. Rather than the standard residential 76×80 inches, most fifth-wheel kings are narrower, measuring anywhere from 70×80 to 74×80. If you might upgrade to a true residential mattress, confirm that there is enough clearance on either side and consider whether the mattress will droop over the edges of the platform.
In the kitchen, an RV refrigerator that can run on LP-gas is great for dry camping; however, it may need regular defrosting. An electric residential refrigerator will require a generator or large battery bank with properly sized solar panels and an inverter to operate without hookups for extended periods, but the payoff is a frost-free fridge with an icemaker built in. Refrigerator sizes typically range from 8 to 22 cubic feet. An unsung advantage of a small refrigerator is that less food means less weight in the trailer. We have found our 8-cubic-foot RV fridge is sufficient, although we do have to negotiate treaties between the veggies and beer in an ongoing turf war.
Many full-time fifth-wheels have a center island plumbed with a sink, and while that provides extra cabinet and counter space, it usually means most of the kitchen may be inaccessible when the slideouts are closed. Being able to open the refrigerator without extending the slides in store parking lots, as well as having access to the bed and bathroom at rest areas and in front of friends' houses makes RV life easier. Before signing on the dotted line, inspect the fifth-wheel with the slideouts closed so you know what you can and can't access.
A love seat is fine for guests, but a longer sofa where you can truly stretch out is best for afternoon snoozes. Check out the furniture and bed in all positions to make sure you will be comfortable relaxing in your new home.
From an equipment durability standpoint, be aware that kitchens and entertainment centers placed at the rear of the trailer may experience more jostling because of the distance from the axles and the teeter-totter effect relative to the hitch position and axles.
Transitioning from a residential washer and dryer to public laundromats or smaller RV appliances is an adjust-ment. The advantage of coin-operated laundries is that you can walk out with everything clean and folded in just two hours. As a bonus, you can meet the locals and ask for tips on things to see and do in the area. Having a washer and dryer in the trailer is convenient, but doing the laundry takes more time. For full-time living, an individual washer and dryer setup is generally preferred over a combo unit. If the appliances are not installed, the extra space is a boon; ours is a coat, sweater and shoe closet.
Full-timers joke that the ideal trailer is a sprightly 25 feet when towing but a spacious 45 feet when parked. From the many fifth-wheels suitable for full-time use, we've assembled a dozen representative 2018 models in the 34- to 44-foot range that include everything from nimble condos on wheels to opulent rolling estates.
New Horizons Majestic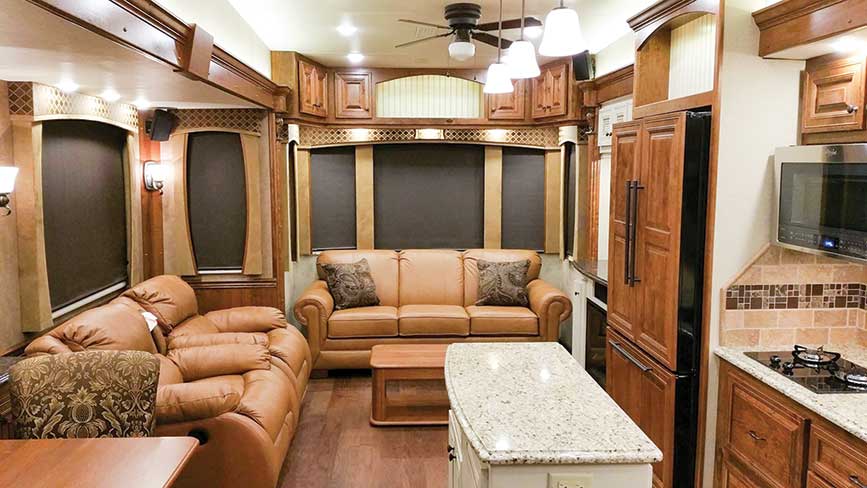 New Horizons offers two lines of high-end fifth-wheels built on in-house-manufactured frames with Dexter or MORyde axles: the lighter Summit in standard floorplans and the heavier, fully customizable Majestic. The M37RL3S is a wide-body (8½ feet) trailer that comes in just under 40 feet long. With a net carrying capacity (**ncc) of 4,960 pounds, it can hold a lot of equipment and supplies. An open floorplan with an optional sinkless island gives the living area a spacious and airy feeling (the sink is on the adjacent counter). The fiberglass roof and full-body paint with an automotive clear-coat finish make the exterior not only durable and handsome but easy to maintain. Holding tanks are sized well for extended dry camping.

800-235-3140
www.horizonsrv.com/models
---
Space Craft Manufacturing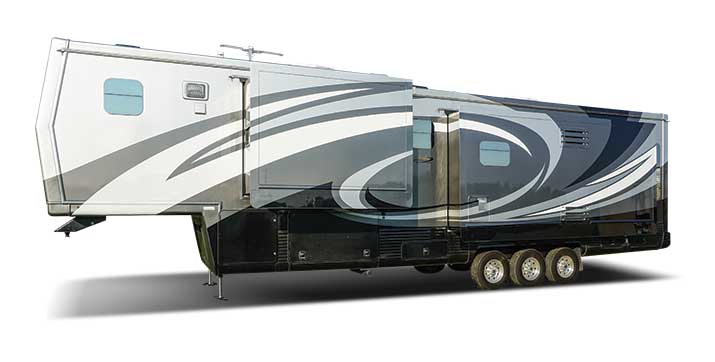 Space Craft builds fully custom trailers on in-house-manufactured frames. Each one-of-a-kind RV is designed specifically for its buyer. Every year Space Craft fabricates a fifth-wheel on spec for exhibiting at RV shows. The 2017 Show Model is a 40-foot wide-body beauty. From the fiberglass roof to the full-body gelcoat paint, this trailer is designed to withstand anything life on the road might deliver. With painted drywall inside instead of wallboard, a spacious bathroom up front and a half bath by the kitchen for guests, it is a plush rolling home. If you don't want an extra bath or need a different arrangement of kitchen cabinets and counters, just ask. Likewise, if you prefer bigger holding tanks or desire exotic hardwood cabinets and trim.

888-463-7520
www.spacecraftmfg.com
---
Northwood




Arctic Fox
Northwood Manufacturing offers two large full-time fifth-wheels, but a shorter, lighter one, the wide-body 29-5T, caught our eye because it features an efficient and open floorplan that used to be prevalent but is now hard to find. Just under 34 feet, it has a nearly L-shaped kitchen (more like a stocking) with enough counter space for two to work without an island. Everything is fully accessible when the two slides are closed, and with more than 4,800 pounds of carrying capacity, there's
little chance of overloading the trailer. The optional king bed is a larger-than-normal 74×80 inches, and holding-tank capacities are well-sized and balanced for extended dry camping. Dexter axles and a Northwood-manufactured frame provide a durable foundation.

800-766-6274
www.northwoodmfg.com/arctic-fox-2/arctic-fox-29-5t
---
DRV Mobile Suites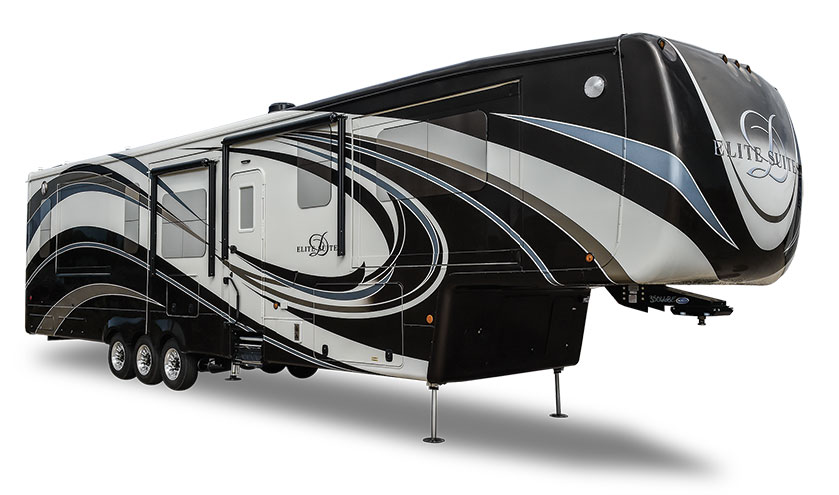 DRV builds the stuff full-time-RVing dreams are made of, and its 44 Nashville is a stunner. At 44 feet 2 inches long, with a wide body and six slides, it is an extremely large unit, ideal for full-timers who love entertaining and settling into favorite locations for extended periods. The large living room upstairs features two long sofas, each in its own slideout, plus a pair of recliners. The view from upstairs into the kitchen makes it feel especially airy. With the kitchen sink against a wall, the center island is perfect for laying out a spread of food. The master bedroom has a full private bath, and guests can use the half bath. Dexter axles and disc brakes are standard.

260-562-1075
www.drvsuites.com/mobile-suites-luxury-fifth-wheels
---
Highland Ridge Open Range
The 3X377FLR has an inviting living room in the front with two love seats, each in its own slideout surrounded by windows, and a pair of recliners that face the entertainment center and electric fireplace. With the living room upstairs, the kitchen becomes a separate room that includes a dining nook in its own window-enclosed slideout. A hutch with a long counter in the kitchen offers lots of solid lower-cabinet space that is not hung on the walls, ideal for stowing heavier items, plus the 4,135-pound carrying capacity is sufficient for filling the shelves. A private back door to the master suite makes the bedroom and bathroom fully accessible when the five slides are closed.

260-768-7771
www.highlandridgerv.com/
products/2018/open-range-3x
---
Redwood Luxury Vehicles
The elegant RW390/RW3901WB is just over 40 feet long with a standard width and three slideouts. The upstairs master suite is spacious and feels like home, with a large bathroom and dual vanities, plus a walk-in closet and another closet for hanging clothes or installing an optional washer and dryer. Brightening the bedroom, a window runs the width of the king-bed slideout rather than standard small windows on either side.
A kitchen bar nook and a center island with a sink provide ample counter space for two people to prepare meals at the same time. When the kitchen slide is closed, the refrigerator's right-hand door and the entire bar nook are accessible. Dexter axles are standard, and disc brakes are an option.
855-226-7496
www.redwood-rv.com/model/redwood/RW390/3901WB
---
Keystone Montana High Country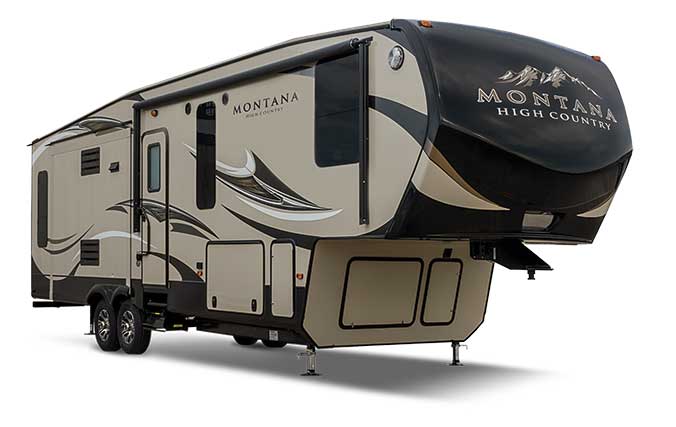 The triple-slide 380TH is for full-time RVers who don't want to give up their garage. Utilizing a clever two-story design in the rear bedroom, the queen bed sits on a platform above a large garage space. The garage can hold an ATV or bikes or a workbench with tools, and its ceiling raises and lowers, along with the bed above. The kitchen is bright with an L-shaped counter and large hutch with lower cabinets. Up front, the cozy living room has two love seats and a couple of recliners. Touring the 380TH, we had no idea it had a garage until we peered through the rear-ramp door at the "man cave."
866-425-4369
www.keystonerv.com/montana-high-country
---
Cedar Creek Hathaway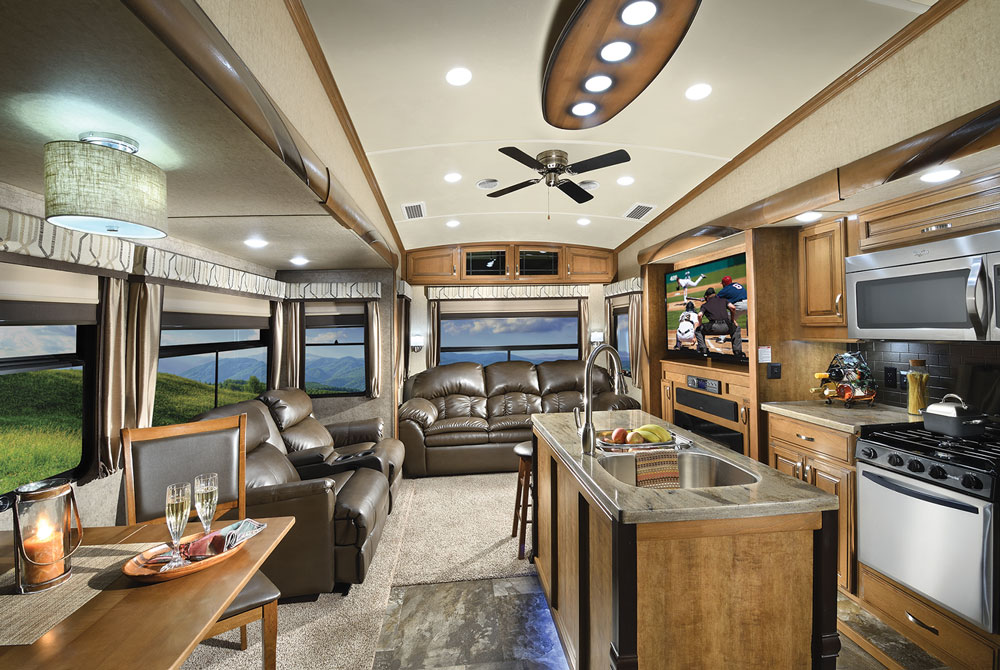 The 34RL2 is a popular triple-slide layout in a nearly 38-foot standard-width body. The kitchen includes an island plumbed with a sink, providing lots of counter and cupboard space, and the rear-lounge living area has a big cushy sofa across the back of the trailer. Recliners in the curbside slide face the electric fireplace and entertainment center in the opposing slide, making it easy to watch TV without having to turn the screen or chairs.
The bathroom has his-and-her vanities, and a coat closet is near the entry door. With more than 4,200 pounds of carrying capacity, this rig is prepared to shoulder the load of full-time living.

260-593-4000
www.forestriverinc.com/fifth-wheels/cedar-creek-hathaway-edition
---
Jayco Pinnacle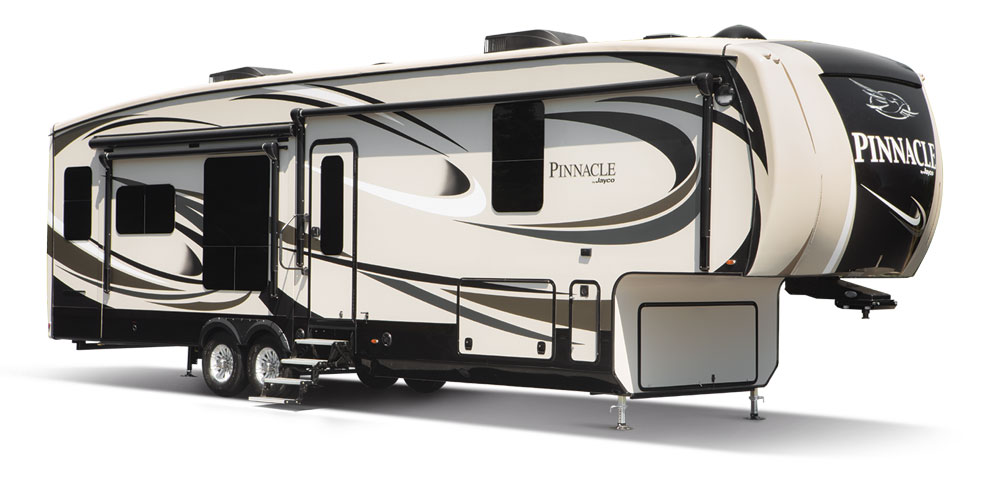 The 36BPTS is a similar triple-slide floorplan in a spacious and larger layout at nearly 41 feet with a wide body. It includes a double-vanity bathroom in the master suite up front and a half bath for guests by the kitchen. The television is installed on a clever lift system, making it possible, when the TV is turned off, to lower it into a cabinet and enjoy the view and extra light from the window behind it. When the slideouts are closed, there is good bathroom and bedroom accessibility, and the whole kitchen except the pantry can be reached. The fifth-wheel has a solid foundation on Dexter axles with a MORryde suspension system and Goodyear tires.

800-283-8267
www.jayco.com/products/fifth-wheels
---
Heartland Bighorn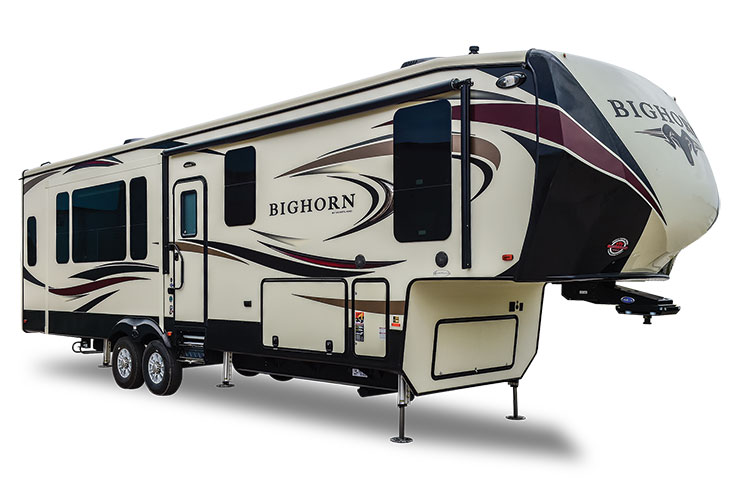 Nearly 40 feet long with the standard 8-foot body width, the BH3575 Elite is an airy version of the popular island-sink kitchen with a rear-lounge layout. The curbside slideout with the dining table and recliners has a 7-foot 2-inch ceiling height. With no cabinets in the slide, the windows are enormous, giving the feeling of a sunroom. A wide pull-out desk in the entertainment center can support a laptop, and the refrigerator and pantry are easily accessible for a lunch stop when the slides are closed. A big window brightens the bedroom, although the king bed is only 70×80 inches. Carrying capacity is limited, but with fewer storage compartments than some units, owners will be less inclined to overload the trailer.

877-262-8032
www.heartlandrvs.com/brands/
luxuryfw/bighorn/bh-3575-elite
---
Grand Design Solitude
Just under 35 feet, the wide-body 310GK is a shorter, more maneuverable version of the island-sink kitchen in a rear-lounge model. A wide, low window running the width of the queen bed gives the bedroom extra light and a view. The wall-mounted dinette eliminates the table's foot- and leg-blocking pedestal and prevents it from tipping over, especially when braking hard. A second awning over the curbside windows is a savior on hot and long summer days. Immense fresh- and gray-water tanks are welcome, but a bigger black tank would be better matched. The relatively modest carrying capacity will keep owners living light, which can be a good thing.

574-825-9679
www.granddesignrv.com/
showroom/2018/fifth-wheel/solitude
---
KZ Durango Gold

The wide-body G370RLT is a lighter, more affordable version of the same floorplan with a gvwr of 14,500 pounds. It is spacious, at almost 40 feet long, and has a gelcoat exterior. Carrying capacity is limited at 2,814 pounds, but full-timers who travel light and are mindful of installing options or loading extra gear can stay within the weight limit. The trailer rolls on Dexter axles, and a factory upgrade to G-rated tires is available. The kitchen offers a full-size pantry and many sturdy lower cabinets, and the sizable wastewater tanks are ideal for extended dry camping.

800-768-4016
www.kz-rv.com/products/durango-gold-fifth-wheels
Specifications provided by the manufacturers.
*CCC: Cargo Carrying Capacity equals the gross vehicle weight rating (gvwr) minus unloaded vehicle weight (uvw) and full LP-gas weight. **NCC: Net Carrying Capacity equals the maximum allowable weight of supplies and optional equipment that can be carried by the RV including personal belongings, food, fluids, LP-gas and dealer-installed accessories.
---
Trailer Life columnist and frequent contributor Emily Fagan has traveled full time by RV and sailboat with her husband, Mark, since 2007. The couple's photos have appeared on more than 25 magazine covers and wall calendars, and Emily's lifestyle, travel and how-to articles have been featured in more than a dozen RV and sailing publications. Follow their adventures on their blog, Roads Less Traveled.