Protecting your motorhome is easy with a quality cover from one of these manufacturers
When buying a new motorhome, the fact that you'll likely have to store it for long periods of time is far from your mind. In the heat of the purchasing process, you are no doubt blinded by visions of leaving your stick home behind and traveling the open road quite often. But, try as we might, over the years most of us are faced with having to store our favorite motorhomes at some point and return to our residential homes.
When the time does come, the ideal setup is a nearby climate-controlled storage facility with 24/7 surveillance and security. But here in the real world, that may not be a viable option, so we are forced to select the nearest open-air parking-lot style facility, carport or, if allowed, our very own pad or driveway. All of which is fine, but results in our prized investment being exposed to the elements. Things like UV rays, rain, snow and bird droppings all add up to an accelerated deterioration of the motorhome's roof, side walls, seams and tires, and even the interior furnishings that are exposed to the reach of the sun.
In order to help slow down the motorhome's aging process and help retain resale value, you'll need to purchase a quality cover. And while it may seem like a considerable chunk of change up front, even the most expensive cover will likely set you back only the same amount that a few months' rent in a storage facility would.
Covers are available with a variety of construction techniques, using polypropylene, polyester, Tyvek synthetic material and Sunbrella woven acrylic fabric, and are often designed in varying protection levels depending on the severity of the climate. Be sure to select a cover that has been manufactured for the climate in which you live.
To help you with that process, the following pages include some of the top cover manufacturers and suppliers in the RV industry.
ADCO
ADCO, a division of Covercraft Industries, is the oldest and largest branded RV cover manufacturer. Cover applications are available for virtually every Class A and Class C motorhome ever produced with solutions for full vehicle covers as well as protection products for windshields, tires, vents and air conditioners.
ADCO's most popular RV cover is called Designer Series Tyvek Plus Wind. This all-climate cover features a patent-pending slip-seam strapping system to minimize premature wear from wind, and allows the cover to form a contour-fit on the motorhome. Prices average between $300 and $500 for most Class A's and Class C's.
For storage in moderate climates, ADCO offers the Designer Series SFS Aqua-shed. This line also carries the designer aesthetic and comes at a cost of $200-$400 for most motorhomes.
For the ultimate in protection, ADCO offers custom-fit covers, which are outfitted with DuPont Tyvek and Glen Raven Sunbrella, combining two of the most respected names in the outdoor-fabric industry. They are backed by a four- or five-year warranty, depending on fabric. Contact ADCO directly for pricing.
ADCO's RV Roof Cover weighs a fraction of what full-size RV covers weigh and installs with a unique anchoring system. These covers drastically reduce internal temperatures during storage and prolong the life of the motor­home's roof. Prices range from $200-$300.
ADCO Products | 800-541-2326 | www.adcoprod.com
CalMark Covers
CalMark has been in the RV cover business for 35 years. Many components of the covers are military-compliant quality, and all fabric and parts are made in the USA.
CalMark utilizes Sunbrella material because it is water-resistant, breathable, mold and mildew resistant, and non-abrasive. All CalMark covers come complete with exclusive fabric stress reinforcement (FSR) roof construction for longevity/strength. FSR is a 2-inch wide, 1,000-pound rated webbing sewn on the inside of the roof. Other features include a zippered door entry with invisible backed zipper to prevent scratching, double-stitched seams for added strength, oxidized tie down straps with quick/easy release buckles and extra fabric patches, and a repair kit. The covers are customized to the measurements provided by the customer. CalMark covers are backed by a six-year warranty. MSRP: Starts at $550.
CalMark Covers | 800-838-7236 | www.calmarkcovers.com
Camco
Camco offers two lines of covers for different levels of protection for motorhomes.
The company's Ultra Guard covers are available for Class A and C motorhomes, in addition to vans up to 18 feet in length. Designed especially for cold, snowy regions, Ultra Guard covers feature a triple-layer SFS top panel that beads water to provide resistance to rain and snow. The vented design is said to resist mold and mildew growth, while vented flaps reduce wind lofting. The covers also feature interlocking seams, heavy-duty polypropylene sides, a self-adjusting hold-down strap system and heavy-duty integrated zippers that allow easy access to doors and storage bays with the cover in place. MSRP: Starts at $372.99.
The newest addition to Camco's RV covers lineup is the Ultra Shield, available for Class A and C motorhomes exclusively at Camping World. Ultra Shield premium RV covers make use of ultrasonic welding to reinforce and extend the life of the cover. Ultrasonic welding is the practice of joining two surfaces by applying high-frequency acoustic vibration under pressure to create a weld, meaning there are no needle perforations or worry of thread deterioration (as there is no thread). Each Ultra Shield cover is made of two layers of spun-bond polypropylene, with an additional layer of triple-stitched Tyvek on the roof area to reflect damaging UV rays. Elasticized corners hold the covers in place, while front and rear cinching straps combine with a buckle system to keep things securely fastened. Zippered entry doors allow for easy access, while covered air vents help reduce billowing. Each cover includes a ladder cover and gutter protectors, a patch kit and a carrying bag. Camco backs Ultra Shield covers with a three-year warranty. MSRP: Starts at $506.99.
Camco | 800-334-2004 | www.camco.net
Camping World | 888-626-7576 | www.campingworld.com
Classic Accessories
Classic Accessories' collection of RV cover styles and sizes extends to the three collections available, using the good-better-best model.
The PolyPRO1 collection is designed to be a light but strong dust cover, performing best when the motorhome is under a canopy or inside a garage. PolyPRO1 provides a single-ply of polypropylene capable of absorbing UV rays and preventing rain damage. This reasonably cost-effective RV/motorhome cover may need to be replaced more often than other Classic Accessories collections. This collection is backed by a two-year limited warranty. MSRP: $135.99-$167.99.
The "better" PolyPRO3 collection utilizes a durable triple-ply polypropylene fabric providing all-season protection against rain and sun. The triple-ply is on the top of the cover and is designed to prevent UV rays from damaging the roof's texture and color. This collection is backed by a three-year limited warranty. MSRP: $225.99-$504.99.
The top-of-the-line PermaPRO collection features ripstop technology (the same material used in parachutes). Ripstop essentially means that there are additional woven threads against the weave of the material to add strength, helping to prevent and mitigate tears. The polyester material on the PermaPRO is said to be less bulky than most RV covers and is designed for storage in any climate. PermaPRO covers also come with air vents, tension panels and extra-long zipper pulls. These covers are backed by a limited lifetime warranty. MSRP: $255.99-$598.99.
Classic Accessories | 800-854-2315 | www.classicaccessories.com
CoverQuest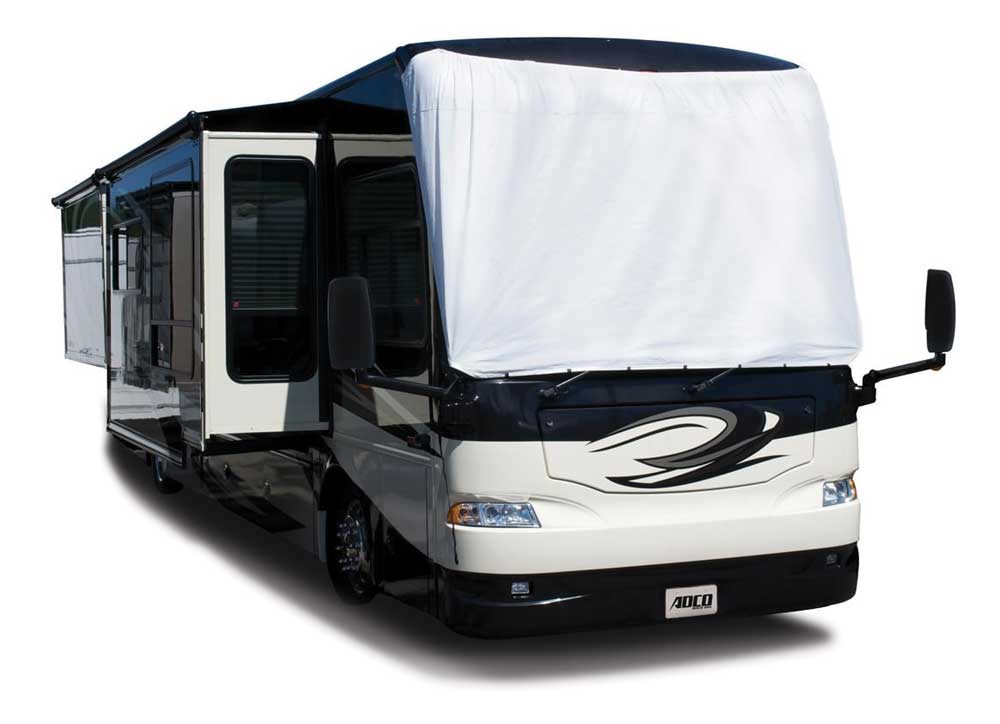 CoverQuest is a distributor that carries popular brands of full motorhome covers, in addition to a variety of more application-specific accessory covers. Full covers are offered for all motorhome classes, and prices range from $163-$803. ADCO roof covers are available starting at $179, while ADCO Tyre Guards range from $18-$46.
CoverQuest also offers ADCO motorhome windshield covers to help keep the motorhome's interior cool on hot summer days, in addition to adding a level of privacy. The covers are available in a variety of sizes, and do not require the installation of snaps or drilling holes, according to the company. MSRP: $39-$80.
CoverQuest | 888-726-9300 | www.coverquest.com
Eevelle
Eevelle has been manufacturing high-quality RV covers since 1994. All Eevelle covers offer heavy-duty reinforced corners to resist snagging and tearing, along with multiple zippered panels at entry points to allow easy access during storage.
Eevelle's most popular RV cover brands are Goldline and S2 Expedition.
The S2 Expedition is available for Class A and Class C motorhomes and is constructed using three breathable layers of X-Strength fabric and a Durapel finish for water-resistance. It is treated with a UV-ray inhibitor, and its micro­porous film allows for increased breathability to prevent mold and mildew. Unique full height front and rear tension wings simplify installation and help create a customized fit. Expedition covers include a three-year warranty. MSRP: $333.99-$445.99.
Eevelle's flagship Goldline covers are available for all motorhome classes and are crafted from woven marine-grade fabric and embedded with a UV inhibitor to stand up to harsh climates. Integrated dual-flow vortex vents reduce lofting in high winds, while sizing straps ensure a snug, custom fit. Goldline covers come with a five-year warranty. MSRP: $359.99-$719.99.
Eevelle | 800-757-3090 | www.eevelle.com
Elements
Elements covers are available for Class A and Class C motorhomes exclusively at Camping World, and are offered in two levels of protection.
Elements All Climate covers are water-resistant covers that feature a heavy-duty Tyvek roof for easy use and improved durability. All Climate covers have been constructed with reinforced roof panel handles to help with cover positioning; poly-formed grommets that won't rust or corrode; reinforced solid vinyl panels behind grommets and buckles; unique elastic inserts plus adjustable straps on the front and rear for a snug fit; and reinforced vinyl front and rear bumper corners for extra wear protection. The covers come complete with a storage bag and six Tyvek Gutter Gard protectors to protect the cover from sharp edges. Zippered panels allow for easy entry and access to storage areas while the cover is in place, and the cover is backed by a two-year warranty. Prices start at $371.99.
Elements Premium RV covers offer even more protection against UV rays, rain, snow and environmental hazards. The Premium covers offer all the benefits of the All Climate covers, plus water-repellant Poly-Oxford fabric that has been tested for superior strength and durability. The Premium covers are actually lighter than the All Climate models for easier handling and coverage, plus the integrated vents feature mesh insets for better ventilation. The Premium covers add lock-stitched UV-protected straps and buckles, and are also backed by a two-year warranty. And, Premium covers store up to 50 percent more compact than the All Climate covers. Premium Covers start at $466.99.
Elements by Camping World | 888-626-7576 | www.campingworld.com
Empire Covers
Empire Covers offers covers for each motorhome classification. For short-term outdoor and long-term indoor storage, the ProTECHtor covers are made from spun-bonded polypropylene material. Full-height zippered panels offer complete access, while elasticized corners and a buckle system ensure the cover will stay put in windy conditions. Prices for the Class A start at $168.86; Class B's begin at $128.32; and Class C's begin at $154.91.
For storage in more harsh climate conditions, Empire's Premier covers are made out of a long-lasting 300-denier polyester material to provide long-term, all-weather protection for the vehicle. The cover is waterproof, with an added durable water repellent (DWR) coating for ultimate water protection, and is manufactured with taped seams to help ensure that no moisture penetrates through to the RV.
Air vents are strategically located on the top of the cover to prevent air billowing, and a buckle system helps secure the cover to the motorhome. Class A prices start at $362.99; Class B's start at $219.99; and Class C's start at $351.07.
Empire Covers | 888-872-6855 | www.empirecovers.com
Pro Tips
Measuring
When measuring your motorhome for a cover, do not rely solely on manufacturer specifications. To determine which size of cover you need, measure the complete length of the motorhome from the front bumper straight back to the rear of the motorhome. Be sure to include any spare tires or ladders in this measurement. For complete height, measure from the base of the motorhome to the top of the roof, but this time exclude all A/C units, vents, satellites, etc.
Installation
Covering your motorhome will become easier with a little practice. Before you begin, be sure to protect the covers from any sharp edges on the motorhome and its components; wrap any offenders (such as antennas, gutter spouts or solar panels) with a towel or foam scraps.
It's best to have a helper while covering your motorhome, especially while you're on the roof. First, make note of the front, which is usually identified with a label or sewn-in tag. Next, unroll the cover behind the motorhome, which will make handling the cover easier. Once that's done, fold the sides of the cover inside out before climbing the ladder. Once on the roof, hold the cover by its front, and pull the entire cover forward to the front of the motorhome. Next, starting at the front and moving down both sides, drape the cover off the roof and all the way to the rear. Use caution while descending the ladder. Pull the sides of the cover down to the bottom of the motorhome, secure the cover in place and you're all set.
---