Like RV snowbirds, our feathered friends are soaking up the sun before flocking back to their northern breeding grounds. Here are five places to get a bird's-eye view of everything from crested caracaras to sandhill cranes along North America's migratory flyways
In the past decade, the popularity of birding has skyrocketed. Entire shops are devoted to backyard birding, and some of the most visited Internet sites are nest cams. Who hasn't watched a V of geese head south, sought a ruby bird in a bush or cracked a smile at the larceny of a gray jay or opportunistic gull? Birding is a natural calling, and it pairs perfectly with RV camping. The fast-evolving driving routes known as birding trails just speed the marriage along.
Birding trails stitch together parks, preserves, wetlands and other sites where birds feed, stop over and nest. The ecotourism concept for unifying these spots by geographic area and byway started in Texas in 1996 with the Great Texas Coastal Birding Trail.

Situated on the Mississippi and Central Flyways, with more bird species than any other state, Texas was a natural place for inspiration to strike. The concept has since spanned the nation and jumped the border to Canada, becoming the best Texas export since picante sauce.

RVers luck out because many of the routes roll past public and private campgrounds, and all lay out ready-made itineraries. Birders can stroll boardwalks, hunker in blinds (actually, many are quite comfortable) and grow their lists of sightings, as well as hike, canoe, sightsee, fish, picnic and uncover the past. And, of course, photographers are bombarded with subjects.

Devoted to responsible birding, the nonprofit American Birding Association (www.aba.org) is a clearinghouse for recreational birding information. Other Web resources include Audubon (www.audubonmagazine.org), Bird Watcher's Digest (www.birdwatchersdigest.com) and Environment for the Americas (www.birdday.org).

For the most current information, tap local Audubon chapters and state park and fish and wildlife departments, and check the racks at local and state visitor centers for printed materials. Colorful, detailed brochures showcase the drives, which tend to be well signed on the ground.
Site listings can include directions, hours, fees, facilities and activities, as well as hint at some of the feathered attention-grabbers. Although some sites can accommodate RVs, others are better suited for passenger vehicles. Sometimes the hunt begins right in camp (see "Where to Nest" on page 27).

The selection of well-known and obscure stops comes from insider knowledge. Onsite interpretive boards and turn-card ID displays can help with bird identification.

Seasonal migrations along the Atlantic, Central and Pacific Flyways amp up excitement; so, too, does a rare interloper. Years ago while traveling the Idaho Birding Trail, my husband and I spotted a Chilean flamingo. Escaped from Utah's Tracy Aviary, this Pink Floyd was popping up all around the West. In new areas, homegrown species can get the heart pumping. To report a rare bird, go to North American Rare Bird Alert at www.narba.org.
Birding trails have led us across the West, and we've traveled parts of the Great River Birding Trail along the Upper Mississippi River and the Connecticut Coastal Birding Trail, still in development. In Pennsylvania we followed the Susquehanna River Birding Trail, retracing the 1829 journey of John James Audubon. And in Washington state, we were torn between watching snowflakes swirl around wintering bald eagles on the Upper Skagit River and a confetti of snow geese lifting off silent fields in the lower Skagit Valley. Wherever we wander, we try to locate a nearby birding trail to enrich our travels.

Here are five to get you started.
Great Texas Coastal Birding Trails

No roundup would be complete without the trail that started it all. Divided into its Upper, Central and Lower reaches, the Great Texas Coastal Birding Trails' 43 driving loops knit together 300 sites, including Santa Ana National Wildlife Refuge and South Padre Island. More than 450 of the state's 600 bird species find habitats in the coastal waters, marshes, shores, scrub reaches and woods.
Within minutes — not hours — we spotted skimmers (the emblem for the coastal drive), crested caracaras, laughing gulls, spotted sandpipers, blue herons, reddish egrets, willets and turnstones. Warblers serenaded us, while indigo buntings, scissor-tailed flycatchers and itty-bitty hummingbirds treated the eye. All the while we enjoyed the walking paths, boardwalks, fishing piers, levees and gulf-washed shores, tourist attractions and places of history.

Following its success at the coast, Texas has added four inland birding trails for border-to-border coverage: Far West, Panhandle Plains, Heart of Texas, and Prairies and Pineywoods. With nearly 1,000 stops, birding Texas will keep you wheeling and reeling.

At several park campgrounds along the routes, blinds and feeding stations attract birds. At the blinds, knowledgeable birders are eager to share — just don't scare off
your subject.
California's Eastern Sierra Birding Trail
This driving route unites big distances and breathtaking scenery with birding, visiting 40 sites, with Mono Lake the magic orb. Mono Lake's unique chemistry, three times more saline and 80 times more alkaline than the ocean, fashions tufa towers (cavelike formations) and supports an unusual wildlife population of alkali flies and brine shrimp. These critters, in turn, support nesting and migrating California gulls, eared grebes and phalaropes.
Here, even single bird species can number in the millions. In late summer, Wilson's phalaropes voraciously feed, doubling in size for a jaw-dropping three-day nonstop 3,000-mile flight to South America. Gulls feed at the brine-fly-darkened ring of Mono Lake. Although most peck like chickens, you may spot an innovator like the charging vacuum cleaner we saw. Bill widened, head down, this gull raced headlong into the ankle-high cloud of flies, scooping up all in its path. With a gulp and spin, it would then repeat the run in the opposite direction.

The lake is a year-round destination with boardwalks and shoreline trails, bird counts done by volunteers, and canoeing and kayaking in July and August.

Other eastern Sierra stops take you to the high-mountain ghost town of Bodie and the unusual volcanic rock formation of Devils Postpile National Monument, and into canyons, forests and lake basins where you can discover other species.
Nebraska Birding Trail
I have always eased into Sunday with CBS Sunday Morning and its final unreported-on moments in nature. These few seconds introduced me to sandhill cranes and Nebraska's Platte River. The large, elegant, seemingly mythical birds flew out of the screen and into my imagination, making the Platte River a must-see on my Nebraska adventure. Not even the subfreezing temperatures and biting winds of an unusually cold spring blunted my determination, although camping at that time was a bit hard to find.

Nebraska Birding Trails unite 15 drives and 400 public birding sites, including more than two dozen globally significant bird areas. Our Platte Valley encounters included sandhill cranes, bald eagles, snow and Canada geese, kestrels and hawks. Along farm roads, we watched the cranes feed, jump, dance, stomp, nod and toss grass. We waited in the predawn hours with fellow devotees for the instantaneous morning fly-offs — first the geese, then the cranes. At dusk, we'd be back for the straggling returns of 50, 100 and 500 cranes to their chosen nighttime posts on the river.

Half a million cranes mark spring on the Platte. The chortling confusion and air-displacing whooshes of the great broad wings are forever memories.

But east-to-west-stretched Nebraska has plenty to offer year-round. In this land bridge, you can view species of the Great Plains and some more common to the bordering Rocky Mountain states. Routes visit the Niobrara and Missouri rivers, pinewoods, wetlands, sandhills, and short and tallgrass prairies. Boyer Chute National Wildlife Refuge on a generous bend of the Missouri River allowed us to combine birding with listening to the whisper of a restored tallgrass habitat.

Whooping cranes, sharp-tailed grouse, prairie falcons and golden eagles, colorful tanagers and warblers, and burrowing owls chummying with prairie dog towns all delight in Nebraska.
Maine Birding Trail
Maine, with its North Woods, sea-shredded coastline, blueberry barrens, beaver ponds, marshes and bogs, peaks, wild rivers and lakes, is ideally suited for birds and birding trail travel. Its statewide driving network visits eight regions and more than 80 birding sites.
We easily combined birding with our interest in the state's celebrated lighthouses, quaint villages, deep woods and moose waters, and still met such stars as Acadia National Park, Baxter State Park and Mount Katahdin, Maine's highest mountain. We hiked, canoed, camped and saw birds.

We listened to the haunting call of loons on remote waters and watched the scurry of piping plovers at Wells National Estuarine Reserve. We saw cormorants thread the channel at Cape Neddick Light. In darkened forests, we met the chickadees, grosbeaks and crossbills associated with the Canadian boreal forest. Woodpeckers telegraphed to us from unseen locations. From atop coastal cliffs, we watched common eider ducks dive in protected bays. The clear water allowed us to easily track their underwater swims and sudden pop-ups.

At Orono Bog in Bangor, we divided our admiration between the carnivorous plants, radial blooms of sundews and nodding accoutrements of pitcher plants, and the birds in the tamaracks, ferns and bog: ducks, geese, finches, flycatchers, phoebes, vultures, hawks and eagles.
Great Florida Birding and Wildlife Trail
A 2,000-mile roadway mesh organized into four sections — East, West, Panhandle and South — overlays the Sunshine State, gathering 500 birding sites. In each region, gateway stops help orient visitors. Examples include Merritt Island National Wildlife Refuge (East), Paynes Prairie Preserve State Park (West), St. Marks National Wildlife Refuge (Panhandle) and Corkscrew Swamp Sanctuary (South). Birding spots within an hour of each other are grouped for a buffet of preplanned mini-drives. With more than 500 bird species, you may riffle thin the pages of your Sibley  Guide to Birds.

Florida's diversity of swamps, hardwood hammocks, rivers of grass, longleaf pine and saw palmetto, sand hills, prairies, and salt- and freshwater environs host dabblers, waders, seabirds, songbirds and birds of prey. For up-close viewing, Florida birds are far more accommodating than any in the West. A great egret even cornered us on a dock. It arrived after us, blocking our exit. As we tried to grant it a safety margin, it advanced even closer, pinning us at the rail for a shared sunset.

In east Florida, we walked the levee trails of Lake Woodruff National Wildlife Refuge with a hopping entourage of black vultures. On Merritt Island's Black Point Drive, roseate spoonbills, grackles, egrets, anhingas, moorhens, tricolored herons, rodent-stalking storks and frog-eating rails grew our lists. Other Florida creatures earning notice were armadillos, alligators, dolphins and manatees.

Wherever you may travel, you don't need to learn ornithology to enjoy birding — just look and listen.
Birding Basics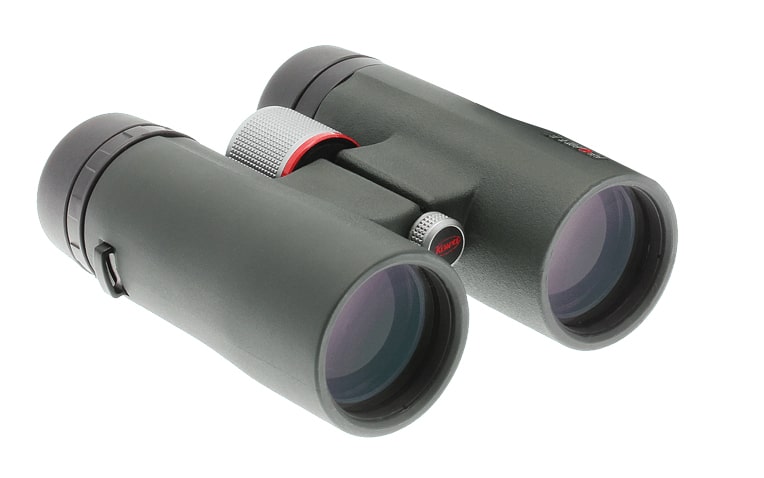 It's important to select a pair of binoculars that you actually are going to carry with you and use. If the pair is too heavy, awkward to handle or difficult to focus, you may miss out. With modern optics, a number of compact binoculars meet the requirements of ease, strength and price point. Avid birders say each user should have his or her own pair, fitted and ready to aim, so no behavior or sighting is missed and marriages are saved.
---