These attractions – Disneyland, Disney California Adventure, Knott's Berry Farm and Universal Studios Hollywood – appeal to the kid inside all of us
Everyone loves amusement parks and Southern California boasts the four granddaddies – Disneyland, Disney California Adventure, Knott's Berry Farm and Universal Studios Hollywood. While kids of all ages can have a ball touring these parks, prices can be steep. Park admission, food and nearby lodging can quickly drain your wallet. To save money, we decided to take in Southern California's sunshine and the major amusement parks in our motorhome. It turned out to be a real adventure.
I was born in Southern California's Anaheim where Disneyland and Disney California Adventure park are located. Back then, Anaheim was pretty rural and I walked to school through orange groves and strawberry fields.

Today, Southern California, and especially Anaheim, is dominated by chain hotels and restaurants. We see an occasional RV tooling along the many eight-lane freeways, but not many. And with high land prices, RV parks are scarce. (Disney just purchased one of the largest RV parks – Anaheim RV Village – to convert it into an employee parking lot.)

That's why we're thrilled to find Orangeland RV Park, a neat-as-a-pin, full-hookup park in Orange, a few miles from Disney's two parks. Built in 1971 on a former citrus grove, they saved many of the orange, lime, lemon, and tangerine trees and the owners encourage guests to enjoy the fruit. The trees and grass give the 195-site park a green feel that's missing from the surrounding landscape. And because it's located in the city of Orange, not Anaheim, the park doesn't charge the 20 percent bed tax that's attached to hotel and RV lodging in Anaheim.

We also love that Orangeland offers free Wi-Fi, two dog areas, a covered kid's play area, tidy showers/laundry facilities, and a big picnic/barbecue area where guests enjoy the great weather and dine alfresco. While we don't take advantage of their pool, billiards, shuffleboard or the mini-golf green, Orangeland makes a perfect home base for exploring the area's amusement parks.
Old California and Mickey Mouse
Like the other amusement parks, Disney offers plenty of parking, including parking for RVs. However, we're trying to cut costs, so we take Orangeland's shuttle service, which picks us up and delivers us to Disney's doorstep. With unlimited trips back and forth for $3 a day per person, it's a terrific choice.
Disney operates two parks – Disneyland and Disney California Adventure – right next to one another. Both are worth exploring. To save money, we've purchased 2-Day Park Hopper Tickets, which allow us to experience both.

We start with Disney California Adventure, where they've re-created the era between 1920 and 1950 in California. They've built downtown Los Angeles with old streetlights, an electric trolley and two- and three-story art deco buildings. It's fun to stroll these streets knowing this is a city my mother and grandmother would recognize.  

In the Cars Land town of Radiator Springs, there's an old-time motel, a junk store and Flo's V-8 Café, a clever re-creation of an old Route 66 gas station serving burgers and fries. There's also an impressive auto ride, Radiator Springs Racers, that transports us in individual race cars through a hilly, desert-like landscape and ends with a thrilling race, complete with sound effects, between our car and the one next to us that leaves us grinning.
Paradise Pier pays tribute to coastal California's piers and boardwalks with traditional midway games and fair food and California Screamin', a super-fast roller coaster that turns us around and upside down.

Before we leave California Adventure, we stop at The Twilight Zone Tower of Terror for a stomach-dropping elevator plunge. This popular ride takes us to the top of a creepy hotel with great views of the park and then repeatedly "drops" us so fast we're weightless in our seats.
After enjoying the evening at Orangeland RV Park, including savoring sweet oranges for dessert, we're up early for our Disneyland adventure. We hop the $3 shuttle and step into "The Happiest Place on Earth." The park is busy with groups of teenagers, families pushing strollers and wrangling wide-eyed youngsters, and plenty of kid-for-a-day grownups of all ages. Many sport Mickey/Minnie ears – glittery, striped, polka dot, furry, flowered and even themed ears like pirates, graduates, and brides and grooms. Despite the throngs, the park doesn't feel crowded. The happy energy is downright contagious and we're soon giggling like children.

We didn't bring our dogs, but Disney offers on-site day care ($20 per pet, no reservations). They don't allow coolers, but allow water and snacks (sidewalk vendor prices are high). We're also grateful for our comfortable shoes, hats and sunscreen.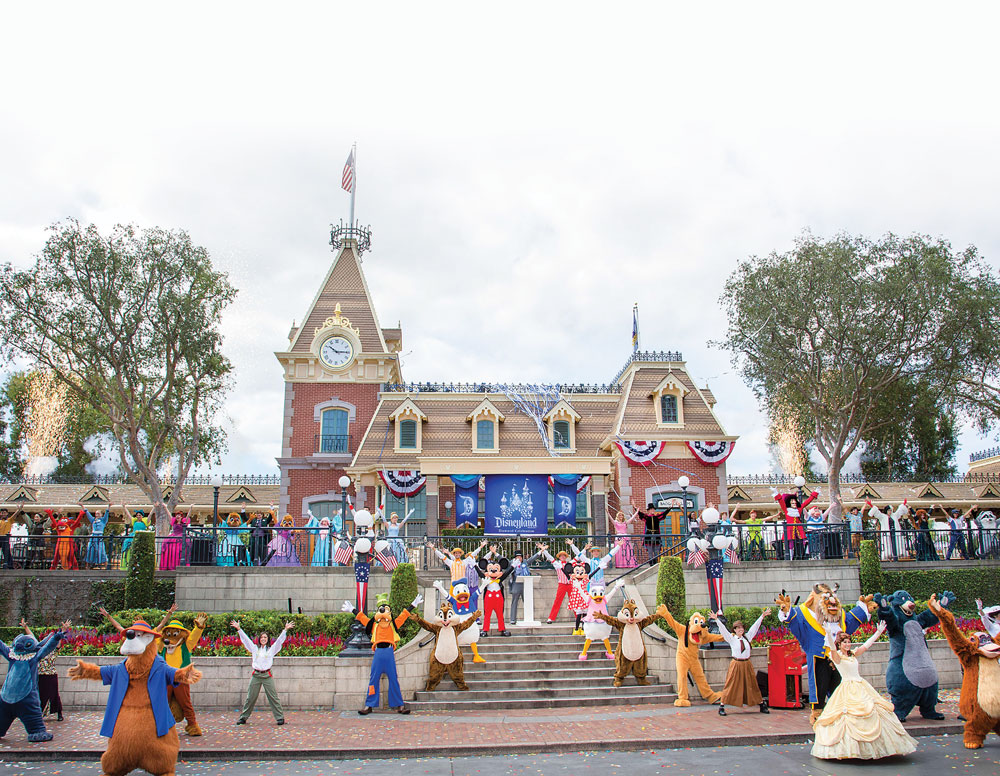 The happy energy is downright contagious and we're soon giggling like children.
Disney's FASTPASS reservation system enables us to hold a spot on popular attractions, come back at our appointed time and bypass the wait. We also use the single-rider system, each of us hopping rides singly that allows quick access (e.g., 5-minute versus a 60-minute wait on the Bobsled ride).

Disneyland is divided into "lands" – New Orleans Square, Frontierland, Critter Country, Adventureland, Mickey's Toontown, Fantasyland, Tomorrowland and Main Street, USA. Designed so that guests are immersed in a story being told through the senses, Magic Kingdom buildings are scaled to give the illusion of full-size street scenes. Staff, called cast members, are in full costume and live music floats from every street corner.

Many iconic landmarks like the Matterhorn Bobsleds, Sleeping Beauty Castle, and the space-age Disney Monorail are still here. We love exploring the various landscapes with their lifelike attention to detail, but we're hooked on the adrenalin-rush attractions. Tomorrowland's Star Tours puts us into a "Star Wars" movie and Space Mountain whisks us through space with amazing optical illusions that leave us spinning.

Hunger forces us away from the rides and we head to Plaza Inn, a cafeteria-style restaurant in a Victorian farmhouse. We split three pieces of crispy fried chicken, mashed potatoes, green beans and a biscuit for the bargain price of $15.99.

Then we head to the Indiana Jones Adventure ride, an off-road journey that puts us in the "Temple of Doom" movie, including a thrilling moment where a huge boulder threatens to squash us flat. The high-speed roller coaster Big Thunder Mountain Railroad has us twisting and turning through blasts of steam and smoke. And Splash Mountain, a flume log ride that moves through Br'er Rabbit characters and landscapes, surprises us with two big drops that leave us laughing and refreshingly damp.
Western Landscape, Thrill Rides
On day three, we head to Knott's Berry Farm, site of a former truck farm operated in Buena Park in the 1920s by Walter and Cordelia Knott. Now a 160-acre amusement park, this family-friendly multigenerational theme park combines authentic Western history with high-tech thrill rides.
Instead of scheduling a ride with Orangeland's shuttle service (it's not a scheduled trip), we drive and park in Knott's ample lot ($20 for RVs). Our stomachs are already rumbling, so we walk to the famous Mrs. Knott's Chicken Dinner Restaurant located just outside the park's gate (free three-hour parking for restaurant guests). An older server in a striped dress and tennis shoes ushers us into the 1960s maple-and-flowered-wallpaper dining room and we order chicken dinners. It's a delicious pile of food – salad or soup, four pieces of home-style fried chicken, a mountain of mashed potatoes and creamy country gravy, corn or cabbage with ham, an entire plate of light-as-air buttermilk biscuits and pie or sherbet – all for $17.99. We box up the leftovers, including boysenberry pie, and stash them in the RV's fridge for later.  

Knott's Berry Farm has distinct regions – Ghost Town, Calico Square and Camp Snoopy – and wild roller-coaster-style rides that snake up, over and around the park. Ghost Town is much like I remember it – a Western town with replicated or authentic buildings and artifacts like an 1879 one-room school house, an 1881 steam engine, a historic Dentzel carousel and Calico Mine ride and a museum filled with old guns, barbed wire, branding irons and more.

Entrance costs about half the price of Disney (senior discounts available) and the park is filled with families enjoying the sights, rides, and the many shady spots to sit and people-watch. We buy Fast Lane Passes for a few extra dollars for head-of-the-line ride access.

Attractions like the steam train, stagecoach and Wild West show are great for all ages. Camp Snoopy's kid-sized rides are designed for little ones. We leave the 15 fast and furious high-tech rides, including Ghost Rider, a giant, old-style wooden roller coaster, and the Silver Bullet suspended roller coaster that rises 146 feet, drops 109 feet and sends riders screaming through twists, turns, spirals and upside down rolls, to the more daring.   
We're in the Movies
The next morning, we're off to Universal Studios Hollywood. Located near downtown Los Angeles, it's a 45-minute freeway drive and we tuck the coach into Universal's RV parking area. While Disney parks combine fantasy and sensory-intense rides and Knott's Berry Farm pairs authentic history and heart-stopping thrill rides, Universal Studios Hollywood puts visitors into the movies. This park celebrates and brings films to life. Our Front of the Line passes, which cost a bit extra, make it quick and easy.

We take the Universal Studio Tour tram through moviemaker backlots – fronts of Western towns, New York city streets, European
For More Information

Anaheim Resort RV Park
714-774-3860 | www.anaheimresortrvpark.com
Disneyland Parks
http://disneyland.disney.go.com
When visiting Disneyland theme parks, RVs should use the main entrance to the Mickey & Friends Parking Structure, located south of the Disneyland Drive and Ball Road intersection.
Knott's Berry Farm
714-220-5200 | www.knotts.com
Orangeland RV Park
714-633-0414 | www.orangeland.com
Universal Studios Hollywood
www.universalstudioshollywood.com
---