Q: We have a 2008 Ford F-350 Super Duty with a 6.4L diesel and automatic transmission, purchased new. This problem only happens on rare occasions. It has happened approximately 12 times in 40,000 miles. After stopping at a light or stop sign the pickup does not shift down into first gear, so when I start off there seems to be little power or speed. As I push harder and harder on the accelerator pedal, the transmission finally seems to shift down and the wheels spin. I did encounter a person in a campground with the same drivetrain who had experienced the same problem, which resulted in his transmission having to be replaced. Ford has not been helpful. They do not find any codes; once they did an update on the computer, which seemed to help, but it has happened again.
– John Omdahl | Apache Junction, Ariz.  
A: That's a tough one because it occurs so seldom. This precludes borrowing a scan tool that has a snapshot (AKA flight recorder) function, which could record what the transmission and computer are doing at the time. If the vehicle speed sensor wasn't working properly at times (or the wiring or connections to it was intermittent), that could cause the computer to not "think" that the vehicle was stopped, and might cause the transmission to not downshift to first. However, that malfunction should trigger a warning light and trouble code. Let's hear from other readers who may have had this problem and how it was cured.
– Ken Freund
---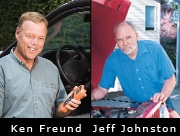 To send your questions to RV Clinic, write to 2575 Vista Del Mar, Ventura, Calif., 93001; or email [email protected]. Also, check out TrailerLife.TV for our expert RV how-to videos.