The current crop of fifth-wheel trailers comes with a wide range of features and in extensive sizes and prices. To find the best fit, consider all of the options
Every good value shopper chases after the brass ring: maximum bang for the buck. But, as anyone who's taken a deal that's too good to be true will tell you, you get what you pay for. The secret is knowing what you're paying for.
When shopping for a new fifth-wheel trailer, the first step to getting a good buy is arming yourself with knowledge, but before diving too deeply into the research waters, the most important source to consult is yourself. Only you can establish the guide rules that will steer you right.
You don't want to overbuy, so find your "sweet spot." Think about how you'll use the fifth-wheel — and not just your own ideal but the needs of your travel companions. You love baseball and want to visit MLB stadiums, but the roller-coaster nut in your household would rather hit amusement parks, so you might end up doing a little of both, along with visiting fruit festivals for the cook who likes to bake pies (lucky you). So, where will that take you?
How far will you venture out, and for how long? No need to shell out for larger appliances and more exotic components if you're taking shorter, closer trips. If you're going off-grid, look at power options — solar prep is a nearly omnipresent feature — as well as freshwater- and holding-tank sizes. If you'll be frequenting national parks, be aware that some campsites can't accommodate longer RVs.
Rocky roads will need more rugged tires and a hardy suspension, but standard gear will do just fine on highways and paved lots. What's the weather forecast? If it'll be hot, make sure the air-conditioning system and power can efficiently support your comfort level. Four-season campers will need heated and enclosed compartments, especially around holding tanks. Either way, make sure there's good insulation to protect from any extreme.
Next is your tow vehicle. Loaded trailer weight and the truck's ability to handle it are the priorities, and for good reason: lives depend on responsible towing. At the risk of sounding cynical, trust no one's word for a particular truck's tow rating and a fifth-wheel's gross vehicle weight rating (GVWR). Consult the vehicle labeling and manufacturer's specs to ensure that any fifth-wheel you're looking at can indeed be safely pulled by the tow vehicle. Don't forget the added weight of optional equipment, full tanks and cargo, and look for practical data (the weight of water, for instance) to plug into your computations, rather than guesswork.
Adapt to the Market
Shopping around for a fifth-wheel can be a good deal of fun, so we've provided some examples of new models with base prices from just shy of $30,000 to nearly $100,000. Current trends are placing swankier features across the board, even at lower price points. Theater seats, larger windows and four-season capability are more common than not these days. We're also seeing the emergence of double bathroom sinks, bedroom-dresser "bump-outs" (smaller slideouts) and even secondary bedrooms.
The crux of this search is your willingness to adapt, because the perfect fifth-wheel probably doesn't exist. It's up to you to find the closest model to fulfill your requirements. Take your cue from the Declaration of Independence, which doesn't promise happiness served to all people on a platter but rather offers the opportunity to pursue it on your own. And the pursuit itself is what RVing is all about.
---

Come bedtime, an RV can be like a stretch limo — it's been great for entertaining, but you'll have to wait until the party dies down to grab some couch and snooze alongside the other passengers.
Not so with the Milestone 377MB, which has a midship second bedroom containing twin bunks in a slide, plus its own en suite half bath. A window graces the top bunk, and storage cubbies frame the base, with reading lights in both. Heartland leveraged the second bedroom's footprint to the hilt by topping it with a carpeted loft.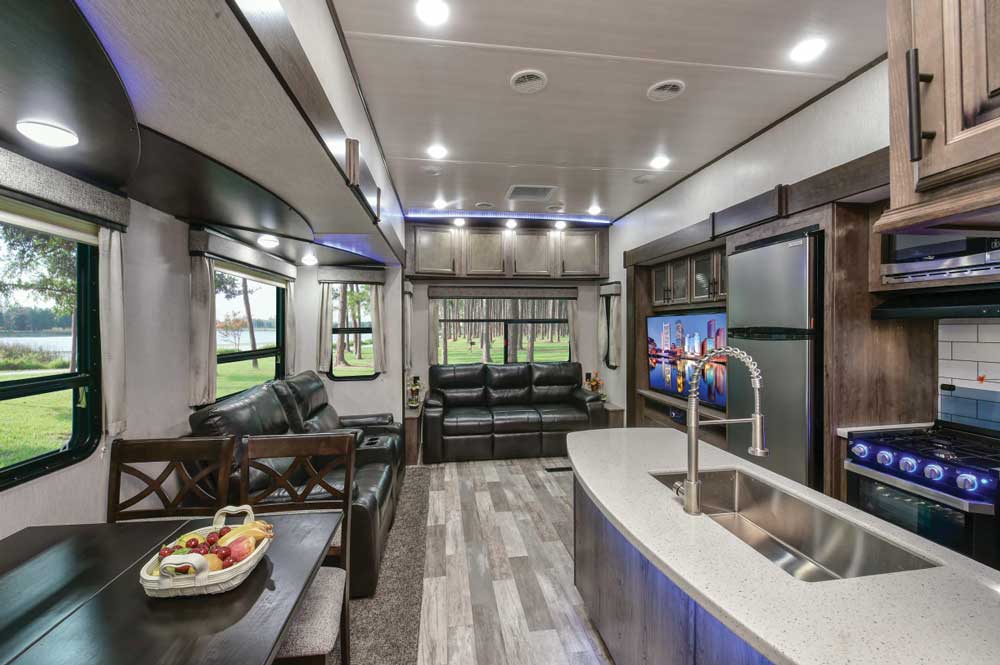 Bedtime is just as nice for occupants of the main bedroom, with its walkaround queen bed, bedside tables, wardrobe in a slide and pocket door to the pass-through bathroom with a radius shower.
During the day, food storage and prep are handled with the J-shaped kitchen's large pantry, antimicrobial solid-surface countertops and farm sink with pullout faucet, not to mention the camp kitchen outside. Four slideouts augment the Milestone's width, supplementing its 42-foot-plus length. Blue LED accent lighting throughout adds to the overall ambience.
Heartland says this model is "aggressively priced," and we see what the manufacturer means —it's the largest fifth-wheel in the lineup but in the lower half on price.
Exterior Length 42′ 2″
Exterior Width 8′ ¾"
Interior Height 8′ 6″
Exterior Height 13′ 6″
Freshwater Cap. 50 gal.
Black-Water Cap. 80 gal.
Gray-Water Cap. 80 gal.
LP-Gas Cap. 14 gal.
UVW 12,790 lbs.
Hitch Weight 2,430 lbs.
Axle Weight (2) 7,000 lbs.
GVWR 15,000 lbs.
MSRP, Base $60,223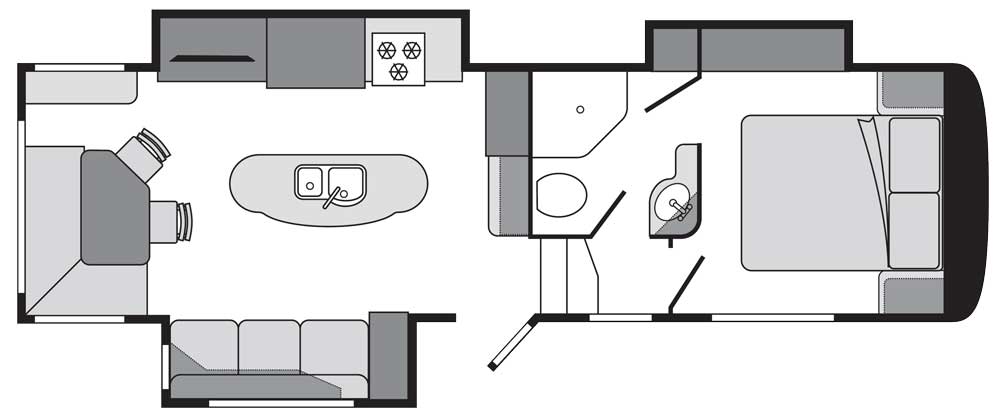 ---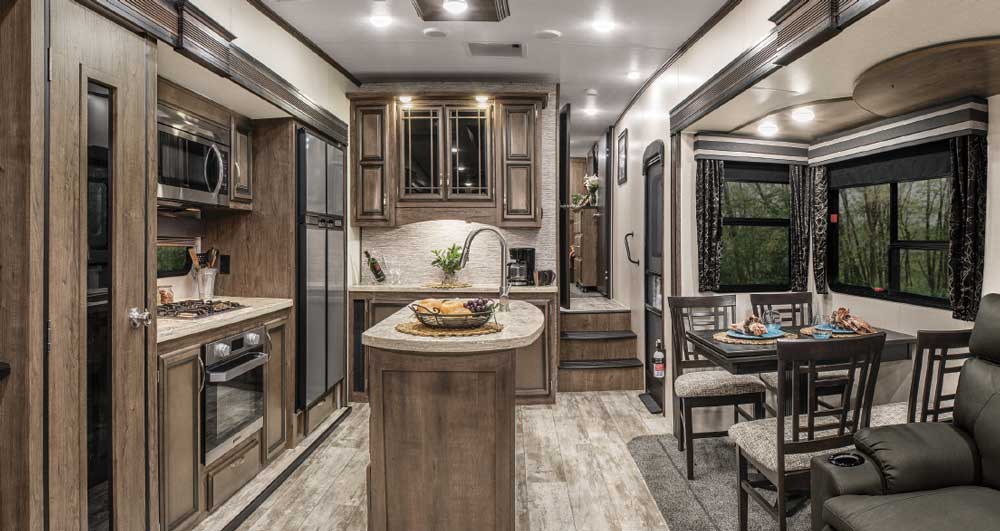 The 333RLT meets higher standards for construction, materials and systems expected from a posh fifth-wheel, with a few unexpected things thrown in, like the padded bench seat in the bedroom and the large pass-through basement storage with three-way access from both sides and the front. The front cap of the 333RLT is designed to increase the shortbed-truck turning radius, and the company claims its Durango line is the lightest high-profile luxury fifth-wheel in the industry.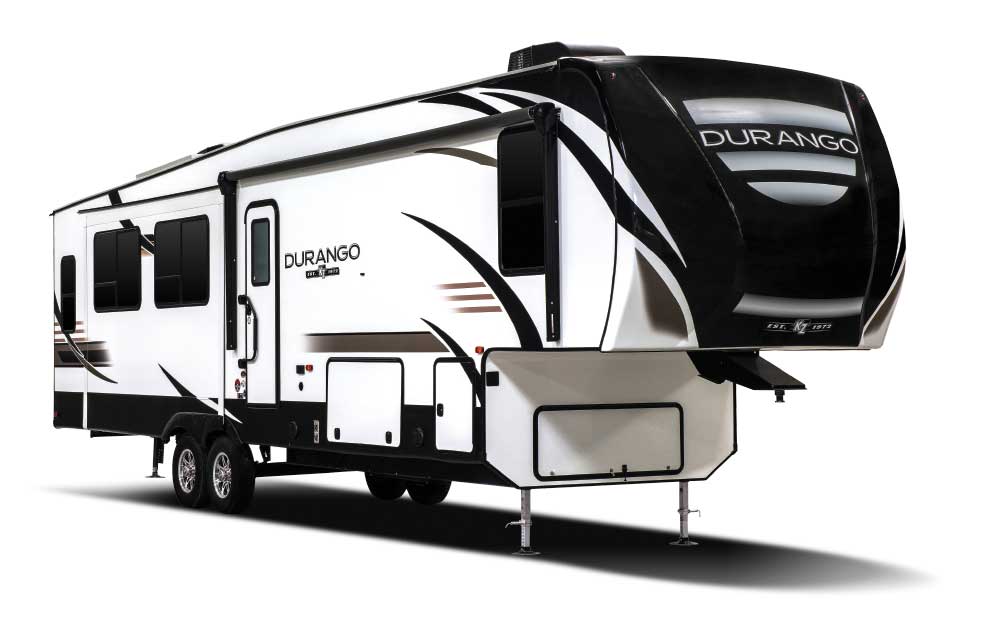 For pulling a boat or small trailer, the towing package includes a 3,000-pound tow rating and 300-pound hitch rating, with a four-pin wire-harness connection and 2-inch hitch receiver.
While those things make life easier on the road, interior touches are meant for easy living. A pillow-top king-size mattress is standard, as are the bathroom's dual stainless-steel sinks and large shower with a seat, and the kitchen's 12-cubic-foot residential refrigerator, convection microwave and large pantry. Living room standards include a 40-inch electric fireplace, 50-inch LED TV and theater seats with heat, massage and lighted cupholders.
A fully vented attic system is designed to eliminate moisture, a 15,000-Btu ducted air-conditioner system keeps things cool, and an all-weather package provides extra insulation. Adding the most frequent options to the $67,853 base price brings it up to $75,995, still well below the $100,000 ceiling for this roundup.
Exterior Length 37′ 10″
Exterior Width 8′
Interior Height 9′ 4″
Exterior Height 12′ 10″
Freshwater Cap. 67 gal.
Black-Water Cap. 53 gal.
Gray-Water Cap. 53 gal.
LP-Gas Cap. 14 gal.
UVW 10,700 lbs.
Hitch Weight 2,020 lbs.
Axle Weight 8,680 lbs.
GVWR 13,000 lbs.
MSRP, Base $67,853

---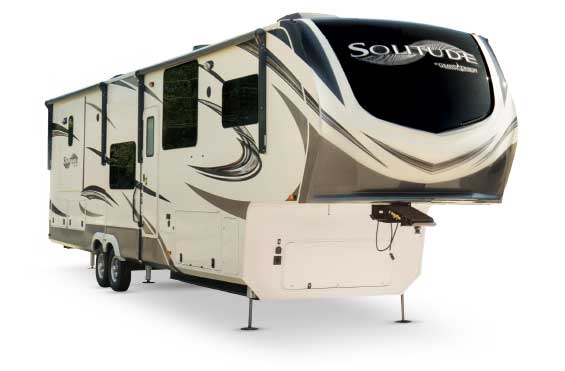 A highlight of this new 41-foot-plus model is the tricked-out rear kitchen, which checks all the boxes for high-end appliances, generous storage and counter space, then adds a double sink along the back wall and a central island with more cabinets and countertop. The whole kitchen is elevated to accommodate sizable exterior storage below, with a heavy-duty sliding tray to more easily access larger cargo.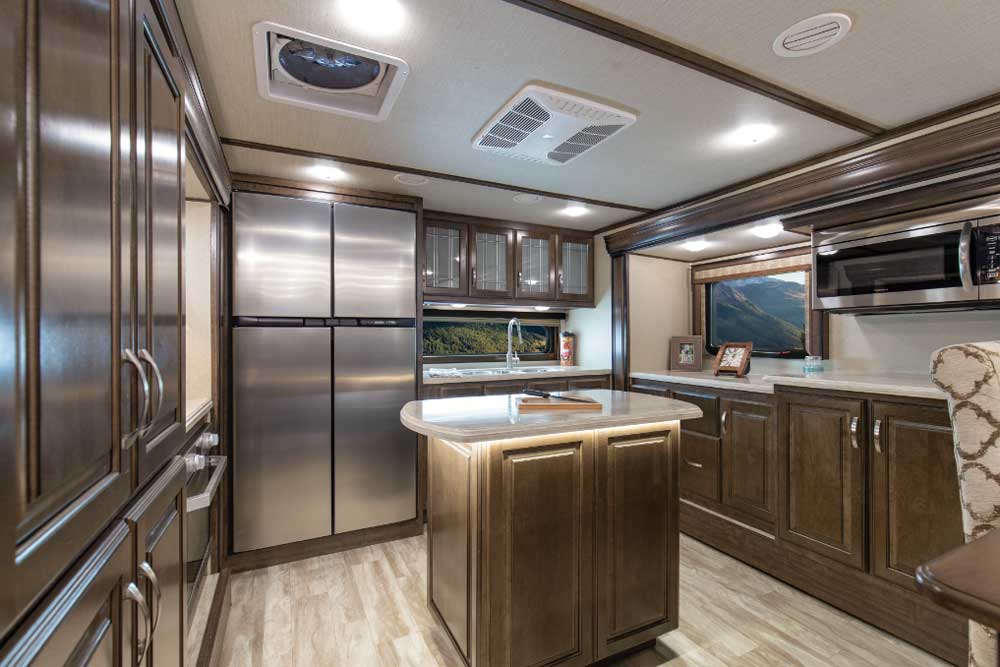 Two chairs at a bar look down toward the entertainment center in the living room, where theater seating for two backs up to the bar and a pair of sleeper sofas face off in opposing slides.
Up the stairs toward the front is a double-sink bathroom with a sunken shower that provides several more inches of headspace, and a walkaround queen bed in a slide with a couple of sneaky spots to stash stuff. Flip up the dresser countertop to expose a shallow recessed area where you can hide (or just store) smaller items like phones and passports. An ottoman is nested under the bed and pulled out by its handle; have a seat on the padded top or lift it to deposit or withdraw items stored there.
Loaded standard features include a living room electric fireplace, bedroom TV, 18-cubic-
foot refrigerator (resi­dential optional), two power awnings, an Equa-Flex suspension and a Rota-Flex pin box. A 50-amp cord on a power reel retracts, tape-measure style.
Exterior Length 41′ 5″
Exterior Width 8′ 5″
Interior Height 8′ 6″
Exterior Height 13′ 5″
Freshwater Cap. 93 gal.
Black-Water Cap. 53 gal.
Gray-Water Cap. 106 gal.
LP-Gas Cap. 14 gal.
UVW 14,866 lbs.
Hitch Weight 3,052 lbs.
Axle Weight (2) 7,000 lbs.
GVWR 16,800 lbs.
MSRP, Base $99,890

---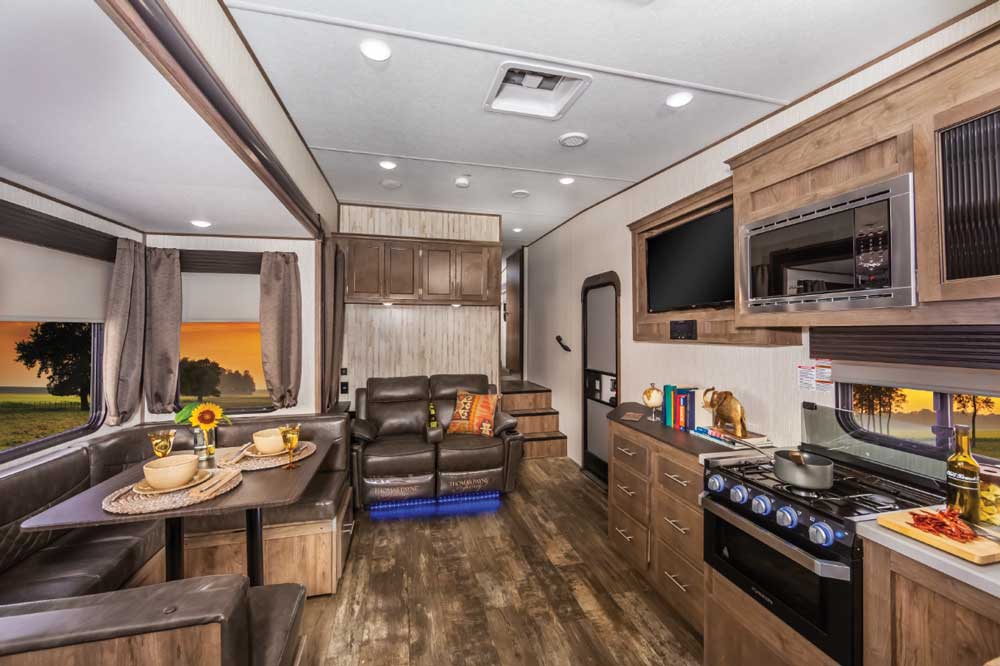 One of Forest River's newest floorplans, the 2020 Sabre 310BH is a full-profile, single-slide model that's on the petite side, relatively speaking, with a 33½-foot length and a gvwr of 10,000 pounds. Despite its size, a creative twist means there's room enough to sleep some extra residents.
Designers turned the rear section into a triple-bunk secondary bedroom with two corner single bunks overhead and a wider, 48-by-72-inch lower bunk, each with its own accordion-shaded window and reading light. Drawers, a wardrobe and an under-bed netted cargo area provide storage space.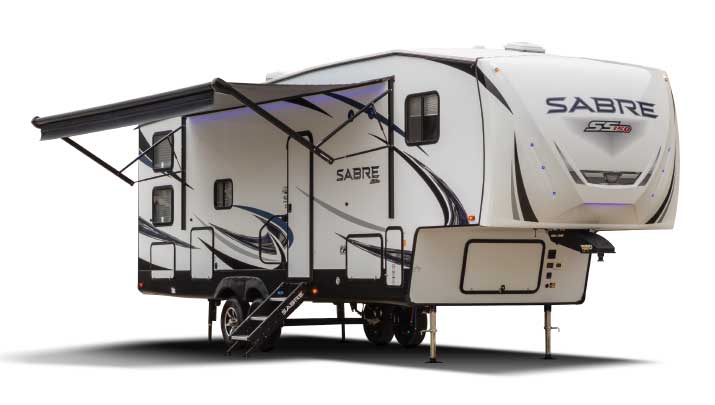 The front bedroom's walkaround queen bed is bookended by nightstands, outlets and overhead cabinets, as well as windows on both walls to provide a cross-breeze. The bathroom offers a large oval sink and a full-shower skylight.
A roomy dinette in the slide holds deep drawers underneath, with ambient lighting overhead and blue LED kick lights on the heat-massage theater seats nearby. RVers can stay charged with double-output USB ports at the end tables, kitchen, bunks and nightstands.
Other features include a camp kitchen, a lighted power awning, a PVC roof membrane, an electric auto-leveling system and a Turning Point pin box.
Exterior Length 33′ 6″
Exterior Width 8′
Interior Height 8′ 7″
Exterior Height 12′ 3″
Freshwater Cap. 49 gal.
Black-Water Cap. 35 gal.
Gray-Water Cap. 70 gal.
LP-Gas Cap. 10 gal.
UVW 8,025 lbs.
Hitch Weight 1,670 lbs.
Axle Weight 4,400 lbs.
GVWR 10,000 lbs.
MSRP, Base $39,513

---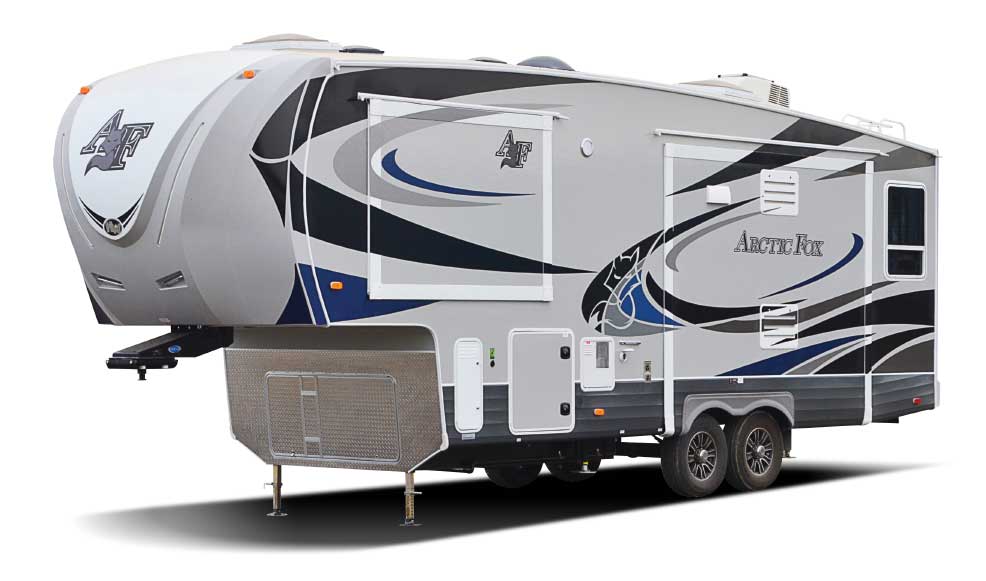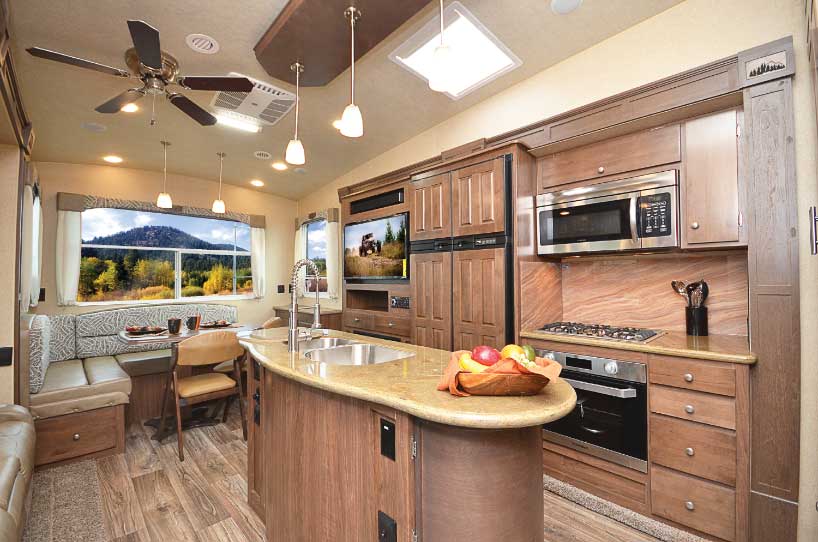 Northwood takes extra pains to create sturdy all-weather RVs that are ready for just about any outside conditions. The 28-5C is a relatively smaller floorplan for this price point, but we all know RV beauty isn't — or at least, shouldn't be — just skin deep. A closer look shows plenty of unseen value.
A cathedral-style ceiling is created by a bonded roof-truss system with batten fiberglass insulation, and reflective-foil insulation is found in the slideouts and roof, which bears a roof rack and a 20-watt solar panel for battery trickle-charging (upgrades to 100 watts, or 170 watts for more effective charging, are options). A handful of other heavy-duty layers are wrapped in a one-piece fiberglass body.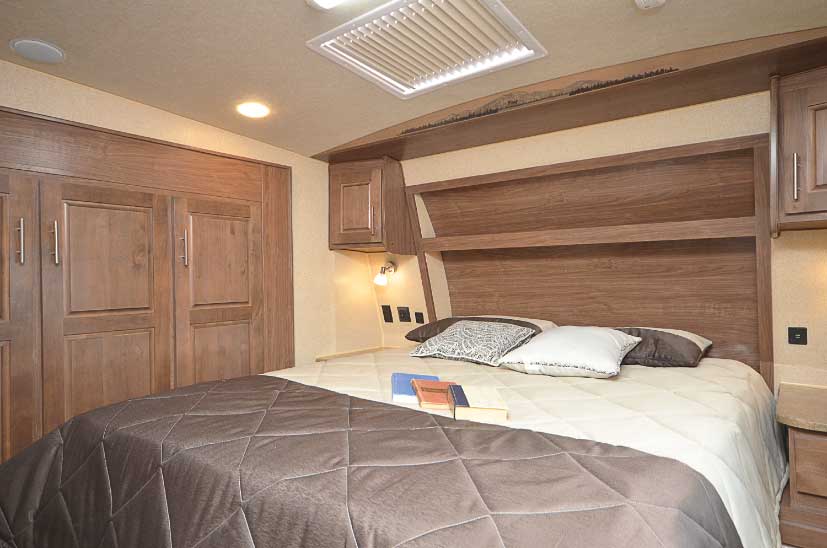 Inside, the 28-5C has a number of points of interest, like the rear-cap dinette area's corner booth nook with storage underneath, a freestanding table and two folding chairs. The kitchen slideout contains not only the 12-cubic-foot fridge, three-burner stove and convection microwave but the entertainment center's 40-inch LED smart TV as well. The kitchen has an in-counter knife rack and hinged barrel storage compartments on both ends of the island, along with a skylight above.
The queen bed up front has plenty of walkaround space with nightstands, power outlets and reading lights on both sides, and a skylight with a shade overhead. The bathroom includes a corner shower, porcelain toilet and a wall-mounted pullout lighted mirror with magnification.
Northwood was pretty clever in creating extra storage space. You'll find cubbies under the bedroom stairs and behind the living room TV, which rotates on lift arms. The sofa-slideout cabinet's pullout panel with J-hooks makes for a compact coat closet.
Exterior Length 31′ 11″
Exterior Width 8′ 6″
Interior Height 8′
Exterior Height 13′ 2″
Freshwater Cap. 80 gal.
Black-Water Cap. 42 gal.
Gray-Water Cap. 54 gal.
LP-Gas Cap. 20 gal.
UVW 11,564 lbs.
Hitch Weight 2,338 lbs.
Axle Weight 9,226 lbs.
GVWR 15,500 lbs.
MSRP, Base $76,478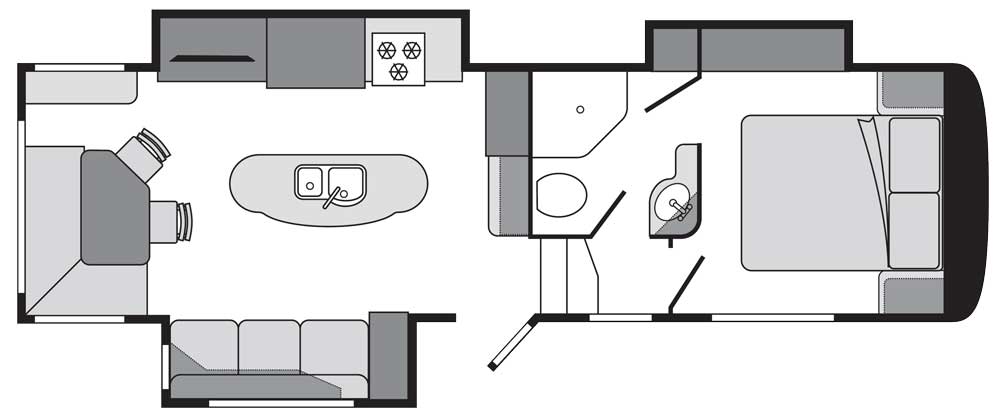 ---
High-Fivers
Nine more fifth-wheels with lots to like
While this five-slideout floorplan only recently hit dealers' lots, it's already turning heads. The rear is dedicated to an indulgent master bath with a dual-sink corner vanity, a wardrobe with washer-dryer prep and lots of light from the shower skylight, ceiling-vent fan and window over the mirrored cabinets, of which there are many. And, no, the term "master bath" is not superfluous; there's also a half bath off the kitchen. The 344FL is just as lavishly appointed everywhere else, but attention was also paid to practical matters such as a front cap designed to be shortbed-friendly and side walls with water-impervious Azdel composite material, plus bonus items like an outside refrigerator. At 41 feet, it's in the higher size range of this collection, but not so in price.
Exterior Length 41′ | GVWR 15,000 lbs. | MSRP, Base $64,113
---
A front queen bed, fold-out sofa, fold-down dinette and double-bed bunks make for a maximum sleeping capacity of 10 (to be comfortable, some sleepers should be kid-size or at least not claustrophobic). The 48-by-60-inch bunk beds are found in a midship second bedroom for a little peace and privacy. Even with accommodations for so many occupants, Dutchmen still made room for plenty of storage, a pass-through bathroom with a porcelain toilet, an entertainment center with a sound bar, a living-area skylight, lighted power awning and automatic leveling system, providing a whole
lot of amenities for a relatively modest investment.
Exterior Length 36′ | GVWR 12,000 lbs. | MSRP, Base $56,840
---
Statistically speaking, this is easily the low-number bookend here, with a gvwr that's nearly half that of its next neighbor up on the list, thanks to its diminutive size and molded-
fiberglass body. There are small-space sacrifices more often found in Class B motorhomes or small trailers (such as a wet bath), but creativity comes into play with hidden surprises like storage under the steps leading to the front-loft queen bed, and increased ceiling height helps compensate for the shorter length. The standard $28,995 model is pretty basic, so options will add up, but at least you'll pay only for what you have use for.
Exterior Length 21′ 2″ | GVWR 5,500 lbs. | MSRP, Base $28,995
---
RVers will enjoy this new floorplan's fireplace with mantel, dresser with lighted countertop and mirror in the bathroom, large frosted-glass full-door pantry inside, and an outside kitchen and lighted power awning, but their furry companions will especially like that it's pet-friendly. There's no carpet in the living area or its two slideouts, and one cabinet has a built-in pet bed. The carpeted bedroom has a third slideout and optional king bed.
Exterior Length 32′ 11″ | GVWR 13,702 lbs. | MSRP, Base $57,993
---
Jayco touts this new model as a "home away from home," and it definitely doesn't present itself like a traditional RV. Designers focused on spoiling the owners where they live. The master suite is treated as such with inclusion of a 32-inch fireplace and a curved, cushioned sitting area against the front-cap picture window. The standard king bed is nestled in a telescoping slide — after extending the first length, an inset goes out even further. There's also a "spa-style" walk-in shower and dual LED-lighted sinks in the bathroom. The kitchen and living areas are still quite stylish and well-furnished, and guests can sleep on the fold-out sofa or the optional power-lift Euro-bunk that drops down over it.
Exterior Length 39′ 7″ | GVWR 16,750 lbs. | MSRP, Base $85,105
---
Everything here is upsized, from the extra tall and wide entry door to the 18-cubic-foot residential refrigerator and the aft bath with dual sinks, massaging showerhead and washer-dryer-prepped wardrobe. The front living area sports twin theater seats and two trifold sleeper sofas with a front windshield behind MCD roller shades in the entertainment center. The kitchen contains a full-length coat closet, as well as a true walk-in pantry accessed through sliding barn doors.
Exterior Length 41′ 5″ | GVWR 16,500 lbs. | MSRP, Base $91,101
---
This triple-slide model is Keystone's longtime top seller in this line, and it's easy to see why. It's loaded with standard features one wouldn't expect at this price point, including a 50-inch TV, electric fireplace, microwave, dual-entry bathroom, outlets on two nightstands, 82-inch arched ceilings and a freestanding dinette table that can be lowered and pulled into the living room for use as a coffee table. The checklist continues outside with features like exterior speakers, Dexter E-Z Lube axles, rear power stabilizer jacks, triple-seal slideouts and an enclosed, heated underbelly.
Exterior Length 32′ 10″ | GVWR 10,300 lbs. | MSRP, Base $34,595
---
From Tiffin Motorhomes' towable Vanleigh line, this triple-slideout mid-profile model captures the higher end features Tiffin is known for, such as R-40-insulated flooring and roof, an electric four-point auto-leveling system, and wood fascia and doors that are handcrafted in-house. Little touches like under-counter lighting on the solid-surface kitchen island, a roomy shower and optional memory-foam mattress make the Pinecrest an eye-catching possibility.
Exterior Length 34′ 11″ | GVWR 14,000 lbs. | MSRP, Base $64,813
---
It's the Baby Bear of fifth-wheels, hitting the spot between too big and too small, with a price point to match. Where this floorplan adds a little oomph is in the middle bedroom with a fold-out sofa below and a drop-down single bunk above, along with standard features like a freestanding dinette table with four chairs, a microwave and a 15,000-Btu air conditioner. A dual-access bathroom with radius shower and linen closet, three-burner cooktop and stove, solid-surface countertops and power stabilizing jacks are other included niceties.
Exterior Length 33′ 8″ | GVWR 9,995 lbs. | MSRP, Base $55,535
---
A northern Indiana native and lifelong intermittent RVer, Barb Riley uses her news-journalism degree writing for publications such as Trailer Life, Woodall's Campground Management and RVBusiness, and scripting marketing communications for the RV industry. She enjoys reading, zip lines, roller coasters and finding new things to cook inside pudgy-pie irons over the campfire.
---