The 2019 fleet of fifth-wheels ranges from half-ton towables to high-end heavyweights. Here's a sample of some of the most notable new models.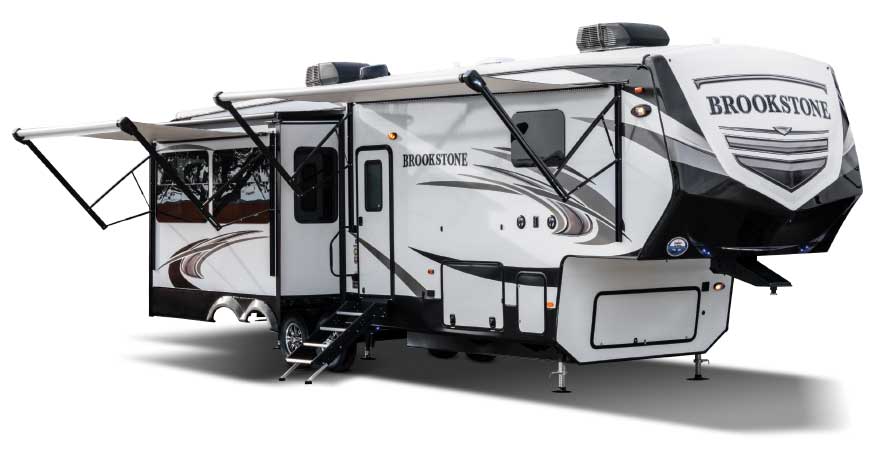 The new line of Brookstone fifth-wheels from Coachmen, a subsidiary of Forest River, is designed to offer a lot of bang for the buck, with features typically found on higher-
priced models but without some of the more expensive upgrades that drive up the cost. Standards include drop-frame storage, larger slideouts, heated underbelly, tank heating pads, dual-ducted air conditioning, stainless-steel appliances and 55-inch TV.
"The buyer is going to be anybody looking for a coach that they want to go spend three to six months in," said Brookstone General Manager Fred Hershberger. "It's going to be insulated for that type of purpose, and it's going to have spaciousness and the storage to be able to do it. From a retail standpoint, they can do it in this for up to $20,000 less than a lot of the high-profiles on the market today."
The first of five Brookstone floorplans, the 36-foot, 3-inch 310RL has a dry weight of 11,559 pounds. All models have a base MSRP under $49,000.
---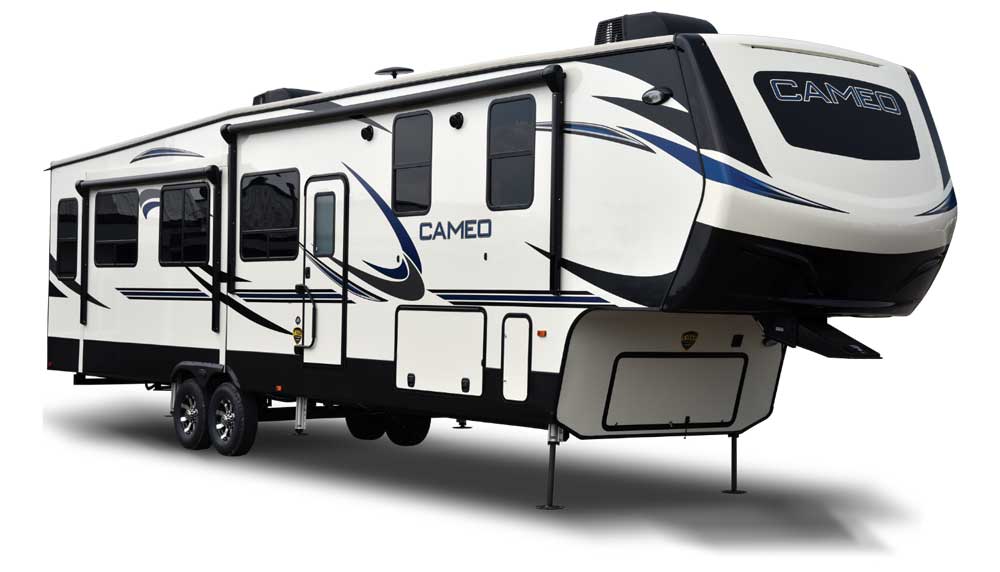 For couples who like to entertain, the Cameo CE3921BR just might fit the bill. The 41-foot, 8-inch fifth-wheel has opposing slides that extend to make a large living and kitchen area. The front slideout creates a spacious bedroom that has an adjoining three-piece bath.
What makes this fifth-wheel ideal for entertaining is an L-shaped bar tucked under a large-screen LED TV just inside the entry door. The CE3921BR stands ready for the next party with four barstools, and ample storage in the bar and cabinets along the back wall, which also features a wet bar and wine cooler.
"With the Cameo product line, we have a saying: It has 'twice as nice' features," said Darin Elswick, CrossRoads general manager, referring to, among other things, two awnings, two fireplaces, two TVs, two Fan-Tastic Vent fans, two exterior "scare" lights and a 2-inch hitch receiver. "There aren't any options on the Cameos; everything is included. You pick out your color, and that's it," Elswick added.
The CE3921 has a 12,050-pound dry weight, 3,350-pound cargo capacity and an MSRP of about $65,000.
---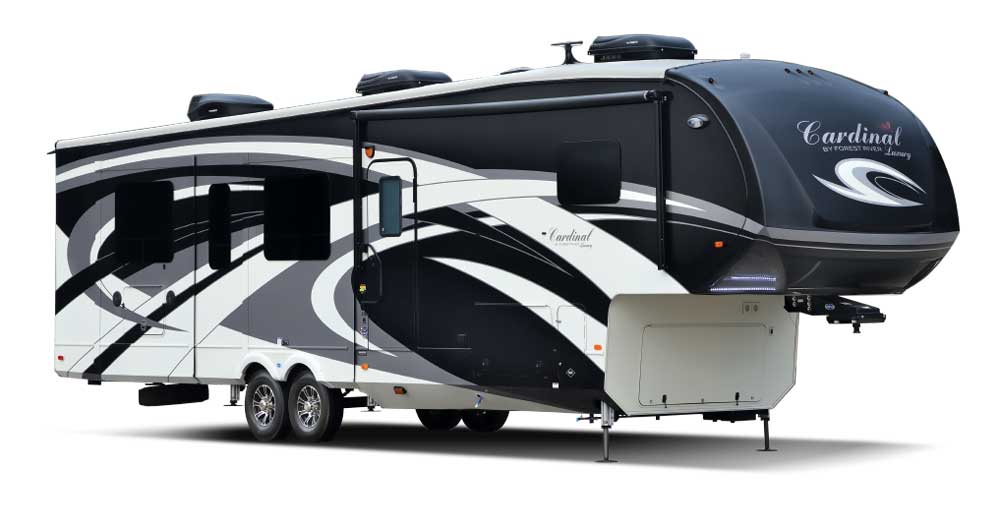 The Cardinal is Forest River's flagship fifth-wheel line, and for 2019 it has "a more aggressive price and look," said Rob Walworth, Northeast regional sales manager for Cardinal. With the new quad-slide Luxury 3750BKX, designers have drawn outside the lines to create a unique layout in a rear-kitchen floorplan with a rustic farm look.
The C-shaped countertop is across from a slideout dinette, with a residential refrigerator and range with a residential hood on the rear wall. There's tons of prep space for entertaining or just cooking for two. The living area features opposing slides that create a spacious room.
The side-aisle staircase and hallway lead to a sizable bathroom with a rectangular walk-in shower and forward master bedroom with a wardrobe and a closet with a washer and dryer. The standard king bed can be replaced with a queen. Base MSRP is $76,118, and gvwr is 16,385 pounds.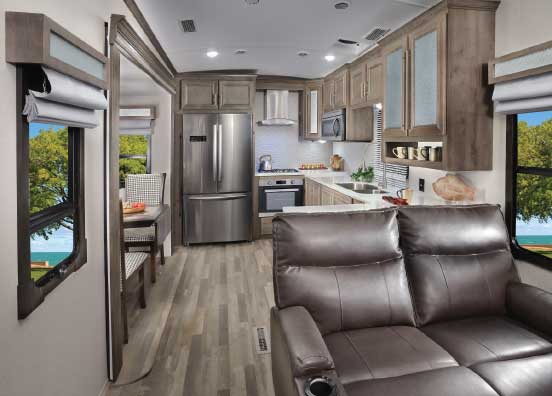 ---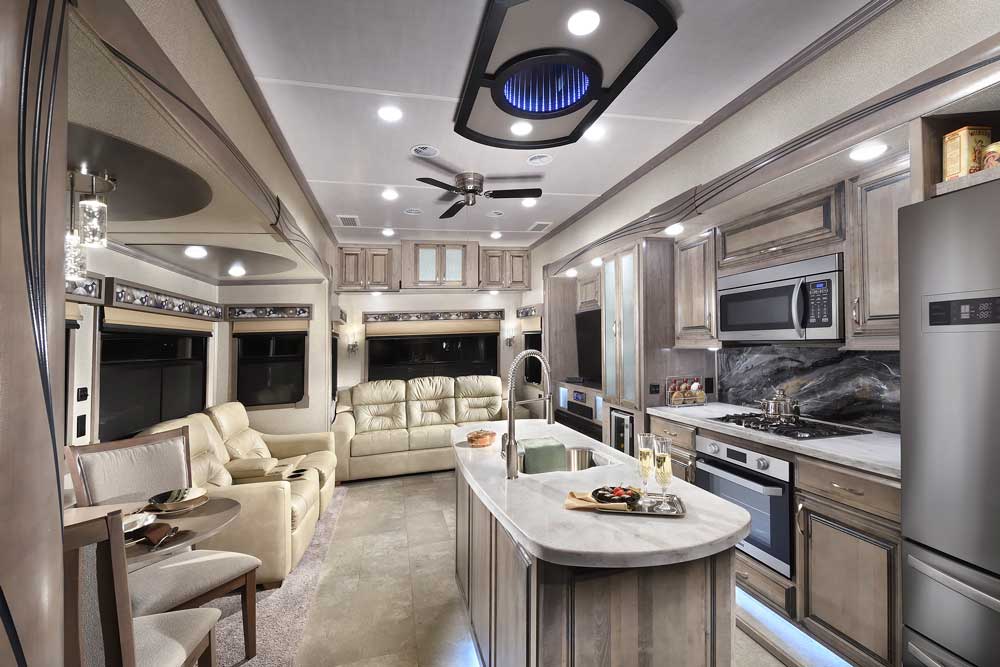 As its name implies, the new Champagne Edition is Cedar Creek's top-of-the-line luxury fifth-wheel. With MSRPs in the low-$90,000 range, it's also "the best-priced product in this category," according to Product Manager Craig Clair.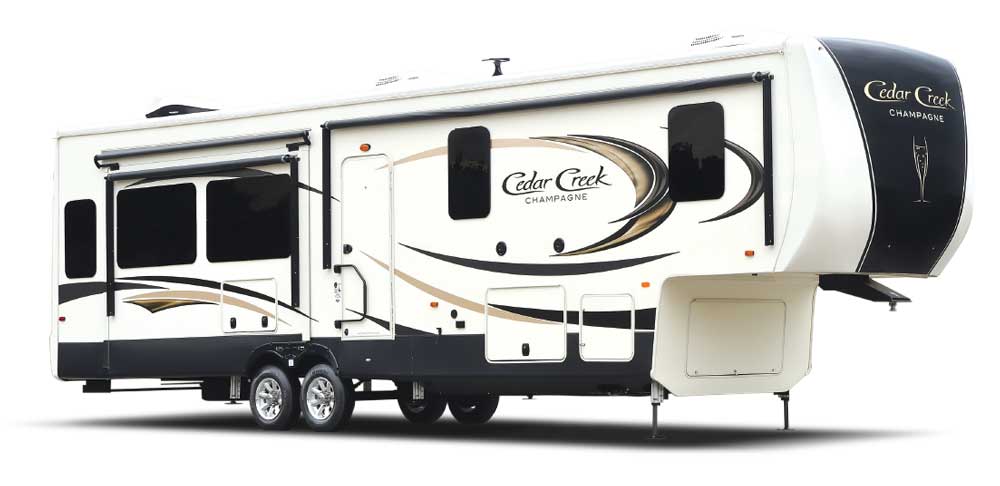 The 38L is a rear-living-room floorplan with gray-tone woodwork. "No one else has this color of wood, which comes out of the residential trends we're seeing," Clair said. A three-slideout, 41-foot, 9-inch fifth-wheel, the 38L features a chef's kitchen with a gas cooktop (induction is optional), expansive midship bath and a forward master suite with a king-size bed.
"We also feature smart TVs in the Champagne series, bigger fireplaces, and all of our furniture is made in the USA," Clair said. The 38L has a gvwr of 18,000 pounds and features a heavier suspension, including 8,000-pound Dexter axles and 17.5-inch H-rated tires.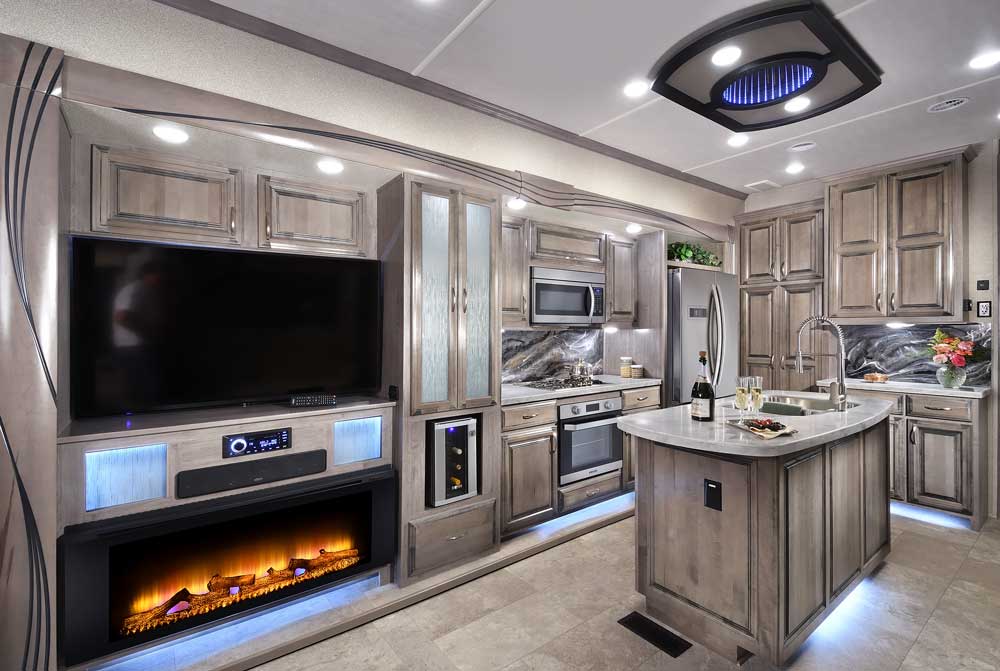 ---
The 41-foot, 8-inch Sandpiper 379FLOK features an outdoor kitchen and three sets of opposing slides — in the front living room, mid-kitchen and dining area, and rear bedroom. Among the changes to the 379FLOK for 2019 is the addition of a windshield in the front cap that makes an already large living room appear even bigger.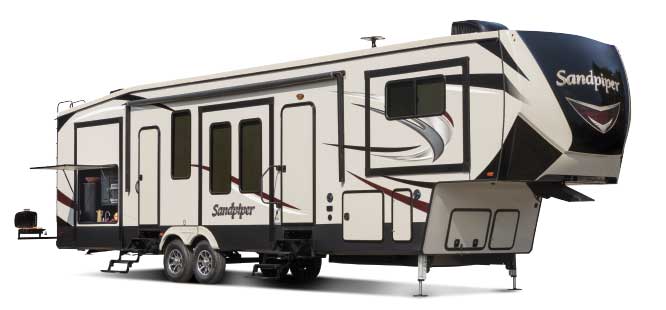 "What the front windshield does is allow you to take advantage of an elevated view in a fifth-wheel," said Curtis Gunther, division general manager overseeing the Sandpiper, Sierra and Riverstone fifth-wheel lines. "Everybody wants big windows, more windows, and this definitely takes advantage of that. It's trimmed out very nicely to create a shelf," Gunther added. Under the windshield and inside the cabinet behind the fireplace is a 50-inch TV on a powered lift.
Other changes for the double-axle fifth-wheel are new decor options, furniture, cabinetry and linens. The 379FLOK retails in the mid- to high-$60,000 range and has a 15,500-pound gvwr.
---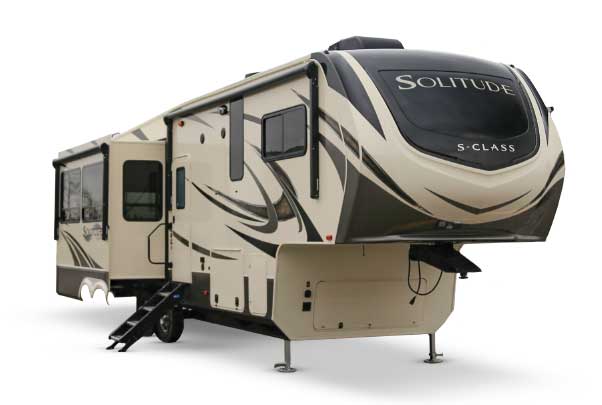 Grand Design continues to introduce new models that complement its popular lineup of fifth-wheels, travel trailers and toy haulers. Center stage is the Solitude S nameplate, which represents a step up from the Reflection line and a notch down from its flagship Solitude.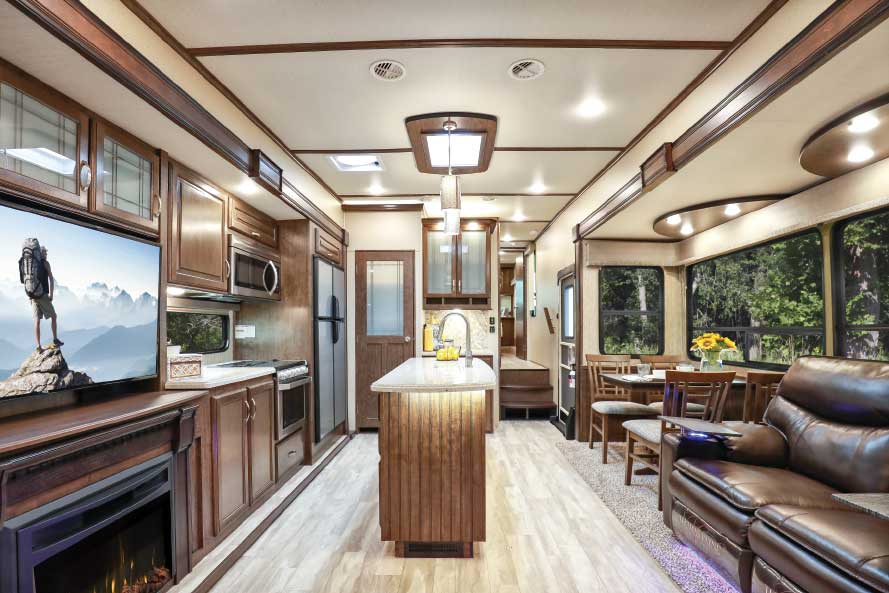 The 2930RL represents the shortest Solitude-branded model ever built by Grand Design. It's a bit longer than 34 feet, and unlike the Reflection 303RLS, from which many of the floorplan elements were taken, the Solitude S version has a wide-body chassis for an extra 4 to 6 inches of floor width and deeper slideouts. Dry weight is 11,442 pounds.
"We found that in the high-profile segment we were dominant, and very competitive in the $65,000-plus space," explained Lance Lees, regional sales manager for the Solitude and Momentum lines. "Where we haven't been very competitive is under $60,000 and under 40 feet. Our new Solitude S allows us to expand our lineup without sacrificing structural integrity or quality."
A higher ceiling provides improved spaciousness, and the north-south queen bed has walk-around room; a king-size bed is optional. Overall, the Solitude has a residential feel, courtesy of the roomy living room with theater seating, an island counter in the kitchen, and bathroom access from the hallway and bedroom.
---

Heartland RV, a subsidiary of Thor Industries, has introduced the Milestone fifth-wheel line, and it's designed for three-quarter-ton truck owners who want the features of a higher-priced fifth-wheel in a more affordable package, said Senior General Manager A.J. Jones.
The Milestone debuts with four floorplans, but Jones singled out the 42-foot, 12,790-pound (dry) 377MB, which has an MSRP just under $50,000. What makes the 377MB stand apart, Jones said, is its mid-bunk room with a loft above, as well as an adjoining private half-bath. "Customers are always asking for this, because their kids typically want to have their own bathroom," Jones added.
In addition to the 377MB, the Milestone line includes the 42-foot, 1-inch 389TB, a bunkhouse with two full bathrooms, and the 40-foot, 4-inch 360RD, an elevated rear den, along with the 42-foot, 8-inch 379FLML, the only Milestone with a front living room.
---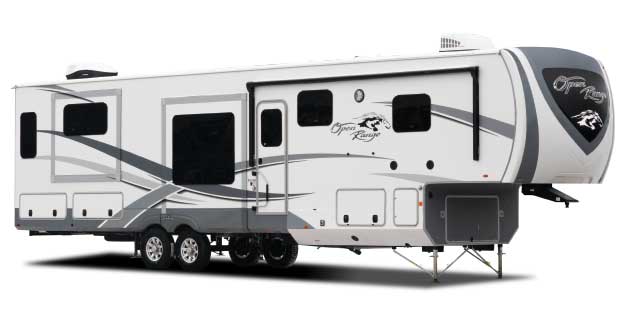 The Open Range 375RDS from Highland Ridge, a division of Jayco, is a new raised rear-living-room floorplan with a key difference. Instead of putting the television on the back wall, the 375RDS puts it between the living room and the kitchen. The TV rises out of a cabinet between the kitchen and living room. "A lot of the most popular floorplans are rear living rooms, because you've got that rear view, but when you put the TV back there, you lose that," said Randy Graber, senior director of product development at Highland Ridge.
The 375RDS is 42 feet, 9 inches long and 100 inches wide, with a dry weight of 12,434 pounds and a gvwr at 16,680 pounds. Graber explained that a variety of elements make it 10 to 15 percent lighter than similar fifth-wheels. Those items include cable-drawn slides, laminated flooring and a lighter plywood roof. Base MSRP is $73,294.
---
With the Eagle 319MLOK, a nearly 37-foot triple-slide fifth-wheel with an outside kitchen, Jayco has developed a floorplan that makes optimal use of the line's new Modern Farmhouse interior decor. While the other decor option, American Tradition, is the familiar beige color scheme, Modern Farmhouse takes its design cues from the high percentage of residential kitchens being built today with white as their dominant color.
The 319MLOK is a rear-kitchen model with unique interior features such as an angled dual-basin sink beneath a dark ceiling beam with the look of hand-hewn plank. That same rustic wood can be found atop the kitchen island and the freestanding dining table, which is housed along with a sofa in the streetside slide.
Chris Barth, Jayco's senior director of product development for the Eagle and Talon brands, said Modern Farmhouse employs "an antique-glazed white wood, but with that is warm gray furniture that is not only a different color but it has a different style."
The 319MLOK has a 10,710-pound dry weight and a claimed 2,285-pound cargo capacity. Base MSRP is $59,900.
---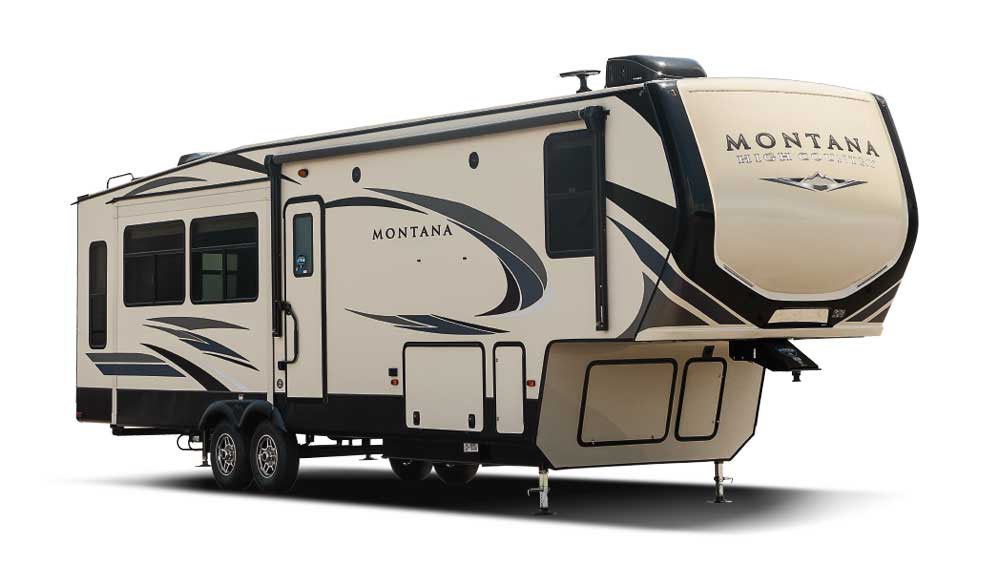 When Keystone introduced a rear den in its Montana fifth-wheel lineup in late 2014, it quickly became the brand's top-selling floorplan. "It only made sense for us to bring that floorplan down to a lower price point with the Montana High Country series," said Product Manager Mark Krol.
Available as the High Country 372RD or 373RD — the difference is a choice of residential or RV refrigerator — the new fifth-wheel offers a few new features. "We tried to create this one with a bigger, more open patio area and what we believe is the best bathroom on any rear-den in the market, regardless of price," Krol said. "It's a double-vanity bathroom that provides more space around the toilet so someone can actually move around and get dressed in it."
The 372/373RD also has copious storage beneath the rear den, along with a sliding tray for easier access. "It has just less than 9 feet [deep] of rear storage, and there's a nook up front that would allow for a 10-foot kayak to extend into that space," Krol added. "And the sliding tray is rated for 800 pounds."
The High Country 372/373RD has a 16,000-pound gvwr and will retail in the low $70,000s.
---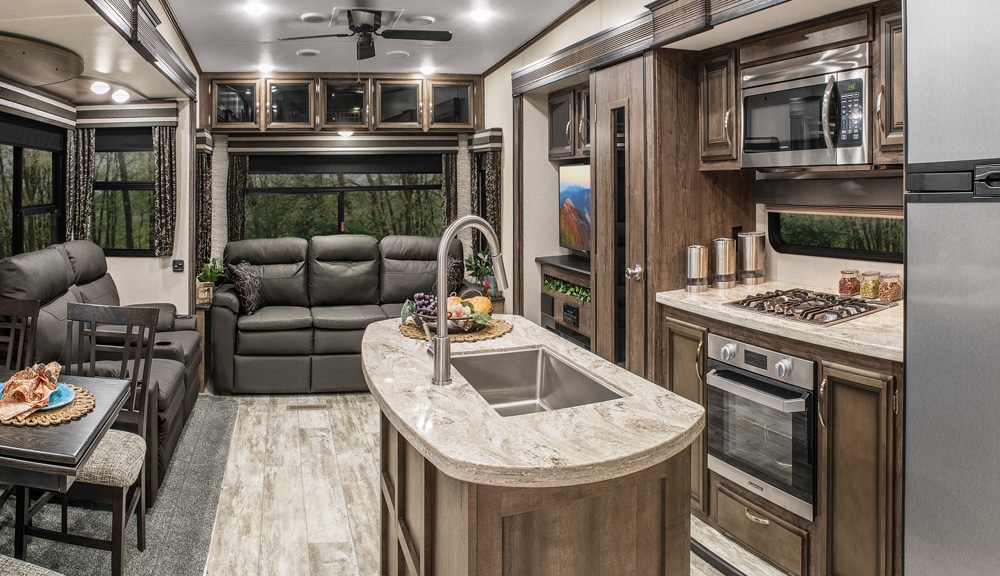 KZ RV has reconfigured its Durango-branded fifth-wheels into three segments: the top-of-the-line Durango Gold, the standard Durango and the all-new lightweight Durango Half Ton series. "We've repositioned everything with regard to price points and product segments," said KZ General Manager Brent Froman.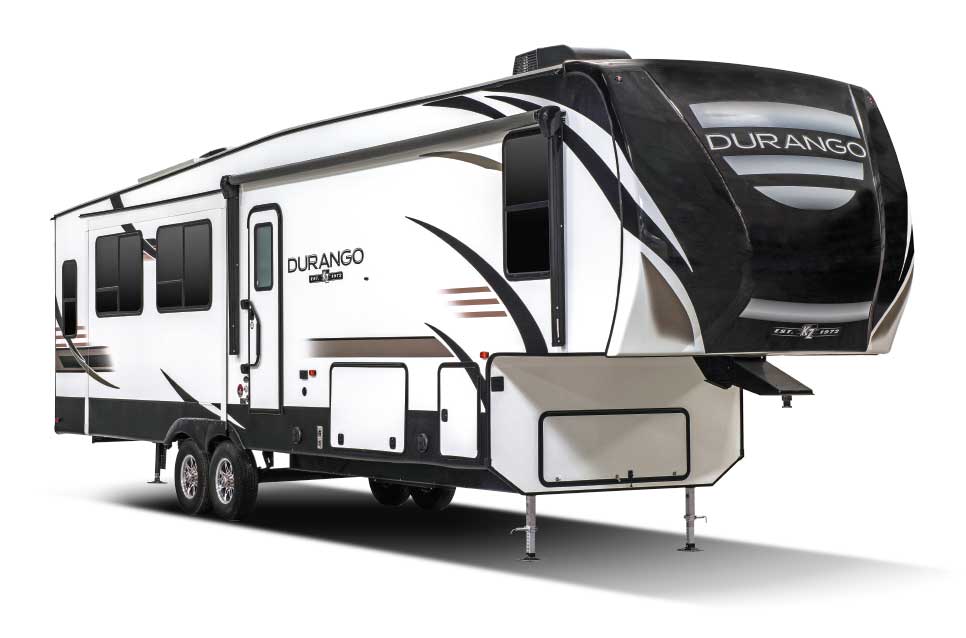 Like other models in the Durango line, the new D333RLT has "a lot of upgraded standard features," according to Froman, including four-point leveling, an all-weather insulation package, Lippert SolidStep, Furrion convection microwave, Corian countertops, a porcelain toilet and Thomas Payne furniture, among other things.
"The Durango product used to have a lot of options, so we've simplified things a little bit from that standpoint," Froman explained. Base MSRP is $83,375, and gvwr is 13,000 pounds.

---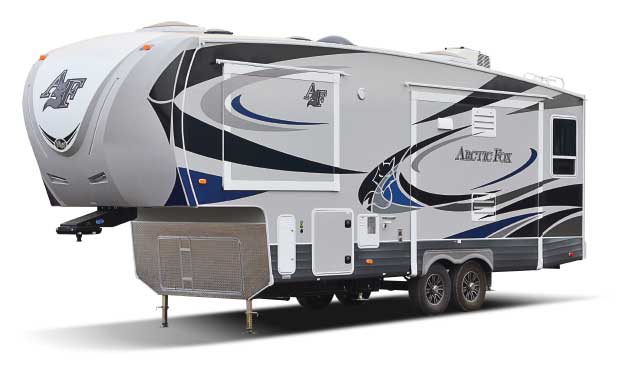 Known for its heavy-duty chassis and four- season livability features, Northwood has introduced the nearly 32-foot Arctic Fox 28-5C, a triple-slide fifth-wheel that feels considerably larger than its actual length.
"What makes the Arctic Fox 28-5C unique is its versatility," said Donald Cochran, chief sales officer for Northwood. "The booth-nook dinette, with a freestanding table and two folding chairs, allows the floorplan to really open up for couples but still makes it possible to entertain."
The jackknife sofa in a slideout and dinette offer good views of the 40-inch smart TV, housed in the opposing slide along with a 12-cubic-foot refrigerator, microwave and three-burner range. An island holds a double-basin sink, and adds storage and counter space. The 28-5C has a gvwr of 11,564 pounds and an MSRP of $70,478.
---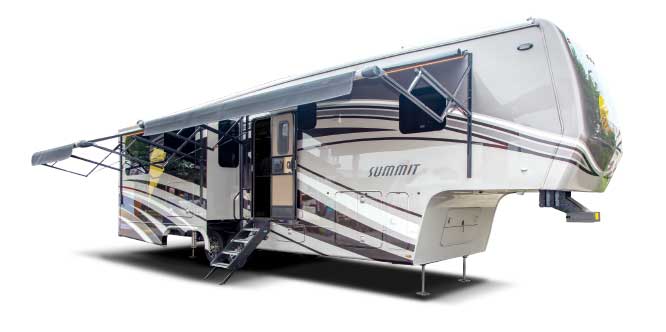 Known for high-end fifth-wheels that are popular with full-timers, New Horizons offers the Summit line, which retails for considerably less than its Majestic flagship. "The Summit is our more economical approach to building a very high-quality, full-time-capable, four-season fifth-wheel," said Cole Brokenicky, vice president of sales. The line is comprised of 13 floorplans from 31 to 44 feet, including two toy-hauler models.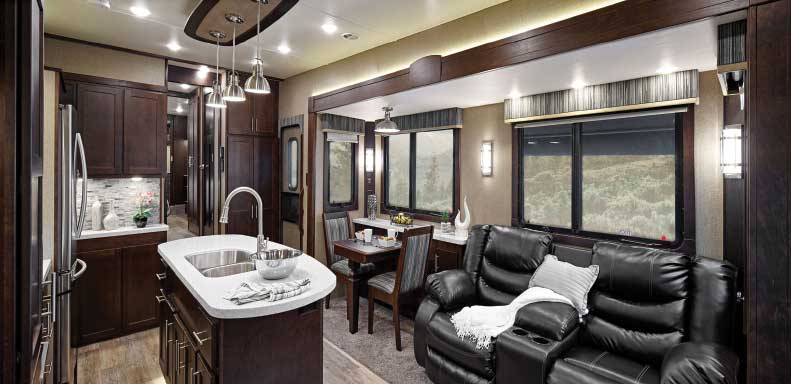 "For 2019, we've definitely jumped on the trend bandwagon, doing a lot of painted cabinetry," Brokenicky said. The solid-maple cabinets are usually painted off-white, but an optional black scheme can make the fifth-wheel look like a man cave on wheels. Unlike the Majestic, Summit models are not customizable, but there is a long list of available options.
Retail prices are in the $160,000 to $170,000 range, and all sales are factory-direct from the company's Junction City, Kansas, headquarters.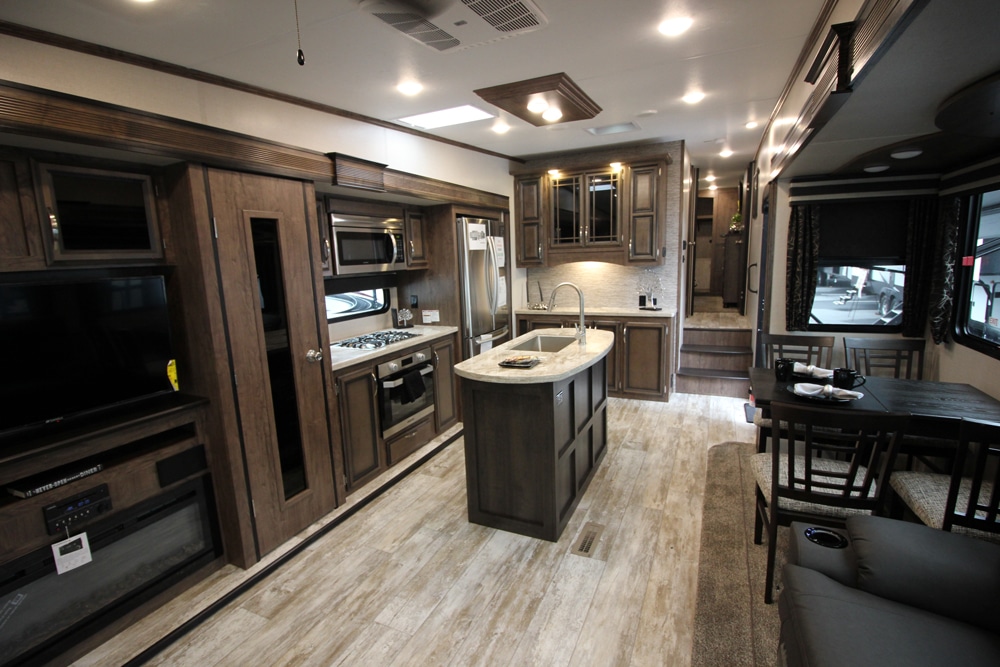 ---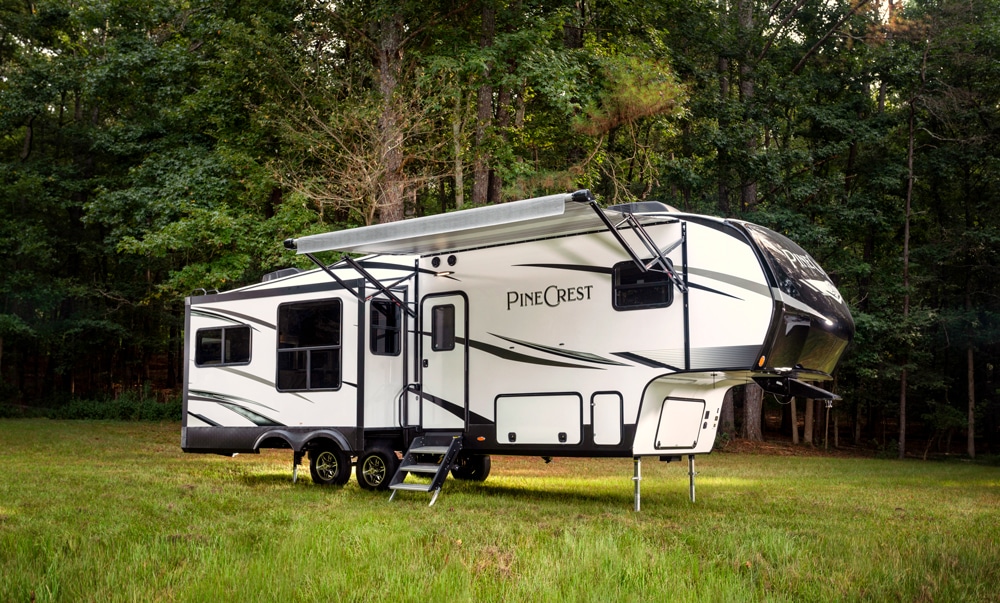 Vanleigh, known for its Vilano and Beacon models, has launched the PineCrest line to appeal to customers looking for the same livability and durability at a more affordable price. "It was really tough at shows when you watch your customers buy from your competitors because, even though they wanted your product, they just couldn't get to that price," said Vanleigh National Sales Manager Freddie Swinney, who emphasized that the PineCrest features the same quality of construction, materials and components as its big brothers but with a price tag in the low $60,000s.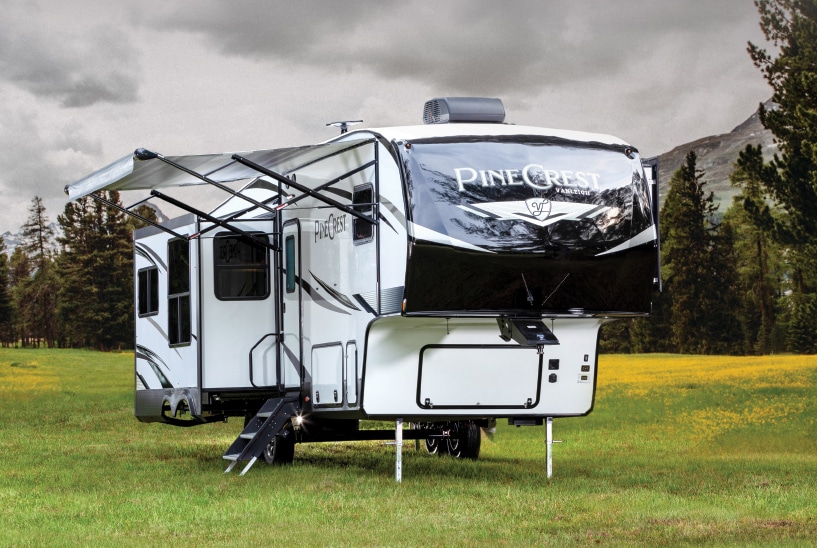 Although additional floorplans are in the works, the PineCrest debuts with the 305RLP, a 32½-foot fifth-wheel with a 12,200-pound gvwr. The 305RLP features a rear-living layout with an 80-inch sofa bed flanked by opposing slides to create a large space. The curbside slide has theater seating and a dinette or optional freestanding table and chairs, while the streetside slide has an entertainment center and galley. A kitchen island and additional hutch storage completes the main level.
The front of the 305RLP features a dual-entry three-piece bathroom and a bedroom with a walk-around queen bed and a wardrobe slide.
---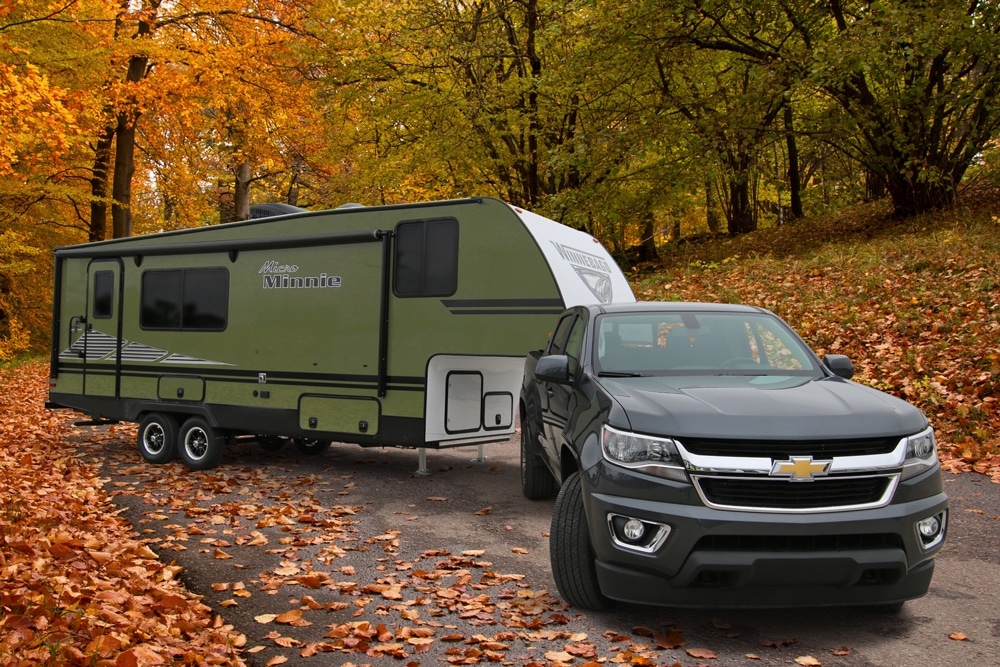 Winnebago has its sights set on midsize truck owners with the 26-foot, 9-inch Micro Minnie 2405RG fifth-wheel, which has a 5,780-pound dry weight and a 7,700-pound gvwr. Part of the weight savings comes from a 7-foot-wide floorplan claimed to be narrow enough that, when towing with a midsize pickup, the tow vehicle does not have to be equipped with extended mirrors.
Triple solid steps lead into the bright kitchen with light decor and lots of windows. The open galley has a flush-mount range with a glass cover, an oven, a 6-cubic-foot refrigerator and a stainless-steel sink centered in a marble-look counter. A sofa bed is across from a four-seat convertible dinette housed in a slide, bringing sleeping capacity to six.
Up front, a full bathroom leads into the bedroom with more than 6 feet, 2 inches of ceiling height. The 60-by-80-inch queen bed is bookended by hanging shirt closets and nightstands. With a base MSRP of $34,503, the 2405RG is outfitted with torsion axles and comes with an 18-foot electric awning.
---