Q: After reading the article about fifth-wheel hitches ("Go 5th and Go Forth") in Sept. 2012 Trailer Life I would like your opinion about gooseneck adapters for an RV-to-gooseneck hitch ball. I have been pulling a gooseneck-hitch trailer with our long-bed 2004 Chevy 2500 HD, which has a gooseneck hitch ball in the bed of the truck. We want to buy a used fifth-wheel trailer and will need an adapter that will allow the fifth-wheel to be pulled with our gooseneck hitch in the truck. What are your thoughts on these adapters? Are they safe? Do you prefer a certain brand?
Nancy and Hank, via email
A: There are several fifth-wheel-to-gooseneck adapters on the market, and they're very popular for the exact reason you've mentioned. RVers with trailers equipped with fifth-wheel hitches sometimes want to haul a trailer with a truck fitted with the gooseneck-type ball, which is more commonly used for commercial or agricultural applications. As long as you buy an adapter with the proper load rating to handle the weight of your trailer, and the adapter comes from a reputable source, they're safe. We don't have a specific brand preference.
As an alternative, Reese just released a new adapter hitch, called the Goose Box, that replaces the entire hitch box on your trailer with a hitch box that
already has the gooseneck ball coupler on its bottom end. The Goose Box also incorporates shock absorption so it's easier on the trailer than a solid hitch. We haven't had any first-hand experience with this new hitch, but Reese is a quality brand and it looks like a terrific option for what you want to do.
— Jeff Johnston
---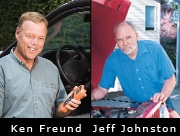 To send your questions to RV Clinic, write to 2575 Vista Del Mar, Ventura, Calif., 93001; or email [email protected]. Also, check out TrailerLife.TV for our expert RV how-to videos.