Q: While washing my six-year-old Victory Lane fifth-wheel toy-hauler I noticed that the fiberglass front cap has some spider lines beginning to appear in it, but the spider lines don't appear to be separated all the way through the material yet. I'm concerned that they may start extending out. Is there a way I can stop this and seal them?
Lawrence Amidei, Sebring, Fla.
A: This is a problem with the outer coating of the fiberglass, known as the gel coat. There can be a number of causes, but the most common is exposure to sun and weather — and once it begins it will get worse. I suggest you take it to an RV dealer or auto body shop that specializes in fiberglass repair. If you don't have one in your area, you might contact a boat shop or dealer, as it will have experience with fiberglass. Afterward, I suggest you use a quality RV cover on the unit when it is being stored, to protect it from the elements.
– Ken Freund
---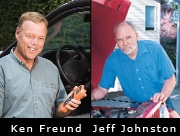 To send your questions to RV Clinic, write to 2575 Vista Del Mar, Ventura, Calif., 93001; or email [email protected]. Also, check out TrailerLife.TV for our expert RV how-to videos.