For 2019, Oregon overland-expedition manufacturer EarthCruiser launches the EXD, a nimble yet rugged off-road RV that bolts onto a flatbed truck.
EarthCruiser, an industry leader in manufacturing overland-expedition vehicles, has added another option to its fleet: the EXD. Built to the same quality standards as the company's flagship, the EarthCruiser EXP, the EXD features a power-lifting roof, lithium-battery system, full wet bath and toilet, touch-screen control panel with Bluetooth, and a queen bed that turns into a dinette with the push of a button.
"Customers are really going to like the fact that the EXD is a very rugged, compact house mounted to any truck chassis," said Brent Baker, EarthCruiser's marketing director. "Being on a truck chassis, the EXD is better suited for off-road travel than a van, and has the ability to tow and carry much more gear."
The self-contained flatbed camper, with a dry weight of 2,700 pounds, is available to mount on most full-size domestic trucks or any other three-quarter or one-ton truck with an 8-foot bed. Base MSRP is $110,000.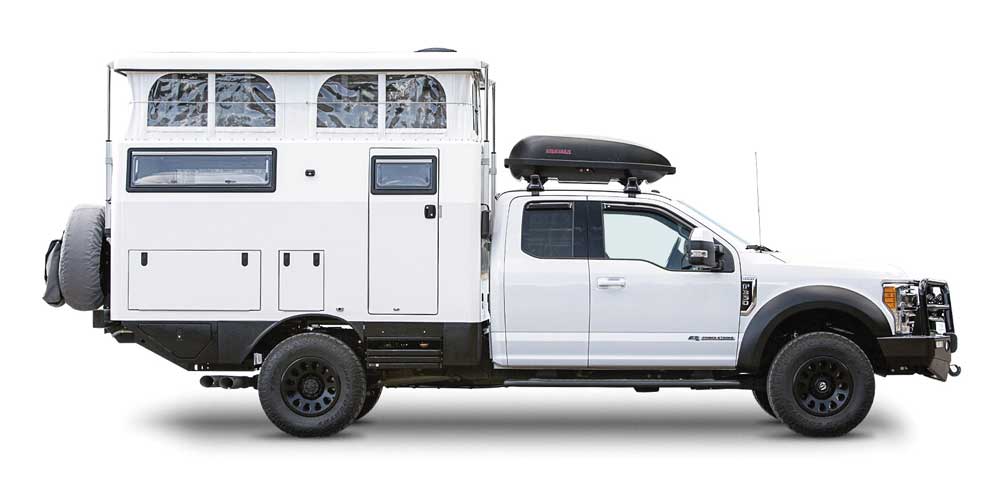 ---