Cloaking a stored RV with the right cover protects the exterior finish from exposure to the elements and keeps it looking its finest
Statistics show that RVs are stored for long periods of time. While you might imagine your RV is relatively safe from theft or vandalism during the off-season, it's actually under constant attack by the sneakiest vandal of all — nature ­­— which bakes it with ultraviolet rays and attacks it with moisture. This is why you need an RV cover to stand guard and protect your investment.
UV rays are one of the biggest hazards unprotected RVs face. Prolonged exposure to direct sunlight breaks down the paint, gelcoat, and vinyl graphics, but there's more at stake than a dull finish on a once-bright surface. Paint protects the surface underneath, whether metal or fiberglass. Once the paint goes, the surface underneath begins to degrade. UV rays also turn plastic and soft rubber parts dry, brittle, and discolored.
---
---
Then there's the effect the environment has on the roof. Sealants on an unprotected roof degrade faster, and the dreaded black streaks can form on the sides of the RV, which can be devilishly difficult to remove. As the sealants degrade, leaks can develop…and you know the rest.
It's important for a cover to be vented, or include panels made of a breathable fabric, to prevent moisture from getting trapped underneath. Cheap plastic tarps, typically found in hardware and home-improvement stores, promote mold, mildew, and rust, not to mention the fact that the tarp can abrade the RV and cause serious damage. A good cover will have vents to release trapped moisture and a top made of a fabric like Tyvek, which lets moisture out but keeps water from getting in. A good cover also includes a padded underside, which, properly used, will not be abrasive to the RV surface. Most covers are available in models designed for specific climates, such as heat and bright sun, or snow and constant rain.
The fit is as important as the fabric. A loose-fitting cover can billow, making installation a hassle. It can also flap in windy conditions, rubbing the paint and roof, causing damage, and snagging and tearing the fabric on sharp corners. Covers come in semi-custom sizes, cut to approximately the dimensions of an RV, or are custom made specifically to a set of measurements you provide. Be sure to measure the RV yourself, and do not rely upon model numbers from the manufacturer. Because a snug fit results in stress in some areas, the best covers come with reinforced corners.
RV covers are secured by straps running underneath from side to side, and across the front and back. Weighted toss bags let you slide the loose end of the straps under the RV. Some covers come with these, but you can use almost anything that can be tied to the end of the strap. For extra points, train your dog to crawl under the RV trailing the strap for a treat on the other side.
Even the best RV cover will wear out in time, but there's no point in hurrying the process. Before installing a cover, go on the roof and sweep off any debris that could scratch the paint when the cover is snugged down. Even though you vacation every year, gravity never does, so make sure you're wearing nonslip shoes.
Fold down or remove any antennas, and make sure there are no exposed sharp edges from solar panels and other accessories. Use pool noodles or shop rags to cover sharp edges on the roof. Sharp edges along the bottom of the RV should be smoothed out where they can make contact with the cover. Tape a few shop rags or an old T-shirt over them, and use adhesive remover to get rid of the tape adhesive later.
Tire covers are equally important for protection against the elements. Trailer tires are made with chemicals added to the rubber compound that fight UV, but they don't last forever. Also, the tires on the sunny side of a parked RV are subject to more exposure than those on the shady side and might deteriorate sooner. Clean the tires with warm soapy water before you cover them. Avoid tire dressings with alcohol, petroleum distillates or silicone.
Most cover manufacturers sell repair kits to patch rips or holes. If repair is not possible, balance the expense of a new cover against the damage it prevents to your RV, and the numbers come out in your favor every time.
Here's a roundup of some of the most popular RV covers for towables. There's sure to be one among them that will make your rig wake up from its storage slumber bright-eyed and ready for the open road.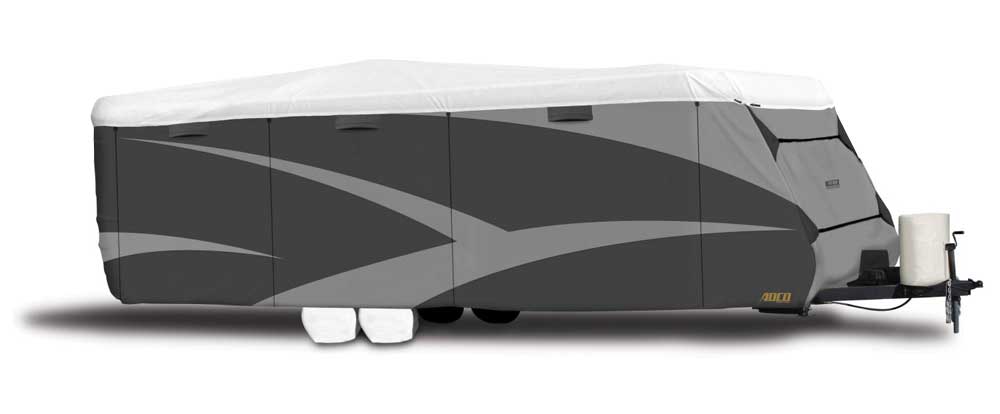 Featuring design aesthetics that mimic the graphics on contemporary RVs, Designer Series Tyvek + Wind is ADCO's flagship all-climate cover. It features a Tyvek roof panel, zippered doors, weighted toss-under buckles, and front, rear, and bottom straps. A patented internal strap system ensures a snug fit that minimizes the fabric moving in the wind, and the top and bottom have extra reinforcements. Each Designer Series cover comes with four Travel Tyre Gards with a rear-fastening system. MSRP: $250 to $500. Three-year warranty.
Four-layer Storage Lot covers are made for travel trailers and, true to their name, are designed specifically for storage-lot environments — but, of course, you can use them elsewhere. The durable polypropylene covers have extra reinforcements and come with air vents to prevent mildew and mold, locking buckles to prevent slippage and rain-gutter protectors. MSRP: $200 to $350. Two-year warranty.
CalMark covers are custom-made to the RV's measurements, and the company can make a cover for any RV. Made of Sunbrella-brand woven acrylic, a breathable fabric that resists water, mold, and mildew, these covers have a high UV rating and are nonabrasive to protect the finish underneath. Pictured here is the Taxa Outdoors Cricket cover featuring FSR (fabric stress reinforcement), which is designed to support the material, offsetting the weight of snow, wind, and the sides of the cover. All seams are double-stitched for strength, and the cover has a zippered entry door. A repair/reinforcement kit containing extra fabric patches and glue is included. MSRP: From $550. Six-year warranty.
Made with a top layer of breathable DuPont Tyvek, the Ultra Shield Toy Hauler Cover uses ultrasonically welded seams that make it 40 percent stronger than other covers, according to the company. The cover, made by Camco for Camping World, is held in place by elastic corners, front and rear cinching straps, and an underbelly strapping system. Features include zippered entry doors, side panels for air circulation, a ladder cover, and gutter protectors.
A patch kit is included. MSRP: $484.99. Three-year warranty.
PermaPro Deluxe covers have adjustable front and rear tension panels and elasticized hem corners for a custom-type fit. An air-vent system and quick-drying ripstop fabric are said to decrease wind stress, repel water and let inside moisture out. Long zipper pulls reduce the need for a ladder, and an integrated strap attachment and weighted toss bag eliminate crawling under the RV to install tension straps. Zippered panels allow entry to the RV doors and give access to all four sides of the RV to reach storage compartments. MSRP: $171.95 to $717.95. Lifetime warranty.
Like the PermaPro Deluxe, PolyPro 3 covers come with adjustable tension panels, elasticized hem corners, and an air vent, as well as an integrated rope attachment system and a toss bag. The triple-ply top and single-ply sides protect against rain, snow, dirt, nicks, and scratches. Made for travel trailers and toy haulers, the covers have zippered panels that allow access to the RV's doors. MSRP: $187.95 to $524.95. Three-year warranty.
SkyShield covers have a bonded, tear-resistant Tyvek top for UV and water protection, and ripstop sides for all-season use. Zippered side and rear panels give access to storage compartments. Elasticized hem corners and adjustable front and rear tension panels provide a snug fit, and the panels spread stress during windy conditions, according to the company. An air vent is said to lessen wind lofting and interior moisture buildup. Long zipper pulls reduce the need for a ladder. The cover has a weighted puck-toss system. MSRP: $684.95 to $894.95. Four-year warranty.
The Deluxe Premium 5th Wheel Universal cover provides all-season protection against snow, rain, and hail with breathable 600-denier polyester and double-stitched seams to prevent tearing. The cover has top curtain air vents designed to prevent moisture buildup and an easy-access zippered door flap. Adjustable quick-release buckles hold it in place, and lock grommets are incorporated into the bottom of the skirt cover. MSRP: $349.99 to $549.99. One-year warranty.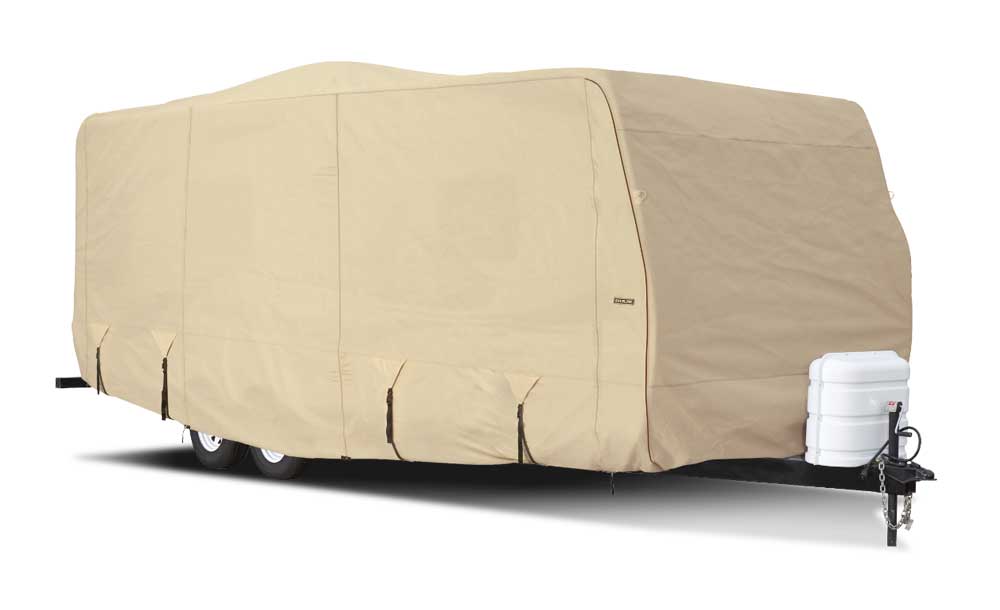 Goldline RV covers are made with marine-grade Marinex, a heavy-duty 7-ounce true loom-woven polyester constructed of 600-by-300-denier filament yarns with a 99-thread count. They're coated with Durapel UV inhibitor and an antimicrobial finish for mildew resistance. The microporous film allows breathability, and zippered panels with anti-scratch sleeves give access to all entry points. Integrated marine-grade XT straps with quick-release buckles are included, along with a toss bag, adjustable rear and side reinforced tension flags, a ladder cap, reinforcement patch and storage duffel bag. MSRP: $350 to $500. Five-year warranty.
S2 Expedition RV covers include rooftops made of marine-grade fabric for maximum water resistance. Full-height zippers around the entire cover allow access to any part of the vehicle, and a microporous film provides breathability. Heavy-duty reinforced corners with
a sewn-in shock-cord hem, quick-release buckles for easy installation and removal, and a multipoint strap system for a snug fit in windy conditions are standard. Expedition covers come in size increments of 2 feet and feature reflective panels for safety at night. The company claims the cover blocks 99 percent of UVA and UVB rays. MSRP: $275 to $395. Three-year warranty.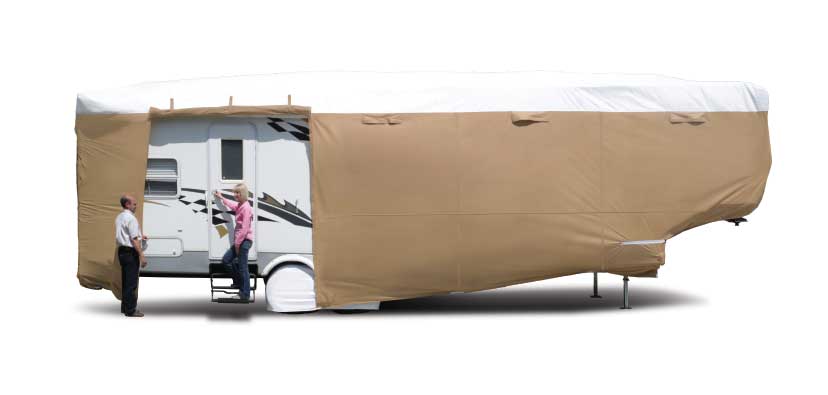 Sold exclusively at Camping World, Elements All-Climate covers provide triple-layer protection against sun, snow, rain, and black streaks. Each cover includes four reinforced roof-panel handles to help position it on the RV, grommets that won't rust or corrode, breathable polypropylene fabric on the side and end panels, and six Tyvek gutter protectors to prevent tears on sharp edges. Front, rear and side vents allow airflow, and zippered panels offer entry and access to storage areas. MSRP: From $164.99. Two-year warranty.
Water-repellent Premium covers are made of a durable poly-oxford fabric, a lightweight material for easier handling and coverage. The covers feature mesh vents for better ventilation. Each cover has four reinforced roof-panel handles for positioning, and reinforced buckles and straps that are said to resist rip-out. An elastic insert and adjustable straps on the front and rear panels give a secure fit, and reinforced vinyl front and rear bumper panels provide extra wear protection. Camping World claims Premium covers store down to half the size of its All-Climate covers. MSRP: $369.99. Two-year warranty.
---