An inside look at the RV capital's key trade show where manufacturers roll out the latest offerings
Given the recent record-breaking sales performance of the RV industry — led in large part by the travel-trailer segment — manufacturers could be excused if they looked at the 2018 model year less as a time to introduce new concepts and more as an opportunity to simply catch up with order backlogs that, in some instances, stretch well into the new year. But that's not the case.
As seen at last September's annual Elkhart County RV Open House, a trade-only RV show in and around Elkhart, Indiana, that has evolved into one of the premier industry events, RV manufacturers aren't taking a breather. Granted, no manufacturer reinvented the wheel, so to speak, but a number of them did reinvent how they go about maximizing space inside and outside a wide array of travel trailers and fifth-wheels.
Consider the new Starcraft GPS. The GPS was developed with three goals in mind: more storage, increased tank capacity and improved outdoor living — and everything had to fit on a travel trailer that hit a targeted dry weight of 6,000 pounds or less.
To meet those objectives, the GPS was developed as a V-nose trailer. The design isn't new; several companies have introduced V-nose units to varying degrees of popularity in the past 10 years or so. However, most of those V-nose units (so-named because the "house" of a V-nose trailer is built over a portion of the unit's A-frame) integrated the odd-shaped front space into an odd-shaped living space, be it part of a front galley, bathroom or even a bunkhouse.
Starcraft designers and engineers dedicated that front space to what the company calls its Sport Locker — a walk-in cargo room with a 750-pound capacity. Developed in partnership with Lippert Components, Inc. (LCI), the lockable Sport Locker sits atop a specially engineered tongue and is accessed by LCI's Solid Step through a full-height door. The aerodynamic wedge shape of the Sport Locker is achieved by seamless-laminated side walls angled to form the wedge, which is capped by a sloped fiberglass roof.
But the real selling point of the GPS may be found in back, where the travel trailer has incorporated a "porch." Tucked up against the rear of the unit in toy-hauler fashion when not in use, the ramp door is accessed through patio doors in the rear wall of the GPS and boasts a power awning developed in partnership with Carefree of Colorado. The back porch becomes a screen room when side walls are installed with an integrated zipper, and when the weather gets rough, the side walls have roll-down vinyl windows.
And did we tell you the GPS, initially available in the 27-foot, 2-inch 230MLD and the even shorter 24-foot, 3-inch 210RLD, also boasts a 106-gallon freshwater tank?
Judging by units that made their debut at RV Open House, one trend that seems to be picking up steam is a move to what are being tabbed "adventure trailers" — smallish, lightweight travel trailers designed for enthusiasts who spend most of their time outdoors and essentially use the vehicle as a home base.
New variations on this theme include the Little Guy Plus from Liberty Outdoors, the new parent of Little Guy Worldwide, a company known for teardrop trailers. Teardrops could probably be considered the original adventure trailer, and the $22,000 MSRP Little Guy Plus features the typical kitchen arrangement behind its rear hatch — but the 18-foot, 2,000-pound Plus also features a second kitchen inside.
Yet another concept in the genre was unveiled by inTech RV. A relatively new RV builder, the company was founded in 2011 as a manufacturer of all-aluminum motorsports and industrial trailers before branching out. The inTech Luna is an 1,800-pound modified teardrop with a 2,200-pound gross vehicle weight rating (gvwr) and a unique front-leaning design that incorporates a full-width tinted front windshield. Inside, the company also ratcheted up the features on the $16,000 to $19,000 MSRP unit, which include a three-burner stove/sink combination from Dometic with a commercial-style faucet, a stainless-steel microwave, Dometic 12-volt refrigerator, futon-style seating/sleeping and an optional 40-inch flat-screen TV.
A third adventure trailer design came out of the engineering group responsible for Forest River's R-pod. But what differentiates the new Forest River No Boundaries — or No-Bo, as the bold black-and-green logo on its side and back proclaim — isn't just its attention to things important to outdoor enthusiasts but also the breadth of floorplans. For now, No-Bo offers six models: two modified teardrops and four more-conventional travel trailers, with MSRPs ranging from $13,000 to $22,000.
"No Boundaries is a product line that will have 10 to 12 different floorplans ranging from 12 to 26 feet in length and carrying 1,500-pound to 3,500-pound tow ratings, so this caters to the four- and six-cylinder tow vehicles," said Forest River General Manager Kevin McArt. "A couple of the models are built so that you can put them inside your garage even with the Rhino-Rack on it."
The Rhino-Rack deserves special mention, because it's what helps make No Boundaries easily recognizable as a gear-hauler for adventurers. Essentially, the mix-and-match system allows consumers to select which component they need for whatever gear they want to carry. There are even components designed to carry jerry cans for additional fuel or potable water. A "step seat" that quickly fits onto the tires provides easy access to the rack or a convenient place to remove muddy hiking boots.
RV Open House also was the launching pad for the newly rebranded Winnebago Minnie lineup of towables. Formerly carrying a number of names beneath the Winnebago Towables umbrella, the company's trailer offerings (which don't affect its Grand Design division) will now be branded as the Micro Minnie, Minnie Drop, Minnie and Minnie Plus. Winnebago's Ultralite and Instinct travel trailers, along with its Voyager fifth-wheel, will now carry
the Minnie Plus moniker.
"With the launch of our Minnie brand, we will now have five species of trailers under the same nameplate that share a lot of the same features including internal wood choices and fabric options," said Winnebago Towables Director of Marketing Mark Gerber. "We are branding the rollout as 'Minnie Time,' giving customers, and salespeople, an easy, logical progression under one name."
Here are a number of other new models and floorplans that caught our eye in Elkhart.
Coachmen
According to Bob Dumm, general manager overseeing Coachmen's Apex and Freedom Express lines, the impetus for the Apex 251 RBK was simple: "We took the best of two of our best-selling floorplans and combined them.
"With this unit, you've got a nice rear bath with a large shower area, a nice sofa dinette within a galley slide, and a 60-by-80-inch queen bed," Dumm noted, adding that the trailer also features an exterior camp kitchen. Standard upgrades across the Apex line include larger baggage doors for the pass-through storage compartment, countertops with round-over edging and a backup camera mount.
Joining Coachmen's growing lineup of 7½- and 8-foot-wide Apex towables, the 28-foot, 11-inch 251 RBK has a 4,984-pound dry weight, a cargo-carrying capacity of 2,000 pounds and an MSRP of $23,900.
Cruiser RV
For 2018, Cruiser RV has redesigned the typical double-over-double bunkhouse to create a more livable space. The 2018 Shadow Cruiser 277BHS still includes a queen master bedroom up front, but instead of having the entertainment center crowding the end of the bed, a wall with a sliding door closes off the bedroom, and an L-shaped galley sits just aft of the wall. Theater seating and a dinette are housed in the streetside slideout across from a large HDTV and a Furrion DVD stereo with app control.
The entry door has been moved toward the rear, just in front of the bunk beds. The rear double-over-double bunks are next to a full-corner bath, which features a window and a 36-by-30-inch shower.
With MSRPs ranging from $29,000 to $32,000, the well-equipped Shadow Cruiser carries a nice list of standard equipment, including a 13,500-Btu air conditioner (a 15,000-Btu air conditioner upgrade or dual air conditioners is optional), an electric awning with LED lighting and a two-tone painted front cap with LED lighting.
DRV
DRV Luxury Suites has worked to develop a reputation for building residential-style fifth-wheels and toy haulers equipped with every comfort and amenity. But high-end amenities and lots of room add plenty of weight, so last year the builder introduced the lighter, less expensive Mobile Suites Aire line of fully outfitted fifth-wheels.
For 2018, DRV has added a toy hauler to the Aire line. The Mobile Suites Aire 413 stretches 41 feet from pin box to rear cap and offers 4,200 pounds of cargo-carrying capacity to its 21,000-pound gvwr, leaving plenty of room for toys and gear while still touting luxury features such as hardwood cabinets, solid-surface countertops, a stainless-steel Furrion oven and cooktop, and a residential refrigerator with ice and water in the door.
The 413 boasts a 12-foot garage with a half bath, washer-dryer hookup and a MORryde rear door with fold-out patio rails. The garage area also has elevated bedding, an LED TV and a stereo system. The $125,000 MSRP toy hauler comes standard with three 15,000-Btu air conditioners, a 55-inch LED TV and an electric fireplace.
Forest River
Among several changes for Forest River's XLR line of fifth-wheel and travel trailer toy haulers is the debut of the All American Super Suspension, an optional package exclusively available on its Thunderbolt, Nitro and Hyper Lite XLR models.
"This new suspension proved to be a genuine game changer during extremely challenging durability testing," said General Manager Brent Stevens. "Energy transmission into the RV was reduced by 50 to 94 percent," which translates to less stress on cabinets, appliances, TVs and the overall structure, Stevens pointed out.
Other changes for the XLR line include full-body paint with an "edgier" design and a more contemporary interior featuring a power recliner sofa with USB ports. Among the line's standouts, Stevens said, is the 45-foot XLR Thunderbolt 422AMP, with an MSRP in the $110,000 to $115,000 range. The 422 features two patios, one and a half baths and a 12½-foot garage.
Grand Design
Grand Design introduced two new floorplans — the 290BH bunkhouse and the rear-living 295RL — to its recently launched Reflection 150 Series. The line's four floorplans range from 27 to 34 feet with retail price points of about $30,000 to $40,000. Designers focused on hitting dry weights of 6,500 to 8,500 pounds and hitch weights from less than 1,200 pounds to about 1,400 pounds to fall within half-ton trucks' payload capacities, said General Manager Micah Staley. Including a lot of storage and counter space was also essential.
"We didn't want to sacrifice a lot of the amenities, quality construction, the insulation and the capacities," Staley said. "We're excited about it, especially because the Turning Point pin box gives it a 90-degree turn in a shortbed truck without the need of an expensive slider hitch."
Heartland
Heartland introduced the Cyclone 4270 floorplan in its line of luxury fifth-wheel toy haulers. One of 11 floorplans, the three-axle 4270 extends 44 feet, 11 inches and has a 20,000-pound gvwr and a $119,000 MSRP. In addition to a ramp/patio off the rear 13-foot garage, the toy hauler features a side patio with a Zero Gravity door.
"It actually has the largest living space that we've ever debuted in a toy hauler this size," said A.J. Jones, senior general manager. The bath-and-a-half unit comes with what
Jones called a "perfectly placed" 55-inch TV that everyone seated on the five-person couch and at the high-rise bar can view.
Heartland's other luxury toy-hauler brand, Road Warrior melds a 13-foot garage with the kind of luxury features expected in higher-end fifth-wheels. New for 2018, the Road Warrior 426 is a triple-axle, 20,000-pound-gvwr fifth-wheel filled with high-tech features including LED TVs, a Furrion stereo with app control, USB receptacles everywhere — even in the theater seating — and some amazing LED lighting effects.
Other standards on the $97,698 MSRP 426 include a treehouse loft for the kids, the MORryde Zero-G entry step and three high-efficiency Dometic 15,000-Btu rooftop air conditioners that can run on a single 50-amp service.
Highland Ridge
Highland Ridge introduced the Open Range 3X384RLS with an innovative layout for its front master bedroom. Measuring in at 39 feet, 10 inches with a 16,450-pound gvwr, the bedroom has a sofa tucked into the front wall, flanked by end tables, with one that has an integrated wine cooler. The bed is built into a streetside slideout and is directly across from a 32-inch flat-screen TV and electric fireplace. The entire bedroom suite can be closed off by a French door.
"There's plenty of closet space, a nice big closet for a stackable washer-dryer, and a very open concept — almost like it's another living area in the bedroom," said Senior Director of Product Development Randy Graber of the $79,000 MSRP 3X384RLS.
The fifth-wheel's living area has opposing 7-foot-tall, 42-inch-deep slideouts, a kitchen island, a two-seat sofa along the rear wall, and theater seating for two opposite the entertainment center.
Jayco
Featuring a rear entertainment area and an outside kitchen with a lower-than-typical height, the 29-foot, 2-inch Eagle HT 25.5 REOK has a "minimum advertised price" of about $39,900 and checks in at 7,625 pounds unloaded.
The single-bath fifth-wheel — the shortest in the Eagle HT line — boasts two streetside slides. Curbside, the well-appointed galley is just off the entry door. An outdoor kitchen, 20-foot awning and the lack of a curbside slide maximizes use of the campsite space, said Chris Barth, senior director of product development.
Barth also noted that the 25.5 REOK offers a host of innovations, including Goodyear Endurance tires, a BAL 5.3 Auto-Leveling System, Orbital RPB (a non-slider, 90-degree rubberized pin box that's designed specifically for shortbed trucks) and MORryde's StepAbove entry steps.
"We wouldn't have actually been able to build this floorplan except for being able to place the StepAbove over the axles," Barth said.
Keystone
It's not often an innovative new floorplan catches the industry's attention, but
such might be the case with the Sprinter Limited 3551 FWMLS, a four-slide fifth-wheel with a fully equipped rear kitchen.
Stretching 39 feet, 3 inches with a dry weight of about 10,500 pounds, the 3551 features a galley outfitted with a three-burner Dometic stovetop and oven flanked by large drawer
stacks and cabinets, one of which holds a microwave. A streetside slide houses an 18-cubic-foot residential refrigerator with a pantry cabinet or two side-by-side RV refrigerators. Between the cooking area and main cabin is a peninsula with a wraparound bar-height counter.
"The beauty of this is a very original bar design that can seat up to four people with a giant window looking right over the campsite and a space for meal prep with a residential range hood," said Product Manager Jonathon Gust of the $68,500 MSRP fifth-wheel.
K-Z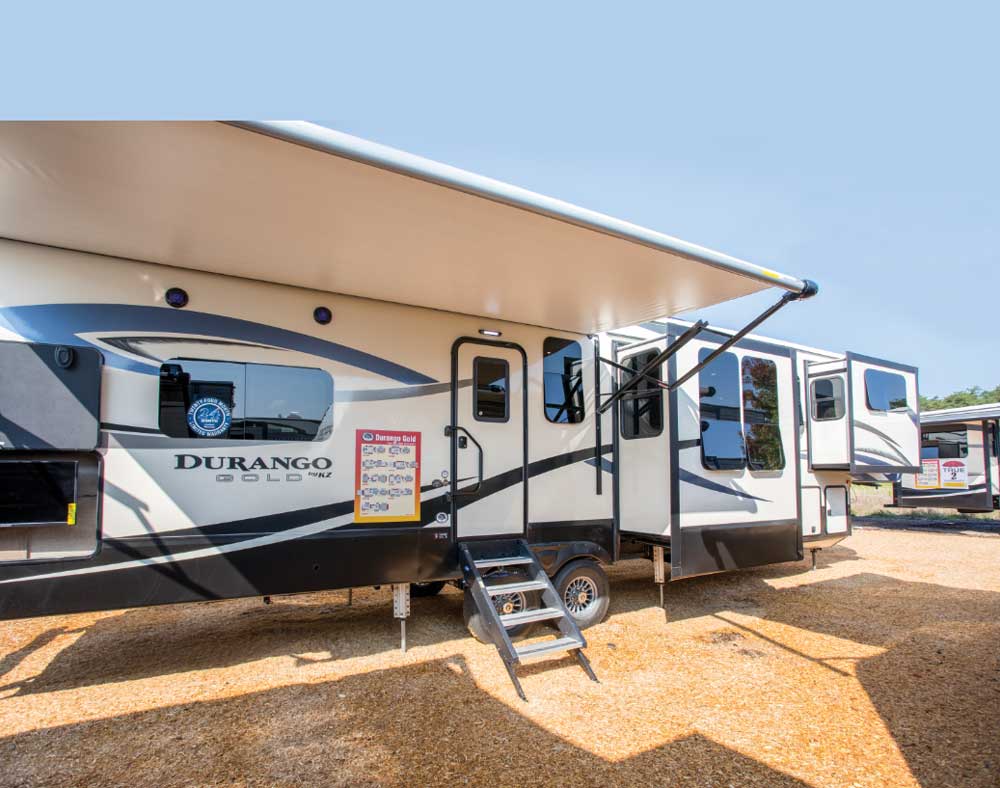 The fact that the Durango Gold series stands as the premier brand within the K-Z RV family says a lot for the firm that has been building towables for more than 40 years. And the front-living-room, bath-and-a-half Durango Gold 385 FLF stands at the top of the lineup.
The five slides in the $85,000 to $100,000 MSRP fifth-wheel include two in the living room with a super sleeper sofa in each, another pair of opposing slides in the main-level galley with a dinette curbside and a cooking area and range streetside, and a streetside slide for the king bed in the rear bedroom. The rear bath spans the width of the fifth-wheel.
Additional features in the Durango Gold include a coat closet at the entrance, and a full pantry, an optional dishwasher and larger refrigerator in the kitchen.
Lance
National Sales Manager Gary Conley said Lance believes it has a winner with the 1475, a 19-foot, 8-inch trailer with two captain chairs and a table across from the kitchen and a dry weight of less than 2,600 pounds. For 2018, Lance added a 7-foot-long, 1-foot-deep optional curbside slideout that contains a sofabed with kickout footrests. Two swivel tables provide ample dining or desk space. Over the sofa is a window that opens outward.
The rest of the layout includes an east-west bed up front, a three-piece bath and a well-appointed streetside kitchen featuring Euro-cabinets with interior LED strips that light automatically when the curved door is opened. The Euro-design influence also is carried to the exterior, where Lance has gone to a more linear graphics scheme. Also noteworthy are standard Goodyear Endurance tires on new aluminum wheels with color-coordinated accents.
"It's only a 14-foot box, but it counts almost more like a 20-footer with what we've done," Conley said. The trailer has an MSRP of about $32,000.
Livin' Lite
As noted by Dave Boggs, general manager of Livin' Lite, the company has stayed true to its all-aluminum roots while still managing to incorporate upgrades. That's a description Midwest Regional Sales Manager Robbie McClure concurs with when describing the new CampLite 21BHS, which comes in a half-dozen exterior colors, sleeps six and has a $32,000 MSRP. Also available is a Platinum Package that includes interior accent lights and Deluxe Chrome Graphics.
"The big thing about the Livin' Lite CampLite products is that we still have an all-aluminum, all-composite construction, so this 21-footer weighs in at just 3,600 pounds — with tandem axles," said McClure. "There's no wood in any of the structure at all."
"Plus, instead of using painted alum­i­num exteriors, we actually went to a high-gloss Noble Select fiberglass from Crane Composites with chrome graphics on it," Boggs added. "And we've offered solid-surface countertops, new Euro dual-pane windows and an enclosed and heated underbelly."
Sunset Park
Sunset Park debuted the newest addition to its lineup of travel trailers and toy haulers, the Sunray Classic T-109. At just under 12 feet, the $14,408 MSRP T-109 is the smallest trailer made by the manufacturer.
In typical teardrop fashion, the rear wall opens to reveal a chuck-wagon-style kitchen with a microwave, sink, cooktop and optional three-way refrigerator. A wall-length gaucho in classic vinyl spans the rear wall for sitting and sleeping, and offers pass-through storage beneath it. The trailer comes with a furnace, night shades for privacy and an AM/FM/CD stereo.
Winnebago
Winnebago's renaming of its towables lineup to fit beneath the "Minnie" umbrella coincides with a sweeping array of upgrades for 2018. Built on a BAL NXG frame, the almost 37-foot Minnie Plus 30RLSS is an all-new triple-slide travel trailer with a host of upscale amenities.
The rear living room features a trifold sofa across the back wall, optional theater seating and a dinette across from an entertainment center with an LED TV and stone-surround fireplace. The galley has a wealth of solid-surface counter space and includes an oval island with a sink, a double-door refrigerator and loads of storage.
A dual-entry bath — with glass-surround corner shower, ceramic commode and stainless-steel sink — sits off the side-aisle hallway, followed by the front master bedroom with a queen bed in a front slideout, augmented by a full wardrobe across the front wall. The cavernous front storage also features a unique lift-up shelf that creates a large vertical space that can be locked.
The new $45,682 MSRP Minnie Plus has a full-fiberglass front cap and a fiberglass-clad exterior that is available in eight colors.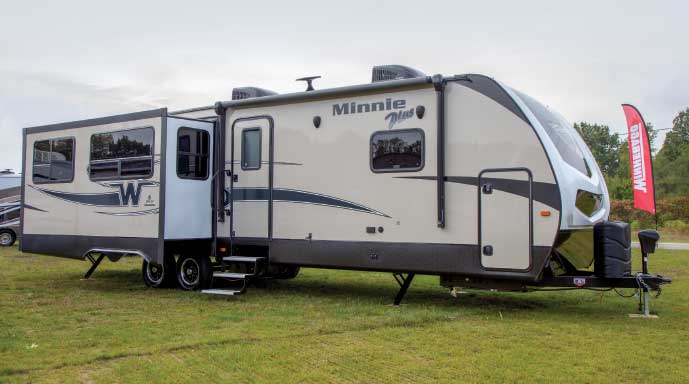 ---