I recently heard that it is a good idea to have additional cooling capacity for my 2010 RAM 2500 rear differential. My truck is a 2010 Dodge RAM 2500 diesel and I tow a 32-foot Wildcat fifth- wheel that is around 10-to-12 thousand pounds. Is this something that makes sense or just hype to sell these aluminum-finned covers.
— Kurt Salseth, via e-mail
Aluminum covers with fins are designed to improve heat dissipation, which will probably help cool the lubricant.
As far as needing such a device, the evidence can be seen rolling down the road, Kurt. There are millions of vehicles  without any such auxiliary cooling and they roll up thousands of miles with no differential damage. Use of such a device can't hurt, and if it offers a somewhat greater lube oil capacity it may extend the lifespan of the oil a bit, but I don't think it would be accurate to say you need one. The best way to achieve long differential life for your truck would be to avoid overloading the axle or the truck's tow rating, and observe the factory recommended lubricant service intervals.
– Jeff Johnston
---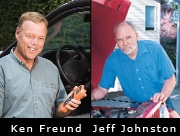 To send your questions to RV Clinic, write to 2575 Vista Del Mar, Ventura, Calif., 93001; or email [email protected].