MARCH 2019


Tow-Rating 

"Recertification"
I am driving a Ram 2500 with a 3.42 axle ratio. I just bought a fifth-wheel that had a pin weight higher than the truck's load limit. The dealer told me I could replace the coil springs with heavier duty coils and have it recertified, which I did. Did I do the right thing?
Thomas Paul

Replacing the stock coil springs with heavier duty ones stiffens the ride and reduces sagging under a heavy load. But changing the springs doesn't change the truck's certified towing or load capacity. Despite what your Ram dealer told you, the only way to "recertify" the capacities of any vehicle is by going through the vehicle manufacturer and having them retest it, which will never happen.
Once a vehicle leaves the assembly line, its tow ratings and cargo capacities are set in stone, just like the VIN. And each vehicle cab and bed configuration could have higher or lower capacities, depending on the axle ratio, engine, transmission and tow package. Installing heavier springs, high-capacity hitches or bigger brakes, modifying frames or making any other modifications to the drivetrain, chassis and/or suspension will not change that particular truck's limitations as set by its manufacturer.
Tow ratings for your particular make and model can be found in Trailer Life's annual towing guides, http://www.trailerlife.com/trailer-towing-guides, as well as on Ram's website, https://www.ramtrucks.com/towing-guide.html.
Towing Liability
Towing a trailer that is beyond the capacities listed by the manufacturer of the tow vehicle is putting yourself and others that share the road with you at risk. In addition, towing or carrying loads beyond those listed maximum limits opens the driver to all sorts of liability issues, should there be an accident, especially if injuries to other parties occur.
Whether a vehicle owner agrees or disagrees with the manufacturer's listed limitations is a moot point. When a driver sees a speed-limit sign, it's up to the driver to abide by it or not — and face the consequences when caught exceeding it. Towing a trailer that exceeds the "posted" weight limit for that vehicle is the same thing — and for much the same reasons. Government agencies that post speed limits have considered a lot of factors before reaching a speed they consider safe under normal road conditions for that particular section of highway.
Safety First
In setting tow ratings and load capacities, vehicle manufacturers take into account a large number of factors as specified under SAE J2807, which dictates a strict standard of testing both at the manufacturers' testing sites and out in the real world. Among those tests are emergency accident-avoidance and vehicle-control tests with a loaded trailer in tow. If the vehicle being tested doesn't pass these tests in a manner deemed "safe" by the experts doing the driving and monitoring the data being transmitted to an array of test equipment, then the trailered weight is reduced and the vehicle retested.
For example, if a crew cab 4×4 shortbed diesel is rated with a maximum trailer-towing capacity of 14,500 pounds, then that means towing 15,000 pounds caused some serious concerns as to vehicle control during emergency lane-change maneuvers, emergency braking, towing long grades, hot-weather cooling or other testing factors.
Risky Business
That gets back to the liability aspect of towing above your vehicle's specific load limits. Causing a serious accident while towing in a manner that doesn't meet the vehicle manufacturer's explicit equipment requirements and exceeds established limits opens the door for legal actions based on "negligence" against the driver of the tow vehicle. It's not a good situation for any RVer to be facing.
"If I were counseling a business owner, I would say the manufacturer's guidelines detail what the applicable standards are, and a reasonably prudent person needs to follow those standards to avoid liability," said Anthony E. McNamer, partner in the Portland, Oregon, law firm McNamer and Company. "If you don't follow the towing guidelines clearly set forth by the manufacturer, then it's going to be very difficult to argue you were being reasonable."
Several years ago an RV owner asked a similar question and mentioned that he didn't know his truck's tow rating or the actual weight of his big fifth-wheel, thinking the ads he saw on TV touting a 20,000-pound towing capacity covered all the bases. I had a chance to talk with another attorney at that time to get his take on the "I just didn't know" defense related to towing liability issues.
Dean Holleman, vice president and managing attorney of Boyce Holleman and Associates in Gulfport, Mississippi, said, "Any person who tows a trailer would be responsible to know that the towing vehicle has certain limitations that should not be exceeded. If the accident is caused by the vehicle being used to tow something it was not designed to tow, this could be an act of negligence by the driver, and under the theory of negligence that person most probably would be held liable," Holleman said. He added that, while some vehicle owners may argue the tow ratings and proper setup of their vehicle isn't clearly noted in the owner's manual or easy to find on the manufacturer's website, "most vehicles do have proper warnings and posting of limitations of towing weight."
That type of straight-up legal advice should make any RVer that is towing a trailer take notice. It's the tow vehicle driver's duty to make sure that (1) the trailer weighs less than the maximum loaded weight as specified by the vehicle's manufacturer for that specific vehicle configuration, and (2) the towing vehicle is properly configured with the correct equipment for the trailered weight. If either of the above is neglected or disregarded, it could lead to an insurance company denying accident coverage and open the door to a lawsuit by others involved in a towing-related accident.
Getting back to the question of "recertifying" a vehicle to tow a heavier weight, you'd have to actually go back to the vehicle manufacturer to have that done, and it would have to pass J2807 certification testing.
---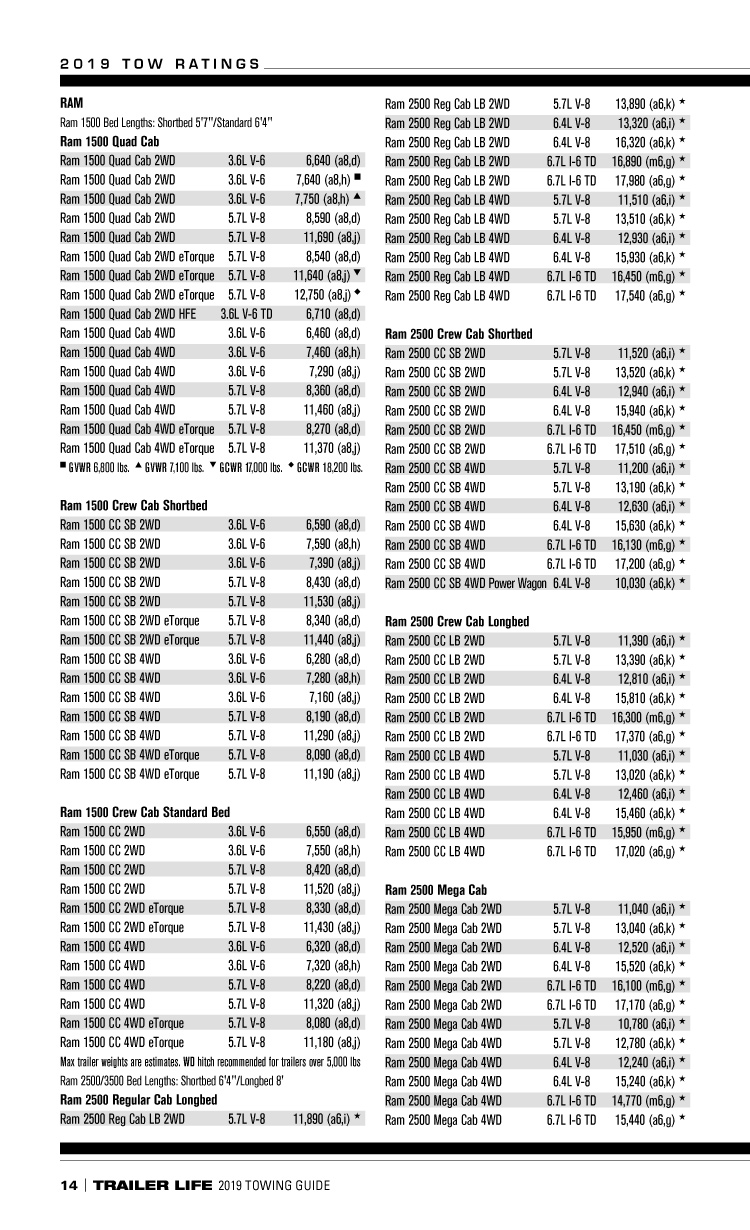 Truck manufacturers list load and towing capacities on their websites, and dealers have copies of the same information. Trailer Life consolidates manufacturer-assigned tow limits and publishes them in its annual Guide to Towing. As this page from the 2019 Guide to Towing shows (above), the Ram 1500 and 2500 tow ratings vary between vehicle configurations. Note that manufacturers occasionally make specification changes during the model year, so be sure to verify the capabilities of any vehicle you're purchasing. Ram's website is the most up-to-date source of information for tow limits on its trucks: https://www.ramtrucks.com/towing-guide.html.
---
Join the Conversation
Scroll down to the Leave a Reply box to add your comments to this discussion.
Have a Diesel Tech Question?
To ask Bruce W. Smith a question about maintenance, repairs or upgrades to your diesel truck, SUV or van, go to the Diesel Tech Q&A home page, scroll down to the Leave a Reply box and type in your question. Please include your full name and hometown.
---
A respected automotive and RV journalist and longtime Trailer Life contributor, Bruce W. Smith has held numerous editorial titles at automotive and boating magazines, and authored more than 1,000 articles, from tech to trailering. He considers his home state of Oregon a paradise for RVing and outdoor adventure.
---