Q: I have a 2005 Chevy HD 2500 diesel pickup. Is there any difference between name-brand diesel fuels (Chevron, Shell, etc.) and the independent gas stations? I was told a few years back by a gas station owner that a Chevron plant in California produces all of the diesel fuel for California and Arizona. It seems that if one plant makes all of the diesel for California and Arizona, and if it is the same, why would people spend the higher price at Chevron or Shell or others? It is all No. 2 diesel. It would be nice to know and I am sure there are more people out there who would also like this info.
J Milner, Fremont, Calif.
A: What a timely question, as the Chevron refinery in the Bay Area near you in Richmond, Calif., recently had a major fire that shut it down. That refinery made fuel for both Chevron and other distributors. Most diesel fuel sold now is ultra-low sulfur diesel, which must meet EPA regulations, be within a specified cetane range, and contain certain additives such as lubricity improvers. Diesel fuel blended for use during winter in mountainous and cold-weather areas is also blended to keep it from waxing and clogging filters. Chevron (and others) put certain additives in its fuels and does not announce what, if any, differences there are in the fuels it sells directly and those that it sells through other outlets. Unfortunately this is considered proprietary. So while you should have satisfactory performance with any of the products, and the differences (if any) may be imperceptible, you'll have to decide if brand names are important to you.
– Ken Freund
---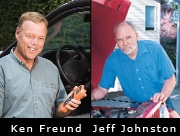 To send your questions to RV Clinic, write to 2575 Vista Del Mar, Ventura, Calif., 93001; or email [email protected]. Also, check out TrailerLife.TV for our expert RV how-to videos.