From lightweight travel trailers to luxury fifth-wheels and innovative toy haulers, a dozen new floorplans and lineups make auspicious debuts this model year
Augusta Luxe

Pushing the high end of the luxury fifth-wheel envelope, Augusta RV recently unveiled the Luxe, a five-floorplan fifth-wheel that rivals many upscale Class A motorhomes when it comes to technology and aesthetics, but at a significantly lower price. Few would say the Luxe's starting MSRP of $130,000 is a small sum, but the Augusta team believes the amenities provide a hefty value to match the price.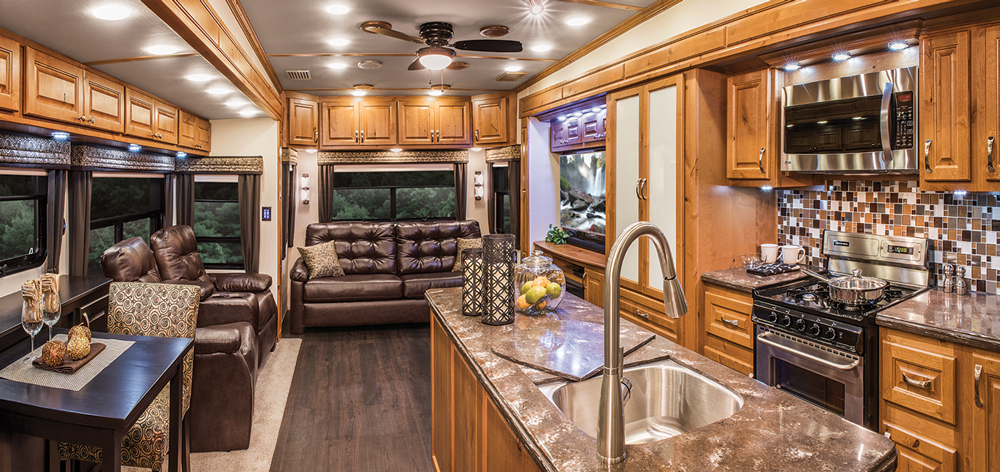 "With the Luxe, we went with a modern design and included several standard features on it that [no other towable manufacturer] does," said Chris Eppers, Augusta RV's president. "It was designed for full-timers and extended-stay RVers as a luxury residential fifth-wheel that offers all the amenities a high-end home would have."

Standard features include a MORryde independent suspension, hitch pin box and disc brakes, soft-touch side walls that are easy to clean and function as an insulator and noise barrier, and residential hardwood cabinetry with dovetail drawers and hardwood stiles, trim and cabinet door fascia. The Luxe has the industry's first hybrid superstructure frame that features a 12-inch I-beam and stackable tube box, and it is the only luxury fifth-wheel to offer a standard multiplex lighting system, according to the company.


The Luxe is "full-time climate approved," said Eppers, with dual-pane frameless windows, 3¼-inch hung side walls with fiberglass insulation, and thermal wrap as well as heat pads on all holding tanks, allowing the fifth-wheel to function from minus-10 degrees Fahrenheit up to 115 degrees.

Luxe floorplans range from 40 feet 7 inches to 44 feet 7 inches, and all include notable standards including hand-laid tile flooring, a 21-cubic-foot residential refrigerator, dual 15,000-Btu air conditioners, a 50,000-Btu on-demand water heater, a 50-inch HD LED TV in the living room and a 40-inch LED HD TV in the bedroom.

Augusta RV | www.augusta-rv.com/luxe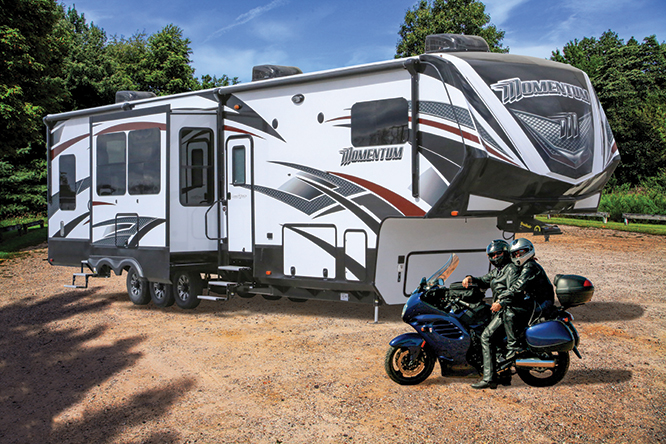 Grand Design Momentum

Grand Design RV is expanding its luxury toy-hauler lineup for model year 2016 with the Momentum (starting at $88,000) and Momentum M-Class (starting at $59,000). With both Momentum lines, Grand Design aims to deliver luxury and fun.

Now available in six floorplans, from 36 feet to just under 43 feet, with gross vehicle weight ratings (gvwr) from 16,500 pounds to 19,500 pounds, the Momentum features dual entry doors, a fully enclosed fuel-pump station with gas fills and a pump timer, a standard 60- by 80-inch queen bed (with an optional king bed on select models), large kitchen pantry storage areas and rust-resistant Tread Lite entry steps, as well as a recliner sofa with a memory-foam top, lighted LED cup holders, and heat and massage features. A port allows easy hookup to the optional solar-panel charging system.


In the 10- to 14-foot garage, the Momentum houses a removable garage carpet, 2,500-pound flush-mount tie-downs, a standard 32-inch LED HD TV (in most models) and an in-floor garage storage box (not available in M-Class models). Other garage options include a HappiJac bunk system, a pull-down screen wall or three-season garage wall, and a quick-setup ramp-door patio system with handrails, steps and an awning.

More entertainment options abound in the house portion, with a Bluetooth stereo entertainment system including a 40- or 48-inch LED HD TV in the living room and a 32-inch LED HD TV in the bedroom. The kitchen is outfitted with a four-door, 18-cubic-foot refrigerator, a 30-inch stainless-steel microwave, a three-burner stainless-steel range with a 22-inch oven and a stainless-steel sink with a residential faucet.

Grand Design RV | www.granddesignrv.com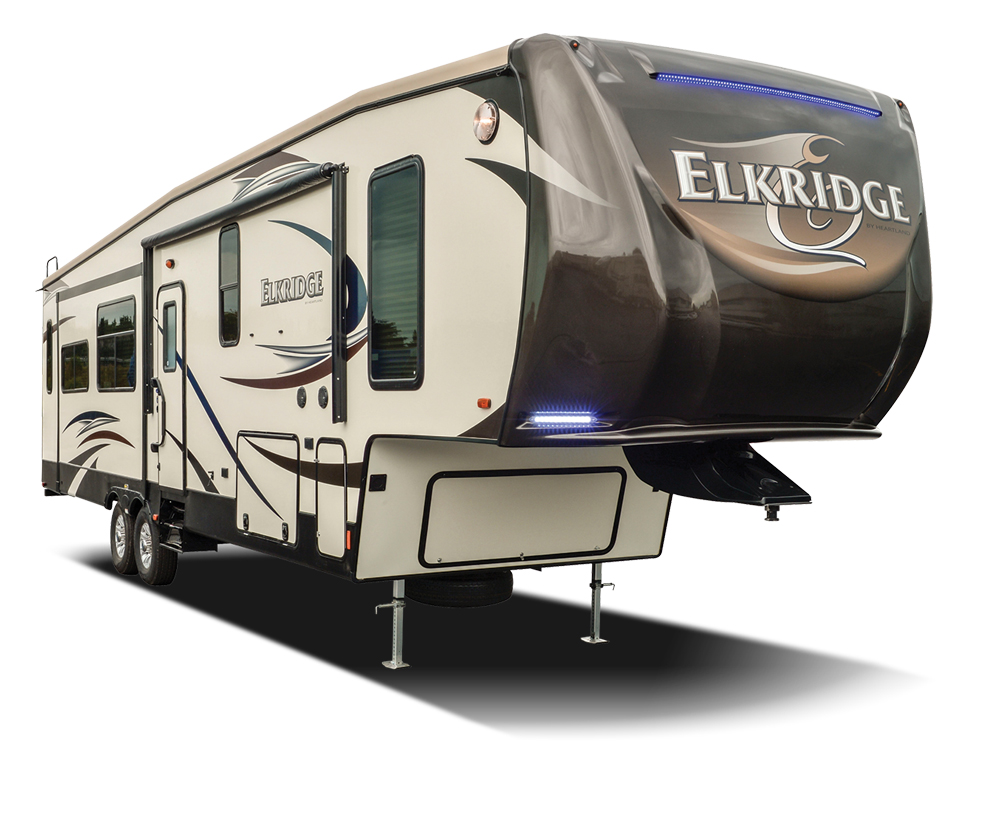 Heartland ElkRidge

Last year, Heartland introduced the industry's first five-slideout, two-full-bath fifth-wheel with the ElkRidge 38RSRT. Now Heartland is adding a sixth floorplan to the ElkRidge lineup, the 39MBHS, a 42-foot quad-slide with a single bath and multipurpose bunk room.

"The ElkRidge brand has been a leader in innovative bunk-room floorplans," said Joel Eberlein, general manager of Heartland's ElkRidge and Big Country lines. "The [39MBHS] continues our trend of designing floorplans that meet the various customer lifestyles and ever-changing use of fifth-wheels."


The ElkRidge 39MBHS houses its bunk room on the driver's side near the mid-entry door, with large sliding doors that open to the kitchen and main living area. The room houses a sleeper sofa and an entertainment center with a TV. The large loft above the bunk room can be used for sleeping or storage. "This gives owners separate rooms without sacrificing traditional living space," said Eberlein.

With a base price of $53,624, the 39MBHS has a dry weight of 13,145 pounds and a gvwr of 15,500 pounds. It comes with standard hydraulic front landing gear (a six-point leveling system is optional), as well as premium suspension with Dexter E-Z Lube axles, an E-Z Flex equalizer and Nev-R-Adjust brakes.

Heartland Recreational Vehicles | www.heartlandrvs.com
Highland Ridge Highlander

The toy-hauler field has become increasingly crowded in recent years, but there's always room for one more line of travel trailers with built-in garages. Positioned as midprofile units with a starting price of $36,105, the new Highlander is available in two floorplans, an open-deck model and a rear-garage model.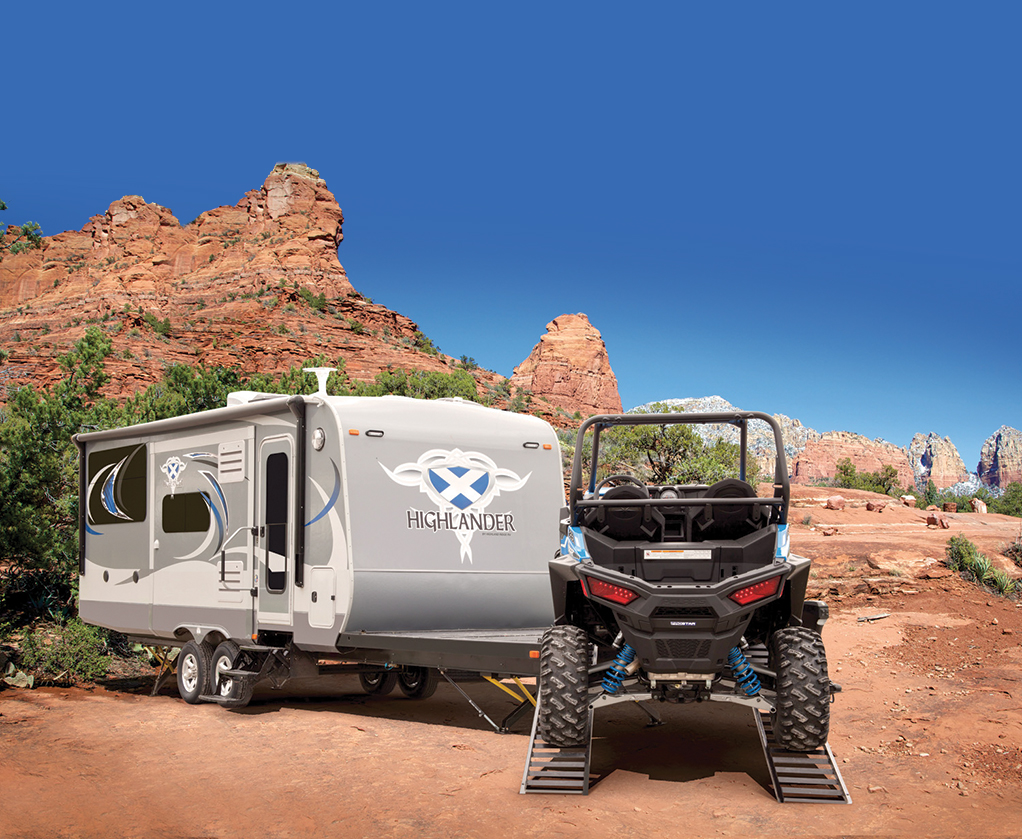 The 34-foot front-deck model has an unloaded weight of 7,545 pounds and a gvwr of 10,400 pounds, and features an industry-first front-loading system for hauling large ATVs. The floorplan has a rear-bedroom, front-bath layout with a kitchen and living room located amidships. All models include a four-season package with R-38 insulation in the walls and floor, R-9 insulation in the side walls, double-insulated baggage doors, insulated slideout floors, heated and enclosed dump valves and a heated, enclosed underbelly. Bunk beds up front bring the sleeping capacity to six.

The 37-foot rear-garage model has an unloaded weight of 8,653 pounds and a gvwr of 11,995 pounds, and offers a ramp that doubles as a patio, which comes with an optional rail system with a pull-down screen door and manual awning. Inside, a kitchen-sink island anchors the galley and living room space, with the bedroom and bath located up front. The 8- by 10-foot garage houses two convertible sofas, bringing sleeping capacity to six. An optional HappiJac bed system can be added in the garage, boosting sleeping capacity to eight.

Other options include a 15,000-Btu main air conditioner, a 13,500-Btu secondary air conditioner, dual-pane windows and an exterior barbecue grill. The rear-garage model offers additional options ranging from an Onan 5,500-watt gas generator to a 24-inch bedroom TV and a 39-inch garage TV.

Highland Ridge RV | www.highlandridgerv.com/highlander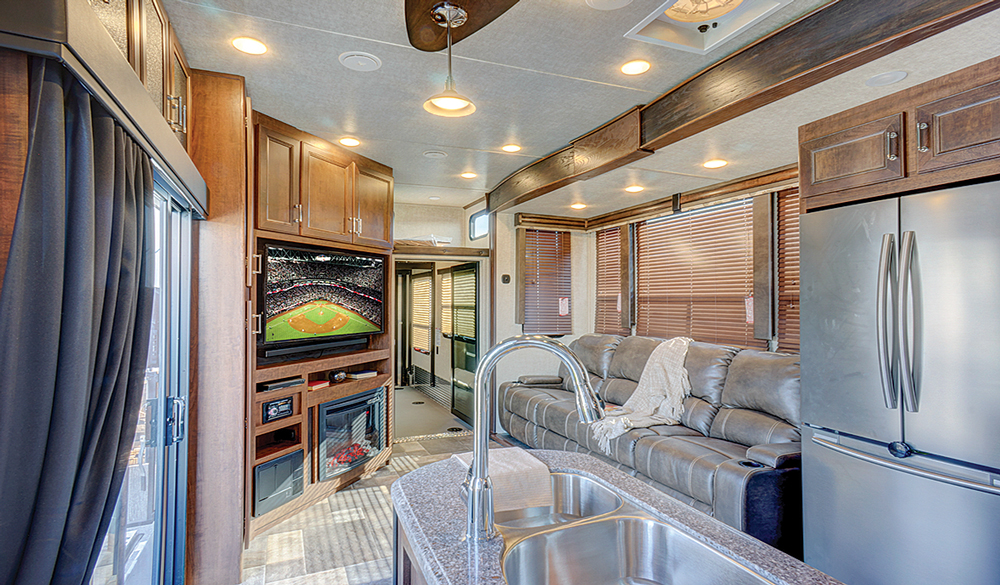 Keystone Fuzion

Keystone has introduced a new luxury fifth-wheel toy-hauler floorplan with both side and rear patio decks. While all Fuzion models sport an innovative 8-foot rear ramp/deck, the new Fuzion 420 (starting at $109,408) features both the rear deck and a new deck on the passenger's side, which combine to offer more than 160 feet of outdoor living space.

Both decks are accessible from inside or by separate steps leading off the ground, and both employ Keystone's exclusive MORryde FastTrack II patio system, which features permanently mounted patio rails and eliminates pins from the setup process, which Keystone says should take less than five minutes. The new second deck also comes equipped with a TV.

For owners who'd like to do some living inside the Fuzion 420 in addition to outside on the pair of decks, Keystone has designed a stylish and spacious interior.  At 43 feet and with a gvwr of 19,000 pounds, the sizable 420 features a half bath located off the garage and a full bath on the bedroom level.


The 12-foot garage includes electrically operated queen bunk beds, which lift to make room for toys or lower to convert to a dining and seating area. The garage also features Keystone's 5K Inter-Lock system for securely tying down motorcycles or ATVs, with each tie-down welded to the frame and rated at 5,000 pounds pull strength.

A sliding patio door opens to a mid-floorplan living room and kitchen, featuring an angled entertainment center with a fireplace and a 48-inch TV, as well as L-shaped kitchen base cabinets and an 18-cubic-foot refrigerator. The full bathroom is accessible from the living room, and the private bedroom features a standard king-size bed.

Keystone RV | www.keystonerv.com/fuzion
Keystone Laredo


As for Keystone's travel trailers, the company is not sitting idle for 2016, recently adding the 27RB floorplan to the Laredo LHT roster. "This model occupies a lightweight, lower-midprice position in the Keystone lineup," said Jim Mac, director of marketing. "But it also comes with features like a fiberglass front cap and vaulted 7-foot ceilings that are usually found in higher price points."

With a base price of $35,676, the 27RB offers other features that are uncommon in the marketplace, said Mac, starting with its layout as a non-bunkhouse trailer with an outdoor kitchen. "Most outdoor-kitchen models are bunkhouse floorplans with bunk beds in the rear," he said. "We hear from a number of customers who would like an outdoor kitchen but have no interest in bunk beds."


Designed for couples, the dual-slideout floorplan has a queen bed up front that measures 60 by 80 inches (as opposed to a standard RV queen, which is typically 60 by 74 inches), an island kitchen with added counter space and a large bath in the rear with a roomy shower.

The outdoor kitchen includes a refrigerator, pantry, counter workspace and a swing-out grill plumbed into the onboard LP-gas system. At just over 31 feet and with a gvwr of 7,780 pounds, the 27RB is designed for easier towing, especially in comparison to the larger trailers it competes with in terms of features and amenities.

Keystone RV | www.keystonerv.com/laredo
Lance 1995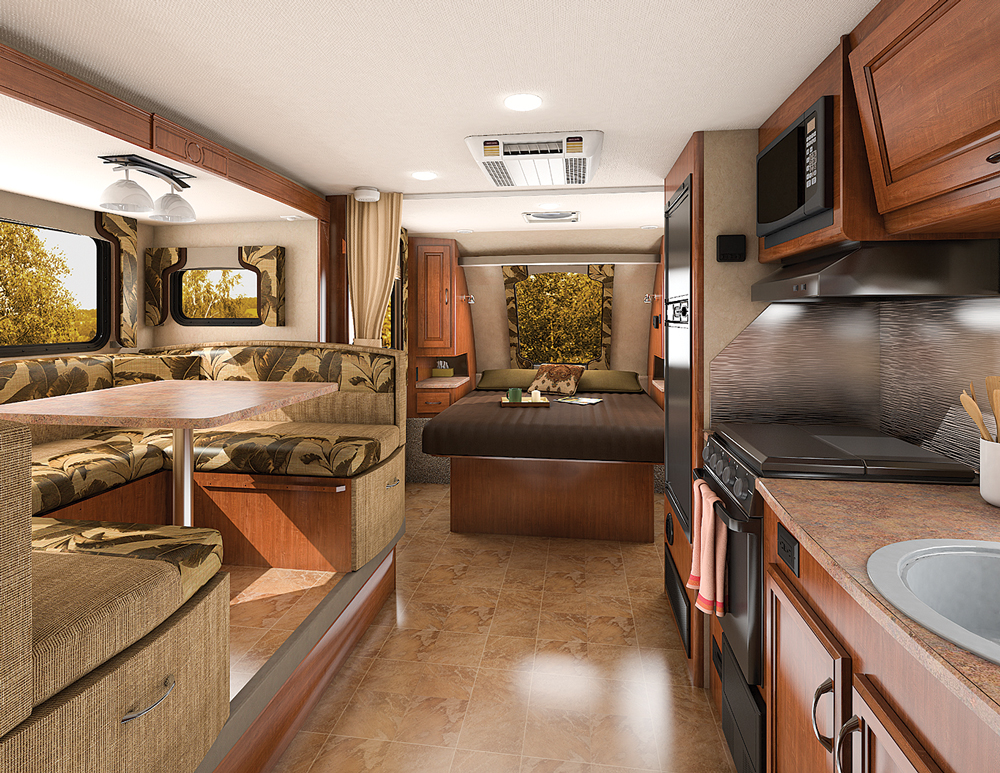 For those in the market for easy-to-tow products, Lance keeps the hits coming with an updated 1995 floorplan in the company's line of lightweight travel trailers. In the 1995, Lance achieves a low weight (3,950 pounds unloaded, 5,700-pound gvwr) through the use of the proprietary LanceLock aluminum superstructure, Lite-Ply cabinet construction and Azdel composite wall material that's lighter, stronger and a more efficient insulating alternative than lauan plywood, and likewise nearly eliminates the potential for rot and mold.

The 23-foot 1995 is offered at a base price of $29,000 and has an all-new front-end design with Lance's standard large-radius window. The floorplan is a rear-entry, rear-bath layout with a front queen bed and a booth dinette housed in the single slideout.

Other notable features include a full-length electric lateral-arm awning with LED lighting, optional 160-watt solar panels and an optional four-season package with dual-pane windows and fully ducted, enclosed and insulated holding tanks and dump valves.

Lance Camper | www.lancecamper.com/travel-trailers/1995
Livin' Lite Ignite

As the name suggests, Livin' Lite aims to produce easily towed products. One of the company's main methods for accomplishing this is to omit wood altogether, opting instead for aluminum frames and composite materials. With the all-new Ignite toy hauler, the company still uses aluminum and composites, but also strategically incorporates interior wood, including hardwood doors and cabinetry.


"This gives it the look and feel of a traditionally built coach inside but with the durability and weight reduction of our aluminum structure," said Scott Tuttle, Livin' Lite's president. "It represents the best of both worlds."

The Ignite is offered in five floorplans from 24 to 30 feet, with dry weights ranging from 5,000 to 6,000 pounds, allowing towing with suitably equipped half-ton trucks and larger SUVs. Tuttle points out that traditionally built toy haulers generally come in the 9,000-pound range.

A full-featured toy hauler, the Ignite offers floorplans with well-appointed kitchen and bedroom areas, and garages between 14 and 20 feet long. Popular amenities include an LP-gas-powered generator and a HappiJac electronic bed lift.

The Ignite is priced between $32,000 and $45,000, which, combined with the toy hauler's light weight, makes it "a great value for young families on the go," said Tuttle.

Livin' Lite | www.livinlite.com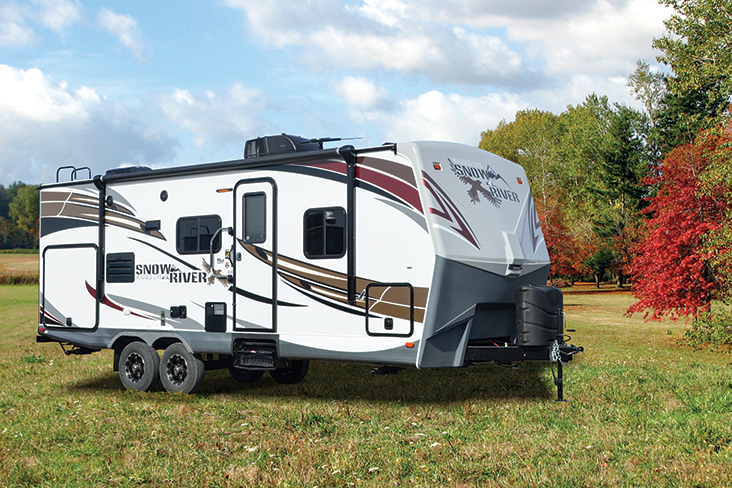 Northwood Snow River

For this model year, Oregon-based Northwood Manufacturing has given significant attention to its all-season Snow River travel trailer by revamping the 234RBS floorplan (one of four), which now features a redesigned front cap and updated interior.

With a dry weight of 5,950 pounds, a gvwr of 10,000 pounds and housed on an independently certified off-road chassis just under 27 feet, the 234RBS has a base retail price of $35,960. The trailer features a new entertainment center mounted amidships with a swivel television for viewing from the living room or private bedroom.


Other notable standards include a cathedral arched ceiling, a full-size bathroom at the rear of the trailer, a 20-watt solar panel, exterior speakers, and an exterior kitchen with a sink, fridge and grill. Options include a slideout awning topper, an upgrade to a 15,000-Btu air conditioner, a 12-volt DC power jack, thermal pane windows, power sliding stab jacks, and 60- or 100-watt solar panels with a controller.

Northwood Manufacturing | www.northwoodmfg.com
Starcraft Solstice


The team at Starcraft RV isn't testing the waters with a single floorplan release for 2016 but with an entirely new fifth-wheel. With four initial floorplans and two more in the works, and a starting price of $68,763, the 2016 Solstice is a luxury fifth-wheel occupying the top of Starcraft's lineup.

"We were aiming for top-of-the-line luxury at an affordable price," said Brent Froman, vice president of sales for Starcraft RV.  Froman highlighted Starcraft's two-year warranty and proprietary Magnum Roof System, which uses oversize nail plates and stronger 7-inch header beams.


The 2016 Solstice comes with many residential amenities, including a 30-inch Samsung microwave, an optional 18-cubic-foot refrigerator (on select models), a Denver Mattress Euro-top sleep system, two 13,500-Btu air conditioners with dual-zone control, porcelain toilets, and a 60-inch king-size fiberglass shower with two shower heads. Notable options include a six-point auto-leveling system, a king-size bed, a washer and dryer, an upgraded 5,500-watt generator, upgraded 15,000-Btu air conditioner, bumper-mount swing-arm grille, wireless backup camera and frameless thermal pane windows.

Offered in lengths from just over 37 feet to just under 44 feet, with a gvwr range of 10,665 pound to 16,500 pounds, the Solstice comes in a variety of front-bedroom layouts including a triple-slideout forward-facing entertainment center floorplan and a five-slideout, bath-and-a-half floorplan with an outdoor kitchen and dual overhead bunks above rear sofas.

Starcraft RV | www.starcraftrv.com/
Venture Sonic

In 2013, Venture RV, a division of K-Z RV, reopened a 65,000-square-foot production facility in Shipshewana, Indiana, to keep up with demand for the ultra-lightweight Sonic model. This year, Venture continues tapping into that expansion by adding another floorplan to the Sonic lineup, bringing the total to eight.

As with all Sonic models, the 234VBH offers an 82-inch ceiling height (that's 6 feet, 10 inches), slam-latch baggage doors and a one-piece seamless fiberglass roof. Although the 234VBH is less than 26½ feet long, has a dry weight of 4,220 pounds and a gvwr of 5,200 pounds, it is one of the larger floorplans in the Sonic line. The starting MSRP is $22,995.

"The rear of the 234VBH was designed with kids in mind," said David Boggs, Venture RV's national sales and product manager. "It boasts a bench seat, double bunks, a separate rear dinette that converts to make a third rear bunk, and a fourth fold-down bunk above the dinette, so it can sleep and seat six comfortably."

The living area has an entertainment center, an oversize dinette and a Murphy bed. The kitchen includes a pantry/closet for extra storage, a 6.3-cubic-foot refrigerator and a double-bowl sink with a cover.

Venture RV | www.venture-rv.com
Winnebago Scorpion

Immediately on the heels of last year's Spyder, Winnebago's first towable toy hauler, the company is introducing the Scorpion, a premium fifth-wheel with a large 14-foot garage space to haul all manner of motorized toys.

With a price range of $70,000 to $101,000 and a gvwr of 20,800 pounds, the Scorpion 4014 features a private half bath in the garage portion of the 45-foot unit, as well as a sliding-glass door, standard facing sofas and an optional queen bed. The door/ramp to the garage has 15-degree breakover angle clearance for easy entry, and when not in use, the door becomes a patio with an optional sliding railing and retractable steps.


In the living area, the wide-body design and radius ceiling provide a spacious interior with features such as an entertainment center with a 55-inch TV, a large kitchen island with a raised breakfast bar and a sizable wardrobe in the front bedroom, plus a washer-and-dryer prep bay.

The Scorpion comes with a full bath amidships. Two slideouts expand from the kitchen/living room, housing the sofa and tables on one side and a 12-cubic-foot gas/electric refrigerator, 30-inch convection microwave and a cooktop on the other.

Winnebago Industries | www.winnebagoind.com