Q:My wife and I live in our RV (we move around with our work) and have been for the last 10 months. Sometimes the carbon monoxide sensor/alarm goes off, apparently for no reason, usually in the middle of the night. I get up and check everything and turn off the propane tanks, bleed the lines and go back to bed, only to have it go off again. My opinion is that since the RV is closed at the time, with no windows or roof vents open and neither the heater nor air conditioner is on, (it happens when the temperature doesn't require either of the units to be on), it must be that the carbon monoxide accumulation from our combined breath reaches the level of concentration to activate the alarm. This is the only explanation I can reason. Please give me your thoughts about it.
– Ted Harrod | Via email
A: Carbon monoxide is an odorless gas that is a silent killer. It is the result of incomplete combustion from sources such as furnaces, stoves, water heaters, propane refrigerators, engine and generator exhausts, etc. Humans don't emit carbon monoxide during respiration; they expel carbon dioxide. Therefore, it can't be triggering the alarm. Never assume that a detector is faulty and ignore it. If all the sources you noted here were off and the propane was shut off, it could be a faulty sensor. The sensors have a limited lifespan and go bad after a while, and most have expiration dates. However, you might want to have a certified RV technician review your RV before placing all the blame on the sensor and replacing it with a new unit. Play it safe; find out what's going on before using your rig.
– Ken Freund
---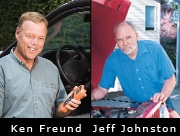 To send your questions to RV Clinic, write to 2575 Vista Del Mar, Ventura, Calif., 93001; or email [email protected]. Also, check out TrailerLife.TV for our expert RV how-to videos.