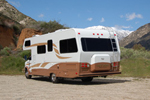 California, Here I Come
Presented by MotorHome
magazine
Situated 35 miles east of Los Angeles and only 8 miles west of the Ontario airport, the
Lazy Daze Inc. factory in Montclair, California, attracts RVers from across the USA and
beyond. The company takes pride in its 54-year history of building quality vehicles,
built-to-order and sold factory-direct.
Continued from newsletter…
By cutting out the middleman, Lazy Daze claims it avoids retail negotiating, and everyone
who purchases a new Class C motorhome at the factory pays the same base price for the same
vehicle.
All Lazy Daze coaches are manufactured with sectional aircraft aluminum panels on the
sides, so each one can be replaced separately in case of a major accident or damage. The
roof, a painted aluminum section that is sun and tear-resistant, is one single piece, and
the frame – located between the inside and outside walls – comes with a guaranteed lifetime
warranty to the original owner.
Although the Class C manufacturer produces several different floorplans with options too
numerous to list, the 27-foot Mid Bath model holds special appeal to families because of
its ample sleeping accommodations and livability. Based on the Ford E-450 chassis, the
aerodynamic and easy-to-maneuver mini boasts a low profile, good handling and fuel
efficiency. Sleeping accommodations are provided by the queen-size cabover bed, the
convertible dinette and the two twin rear beds that can by reconfigured to a king.
The ample galley offers the cook all the necessary features and sits opposite the
comfortable dinette. The mid-size bath is especially practical, offering access to guests
sleeping up front or in the rear. Potential buyers usually visit the factory – often more
than once – to help select their preferred floor plan and options, possibly selecting a
true one-of-a-kind model. For more information, go to www.lazydaze.com.