Sponsored Feature

---

Luxury parks work to offer snowbirds and year-round RVers services and amenities generally reserved for upscale hotels and exotic resort getaways
There comes a time when RVing isn't about roughing it, becoming one with nature or cavorting with local wildlife. Though those aspects may have originally drawn many of us to the RV lifestyle, we sometimes reach a point where we prefer the finer things in life. It's at about this time that RVers begin searching for fair-weather, resort-type getaways.

"Today's RVers are getting younger; they are active, successful people who really want to experience the outdoor lifestyle with indoor amenities," said Reza Paydar, president/CEO of Sunland RV Resorts, which offers resorts in California and Florida. "They are meticulous and they are very demanding – as they should be."

And resorts such as Sunland are pulling out all the stops. "We try to model ourselves after a five-star hotel to accommodate RVers," said Paydar.

Shelly Biele, resort home sales manager at Superstition Views, an Arizona Cal-Am resort, agrees. "Our resorts cater to those who want to be catered to, who demand the most out of their experiences, and who enjoy the newest amenities and the ability to join like-minded visitors."

These upper-scale resorts tend to fall into snowbird-friendly destinations such as California, Florida and parts of Arizona, New Mexico and Texas, and can range from drop-in transient-type parks to exclusive, Class A-only coach resorts.
This isn't to say the resorts are strictly champagne and caviar. Favorite RV activities like pickleball, golfing and hiking are the norm, and often go hand in hand with wine tasting, spa services and big-name entertainment. Couple this with a knowledgeable, well-trained staff and it's easy to see why snowbirds and RVers flock to these destinations. "We focus on hiring the best resort managers we can, and make sure our resorts have active schedules," said Maurice Wilder, owner of Wilder RV Resorts.

There are many reasons RVers find these types of resorts appealing, whether it's location ("Every resort we have is in a prominent area, where they can be used as a base camp," said Paydar); activities ("Cal-Am employs full-time activities directors to make sure there are always options for entertainment," said Biele); the experienced staff or even the overall bang for your buck; one common theme permeates throughout these high-end getaways: "The most important asset found at the resort is the people," said Chuck Le Blanc, vice president of marketing, sales and long-range planning at Outdoor Resort Indio. "They are among the friendliest and most good-natured people one could hope to meet. People tell us all the time about the wonderful lifelong friends they have met here."

The following RV resorts are fit for the snowbird season or any time of the year.
Cypress Trail Resort

Cypress Trail RV Resort is a new luxury resort in southwest Florida, conveniently located east of Interstate 75 and just minutes from historical Fort Myers. The ownership park is the ideal location for RV owners seeking the benefits of a tightknit RV community that is enjoyable, and, starting at $49,900, very affordable.  

"We are full-time RVers, and in our travels and work experiences, we have not been to a more enjoyable RV resort than Cypress Trail," said Hilary Pruitt, sales manager at Cypress Trail RV Resort who, along with his wife, Joy, comprise the sales team.

Cypress Trail was designed as a destination resort for all RVers. Rental sites are available for all types of RVs (at least 24 feet long; older than 10 years must send in a photo for evaluation), making it possible to try before you buy for a daily, weekly or even monthly visit. When completed, the resort will have a total of 472 lots. Most RV types are welcome.

Cypress Trail is also the only south Florida RV resort with certified nature trails in its own nature preserve, and it features two large lakes for fishing. In addition, the resort provides residents with a variety of special features and outdoor amenities, including spacious lots in a gated community with sidewalks (lakefront or back-in sites available); a 12,000-square-foot Old Florida style clubhouse featuring classrooms, a business center and ballroom/multiuse kitchen for catered dinners with live entertainment; a resort-style pool, hot-tub and large social area; hard-wired fiber optic cable TV/Internet at each site and Wi-Fi at the clubhouse; a billiards room, card room, library and arts-and-crafts facilities; a fully appointed fitness center; sports courts, including tennis, bocce, pickleball and shuffleboard courts; and organized events and planned activities with a full-time recreational director.

The Fort Myers area offers shopping and dining opportunities, in addition to the world-famous fishing, shelling and tropical beaches a short drive away.

The bottom line, said Pruitt: "Cypress Trail is all about fun and the wonderful, new lifelong friends you'll make."

Cypress Trail Resort | 239-333-3246 | www.cypresstrailrv.com
Wilder Resorts
For nearly 40 years, Wilder RV Resorts has been catering to RVers in search of fine resort living, and continues to be a great choice for snowbirds and year-round RVers alike. With an impressive 17 locations (seven in Texas and 10 in Florida), Wilder has the Gulf of Mexico covered, which means each resort offers convenient beach access and world-class fishing nearby. "We have some great locations close to beaches, amusement parks, flea markets, museums, shopping, casinos and restaurants," said Alan Nash, advisory board member at Wilder. "During peak season, we also have complimentary weekly bus trips at all resorts." Amenities include pools and hot tubs, craft rooms, themed dinners, billiards and card rooms, spacious event halls, fitness facilities, planned parties and socials, horseshoe pits and scenic bicycle rides. "We also have on-site activity directors at all resorts with a large variety of activities," said Nash. "From dances to bingo, shuffleboard, corn hole, pickleball, karaoke, water aerobics, picnics, even wood shops at some locations."

Highlights at just a few of the resorts include on-site 9-hole golf courses at Tropic Star in Pharr, Texas, and Blue Parrot in Lady Lake, Florida, to more than 2 miles of waterfront sites at Hawaiian Isles in Ruskin, Florida, to the quiet solitude of Pioneer Creek RV Resort in Bowling Green, Florida. And the massive 20,000-square-foot dance and entertainment complex at Trophy Gardens in Alamo, Texas, is truly a sight to behold.
In addition to RV resorts, Wilder Corp. also includes manufactured home communities that provide outstanding facilities and amenities for permanent and semi-permanent residents in Florida and Texas. Wilder does not offer memberships, meaning it is open to most RV types, and has more than 10,000 total sites.

"From our warm, tropical resort in Fort Myers, Forida, to our scenic and beautiful resort in Harlingen, Texas, whatever your pleasure, our incredible family of resorts is sure to satisfy," said Wilder, who added, "Your enjoyment is so very important to us."

Wilder RV Resorts | www.rvresorts.com
Outdoor Resort Indio
Outdoor Resort in Indio, California, is an impeccably maintained, ownership Class A motorcoach resort with more than 400 sites ranging from $85,000 to $250,000. Maintained by an on-site HOA, there are thousands of brilliant flowers, waterfalls, fountains, and even a free 18-hole, par-3 golf course woven throughout the resort (which more than offsets the $390/month HOA fees). For RVers looking for even more shots at the links, there are dozens of word-class golf courses only minutes away; in fact, the Humana Challenge Golf Tournament is right down the street.

This is an active adult-oriented resort with loads of amenities, including the services of an activity director to ensure fun activities and entertainment throughout the season; you may feel the need to prioritize those activities over lunch at the Oasis Cafe. Among the countless popular activities are tennis and the ever-popular pickleball, bingo, movie nights, water aerobics, Zumba, thread therapy, theme dinners and many evenings with live entertainment, just to mention a sample of the dozens of options available to the owners and rental guests.

For on-site relaxation, ORI has four pools, five whirlpools and a newly refurbished fitness center. There is an owner's lounge with an HDTV and a recently updated sound system and a library for quiet reflection.

The ownership park offers site rentals, and site owners can build on to their sites for customization (provided additions are within HOA guidelines).

 "People tell us all the time about the wonderful lifelong friends they have met here," said Le Blanc. "It is because of the wonderful people and beautiful surroundings that we count among our friends and neighbors people from as far east as New England and Florida and as far north as Canada and Alaska."

ORI | 800-892-2992 | www.orindio.com
Cal-Am Resorts
Cal-Am offers 10 RV resorts located in Mesa, Surprise, Gold Canyon and Yuma, Arizona. Visitors can choose from more than 11,000 total sites and hundreds of activities and amenities. "Cal-Am Resorts are not just RV parks or manufactured home communities, they are a way of life!" said Biele. "They are a community for those who feel they deserve only the best."

Biele is especially excited about the wellness opportunities at Cal-Am resorts. "Not only do we have a fitness center, we have a personal trainer to help [owners] set up or follow a fitness program," she said. "Not only do we have tennis courts, we also have a tennis pro available."

Featured here is Superstition Views, an age 55-plus upscale RV resort and manufactured housing community that offers prospective buyers ground-set, stucco-walled casita homes with Southwest architectural style and more than 800 square feet of living space. The casitas start from $89,900, with options for an RV pad (with full hookups), carport, RV garage or even an observation deck.

The casitas are ideal for RVers who want to have their vacation home and RV in the same location. "Baby Boomers who thought they wanted to be full time – while still having a place to call home – have found this a great way to ease themselves into the RV lifestyle," said Biele.

In addition, Superstition offers an impressive array of five-star amenities including a state-of-the-art fitness center, pickleball court, lighted tennis courts, a swimming pool, shuffleboard courts, golfing club/putting green, hiking club, massage therapy and themed events.

Cal-Am Resorts, Superstition Views | 888-268-6123 | www.cal-am.com
Sunland RV Resorts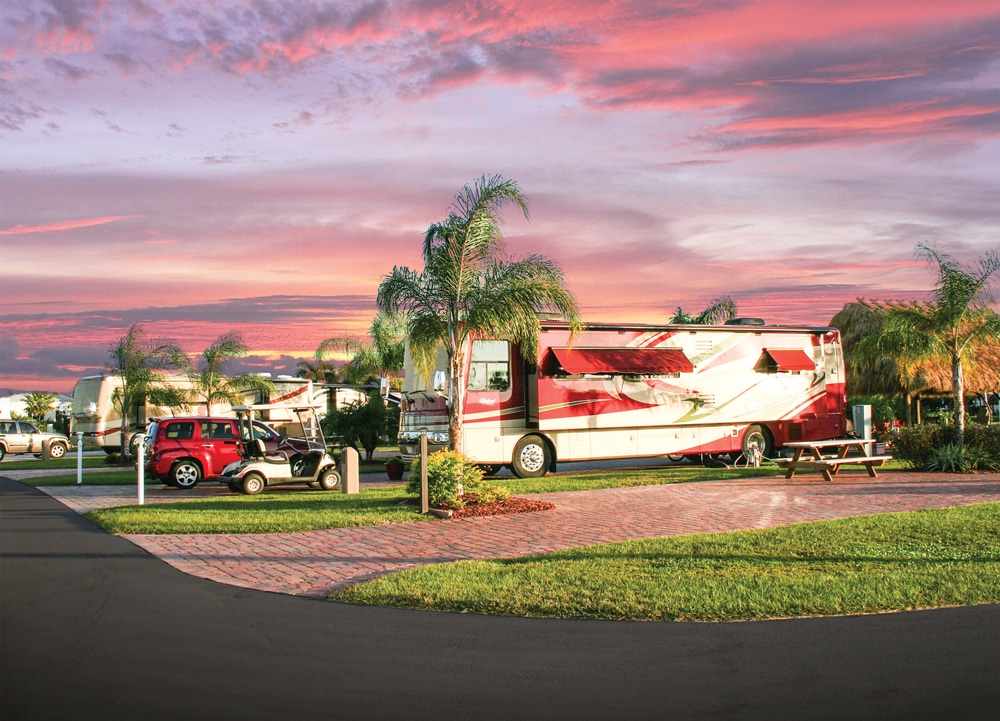 With more than 30 years' experience in the outdoor hospitality and RV resort industries – in addition to decades of background in hotel and real-estate industries – the Sunland team certainly knows its business. "We have listened long and hard over the years as to what the motorhome owner wants, in terms of site amenities for comfort, access and usability of the spaces," said Reza Paydar, CEO. "Sunland is the product of all our collective experiences in [all types of] real-estate development. We have tried to amenitize these resorts to the Nth degree."

Sunland Resorts has translated that experience into a total of eight prime locations in California and Florida. Most RV types are welcome at each resort.

Sunland's site-rental resorts are characterized by extremely high standards and an impressive list of offerings, including concierge services, spas, fitness instructors and lifestyle directors. "The word 'resort' has been misused extensively," said Paydar. "I invite anyone to come and really experience what we consider to be a resort at Sunland versus what others call resorts."

Though each of Sunland's eight properties offer the requisite pools, clubhouses and fitness centers, a trio of them truly up the ante when it comes to upscale living. Emerald Desert (Palm Desert, California), Sunland's luxurious "crown jewel," offers 255 spacious RV lots, 33 acres of lush landscaping and world-class amenities. Golden Village Palms (Hemet, California), is the largest RV resort in California, with more than 1,000 sites and a multimillion-dollar recreation complex. And finally, Silver Palms (Okeechobee, Florida), is a fisherman's paradise, encompassing 16 acres of wetland and wildlife in addition to a temperature-controlled, outdoor pool and spa, state-of-the-art fitness center and 9,000-square-foot clubhouse.


These premier-level resorts promote the active RV lifestyle in a big way, with fitness-oriented swimming pools; championship-level pickleball courts featuring league events; extensive entertainment options including tribute bands, quality shows and dinner theater; seminars on topics ranging from finances to health to computer skills; championship-style, tournament billiards rooms; and modern clubhouse and locker facilities. The resorts are pet-friendly with off-leash dog parks, offer high-speed Wi-Fi services and have gated entrances.

Sunland strives to engage the visitor, not unlike an experience on a cruise ship. "Everything we put into our resorts is geared toward keeping people active, getting them out of their vehicle and getting them to participate in the events," said Paydar.

But Sunland Resorts have actually been designed to enhance a destination, not necessarily to be one (though many are, in their own right). "There is a story behind every resort we have," said Paydar. "We are not typical parks in the middle of nowhere."
Sunland continues to look toward the future, with plans to expand its holdings in California. Currently, Sunland is undergoing a more than $2 million upgrade on the Wi-Fi systems in its resorts, a project that Paydar says is unmatched in the industry.

But perhaps Sunland's Creative Director, Jeff Wilson, sums up the resorts' primary goal: "The people, the internal operations and the staff, they all work together to make that 'Welcome Home' feeling."

Sunland RV Resorts | www.sunlandrvresorts.com
---