How to get the most out of your Yellowstone wildlife-viewing safari
"Folks, please step closer to the bear so you don't get hit by a car," the park ranger cheerily called out. "Well, that's a first!" a fellow photographer chuckled as we happily inched toward a
grizzly foraging for food, compressing like a crowd squeezing into an elevator. Glancing at his camera-faced audience tucked safely on the shoulder of the road, the young bear unknowingly worked its way into dozens of hearts, sure to be the topic of many travel journals. What is it about seeing animals in the wild that thrills people and draws them to Yellowstone National Park from all over the world?
My husband, Greg, and I fell hopelessly under the spell during our first visit to Yellowstone. It's a strange brew of wonder and adventure, an etching that left us longing to return. Our traveling spirit played tug of war with our heartstrings when we departed. A few months later, destiny showed up with an opportunity to live and workamp in West Yellowstone, Montana, for 5½ months, right on the park's doorstep. It seemed an ideal way to trade in our tourist goggles for rookie resident specs and experience the park from an insider's perspective. And that's how we found ourselves shuffling toward a hungry grizzly clawing at the forest's edge that sunny, snow-blanketed day.

Through trial and error and locals' sage advice we gained helpful insights on how to get the most out of our wildlife-viewing safaris. Of course, the park delivers what it chooses on any given day, but there are ways to maximize your opportunities.
Prepare Your Safari Toolkit
Packing a few essentials before heading to Yellowstone's animal kingdom will greatly enhance your wildlife-viewing experience. Binoculars are a must! Besides observing creatures from afar, they bring you face to face with wildlife nearby. As Greg glued his eyeballs onto his camera viewfinder I found myself gazing into the long-lashed eyes of a pronghorn near the road. Locking eyes for a few moments, I wondered why I never used my binoculars at close distances. Now I do! An optional companion to binoculars is a spotting scope. Its greater magnification reaches beyond that of binoculars, offering more viewing opportunities and up-close images. Have some fun and rent one for a day. Galleries and camera stores in the gateway cities of West Yellowstone, Montana and Gardiner, Wyoming, offer rentals.
Next, add a camera. From smartphones to professional setups boasting an assortment of lenses, the choice is yours. Keep in mind, park rules require visitors to stay at least 100 yards from bears and wolves and 25 yards from bison, elk and other wildlife, but when animals break the rules and stare through your car window, the flexibility of a zoom lens comes in handy!

Collect a park map at any entrance gate and a Yellowstone Mammal Checklist (animal map) at visitor centers. For a sneak preview, check out the maps on the park's website. The "animal map" shows sketches of wildlife along main roads where certain species hang out and lists park mammals, their habitats and population. The highest concentration of wildlife can be found in Lamar Valley, Hayden Valley and Mount Washburn, including grizzlies, black bears, bison, elk and wolves.
You may want to consider two other tools: two-way radios (helpful at animal sightings) and bear spray (highly recommended if you plan to hike on Yellowstone's 900-plus-mile trail system).

Add lunch, snacks, water, rain gear, sunscreen, folding chairs and any other items to make your expedition comfortable. We prefer to picnic in Yellowstone's pavilion of meadows and forests in case lunchtime arrives during an animal sighting.

Finally, tuck patience in your pocket. It's the secret ingredient to seeing more wildlife and witnessing dramatic animal behaviors. Like the time we watched a mama black bear munch in a meadow for 90 minutes while her three cubs napped peacefully high in a tree. When she disappeared into the woods, we held our positions expecting to see her babies wake soon. Another hour passed. Suddenly, a boar (male bear) raced out of the forest chased by mama. Within seconds he crossed the meadow and scrambled 35 feet up a tree! Mama stood guard for a few minutes before letting him come down and retreat across the road. "Did you see that?" the crowd gasped. We just witnessed mama bear protecting her cubs and the terrifying reality of how fast bears run (more than 30 mph, or 44 feet per second)! Finally, the cubs awoke. What a treat it was to see them chase each other around trees, wrestle, tumble and climb.  
Choose Your Season
When is the best time to see Yellowstone's wildlife? The answer lies in the heart of the traveler. We favor late spring and fall, but don't cross any months off your list just yet. Each season delivers unique wildlife, camping and outdoor activity experiences. Keep in mind, Mother Nature is not bound by a calendar and often embellishes seasons on a whim.

Spring is like opening a children's pop-up book full of colorfully illustrated animals. It's a time of awakening and activity. Photographers show up in May and June with monster cameras and lenses. Bears, ravenous from hibernation, head to lower elevations to feast on plants and animal carcasses served up by winter's harsh weather. Bison rule the roads migrating from snowy meadows to freshly plowed pavement. Babies abound. It's the time to see the season's signature orange-furred bison calves. Born in late April and May, these newborns wobble to their feet and keep up with the herd within hours of birth. Their coats fade to brown in just a few months.


Summer arrives in a flurry of visitor activity and a game of wildlife hide-and-seek. Animals retreat to higher elevations and cool forests. Bison roam far into grassy meadows, napping lethargically in the afternoon heat. Quite the relaxed life, until one mid-August day we noticed something amiss. Thunderous rumblings rolled across the pasture, bison bulls pawed the ground, locked horns, charged and grunted threateningly at each other. The bison rut (mating season), one of summer's highlights, was in full swing! Beginning in late July through August, bulls battle each other for females creating high-tension drama.

Autumn feels like a rewind to spring, but with a palette of rich crimson and burnt-orange colors. Animals emerge, weather cools and photographers with monster cameras return to the park. A haunting sound fills the air. Guttural notes rise to a shrill whistle. Bull elk are bugling, voicing the elk rut. This ritual typically peaks in September. Bulls gather as many females as they can into harems while fending off rival bulls. The most popular viewing area is Mammoth Hot Springs, but be cautious, even while  driving. Bull elk are known to damage vehicles they perceive as threats.
Safari On
With your toolkit and maps in hand, it's time to scout for animals. We prefer to safari in our own vehicle, but several companies offer guided tours. Yellowstone Vacations, based in West Yellowstone, offers standard and customized tours plus a specialty "step-on guide" to drive your vehicle or one of its rental cars. For a fresh perspective, we toured the park in our motorhome one day. Main roads, many turnouts and parking lots at popular sites are manageable by big rigs. Full-size tour buses use them all the time, but certain routes can prove challenging, as can the tourist traffic. Our recommendation: Park the motorhome and drive the dinghy.  
Stay Safe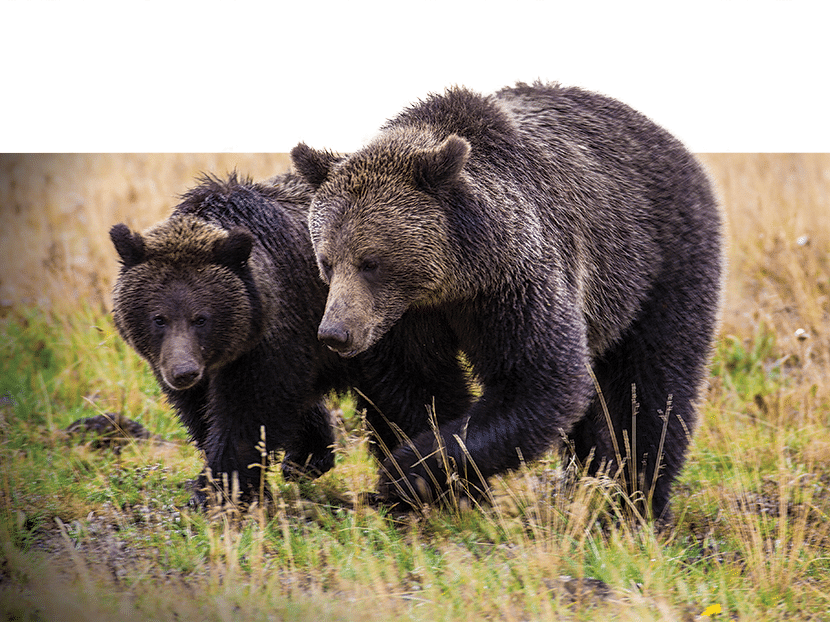 Yellowstone is filled with natural wonders that are also potential hazards. According to the NPS, there is an average of one bear attack in Yellowstone each year. Remember to keep a safe distance from bears and do not approach or feed them; feeding bears is against the law. It is also illegal to remain within 100 yards of bears. If a bear approaches within 100 yards, you are required to move so that you maintain a 100-yard distance. Also, before hiking, park rangers suggest that visitors check with the nearest backcountry office or visitor center for recent bear activity.
Be on the lookout. Crowds in party-like moods, rangers and orange traffic cones are sure signs wildlife is nearby. "What are we looking at?" we asked when we happened upon a crowdfest. "Grizzlies on a carcass across the river!" an excited group answered. We hiked through the forest, sinking knee-deep in snow, excited to see our first wild bear. A relaxed camaraderie, almost a bond of sorts, develops with fellow fans at shared sightings. A welcoming bunch, they happily share tips on finding wildlife. That's how we learned another grizzly was heading to the carcass. A spotter down the river shared the news with his buddy via two-way radio and he kept us updated. We waited until the second grizzly arrived, making it a two-bear day! Talk to the park rangers. Their insight into animal behaviors can sharpen your scouting skills.

Wildlife tends to be more visible in early morning and evening while the animals forage for food. Knowing your favorite animal's nosh makes their locations more predictable. Our heartthrob, the majestic bald eagle, dines on fish, rodents, small mammals and waterfowl near rivers and lakes. The 14-mile stretch from the west entrance along the mighty Madison River is a favored eagle haunt often overlooked by visitors hurrying into or out of the park. Look for the landmark eagles' nest crowning a stick tree on the south side of the road a few miles west of the Madison picnic grounds and scan the surrounding river area. We often found these regal raptors perched on telephone pole-like trees or logs on the riverbank.

Expect the unexpected. Chance animal encounters are one of the greatest joys of wildlife viewing. Such as the solo black bear that crossed a few feet in front of our dinghy, bringing us to a complete stop while he plodded across the road. Apparently, he was in a hurry to snack in a wildflower-carpeted meadow.
Visit the Grizzly & Wolf Discovery Center (GWDC) in West Yellowstone, Montana. Now you may ask, "Why would anyone pay to visit a wildlife habitat right outside Yellowstone National Park?" We wondered the same thing each time we bypassed it on our way to the park. Finally, after several no-show safaris we donned our "when-all-else-fails" hats and went. To our surprise, the center turned out to be a valuable find and we highly recommend it. Grizzlies, wolves and birds of prey call it home. Resident grizzlies, born in the wild, were rescued as "nuisance" bears, having learned to obtain food from people. Wolves came to the center as pups from other facilities. GWDC nurtures the animals' natural wild behaviors in outdoor habitats and its exhibits, movies and educational programs are informative, entertaining and well-done. It is definitely worth the nominal general admittance fee of $11.50 for two consecutive days.
Planning Your Visit
Yellowstone's website is an excellent tool to use in planning your trip. The park opens for motorized vehicles in mid-April but most services, including visitor centers and campgrounds, unfold in May. Scheduled opening dates are posted on the website. Until then, just one road from the north entrance to the northeast gate remains open and one campground, Mammoth Hot Springs, is open for dry camping. Fishing Bridge RV Park is the sole full-hookup campground. Big rigs are welcome but sites seemed a bit tight for slideouts. Xanterra Parks and Resorts runs five reservation campgrounds and the National Park Service handles seven on a first-come, first-served basis. Grizzly RV Park in the city of West Yellowstone is big-rig friendly and a visitor favorite.
In addition to wildlife viewing, the park offers a smorgasbord of activities including bicycling, day-hiking, backpacking, swimming, fishing, horseback riding, boating, guided tours, special events and ranger-led talks and walks. Some activities require permits and fees so check the website prior to your trip. Sometime between late March and early April, depending on road conditions, the park may open for spring bicycling and other non-motorized activities such as hiking, jogging and in-line skating before public vehicles are permitted. Information and road maps can be found on the park's website. If you visit in spring, bundle up as it often feels like winter. Starting in September, visitor centers, campgrounds, educational centers, restaurants and roads wind down to the park's closing on the first weekend in November. From mid-December through mid-March, the park transforms into a glorious winter wonderland. Skiers, snow coaches, and snowmobiles head to the park – something we have yet to experience.

Despite living on the park's doorstep for 5½ months we never tired of our explorations, always anticipating some new discovery or experience. And the park delivered without fail, not always what we wanted but oftentimes much more than we expected! From April's snow to September's radiance, it seems like we saw it all, but we know better. So we plan to return to Yellowstone again, because we can't seem to untangle those heartstrings.
For More Information

Buffalo Crossing RV Park
406-646-4300 | www.buffalocrossingrvpark.com

Grizzly & Wolf Discovery Center
800-257-2570 | www.grizzlydiscoveryctr.com

Grizzly RV Park
406-646-4466 | www.grizzlyrv.com

Yellowstone Holiday RV Campground
877-646-4242 | www.yellowstoneholiday.com

Yellowstone National Park
307-344-7381 | www.nps.gov/yell

Xanterra Parks and Resorts
866-439-7375 | www.yellowstonenationalparklodges.com
---