Exploring New York's Hudson River Valley where historic sites, cultural events and outdoor recreation collide in a burst of natural splendor
New York's Hudson River Valley has long been described as America's Rhine. With its scenic splendor, rolling farmland, picturesque villages and historic mansions, it deserves that name. Atop Bear Mountain, there's a 360-degree panorama of the mighty, meandering Hudson River and the surrounding mountains. On clear days, the tops of New York City's skyscrapers more than 40 miles away are visible as they rise above the mountains like rockets ready to blast into the heavens.
Not far from Bear Mountain State Park is the United States Military Academy at West Point where some of America's most famous and infamous generals graduated — Lee, Custer, Eisenhower, Patton and MacArthur among them. My father fought under "Old Blood and Guts" Patton in World War II and considered him a great general; however, he said in real life he was even more outrageous than George C. Scott's portrayal in the 1970 film Patton.
In Hyde Park the former estates of 19th- and 20th-century Hudson Valley aristocrats are now historic sites. Some of the most impressive are the Roosevelt and Vanderbilt estates, and the Persian-style home of Frederic Edwin Church, famed artist of the Hudson River School of American landscape painters. All of this, along with camping, boating, hiking, biking and more, makes the Hudson River Valley a fascinating region for RVers to visit.
Bear Mountain and West Point
Exploring the valley is best done after setting up camp. The region has many campgrounds, but my wife, Linda, and I prefer North-South Lake State Campground in Haines Falls. Sitting 2,250 feet on the escarpment above the valley floor, the campground overlooks the valley, and on clear days five states can be seen. With two lakes, hiking trails, waterfalls and wooded sites, this is a popular spot, and reservations are highly recommended.
A good place to begin an excursion through the Hudson Valley is in the south at Bear Mountain State Park, which combines with Harriman and Sterling Forest state parks to encompass more than 70,000 acres filled with miles of hiking trails and roads for bicycling. Scenic Perkins Memorial Drive leads to the summit of Bear Mountain. An observation tower open during the summer months gives a 360-degree view of the countryside spreading out like a massive quilt created by Mother Nature. The expansive Bear Mountain Inn was used for an episode in the CBS series The Good Wife.
West Point Military Academy is another gem of the Hudson Valley. Steeped in history and with an extensive war museum, the grounds offer much from statues of famous generals such as Eisenhower and Patton to fortresslike buildings, sporting events and scenic views. Eisenhower served under MacArthur in the Philippines. Referring to that tour of duty, MacArthur said Eisenhower was "the best clerk I ever had." Recalling that same time, Eisenhower said of MacArthur, "I studied dramatics under him." When you enter, it's required to show identification and have both your person and your vehicle searched. Taking a guided West Point tour makes it easier.
Cold Spring and Poughkeepsie
Leaving Bear Mountain, we crossed the spectacular Bear Mountain Bridge spanning the Hudson River to its eastern shore. The river runs 315 miles from its source, Lake Tear of the Clouds in the Adirondack Mountains, to New York City where it empties into the Atlantic Ocean. Taking State Route 9D north leads to Cold Spring Historic District with notable 19th-century buildings and great views of the river. Restaurants and unique stores abound, and kayak and paddleboard tours on the Hudson are available. Nearby Clarence Fahnestock State Park offers campsites along with swimming, boat rentals and hiking trails on its 14,000-plus acres.
North of Cold Spring is Walkway Over the Hudson State Historic Park in Poughkeepsie. Once a railroad bridge, the walkway is 1.28 miles long and 212 feet above the water with a bird's-eye view of the silky river flowing silently below. Enter via Parker Avenue, or, if you want to dine first, visit River Station Restaurant.
River Station is the oldest continually operating restaurant and bar in Poughkeepsie. Indoor and outdoor seating overlook the river and the Mid-Hudson Bridge. A chowder bar offers free samples of soup, and the meals are tasty. A toy train occasionally circulates around the dining area on wall-mounted rails, adding to the funky, rustic ambience. For customers, a free shuttle to the walkway is provided.
Hyde Park and Staatsburg
Hyde Park is home to the Roosevelt-Vanderbilt National Historic Sites. Franklin D. Roosevelt's Springwood estate embodies the grace and elegance of the 20th-century Hudson Valley aristocratic lifestyle. This is the four-term president's birthplace, and the home and final resting place of Franklin and his wife, Eleanor. The mansion, presidential library and museum are on 200 acres above the river. The 1826 Victorian home was purchased by FDR's father in 1867 and enlarged in neo-Georgian style in 1915, and tours are now offered. The structure is basically the same as it was when FDR died in 1945.
Here, on June 20, 1942, FDR and British Prime Minister Winston Churchill signed the agreement to manufacture the first atomic bomb. An outdoor exhibit consists of busts of both men and a sculpture made from remnants of the Berlin Wall. The West Berlin side of the sculpture is graffiti-covered, while the East Berlin side is clean because anyone who tried to get near the wall in the Communist east was shot on sight.
Today, there is still controversy over FDR's policies, but there's no dispute that he extensively transformed the country. Because of his efforts to help the less fortunate and restructure society, his fellow patricians condemned him as a "traitor to his class."
However, his New Deal is credited with elevating the working poor and planting the seeds for the rise of the middle class after World War II.
Nearby is Eleanor Roosevelt National Historic Site where the first lady retreated from public life and lived after FDR's death. You can explore the grounds on walking trails and view the home. Its simplicity is refreshing in contrast to FDR's grand home and the Gilded Age opulence of the Vanderbilt Mansion.
Built for $2.25 million in 1898, when workers made a dollar a day, the Italian Renaissance-style Vanderbilt structure sits on an estate of 211 acres overlooking the Hudson and was referred to as "Uncle Freddy's little cottage on the Hudson" by younger members of the wealthy Vanderbilt clan. For decades, the estate had a full-time staff of 60 and was completely self-sufficient.
Entering the reception hall, you stand under 20-foot ceilings and a three-story skylight. The dining room is 30 by 50 feet, and the table seats 30.
It is no wonder that for years after taking our daughter, Shannon, there as a child, whenever I asked where she wanted to go camping, she'd say, "To the big house, Daddy." Not a roughing-it kind of kid, my daughter; no pop-up camper for her.
To the north in Staatsburg are the contiguous Ogden Mills and Ruth Livingston Mills Memorial State Park and Margaret Lewis Mills Norrie State Park, which comprise more than 1,000 acres and are home to the Mills Mansion, which is similar in style and grandeur to the Vanderbilt estate. These lush, green parks offer golfing, camping, a marina, nature trails, picnic areas, kayak tours and other amenities.
Rhinebeck, Germantown and Hudson
Visiting the Old Rhinebeck Aerodrome in Rhinebeck is like taking a step back in time. The museum has "one of the largest collections of early aeroplanes in the world, as well as automobiles, motorcycles and memorabilia spanning the period 1900 to 1939."
The museum is open daily from June through October, and air shows are performed weekends from mid-June through mid-October. Open-cockpit biplane rides are available weekends from June through October on a first-come, first-served basis, and weekday plane rides can be arranged. Watching the biplanes roaring closely overhead in a mock World War I battle is quite an adrenaline rush, even if at times the narration gets a bit corny.
Just north of the airfield are two more historic homes: the Livingston Mansion in Germantown's Clermont State Park and the Frederic Edwin Church estate at Olana State Historic Site in Hudson. Both are worth a look- see, but Olana is the most interesting. The artist's Persian-style home is a colorful multilevel structure with towers and complex exterior designs that make it a work of art in itself. Gazing upon its unique beauty encourages one to utter a 1960s expression: "That's really far-out!"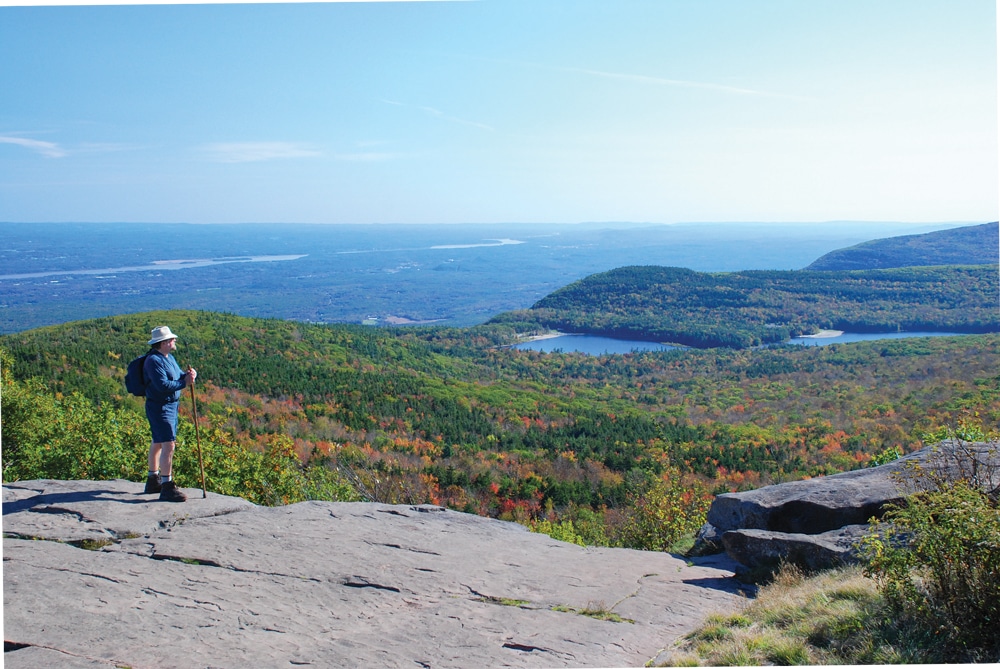 Views, Views and More Views
After Olana, we crossed to the western side of the Hudson Valley to return to our campsite. One of the best hikes from the campground is the Escarpment Trail to North Point, which gives a panoramic view of the Catskill Mountains, the Hudson River Valley and five states. A nearby trailhead off Route 23A leads past impressive Bastion Falls to the two-tiered, 231-foot Kaaterskill Falls, the highest in the state.
South of the campground is the 12-mile-long Ashokan Reservoir, covering more than 8,300 acres and ringed by mountains. Walking or bicycling across the dam is impressive. Biking on State Route 28 and 28A, which encircle the reservoir, is enjoyable as well. Another great biking and hiking area is Minnewaska State Park Preserve.
The 21,106-acre preserve in the Shawangunk Mountain Range rises 2,000 feet above sea level and has 35 miles of carriage roads and 20 miles of footpaths. Some are cut along the cliffs, providing spectacular views of the valley and mountains. A great circular hike or bike ride is to the pristine and secluded 2-mile-long Lake Awosting. The water is so clear, with visibility more than 10 feet down. Lake Minnewaska beach is a short stroll from the parking area, but it is not as expansive as Awosting beach.
From Minnewaska State Park, we headed back to Bear Mountain, but there is still much more to explore: wineries, farms, parks and villages. That is why the Hudson River Valley
will call you to return to America's Rhine for years to come.
Visiting the Hudson River Valley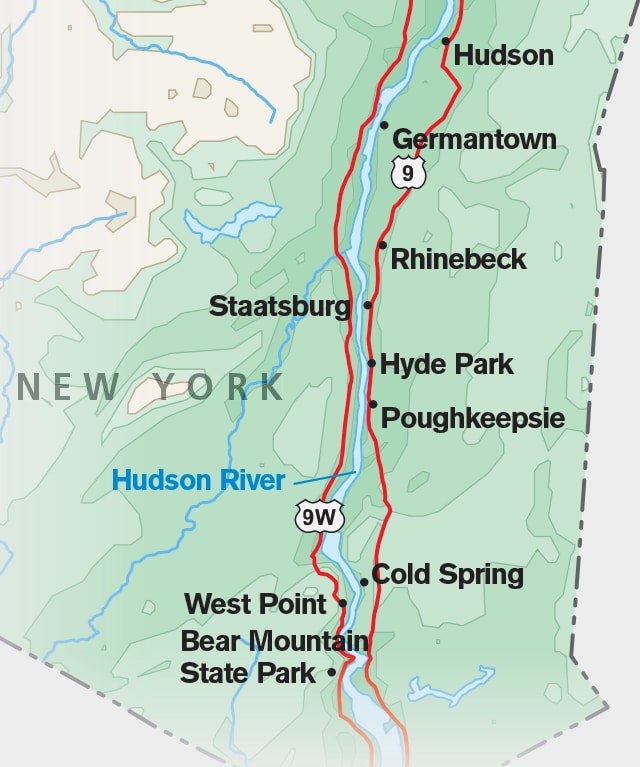 Designated a National Heritage Area, New York's Hudson River Valley runs north to south along the eastern edge of the state. The region stages festivals for every occasion — from fruit and wine to film and music — along with farmers markets, and art and cultural events, all with breathtaking views
of the Catskill Mountains as a backdrop.
RV camping
North-South Lake Campground
Located in Haines Falls, this state campground has RV sites (no hookups),
hot showers, a dump station, two lakes,
a beach, boat rentals and hiking trails.
518-589-5058 | www.dec.ny.gov/outdoor/24487.html
New York State Parks Camping Reservation System
800-456-2267 | www.newyorkstateparks.reserveamerica.com
Good Sam Campground Database
www.goodsam.com/campgrounds-rv-parks
More sights and sites
Bear Mountain State Park
845-786-2701 | www.parks.ny.gov/parks/13
Clarence Fahnestock State Park
845 225-7207 | www.parks.ny.gov/parks/133
www.nystateparkstours.com/fahnestock
Clermont State Historic Site
518-537-4240 | www.parks.ny.gov/historic-sites/16/details.aspx
Cold Spring Historic District
www.coldspringliving.com
Hudson River Valley National Heritage Area
518-473-3835 | www.hudsonrivervalley.com
Hudson Valley Tourism
800-232-4782 | www.travelhudsonvalley.com
Mills Norrie State Park
845-889-4200 | www.parks.ny.gov/parks/171
Minnewaska State Park Preserve
845-255-0752 | www.parks.ny.gov/parks/127
Ogden Mills and Ruth Livingston Mills State Park
845-889-4646 | www.parks.ny.gov/parks/33
Olana State Historic Site
518-828-0135
www.parks.ny.gov/historic-sites/23/details.aspx
Old Rhinebeck Aerodrome
845-752-3200 | www.oldrhinebeck.org
Roosevelt-Vanderbilt National Historic Sites
845-229-9115
www.nps.gov/hofr/roosevelt-vanderbilt-national-historic-sites.htm
Walkway Over the Hudson State Historic Park
845-834-2867 | www.parks.ny.gov/parks/178
West Point United States Military Academy
845-446-4724 (tours) | www.usma.edu/visiting
---